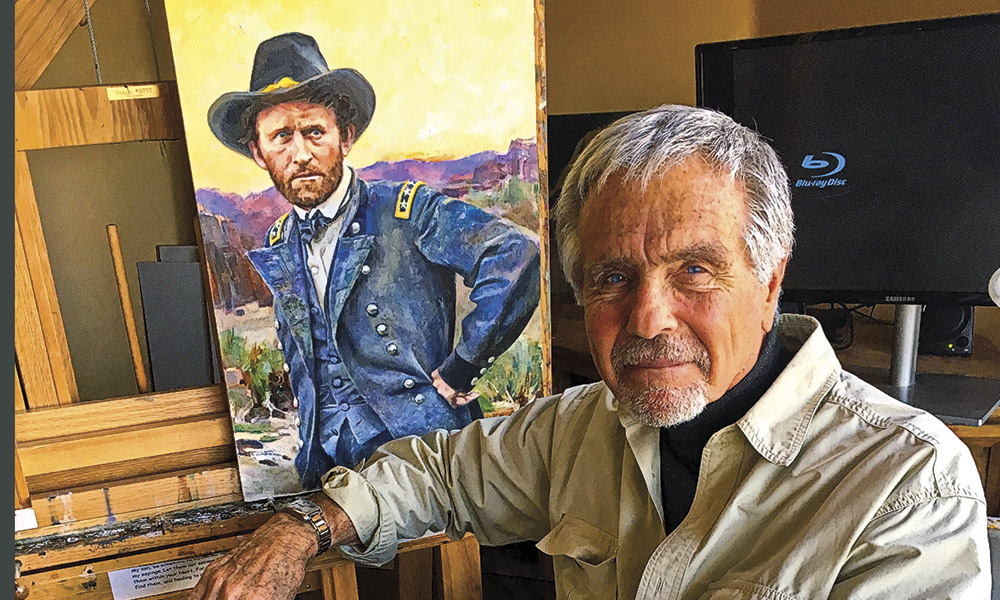 This issue's Ulysses S. Grant cover was illustrated by Allen Polt, a portrait artist who lives in Oro Valley, Arizona, and shows his art at Settlers West Galleries in Tucson and Nedra Matteucci Galleries in Santa Fe, New Mexico. After drawing black-and-white portraits for The Wall Street Journal, he moved from New York City to Taos, New Mexico, in 1974. His celebrity portraits include Jeff Bridges, Wes Studi as Geronimo, Clint Eastwood and Robert Redford. Polt is a member of Oil Painters of America, Portrait Artists of America and Friends of Western Art. American Indians are the focus of his Western artworks.
The secret to a good painting is trust what you know. From an artist's perspective, fear can make you too careful, so trust what you know and work through it.
My favorite painters of Western art are Frank Tenney Johnson, Howard Terpning and Ernest Blumenschein.
The world's best art school is the one that gave me my foundation—Art Students League of New York in New York City under Frank Reilly.
I enjoy learning and stealing from Frank Reilly, Antonio Mancini, Nicolai Fechin, John Singer Sargent and Anders Zorn.
The world's most overrated art is bad art.
Never overestimate the taste of the American public.
The biggest hurdle for me was overcoming fear and not letting it stop me. Now I still do things afraid knowing the journey is worthwhile.
My favorite Western is 1948's Red River, but I can't limit it to only one, so I'll add 1953's Shane, 1958's The Big Country and 1962's The Man Who Shot Liberty Valance.
I first came West in 1970, to Santa Fe, New Mexico, and on to California. I didn't realize it at the time, but the clean air and big blue skies had me hooked!
The best place out West is the Southwest. For starters, Arizona's Oro Valley, where I live. Tucson is a close second. I have so many fond memories of Santa Fe, New Mexico, where I also lived. And then there's Arizona's North Rim—Grand Canyon, Lake Powell, Utah's Zion—and back to Arizona for dinner in Scottsdale.
"Land of Enchantment" may be the tagline on the New Mexico license plate, but I think it would be better served to describe Arizona, particularly Tucson.
The best advice I ever received was to say your prayers. My father always told me to have faith in a brighter day.
The prices on Cowboy art are not high enough!
You don't get much better than the amount of work and time you put into whatever it is you are doing.
I didn't have a clue until I was married, and then I realized how wonderful life can be when you share it with the one you love!
History has taught me to be more patient with the world and not to take the disappointments so seriously.
The best art is always the one that I keeping going back to; the one that I enjoy looking at, again and again.