Charlie Connelly seemed like the last person in the world to get into a gunfight with outlaws. He'd spent most of his adult life as a teacher.
Connelly was born in Indiana's rural Parke County, near the Illinois border, on November 25, 1845. In 1862, at the age of 17, he enlisted in the Civil War. After the war, Connelly returned to Parke County to teach and  stayed until 1885, when he and his family moved to Independence, Kansas. Three years later, they lived in Coffeyville.
Kansas appreciated Connelly. "Mr. Connelly was ever faithful and efficient, and enjoyed the confidence and esteem of his pupils," reported Coffeyville's The Record newspaper on October 7, 1892.
He was so well liked that, in the spring of 1892, he was offered the job as principal of the new high school, due to open that fall or winter. He accepted.
In the meantime, he needed to make a living, his son Charles Albert remembered. The town marshal position was open. Since Coffeyville was an agricultural center, not a cowtown, Connelly was probably more of a caretaker, wearing the star only until his job started.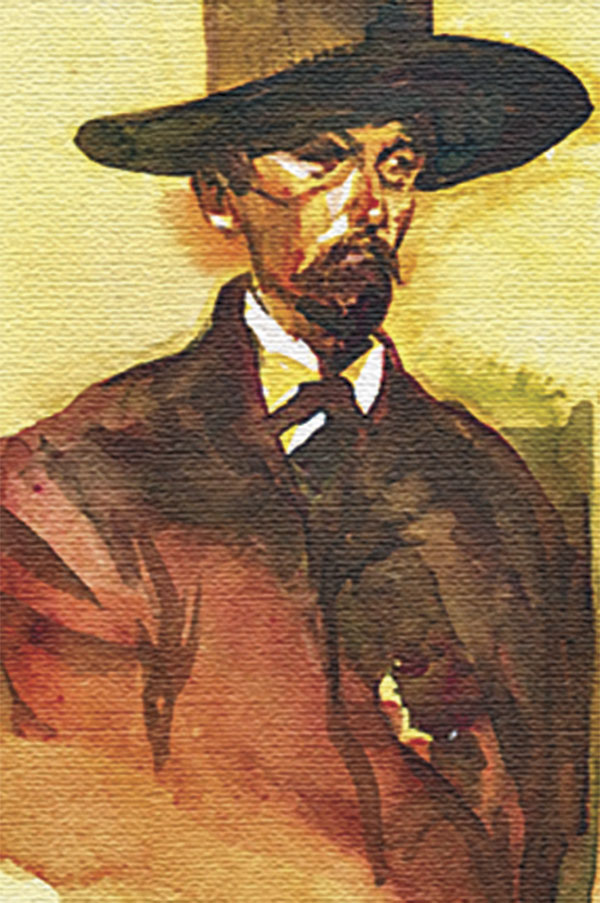 On October 5, 1892—125 years ago—the Dalton Gang made one last strike, attempting to rob the town's two banks, around 9:30 a.m. It was a bad move.  Locals knew the Dalton boys, who'd once lived in the area, and saw them enter the banks, armed to the teeth. Before the outlaws could leave the banks, citizens began fighting for their money.
Street construction had forced the robbers to tie up their horses at the end of an alley—Death Alley. Trapped inside the narrow space, the bad guys were sitting ducks, although ducks who fought back.
As the gunfire roared, Marshal Connelly raced to the scene. He may have lacked a lawman's tools—he had to borrow a rifle—but he certainly had the necessary sand.
After cutting across an empty lot and slipping through a gap in a fence, the marshal entered Death Alley at the south end. He turned his gaze west, the opposite direction from Grat Dalton's position. Grat fired his Winchester from about 20 feet, hitting the lawman in the back.
Connelly dropped dead. Within minutes, four gang members—only Emmett Dalton survived—and four citizens lay dead. The battle was over.
The town arranged to move Connelly's body to Independence for burial in Mount Hope Cemetery on October 7.  Newspapers described a fitting tribute: With businesses and schools closed that day, teachers and students greeted the funeral train. As Connelly's remains were carried to the cemetery, schoolchildren lined both sides of Penn Avenue, bowing their heads in reverence.
Connelly, the fill-in lawman who had dedicated most of his life to educating young people, taught a final lesson of courage and determination in the face of death.