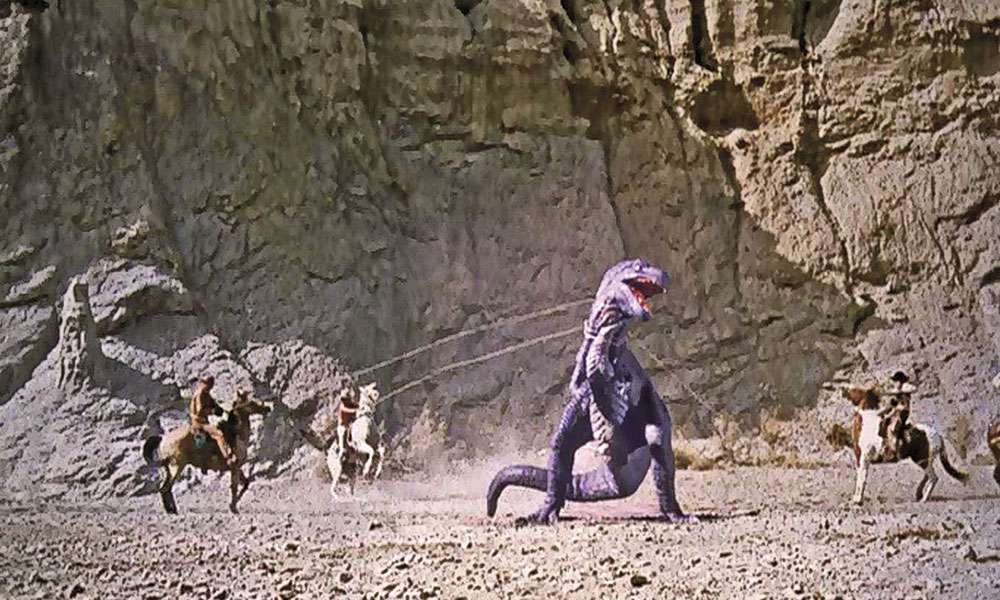 Stephen King's The Dark Tower, an endlessly-in-the-works film that finally premiered on August 4, disappointed fans because, unlike the novels, it's not a Western. 
Readers found a lot of Spaghetti Western in the seven Dark Tower novels. As King says, "I saw…The Good, the Bad and the Ugly and before the film was even half over, I realized that what I wanted to write was a novel that contained [J.R.R.] Tolkien's sense of quest and magic but set against [Sergio] Leone's almost absurdly majestic Western backdrop." 
But don't despair over the largely Manhattan-set movie. This Halloween, you can watch some particularly fine recent Weird Westerns (a blend of Western with Sci-Fi and Horror): HBO'S Westworld miniseries and the independent feature Bone Tomahawk.
Beyond those, here are some classics to add to your queue.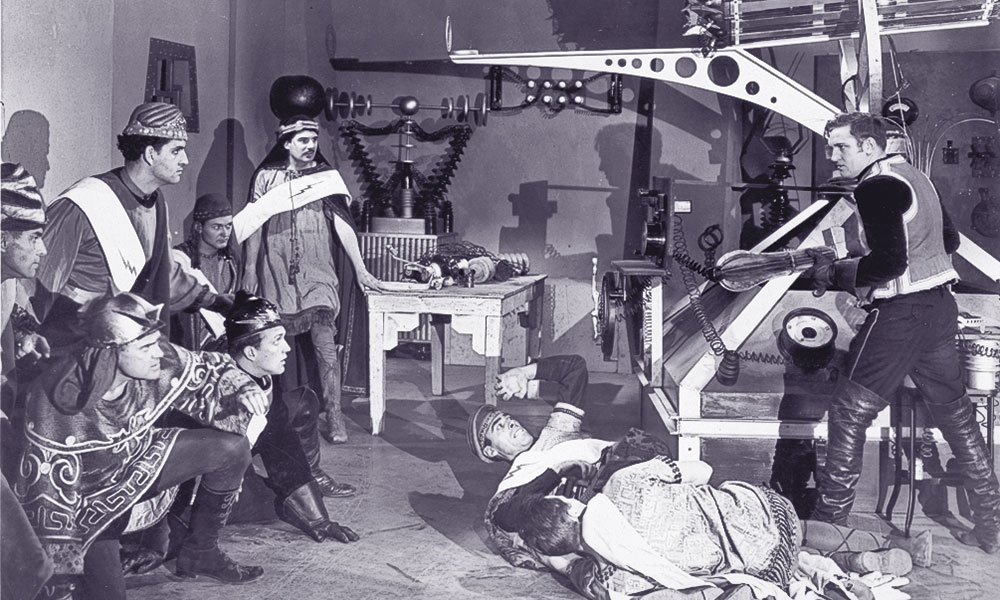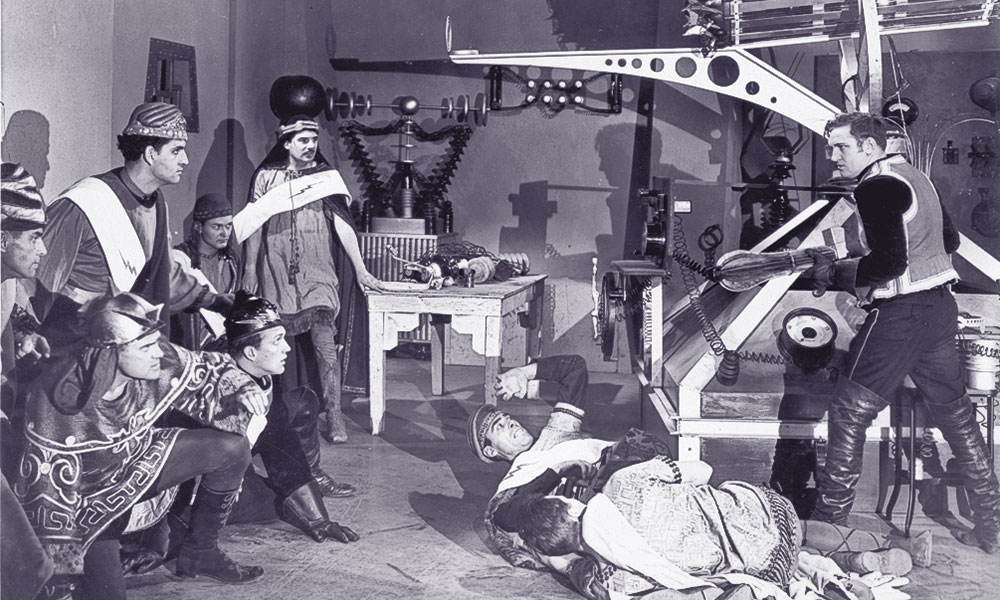 The Phantom Empire
Mascot's delightfully nutty 1935 serial made a star of Gene Autry. His singing cowboy had to battle the advanced underground Muranian civilization in time for him to return to his ranch for his nightly radio show. 
Riders of the Whistling Skull
Among the best of the B-Westerns, this 1937 film from Republic's "Three Mesquiteers" series features Ray "Crash" Corrigan, Robert Livingston and Max Terhune as three buddies who find a man delirious in the desert. When the men learn he's a missing archaeologist on the hunt for the lost Indian city of Lukachukai, they join the expedition, led by an untrustworthy Indian (played by Yakima Canutt). Full of action and atmospherically photographed, the movie echoes Gunga Din, yet was made two years earlier.
Riders in the Sky
Inspired by a song penned by Death Valley Forest Ranger Stan Jones, this 1949 Gene Autry film features Rock McCleary (Robert Livingston), who sends his henchmen to arrange a fatal runaway wagon "accident" for Old Man Roberts (Tom London) after he witnesses a killing. Roberts sees the legendary ghost riders coming for him. Autry singing "Ghost Riders in the Sky," against a haunting and poetic montage, is the film's highlight.    
The Return of Dracula
A Weird Western made while the producers, director and head writer were on hiatus for ABC's The Rifleman, 1958's The Return of Dracula is a sophisticated reworking of Alfred Hitchcock's Shadow of a Doubt. Instead of a serial lady-killer hiding out with his unsuspecting family, Francis Lederer's runaway Count Dracula blends in with an American household.
Curse of the Undead
A rogue's gallery of Western TV faces starred in this 1959 Gothic feature. Rawhide star Eric Fleming plays a rural minister in a romantic triangle with lady rancher (Kathleen Crowley) and her suave hired gun (Michael Pate), who is drawn between his love for the lady and the want of her blood. Watch for The High Chaparral's future Manolito, Henry Darrow, in his first role.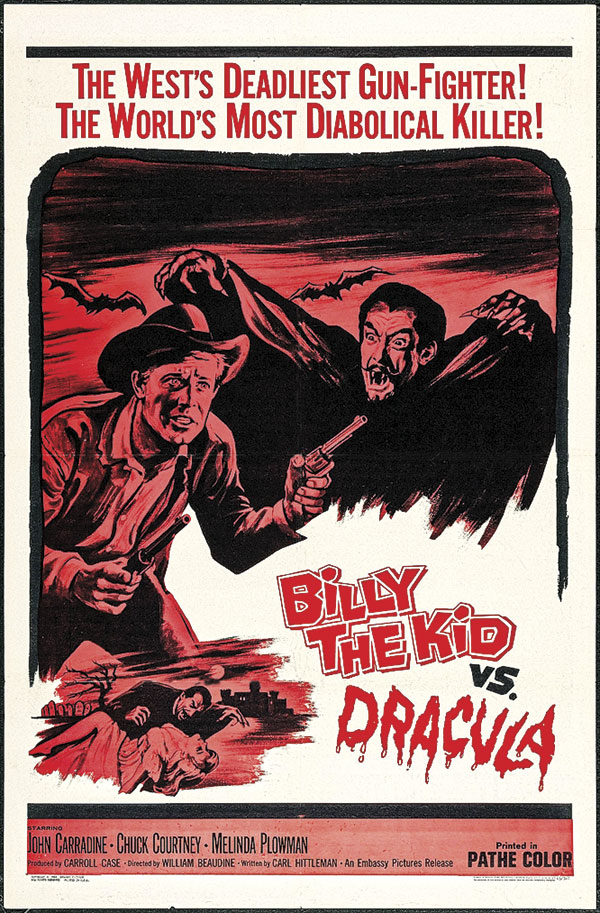 Billy the Kid vs. Dracula
I once commented to Harry Carey Jr. that no matter how small his role, I always knew his movies were worth watching.  He replied, "Then you haven't seen Billy the Kid vs. Dracula." John Carradine starred in that hammy reworking of 1958's The Return of Dracula.
This is no classic, but the 1966 flick is watchable hokum from Hollywood's most prolific director, William Beaudine. In her  final role, Carey's mother, silent screen star Olive Carey, plays the doctor. 
The Valley of Gwangi
A story by King Kong animator Willis H. O'Brien, concerning the search for a hidden dinosaur valley in Mexico, inspired two dinosaur Westerns. Talented actors Guy Madison and Patricia Medina struggle valiantly in 1956's The Beast of Hollow Mountain, but the film is utterly ruined by horrendous animation that makes them look like they are battling a Mattel tyrannosaurus in a Play-Doh jungle.
You'll want to see 1969's The Valley of Gwangi, which showcases thrilling and convincing dinosaur animation by Oscar winner Ray Harryhausen, acknowledged as the finest stop-motion animator in the history of the art.   
The Wild Wild West
The popularity of James Bond films led in 1965 to the first Sci-Fi, Spy Western series on television, The Wild Wild West.  James West (Robert Conrad) and Artemus Gordon (Ross Martin) played President U.S. Grant's agents, using futuristic weapons to fight off villains bent on world domination. The CBS series is generally acknowledged as the birth of Steampunk. 
The Hanged Man
One of the creepiest movies is a cult classic by writer-producer Andrew Fenady, 1974's The Hanged Man. It takes the premise of 1968's Hang 'em High—a man who lives through his hanging extracts revenge—one step further. Steve Forrest's character dies on the gallows, then comes inexplicably back to life! 
Westworld
Writer-director Michael Crichton's work was truly original, never more so than with 1973's Westworld. Set in a then fabulously expensive—$1,000 a day—Western-themed amusement park, the feature film was more lighthearted than the HBO miniseries, but raised the same questions: How would we behave without consequences?  And what would happen if the robots got sick of playing along? 
High Plains Drifter
Clint Eastwood's first Western as a director, 1973's High Plains Drifter, takes his Man With No Name character for a supernatural ride. He kills three thugs, only to learn a town hired them to shield from a larger and more dangerous force. He becomes the town's protector, yet a series of nightmares suggest he may have been there before—and in a bad way.
Back to the Future III
Moviegoers saw David Carradine and his band of vampires learn the value of sunblock in 1989's Sundown. A year later, in Grim Prairie Tales, a bounty hunter (James Earl Jones) and city slicker (Brad Dourif) passed the night telling scary stories over a campfire. But most movie lovers headed out to watch Marty McFly (Michael J. Fox) fly his DeLorean to the Old West in 1990's Back to the Future III.    
Cowboys & Aliens
Weird Westerns have long thrived in comics, but of the three recent adaptations — 2010's Jonah Hex, 2011's Cowboys & Aliens and 2013's R.I.P.D.—only one is enjoyable. The title tells you the plot. Starring Daniel Craig and Harrison Ford, Cowboys & Aliens grossed $100 million, but is considered a flop because Universal spent $163 million to make it. 
Henry C. Parke is a screenwriter based in Los Angeles, California, who blogs about Western movies, TV, radio and print news: HenrysWesternRoundup.Blogspot.com.