Traversing the Sunflower State from Leavenworth to Dodge City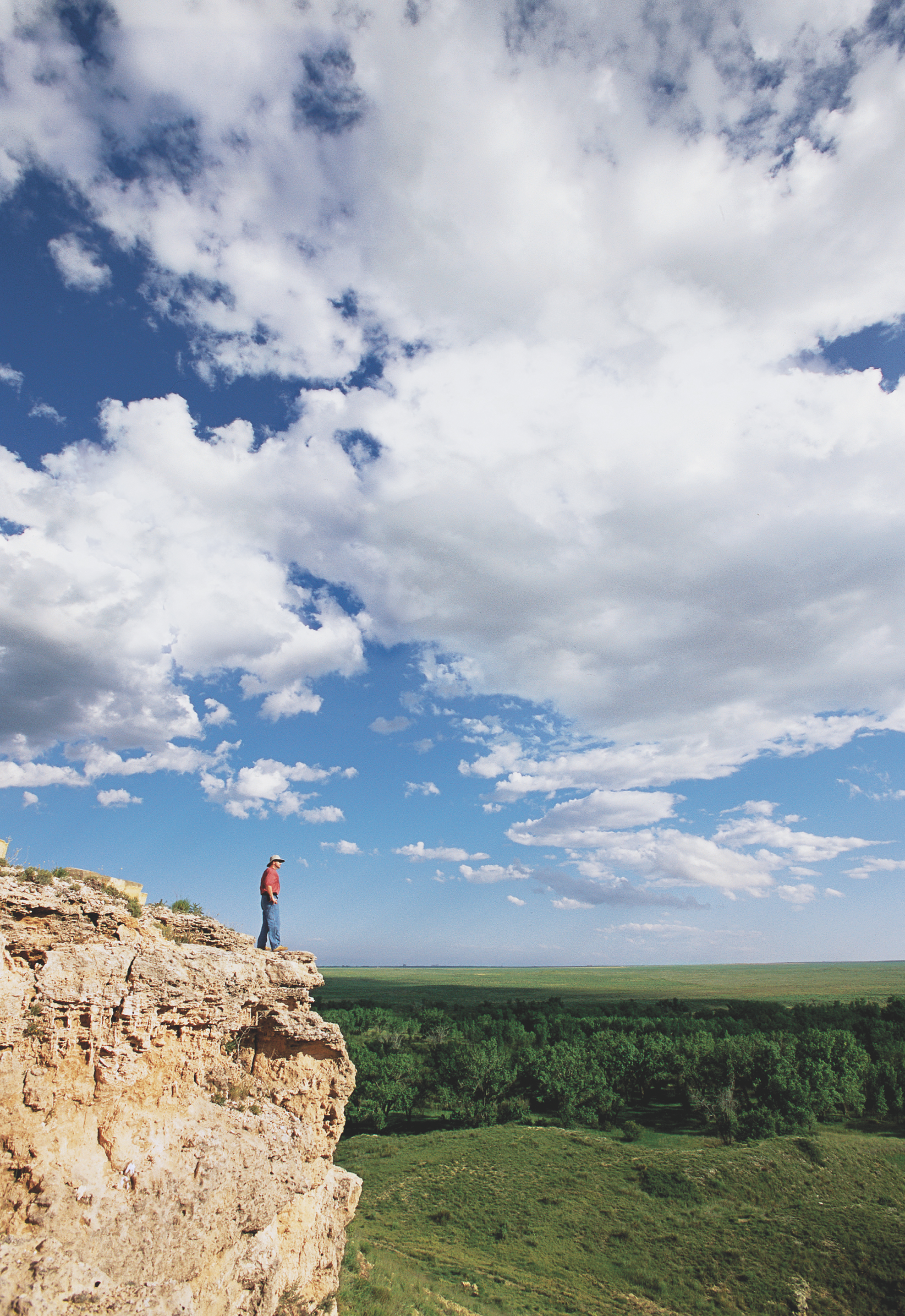 Timing, as they say, is everything and that certainly proved true for Missouri trader William Becknell. Once Mexico gained its independence from France in 1821, Mexicans immediately opened the border for trade. Seeing opportunity, Becknell organized a trading party and headed west, unafraid of being jailed like many other traders before him. Becknell left Franklin, Missouri, in September 1821 with a small group of men and cargo and arrived in Santa Fe on November 16.
The Santa Fe Trail, first established by Indians, and then French traders around 1719, and later fur trappers, was a transportation route that opened the U.S. to foreign trade. Travelers faced dangerous plains; hot, waterless deserts; and steep, perilous mountains. Hot, dry summers gave way to bitterly cold winters. Fresh water was scarce, but the intrepid traders proved invincible. From 1821 until 1846, the Santa Fe Trail was a two-way international commercial highway used by Mexican and American traders, most of the trail lying in Mexican territory.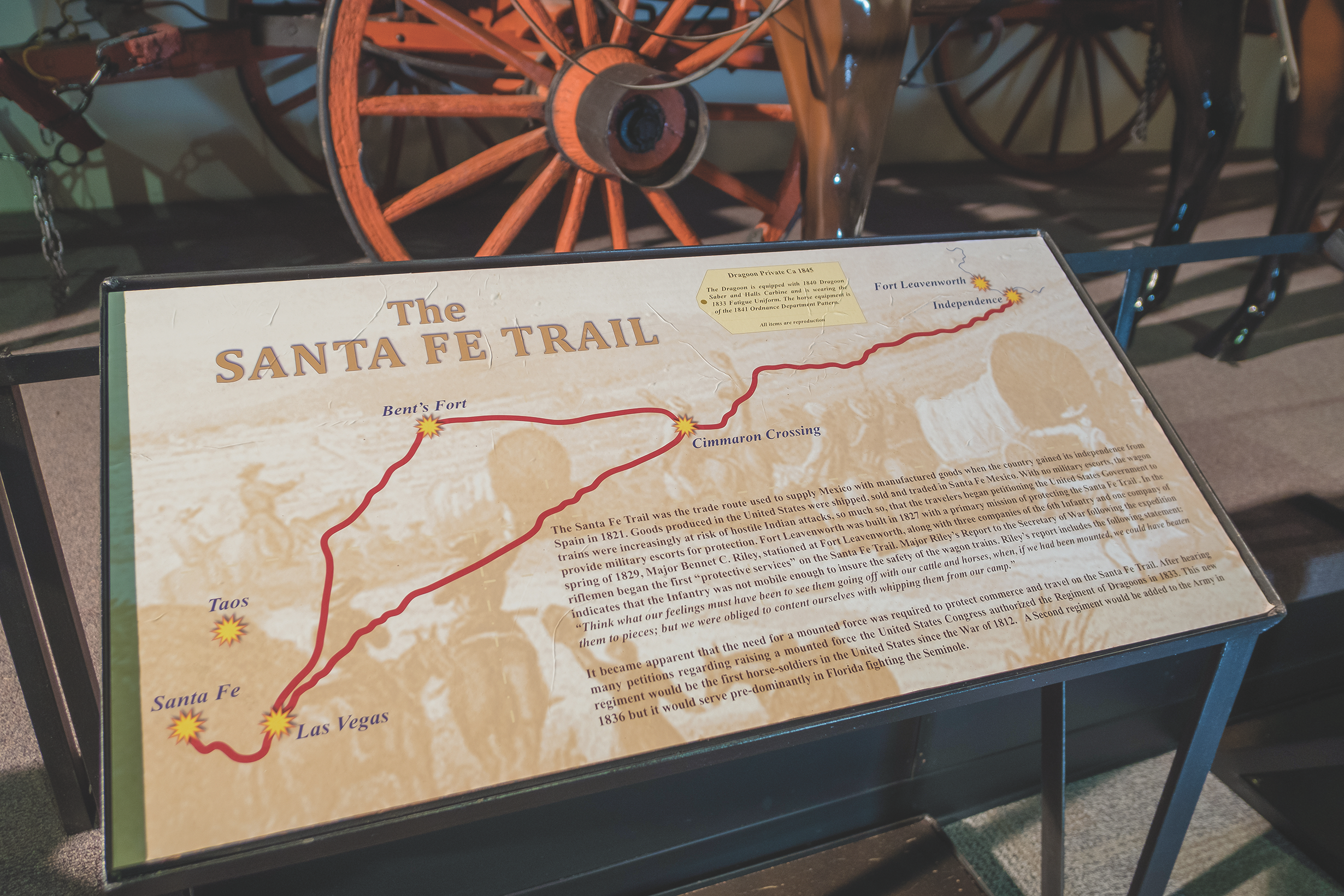 In 1846, when the Mexican-American War began, America's Army of the West followed the Santa Fe Trail to successfully invade Mexico. With the signing of the Treaty of Guadalupe Hidalgo in 1848, New Mexico and other territories were annexed by the U.S. The Santa Fe Trail became a national road connecting the more settled parts of the United States to the new Southwest territories. Trade reached as far south as Mexico City. Commercial freighting along the trail boomed to unimaginable levels, including considerable military freight hauled to supply the Southwestern forts. The trail was also used by stagecoach lines, thousands of gold-seekers heading to the California and Colorado goldfields, adventurers, missionaries, wealthy Mexican families and emigrants.
First City of Kansas: Leavenworth
In 1827, Colonel Henry Leavenworth founded the fort named for him on the Missouri River bluffs. This fort played an important role in keeping the peace among the various Indian tribes and the increasing number of settlers heading west. Founded as Kansas's first city in 1854, Leavenworth became known as the "jumping-off point" for the opening of the West. Santa Fe Trail travelers often started their adventures from Leavenworth. 
History abounds in this historic city. The Fred Harvey House and Museum, currently under restoration (624 Olive St.), still offers group tours. Be sure to stroll through the historic district on the 5K History Walk which pinpoints over 130 locations, each building displaying information. The walk starts on Haymarket Square.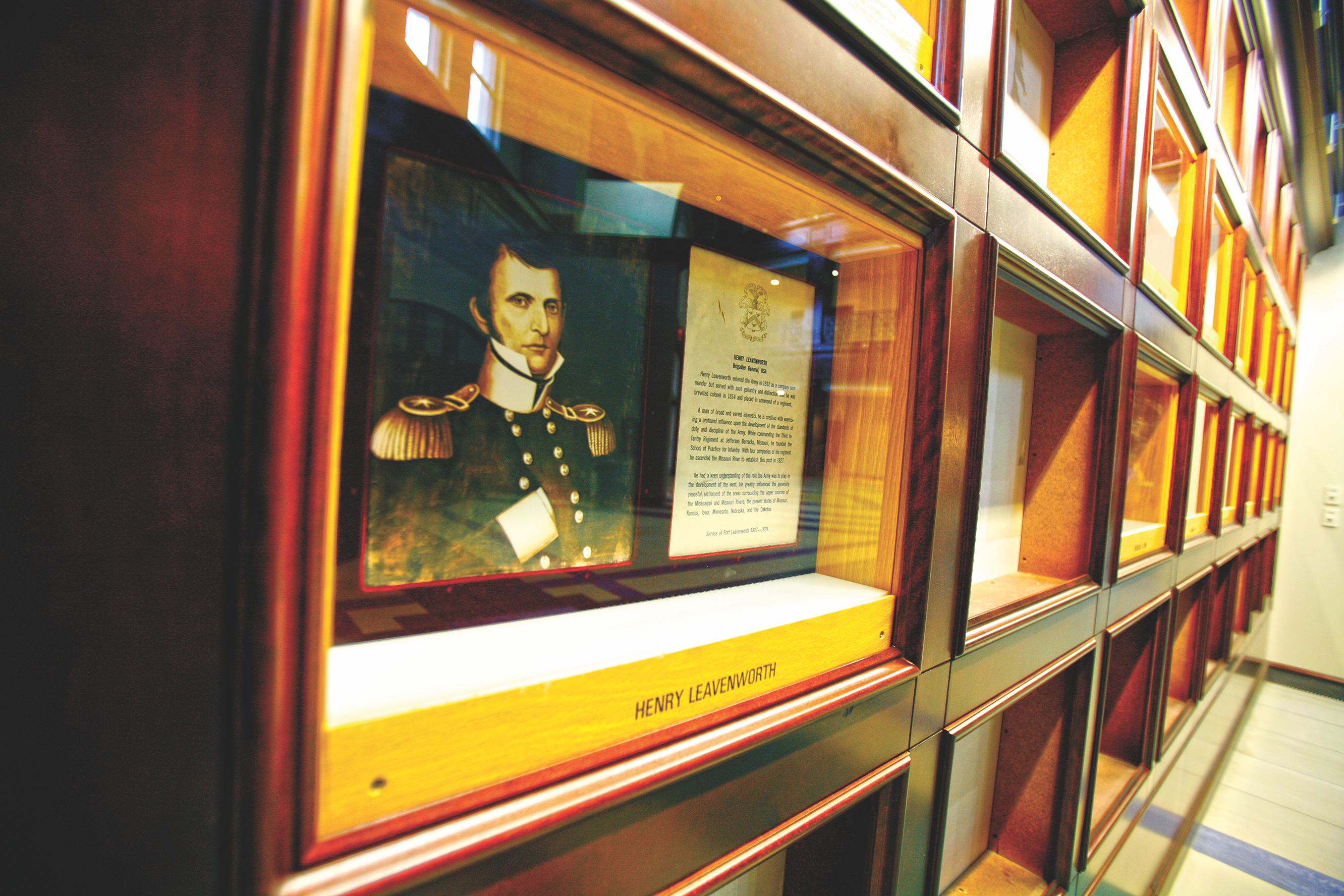 Offering homemade food in a train station that dates from 1887, The Depot, a National Landmark building, serves breakfast and lunch (781 Shawnee St.). Bailey's Irish Pub, housed in an old, remodeled carriage house, offers lunch and supper with food for every taste (312 N. 2nd St.)
Ever slept in a converted 1923 high school? Here's your chance. The Leavenworth Local features unique touches and architectural details. (913-675-3301; 600 Shawnee St.)
Lookout: Pawnee Rock
Pawnee Rock, an iconic landmark on the Santa Fe Trail, 16 miles east of Fort Larned and just north of the town of Pawnee Rock, served as a lookout point for American Indians as well as travelers. Traders, soldiers and emigrants who stopped there carved their names into the brown sandstone, some of which are still visible. (Stripping rocks for use as a roadbed in the 1870s, the railroad destroyed about half of the feature.) This sandstone citadel marked the halfway point on the Santa Fe Trail and was one of the most prominent landmarks on the long journey. 
Guardians of the Santa Fe Trail: Fort Larned
Established to protect traffic along the Santa Fe Trail, Camp Alert in 1860 had a small garrison who remained constantly vigilant. Moving upstream to the Pawnee Fork in May 1860, it was renamed Fort Larned. Original sod and adobe structures were replaced with the sandstone buildings that make up the fort today. Designated a National Landmark in 1961, with nine original buildings still intact, Larned survives as one of the best-preserved forts. Fort Larned National Historic Site is open daily with free admission.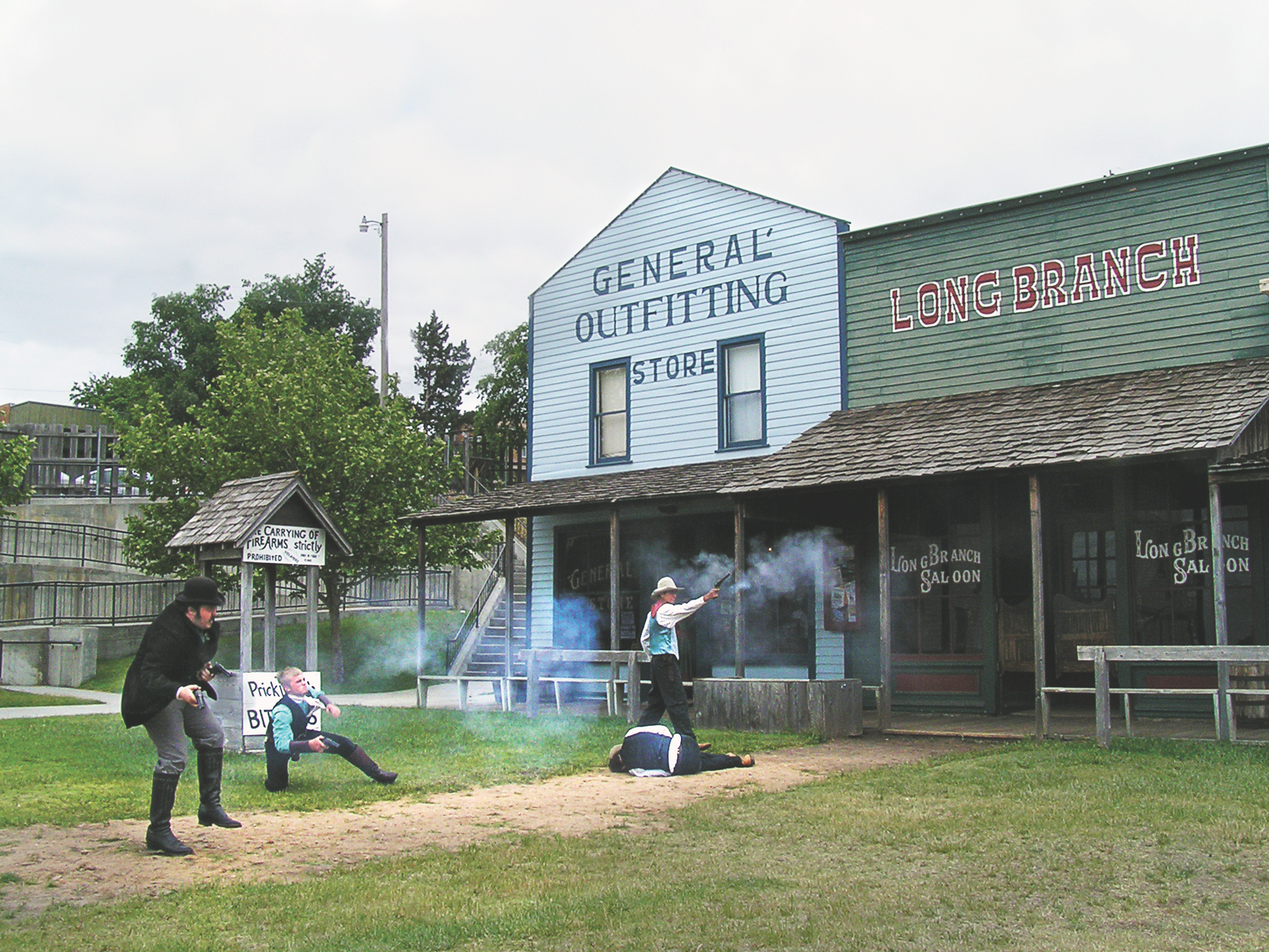 Last Chance: Council Grove
In 1825, in the scenic east Kansas prairie known as Flint Hills, the Osage Tribe and U.S. government agents held a council, giving this settlement its name. With ample water and grass, and the last stand of hardwood timber between Missouri and Santa Fe, Council Grove grew into the foremost rendezvous point for thousands of wagon trains traveling the Santa Fe Trail.
Travelers who started from Fort Leaven-worth, Kansas, or Independence, Missouri, would find no more civilizations west of Council Grove until reaching Bent's Fort, 410 miles farther. It was here, in Council Grove, the last semblance of civilization, one could buy supplies, oxen, firewood, and replenish water barrels.
Rich in tradition, this community retains many historic pioneer sites. Built in 1861, the Terwilliger Home was the last house Santa Fe traders passed as they traveled west. Today, it houses the Trail Days Café & Museum known for excellent food in an historic atmosphere.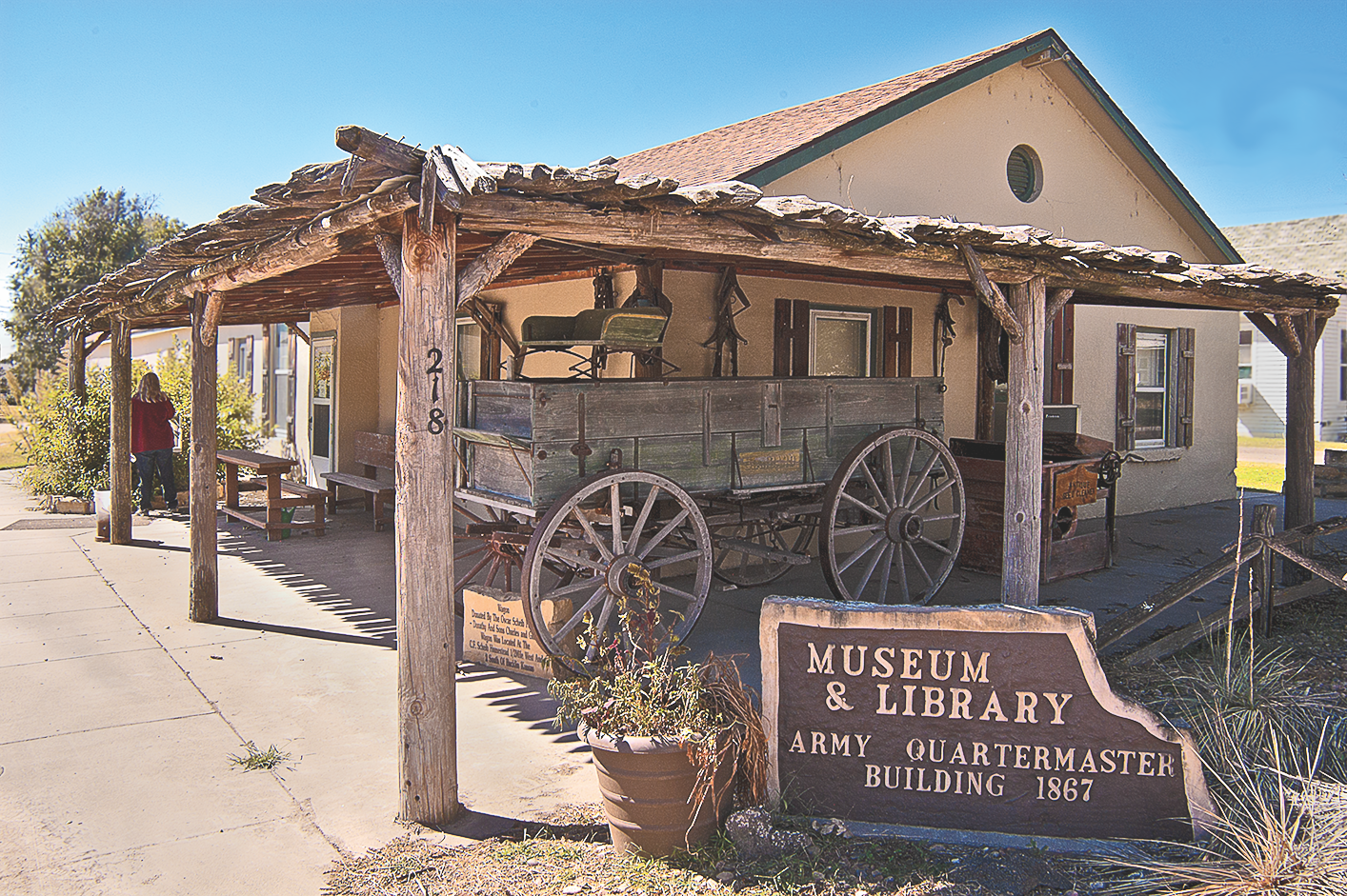 The Hermit's Cave was the temporary home of an eccentric Italian priest, Giovanni Maria Augustini, who lived there in 1863. That fall, he left Council Grove and walked 500 miles on the trail with a wagon train until he left them in Las Vegas, New Mexico. The oldest commercial building in town, built in 1857, and now privately owned, is The Last Chance Store (502 W. Main St.). Located where the trail crossed the Neosho River, it offered final opportunities for freighters to buy supplies before heading west. Take in the scenery along The Neosho Riverwalk, a paved, scenic walking and bicycle trail along both sides of the river, from where you'll see the most documented river crossing on the Santa Fe Trail.
Eating and Sleeping
Known as one of Kansas's finest restaurants, the Hays House 1857 Restaurant & Tavern was built by Seth Hayes (Daniel Boone's great-grandson). Serving traditional favorites as well as specialties, it is the oldest continuously operated restaurant west of the Mississippi. (HaysHouse.com; closed Mondays.)
Following a long day of history-exploring, visitors can enjoy the Cottage House which offers a clean, soft bed. Beginning as a three-room blacksmith shop and cottage in 1867, today it offers 26 rooms, and 10 more in an adjacent motel. (CottageHouseCGKS.com; 25 N. Neosho St.). 
The oldest remaining home along the Santa Fe Trail is the Bradford B&B Guest House (785-466-6588; 307 E. Main St.) built in 1860. Prairie Lodge Motel (PrairieLodgeMotel.com; 1219 Old U.S. Hwy 56) provides charming cabins near downtown.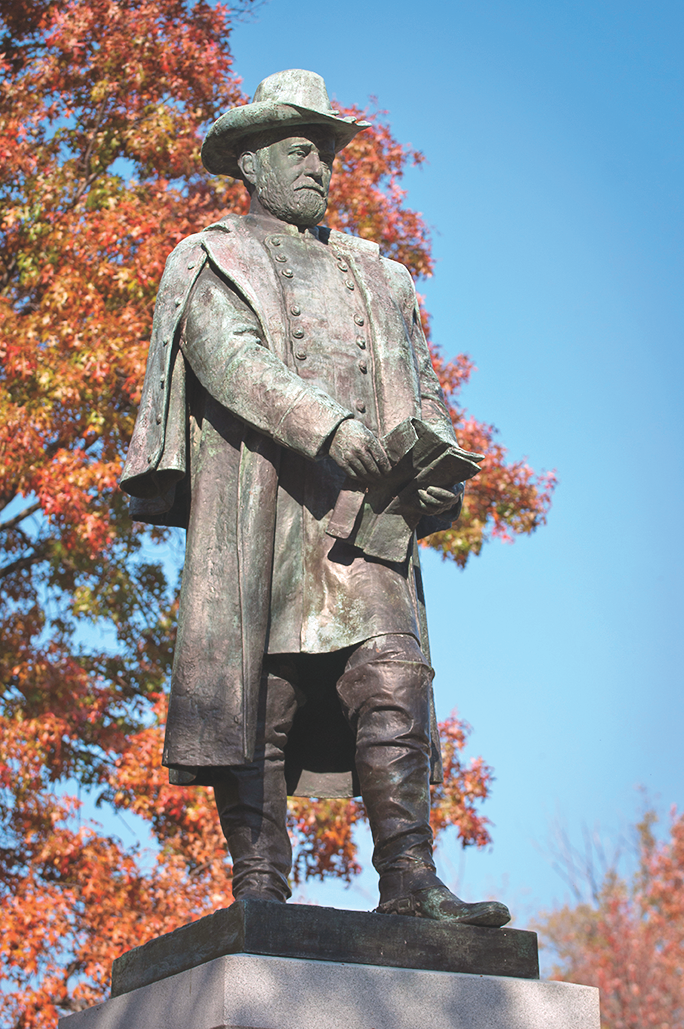 From Dugouts to Buildings: Fort Dodge
With the Indian Wars heating up, in April 1865 the Army constructed Fort Dodge to assist Fort Larned in providing protection on the Santa Fe Trail. The first buildings were sod and adobe, and most troops lived in dugouts. When lumber arrived in 1866, the first wooden buildings were erected. At its greatest capacity, the fort boasted four companies of infantry.
In use for only 17 years, Fort Dodge was deeded to the State of Kansas for use as the Kansas State Soldiers Home in January 1890. When it opened, residents included veterans of the Mexican-American War, Indian campaigns and both sides from the Civil War. Today, it still serves as a retirement community and nursing facility for Kansas veterans. A museum and self-guided walking tour tell the fort's history. Many of the original buildings are still in use including the Sutler's Store and the Custer House, in which the famous General never lived but used it as an office. The grounds are open to the public.
"Get the Heck Into Dodge": Dodge City
Founded in 1872 five miles west of the fort, Dodge City immediately became a trade center for buffalo hunters and travelers. In 1875, Texas Longhorn cattle were driven into town to the new railhead. Cowboys from those drives helped establish Dodge City's reputation as the wildest town on the Western frontier.
Today, it's much quieter. Vestiges of wilder times do, however, remain. Walk along 
Front Street and experience Old West re-enactments, variety shows and entertainment during the summer months. Take in the Boot Hill Museum, an accredited Western history museum, located on the original site of Boot Hill Cemetery (Boothill.org). Stagecoach rides take visitors through downtown. Visit the one-of-a-kind Kansas Teachers Hall of Fame & Gunfighters Wax Museum (603 Fifth Ave.). Nine miles west of town are tracks of the wagons used by pioneers from 1821 to 1872. The area is listed on the National Register of Historic Sites.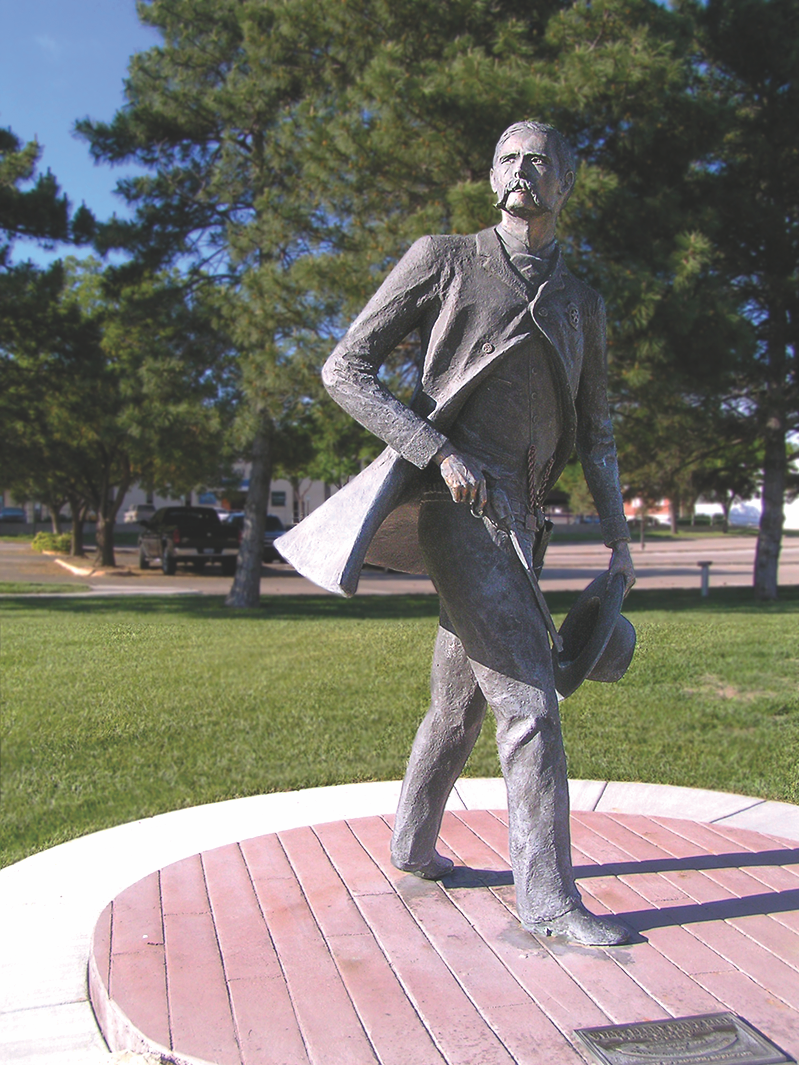 The Depot Theater Company & Santa Fe Depot (DepotTheaterCo.com) offers dinner theater productions, Thursdays through Sundays, throughout the year. Built in 1898, The Santa Fe Depot once housed the Harvey House Hotel and a restaurant.
Boot Hill Distillery (BootHillDistillery.com; 501 W. Spruce St.) offers a fine variety of locally produced spirits as well as tours. For a casual Mexican fare meal, try Tacos Jalisco, open daily, (620-225-3101; 412 E. Wyatt Earp Dr.). Hungry for steak or seafood? Visit Casey's Cowtown Club (CaseyCowtownDodgeCity.com; 503 E. Trail St.). Open for breakfast and lunch, 9 a.m. to 3 p.m., Miss Kitty's Café (620-801-4003; 2110 E. Wyatt Earp Dr.) serves food sure to please everyone.
Dodge City is blessed with a wide variety of chain hotels and motels. Find accommodations at the Holiday Inn Express, Holiday Motel, Super 8, Comfort Suites, plus many more on Wyatt Earp Boulevard.
From buttons to cannons, everything that supplied Fort Leavenworth and towns and forts to the west, came over The Santa Fe Trail. Over 1,200 miles long, it passed through Missouri, Kansas, Oklahoma, Colorado and New Mexico. The trail was designated a National Historic Trail on May 8, 1987.  
Wide Spot in the Road: Kansas
Cimarron National Grassland
Travelers on the Santa Fe Trail in southwestern Kansas crossed what today is the Cimarron National Grassland. Fed by summer rainstorms and winter snow, this windy 108,175-acre National Grassland is administered by the U.S. Department of Agriculture's Forest Service. The Santa Fe Trail ran across this starkly beautiful area for 23 miles—the largest section on public land, many of the ruts visible today. The Point of Rocks was a landmark on the trail for people heading west on the Cimarron Cutoff. 
Between the Murphy and Conestoga Trailheads, 19 miles of the Santa Fe Trail ruts parallels the trail. Following that route allows today's visitors to experience what life might have been like for the early travelers. Limestone posts help mark the original trail, and interpretive signs explain its history. 
Eight miles west of Elkhart, Kansas, a good place to begin your visit, is Eight Mile Corner, the Tristate Point where the boundaries of three states intersect. Marked with a brass plate and a nearby windmill which has "Kans." "Okla." and "Colo." for blades, it has been in place since 1903. Camping, hiking, fishing, hunting and horseback riding are allowed at Cimarron National Grassland. NPS.gov
Good Eats & Sleeps: 
Eats: The Depot, Leavenworth; Bailey's Irish Pub, Leavenworth; Ten Penny Restaurant & Bar, Leavenworth; Hayes House, Council Grove; Depot Theater Company & Santa Fe Depot, Dodge City; Tacos Jalisco, Dodge City; Casey's Cowtown Club, Dodge City; Miss Kitty's Café, Dodge City
Sleeps: Leavenworth Local, Leavenworth; Union Park Guest House, Leavenworth; Cottage House, Council Grove; Bradford B&B, Council Grove; Prairie Lodge Motel, Council Grove; Holiday Inn, Dodge City; Super 8, Dodge City
New Mexico native Melody Groves loves the area where she grew up. Exploring ghost towns and riding horses sparked her Wild West imagination. Winner of numerous writing awards, she writes Western fiction and nonfiction.