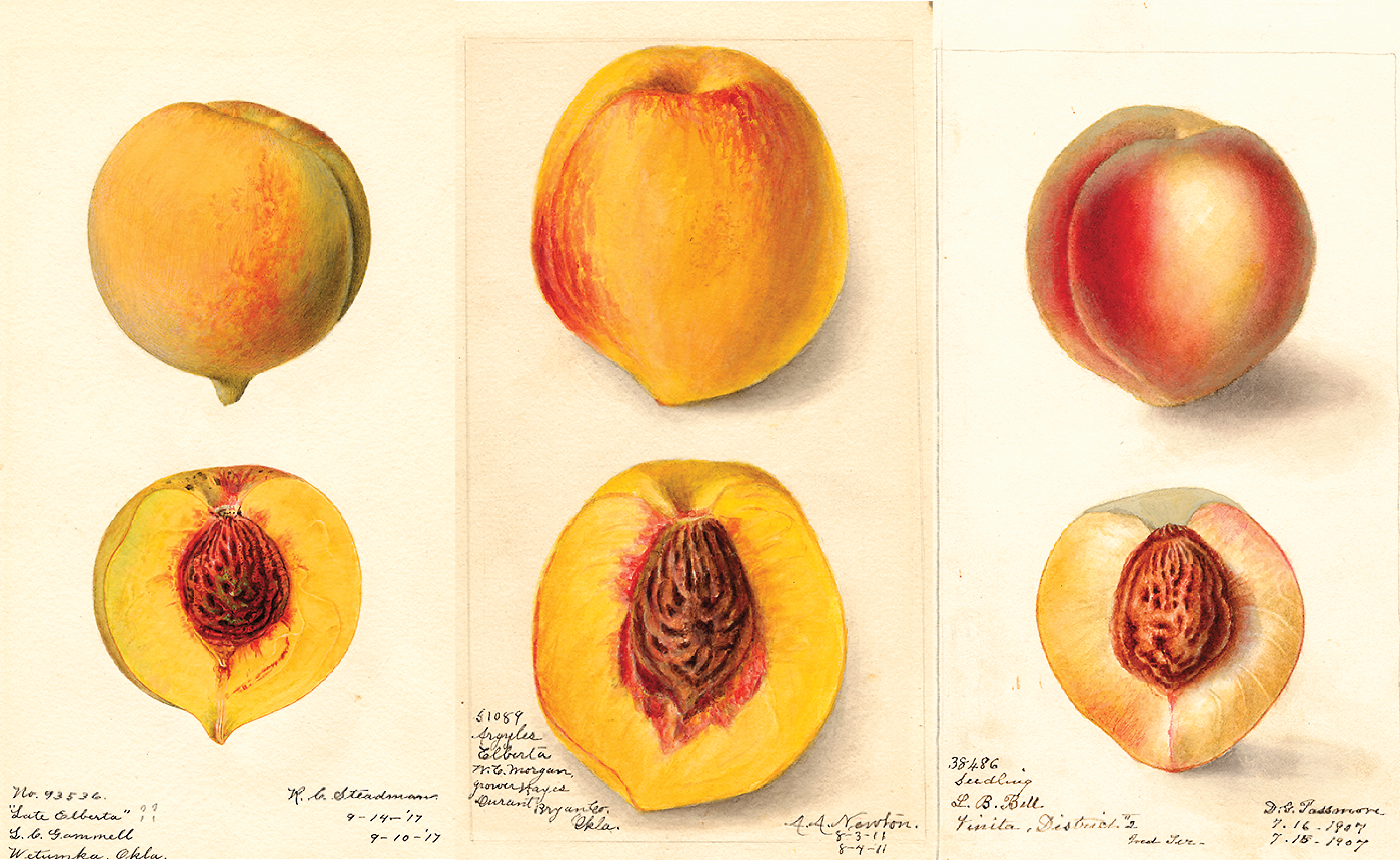 In the late 19th and early 20th centuries, Oklahoma became one of the nation's leaders in peach and stone fruit production.
Fruit is not exactly the first thing that comes to mind when you think of Oklahoma, but during the pioneer days farmers harvested and produced cherries, persimmons, ground cherries, peaches, plums and more. Most of the fruit was grown for personal use until the latter part of the 1800s.
After the Land Run of 1889, thousands of people rushed in to claim their land, and agriculture quickly advanced Oklahoma's economy. In 1907, the president of the State Board of Agriculture wrote, "Agriculture is, and will be for years to come if not forever, the leading industry in our State."
By 1893, Oklahoma fruit orchards were still largely in their infancy. Many farmers started with peach and plum trees because they felt the soil was right for them to be bountiful. While many were already doing well in established counties, newer counties were still experimenting. J.M. Rice speculated that new farmers should plant small amounts of strawberries and blackberries because they didn't fare well in long, dry windy spells. He also suggested grapes, as well as apple and peach trees. 
By 1897 peaches were doing so well that many farmers called for a distillery to make peach brandy so nothing went to waste. Even the local paper argued there was a great demand for it. By 1899 Guthrie opened a distillery, but it didn't last. In 1900 Julius Greaser, an Enid man, bought 20 bushels of peaches laden with worms, which he picked out. The Enid Weekly Wave wrote, "He is going to make peach brandy out of the peaches and is trying to sell the worms for fishing purposes. That will make horrible peach brandy."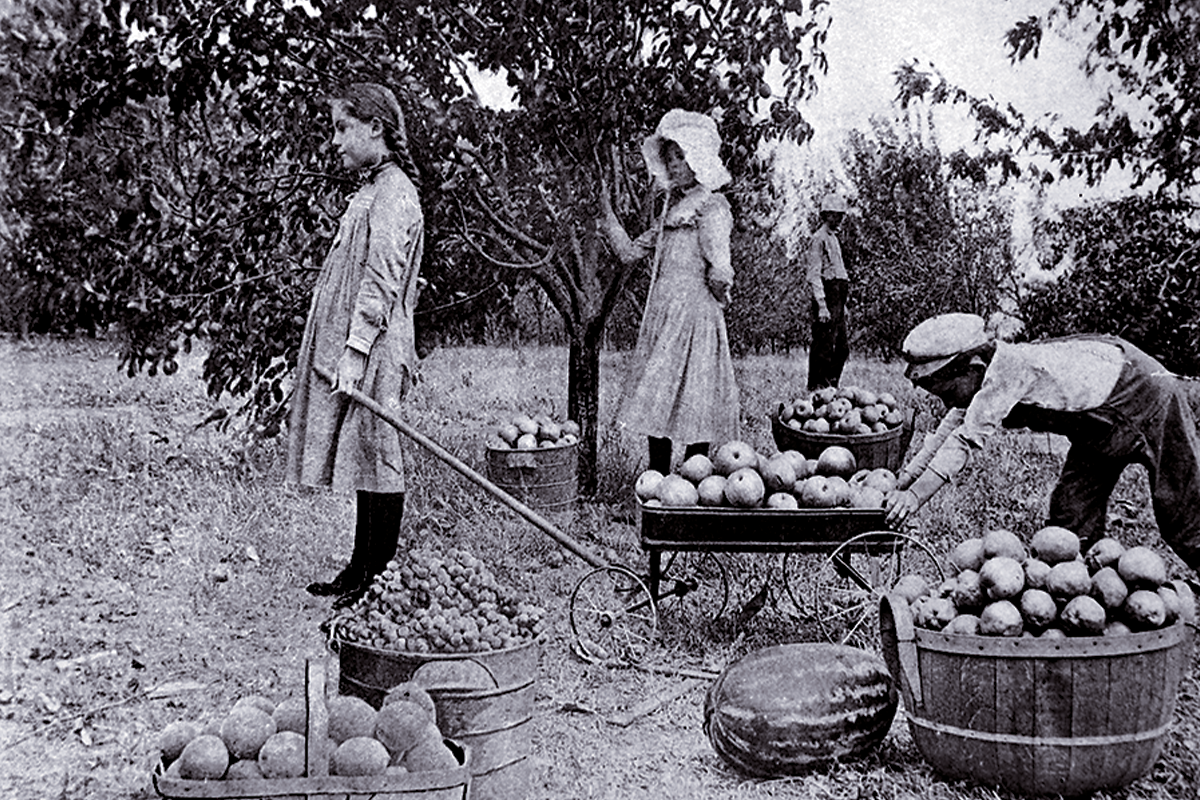 In 1904 Tecumseh resident Robert Wheeler wrote to The Western Fruit-Grower magazine about his orchards and Oklahoma produce. He told them that Duke and Morello cherries did well as long as they were properly maintained. He also advised that pecan trees grew wild and in abundance and several hundred bushels of pecans were shipped from his area each year. He added, "Last year many of my apple, peach and pear trees made over four feet of growth, and at this time my peach trees are set quite full of good healthy blossom buds, as are some of the plum trees. But I don't expect to harvest much this year, except from strawberries, blackberries and grapes."
In 1906 Oklahoma had a record peach crop from about 100,000 Elberta peach trees. The peaches from Guthrie and Logan County were shipped in 50 train cars. It was estimated that growers would earn about $30,000 for just that shipment. There could have been more shipped, but because the peaches ripened in 24 hours, many dropped to the ground and were not used. Local businessmen decided that was a waste, so they planned for a factory to can them or make preserves. The Fruit Trade Journal and Produce Record published this comment: "They were given away to anybody and everybody who would gather and carry them away. There was not a canning factory in Logan County…nor was there a brandy distillery or vinegar factory."
Peaches and other fruits became so bountiful that local businesses started offering peach products, and restaurants offered them to their diners. Some sold peach ice cream, apple and peach pie, strawberry shortcake and blackberry, cherry, strawberry and plum preserves.
Peach Brown Betty
4 cups soft white bread crumbs
(about 6 slices bread)
1/3 cup butter, melted
1 cup white sugar
4 large peaches, pitted and peeled,
cut into 1/4-inch slices
Mix bread crumbs and butter in a bowl and stir to combine. Butter a two‑quart casserole and layer it with the bread crumbs, peaches and sugar. Continue layering and end with bread crumbs. Bake in a 350‑degree oven for about 30 minutes or until peaches are tender. Serve with whipped cream if desired.
Recipe adapted from the Vinita (Indian Territory) Daily Chieftan, November 27, 1899