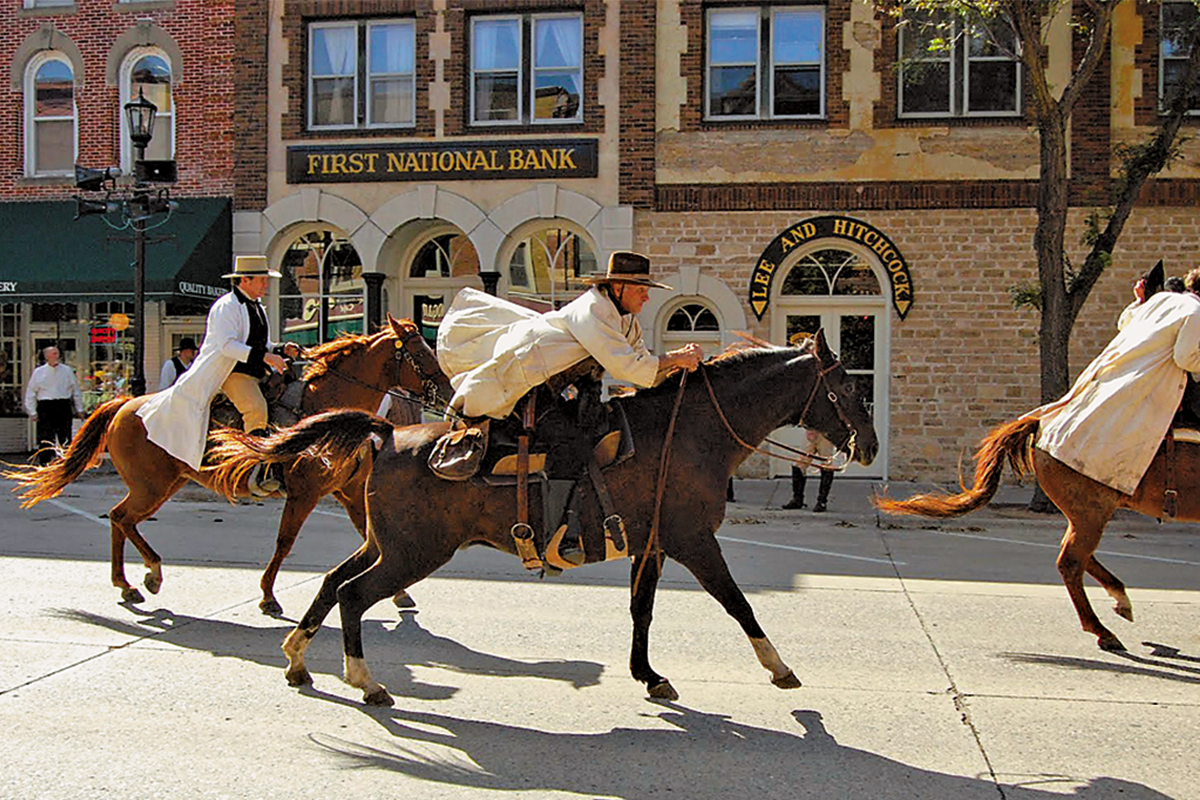 Defeat of Jesse James Days
Northfield, MN, September 8-11: Celebrate the town heroes who stopped the Jesse James Gang during their famous 1876 bank raid.
800-658-2548 • DJJD.org
HERITAGE FESTIVALS
Bandera Round-Up 
Bandera, TX, September 3-4: Bandera comes alive with music, gunfights, an intertribal powwow, a Wild West show and a mutton-busting rodeo.
830-796-3045 • BanderaCowboyCapital.com
Showdown in Tombstone
Tombstone, AZ, September 3-4: This 10th annual Labor Day weekend event offers fun for the whole family with continuous entertainment both days, reenactors, costume competition, raffle and much more.
888-457-3929 • TombstoneWeb.com
National Cowboy Symposium & Celebration
Lubbock, TX, September 9-11: Celebrate cowboy culture at one of the West's biggest chuck wagon cook-offs, plus enjoy cowboy music and poetry.
806-798-7825 • Cowboy.org
Harvest Festival
Gering, NE, September 17-18: Nebraska's agricultural history is honored with parades and demonstrations at Legacy of the Plains Museum.
308-436-1989 • LegacyOfThePlains.org
Cowboy Way Jubilee at Fort Concho
San Angelo, TX, September 29-October 2: A cowboy comic-con features Western stars, authors, workshops and demos, with cowboy music all day, every day.
580.768.5559 • CowboyWayJubilee.com
33rd Annual Fiesta De Septiembre
Wickenburg, AZ, September 17: Celebrate Wickenburg's Hispanic pioneer heritage at activities that include Latin band and mariachi music and folklorico dancers. An outdoor mercado, food and beverage booths and Kids Zone are also on site.
928-684-5479 • WickenburgChamber.com
ART SHOWS
14th Annual Grand Canyon Celebration of Art
Grand Canyon, AZ, September 2-January 16, 2023: Celebration of Art is a wonderful tradition at Grand Canyon National Park that provides a vibrant Western art experience for visitors and artists.
(928) 638-2481 • GrandCanyon.org
Jackson Hole Fall Arts Festival
Jackson, WY, September 7-18: This art festival features visual, contemporary, culinary, Western, landscape, wildlife and American Indian arts.
307-733-3316 • JacksonHoleChamber.com
Happy Canyon Indian Pageant & Wild West Show
Pendleton, OR, September 14-17: The outdoor "Pageant of the West" show honors American Indian heritage and the settling of the West.
800-457-6336 • HappyCanyon.com
36th Annual Trappings of Texas
Alpine, TX, September 15-17: This event features an exhibit and the sale of contemporary Western art and custom cowboy gear.
432-837·8143 • MuseumOfTheBigBend.com
39th Annual Round-Up Art Exhibition & Sale
Kerrville, TX, September 22-October 29: The opening gala weekend is September 22-24. The invitational exhibition features over 100 works by leading artists in the Western genre.
800-658-2548 • MuseumOfWesternArt.com
STOCK SHOWS, RODEOS & FAIRS
West Texas Fair & Rodeo
Abilene, TX, September 8-17: West Texas cowboys and cowgirls head to this PRCA rodeo that also features a tractor pull and a carnival.
325-677-4376 • TaylorCountyExpoCenter.com
Hells Canyon Mule Days
Enterprise, OR, September 9-11: This mule show and sale features an Old-World oxen living history camp, plus cowboy music, poetry and art.
541-426-3271 • HellsCanyonMuleDays.com
Meeker Classic Sheepdog Championship Trials
Meeker, CO, September 7-11: Held since 1987, this sheepdog competition refines the skills required of a dog and rancher to manage a sheep ranch.
970-878-0111 • MeekerSheepdog.com
Elko County Fair
Elko, NV, August 26-September 5: The Elko County Fair has entertainment and events for everybody in the family. An addition to this year's festivities is the Country Showdown, America's oldest and biggest talent search for hot new country musicians.
800-248-ELKO • ElkoCountyFair.com
Tri-County Fair & Stampede
Winnemucca, NV, September 1-4: The 101st Annual Rodeo promises a lot more than eight seconds of excitement. Don't miss the Western Art Roundup, featuring artists, poets, crafts people and inductees into the Buckaroo Hall of Fame.
800-962-2638 • Winnemucca.com
POWWOWS
United Tribes Technical College International Pow Wow
Bismarck, ND, September 9-11: One of the largest in the nation, this powwow features drummers and dancers from tribes around the world.
701-255-3285 • UnitedTribesPowWow.com 
RODEOS
Pendleton Round-Up
Pendleton, OR, September 10-17: The PRCA rodeo includes cowboy concerts, Indian relay races, the Happy Canyon festival and a rodeo parade.
800-457-6336 • PendletonRoundUp.com
RE-ENACTMENTS
Mountain Man Rendezvous
Fort Bridger State Historic Site, WY, September 2-5: Celebrate the fur trade Rendezvous era with archery, American Indian dances and mountain men competitions, including cooking, shoots, knife and hawk throws.
801-635-4038 • FortBridgerRendezvous.net 
Dalton Defender Days
Coffeyville, KS, September 30-October 1: This weekend of fun celebrates that fateful day of October 5, 1892, when the Dalton Gang was defeated in Coffeyville. Enjoy the Dalton Raid re-enactment, craft and food vendors, kids' games and more.
620-251-2550 • VisitCoffeyville.com