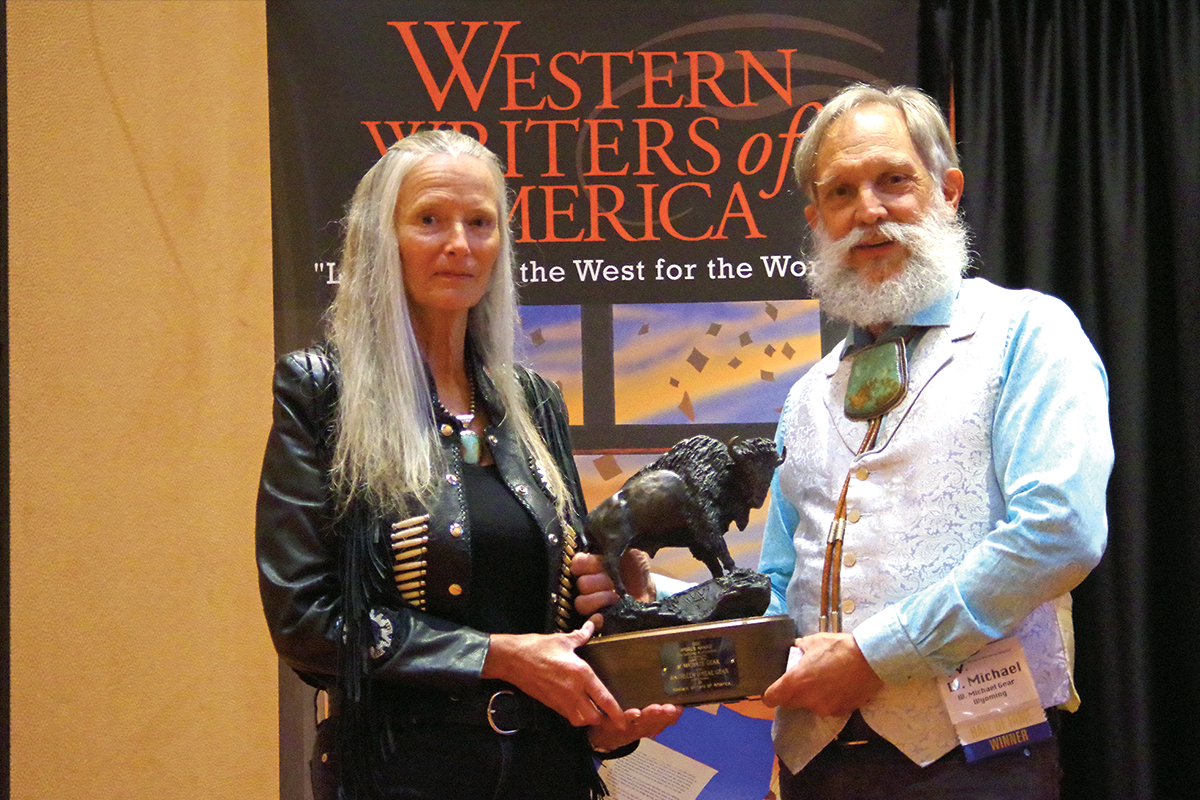 Authors, Archaeologists, Historians AND Ranchers 
W. Michael Gear and Kathleen O'Neal Gear are award-winning archaeologists and New York Times bestselling authors of 80 books and over 200 nonfiction articles. With nearly 18 million copies in print, their books have been translated into 29 languages. Michael worked as a forensic anthropologist and was principal investigator in his own archaeological research firm. Kathleen served as the Wyoming state historian and tri-state archaeologist for the U.S. Department of the Interior. In 2015, the United States Congress honored her with a Certificate of Special Congressional Recognition for her work. They are also Spur Award-winning authors. For 29 years, they raised bison on their remote ranch near Thermopolis, Wyoming. 
Michael is a fourth-generation Coloradoan and grew up all over the state. His family first came to the state as hard rock miners in 1859. 
Kathleen's parents left Oklahoma and Arkansas during the Dust Bowl. She was raised on a cotton and alfalfa farm in California's San Joaquin Valley.
Our love of history was nurtured by our parents. Some of our earliest memories are of visiting ghost towns and ancient ruins across America. We never got over the sense of wonder.
The greatest struggle of our careers has been fighting the Hollywood image of America's native peoples as "primitive." Hollywood has yet to do a film about one of the extraordinary civilizations that flourished in North America over the past 20,000 years.
Writing about prehistoric cultures came naturally to us. We are both professional archaeologists with master's degrees.
We've also written 25 science fiction novels based on anthropological and historical themes. Basically, it's frontier fiction set in the future.
Research is the heart of everything we write. In fact, it's half the fun of writing. 
The West is where our hearts live and breathe. It's our greatest inspiration. 
If we could share a meal with an author… Kathleen would love to ask Mark Twain what he thinks about his books being censored and banned. Michael would ask Norman Zollinger if the afterlife is everything he'd hoped it would be.
Our favorite musicians are Mike Blakely and W.C. Jameson.
Archaeology, bison, and books are our passions.
Our favorite meal is Kathleen's blue corn buffalo enchiladas drenched in her magnificent red chili sauce.
Our favorite place is Wyoming. The grandeur of the country, the magnificent wildlife and the die-hard independence of the people are constant sources of inspiration.
Yellowstone is next door. When we're tired or feeling down, we go stare at buffalo and grizzlies, and the world is better.
We raised champion bison for 29 years, and they changed our lives. They taught us humility and magic, not to mention that God lives in the eyes of buffalo.
Writing together is just plain fun. We never argue about the actual writing, but we have some fierce arguments about what information to include.
We were stunned and deeply grateful to have received The Owen Wister Award for lifetime achievement in Western literature from the Western Writers of America.  
History and archaeology have taught us that the interpretation of the past is never settled.