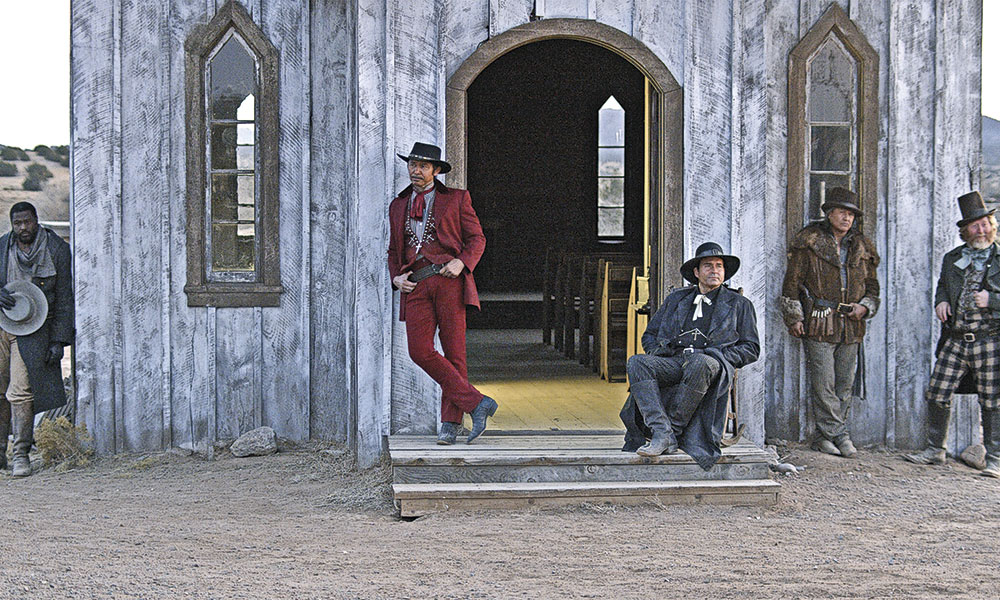 Scott Martin has been cautiously optimistic about the future of Western films: "Until this resurgence, there hasn't been the appetite for them. But we're talking about doing them again—and I can't wait!"
At last year's American Film Market, he shared his belief that filmmakers in that genre "have to either make them small, as best you can with the resources you have, or you have to go big; there's not a lot of middle ground."
Martin was nowhere to be found at this year's market; he was busy directing his first Western, Big Kill, from his own screenplay. At a budget of more than $1 million, this Western is small, but a big step up from his 2012 directorial debut, the WWII action film Battle Force, which he made for $35,000 in 10 shooting days. 
For Big Kill, out this September, Martin has attracted stars with strong Western credits, including Jason Patric, of 1993's Geronimo and 2003's The Alamo, Lou Diamond Phillips, Michael Paré and Danny Trejo.
The attraction began with the writing.  "Scott's script was a lot of fun," Phillips says. "From page one, I thought, wow, this is reminiscent of Butch Cassidy and the Sundance Kid."
Phillips, who will always be Chavez y Chavez to fans of 1988's Young Guns, adds, "It had this retro feel; it wasn't a cynical, gritty kind of Western. It was more of a real adventure, like Silverado."
"That's why I'm doing this, to have people be able to sit down and forget about the world problems, their own problems, and just be entertained for a couple of hours," Martin says.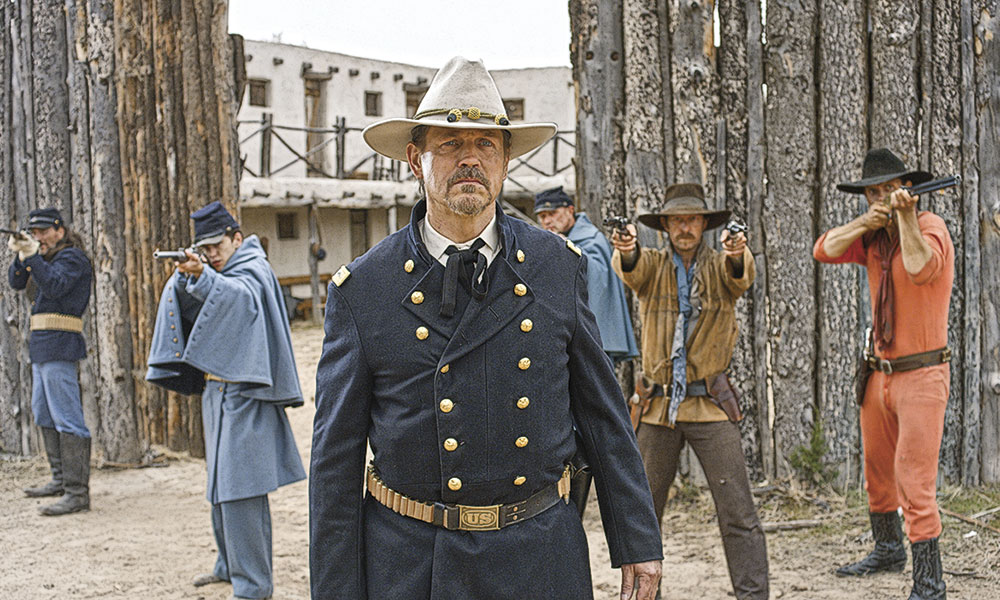 Big Kill combines humor, a compelling story, a little attractive nudity and plenty of action, with several thrilling shoot-outs. Cinematographer Mark Atkins captures not only the action, but also the stunningly beautiful New Mexico vistas—sometimes the horses seem to walk slower than need be, just to hold onto the view a little longer. All of it is wrapped up in Kays Al-Atrakchi's rousing, classically Western score.
Big Kill is the story of two likable drifters who'd put down roots if they weren't always being run out of places: handsome lady's man Travis Parker (played by Clint Hummel) and poor gambler, but good shot Jake Logan (Martin—yes, he also acts). They're being run out of Mexico by Gen. Morales (Danny Trejo) when they encounter tenderfoot Jim Andrews (Last Man Standing's Cristoph Sanders), a Philadelphia accountant. Widower Andrews is responding to a two-year-old letter to join his brother in the silver boomtown of Big Kill. When Parker and Logan learn the brother owns a saloon, they agree to escort Jim.
When the trio arrives, the men discover the boomtown has gone bust, the brother is nowhere to be seen and the Easy Lady Saloon and the town overall are in the clutches of a mysterious preacher (Patric), backed by his smiling gunslinger, Johnny Kane (Phillips).   
With a career of playing good men and good bad men, Phillips relished playing a bad bad man in the Jack Palance mold. "I haven't played a bad guy like this. At this point in my career, it's getting harder and harder to find things that I haven't done. I'd actually grown that mustache as an homage to Charles Bronson."
The costume design, by former HBO Deadwood costumer Toby Bronson, is stylish, individual and appropriate, but Phillips's burgundy ensemble is striking. "Scott asked me, do you want to go a little flamboyant with this? I said, absolutely man; my other Western characters had been on the subdued side."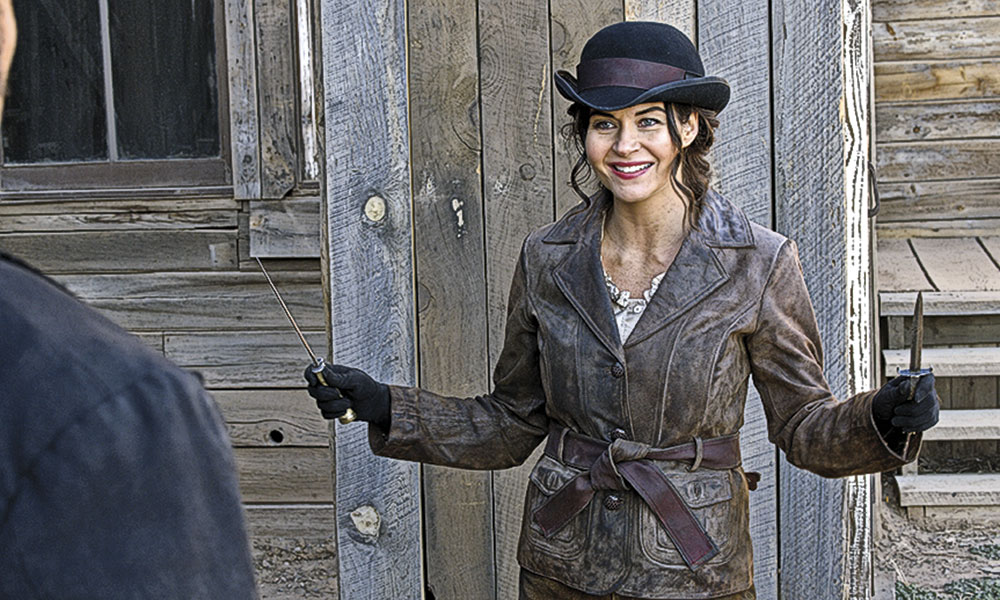 Phillips felt at home filming at New Mexico's Bonanza Creek Ranch. "I had actually shot on that set for Young Guns. There were a number of buildings and locations in that town that I had been on before. Matter of fact, we stayed in the same hotel, and there were a number of people that were not only on that crew, but some Longmire people as well."
Every movie production has its challenges. "Shooting with animals just takes longer than you anticipate," Martin learned. "Great as the wranglers are, horses are still animals. If they're not wanting to stand where you want them to, you just have to go with it. The cold weather was a bit of a surprise. Shooting inside the saloon, you can see our breath."
Phillips laughs at that, saying, "Every time I do a Western, we do it in the dead of freaking winter. Even though the sun was shining, it hovered around 35 degrees; some nights it got down to 17. People were having to shed their massive arctic winter coats before a take."
Will having endured the cold be worth it? Will Martin's first Western make a killing?
If the audience response is positive, Martin  knows what's coming next. "I have a sequel that continues the adventures of Jake and Travis. It's called Settle the Score with a .44."
Henry C. Parke is a screenwriter based in Los Angeles, California, who blogs about Western movies, TV, radio and print news: HenrysWesternRoundup.Blogspot.com.
https://truewestmagazine.com/gloomy-blumys-beautiful-world-slideshow/