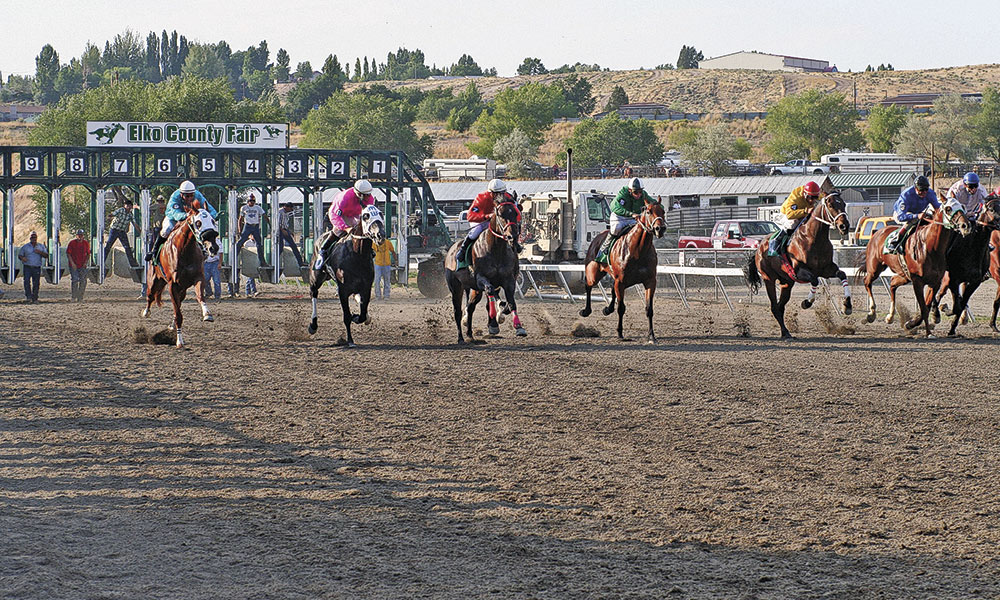 Western roundup of events where you can experience the Old West this September.
Pictured above:
Elko County Fair & Horse Races
Elko, NV, Aug. 24-Sept. 3: Elko County residents pay tribute to their
pioneer heritage with livestock shows and horse races.
800-248-ELKO • ElkoCountyfair.com
Art Shows
Cowboys of Color: Photographs by Don Russell
Orange, TX, Through September 29: An exhibit highlighting modern African American rodeo cowboys and cowgirls through portraiture.
409-886-2787 • StarkMuseum.org
Jackson Hole Fall Arts Festival
Jackson, WY, September 5-16: This art festival features visual, contemporary, culinary, Western, landscape, wildlife, and Native American arts.
307-733-3316 • TravelWyoming.com
Grand Canyon Celebration of Art
Grand Canyon, AZ, opens September 8: Artists paint "en plein air" along the Grand Canyon's rim for an exhibit at the Kolb Studio.
928-638-2481 • GrandCanyon.org
Bosque Art Classic
Clifton, TX, September 8-22: Original, realistic/representational art is featured, with an emphasis on contemporary Western art.
254-675-3724 • BosqueArtsCenter.org
Museum of Western Art's Art Sale & Expedition
Kerrville, TX, September 19: Shop and view art by contemporary Western artists, as well as take museum tours and eat a chuckwagon breakfast.
800-658-2548 • MuseumOfWesternArt.com
Erin Hanson: Impressions of Big Bend Country
Alpine, TX, opens September 21: California artist Erin Hanson debuts her modern impressionistic oil paintings inspired by Big Bend National Park.
432·837·8143 • MuseumoftheBigBend.com
Auction
Rock Island Premiere Firearms Auction
Rock Island, IL, September 7-9: Bid on over 3,000 rare items from the world's top gun auction house for antique and collector firearms.
800-238-8022 • RockIslandAuction.com
Dramas
Happy Canyon Indian Pageant & Wild West Show
Pendleton, OR, September 12-15: The outdoor "Pageant of the West" show honors American Indian heritage and the settling of the West.
800-457-6336 • HappyCanyon.com
Gun Show
Texas Gun & Knife Show
Kerrville, TX, September 8-9: New and used guns, knives, gold & silver coins, jewelry, camping gear and military supplies are all under one roof.
830-285-0575 • TexasGunAndKnifeShows.com
Heritage Festivals
Tri-County Fair & Stampede
Winnemucca, NV, Aug. 30-Sept. 2: This 1868 railroad town gathers to honor Winnemucca's cowboy heritage and culture.
800-962-2638 • Winnemucca.com
Wagon Days
Ketchum, ID, Aug. 31- Sept. 3: Features one of the largest non-motorized parades in the Pacific Northwest with lots of wagons and stagecoaches.
208-726-2777 • WagonDays.org
30th Annual Fiesta de Septiembre
Wickenburg, AZ, September 1: Mariachi music, folklorico dances and an outdoor mercado liven up this Hispanic pioneer heritage festival.
928-684-5479 • WickenburgChamber.com
Celebrate Bandera
Bandera, TX, September 1-2: Bandera comes alive with music, gunfights, an intertribal powwow, a Wild West show and a mutton busting rodeo.
970-247-3555 • CelebrateBandera.com
Defeat of Jesse James Days
Northfield, MN, September 5-9: Celebrate the town heroes who stopped the Jesse James Gang during their famous 1876 bank raid.
800-658-2548 • DJJD.org
Meeker Classic Sheepdog Championship Trials
Meeker, CO, September 5-9: Held since 1987, this sheepdog competition refines the skills required of a dog and rancher to manage a sheep ranch.
970-878-0111 • MeekerSheepdog.com
Hells Canyon Mule Days
Enterprise, OR, September 7-9: This mule show and sale features an Old World Oxen living history camp, plus cowboy music, poetry and art.
325-677-4376 • HellsCanyonMuleDays.com
National Cowboy Symposium & Celebration
Lubbock, TX, September 7-9: Celebrate cowboy culture at one of the West's biggest chuck wagon cook-offs, plus enjoy cowboy music and poetry.
806-798-7825 • Cowboy.org
Fort Seward Big Guns of the Old West
Jamestown, ND, September 8: Watch Gatling Gun and Howitzer cannon demos along with open-fire cooking and encampment.
701-251-1875 • NDTourism.com
Harvest Festival
Gering, NE, September 13-16: Nebraska's agricultural history is honored with parades and demonstrations at Legacy of the Plains Museum.
308-436-1989 • LegacyOfThePlains.org
Harvest Fair
Grand Island, NE, September 15-16: Stuhr celebrates the season of harvest with pumpkin activities, fall baking, games, and more.
Potato Bowl USA
Grand Forks , ND, September 18-22: Celebrate the college football bowl game with a golf tournament, baked potato bar, and kids fun run.
218-773-3633 • NDTourism.com
Music Festival
Pilgrimage Music & Cultural Festival
Franklin, TN, September 22-23: Jack White, Chris Stapleton, Dave Matthews and other Country artists perform at this music and cultural festival.
Powwow
United Tribes Technical College International Pow Wow
Bismarch, ND, September 7-9: One of the largest in the nation–this powwow features drummers and dancers from tribes around the world.
701-255-3285 • NDTourism.com
Re-Enactments 
Civil War Days & Battle Trains
Virginia City, NV, September 1-3: Enjoy authentic era music from the Fort Point Band as soldiers shoot it out in reenacted train battles.
775-847-0380 • VirginiaTruckee.com
Showdown in Tombstone
Tombstone, AZ, September 1-3: Celebrate the "town too tough to die" with gunfights, a period costume contest, parade, and much more.
888-457-3929 • TombstoneChamber.com
Rendezvous 
Mountain Man Rendezvous
Fort Bridger, WY, Aug. 31-Sept. 3: Celebrate the Fur Trade Rendezvous era with archery, American Indian dances and Mountain Men knife throws.
307-782-3842 • TravelWyoming.com
Ogallala Indian Summer Rendezvous
Ogallala, NE, September 20-22: Honors the colorful heritage of the South Platte River valley with live entertainment, dances, food and crafts.
800-658-4390 • OgallalaIndianSummerRendezvous.com
Rodeos
Cal Farley's Boys Ranch Rodeo
Amarillo, TX, September 1: Features the rodeo talents of the boys and girls of Cal Farley's, along with a free barbecue lunch.
800-687-3722 • CalFarley.org
Stockyards Championship Rodeo
Fort Worth, TX, September 1-2: Cheer on rodeo cowboys at the world's first indoor rodeo, upon the Cowtown Coliseum debut in 1908.
West Texas Fair & Rodeo
Abilene, TX, September 6-15: West Texas cowboys and cowgirls head to this PRCA rodeo that also features a tractor pull and a carnival.
325-677-4376 • TaylorCountyExpoCenter.com
Navajo County Fair & Rodeo
Holbrook, AZ, September 12-16: Navajo County draws PRCA talent to its rodeo that also features carnival rides and a demolition derby.
928-524-4757 • NavajoCountyFair.com
Pendleton Round-Up
Pendleton, OR, September 12-15: PRCA rodeo with cowboy concerts, Indian relay races, the Happy Canyon festival and a rodeo parade.
800-457-6336 • PendletonRoundUp.com
View Western events on our website at TWMag.com.