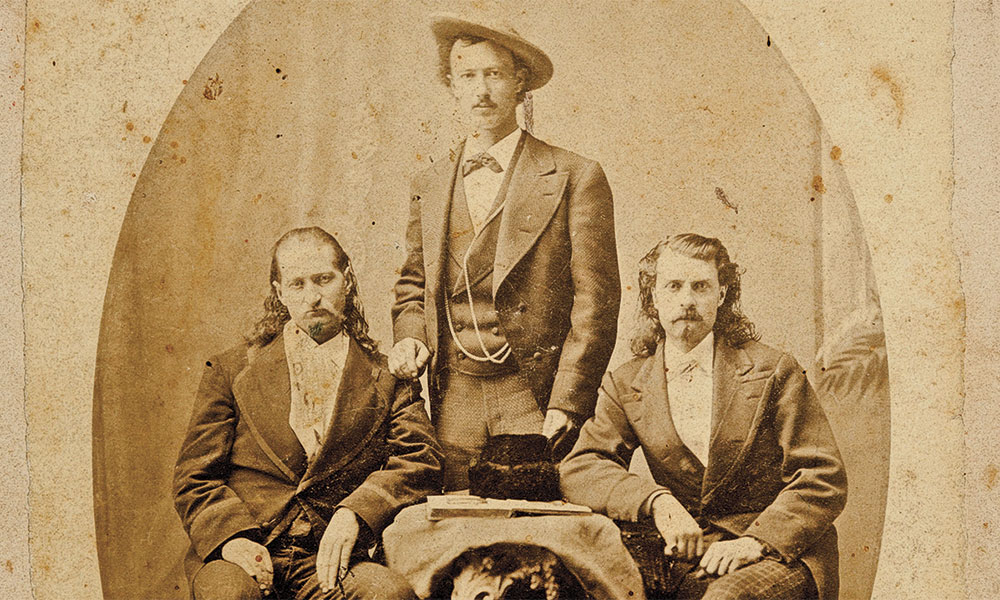 What a difference an autograph makes.
Last September, a collector successfully bid $6,500 at Cowan's Auctions for a photograph from the Eric C. Caren Collection showing the starring actors, "Wild Bill" Hickok, "Texas Jack" Omohundro and "Buffalo Bill" Cody, of Scouts of the Plains, a theatrical production that premiered in 1873.
Hickok left after a few months. Omohundro left too and, in 1877, put together his own acting troupe. Cody went on to worldwide fame and glory after forming his Wild West show in 1883.
This June 22, another copy of this photo appeared on the Cowan's auction block, yet this one was passed down in the family to Cody's great-granddaughter Patsy Garlow.  Predictably, it sold for a higher bid: $13,000.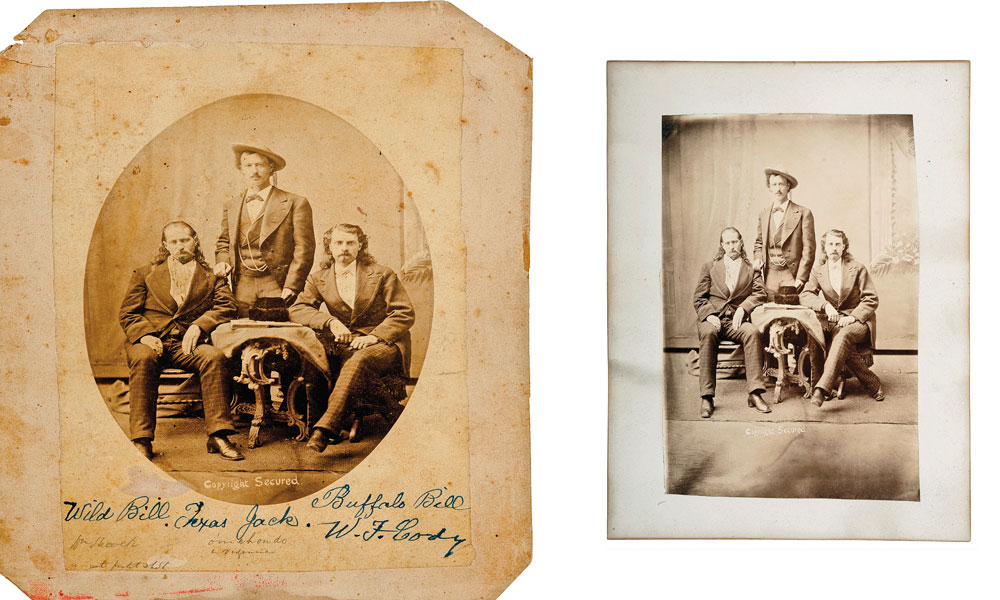 The Cody-owned photo, though, was missing attributes found on another copy, which Heritage Auctions sold five years ago, on November 24. That cabinet card was passed down through the family of dentist-turned-sharpshooter William F. "Doc" Carver, Cody's partner that first season when he opened his Wild West show on May 19, 1883.
What makes Carver's photo more special than Cody's is that Cody signed Carver's cabinet card. Buffalo Bill authority Paul Fees determined that the ink identifications for all three were written by the showman (the penciled notations beneath them were likely written by Carver or one of his descendants). The winning bid? $15,200.
To reinforce how much value collectors place on autographs, another Heritage lot featured an autograph book, without the photo, that included signatures by four principals from Scouts of the Plains among the hundreds of autographs. It hammered down for $29,000 on June 11, 2016.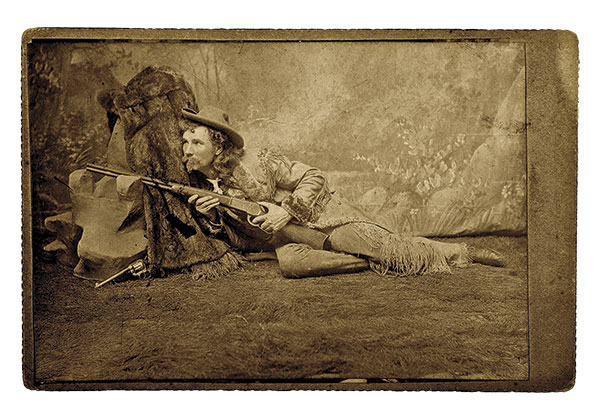 Cody signed that autograph book on January 15, 1874, and included a note, "Once a scout and guide but now a thin actor." Omohundro and Hickok also signed, with the latter autograph quite the coup, considering he was in the play for only a few months. The play's director, Frank Mordaunt, rounded out the bunch. 
Two years before, a collector bid $55,000 at Heritage for a Pima County Bank in Arizona ledger that included signatures by participants in Tombstone's O.K. Corral gunfight.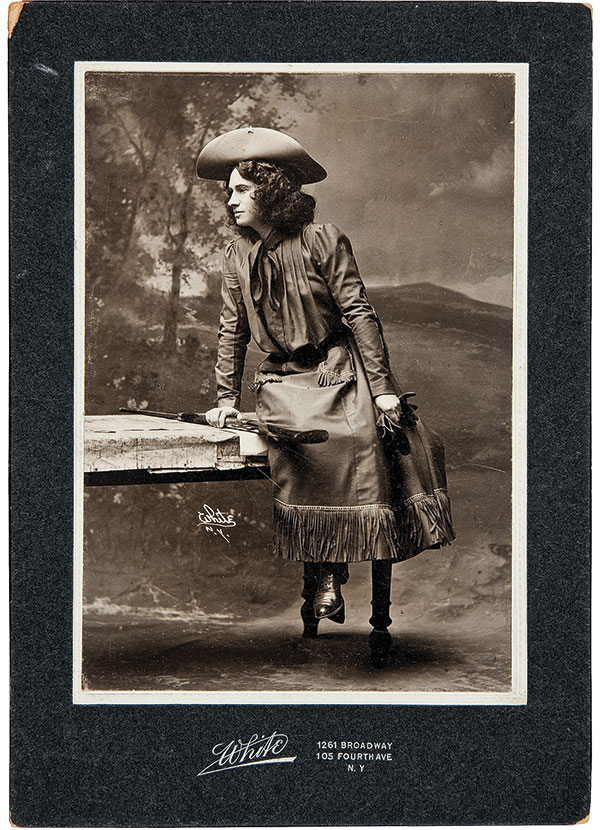 Authenticity carries the weight for autographs. In the same June 22, 2018, auction, a signed photograph of "Captain Jack" Crawford went for only $200. The content is fantastic, showing the frontier scout armed with a Winchester Model 1886 rifle and a Colt Model 1878 double-action revolver. Taken by W.R. Cross of Hot Springs, South Dakota, the photo is signed on the back, "Yours J.W. Crawford Capt. Jack."
The lower value can be attributed to the lightened image, but mainly to the unclear provenance. That doesn't mean this wasn't signed by Crawford; it just doesn't have strong support that it was, which reduces the value by thousands.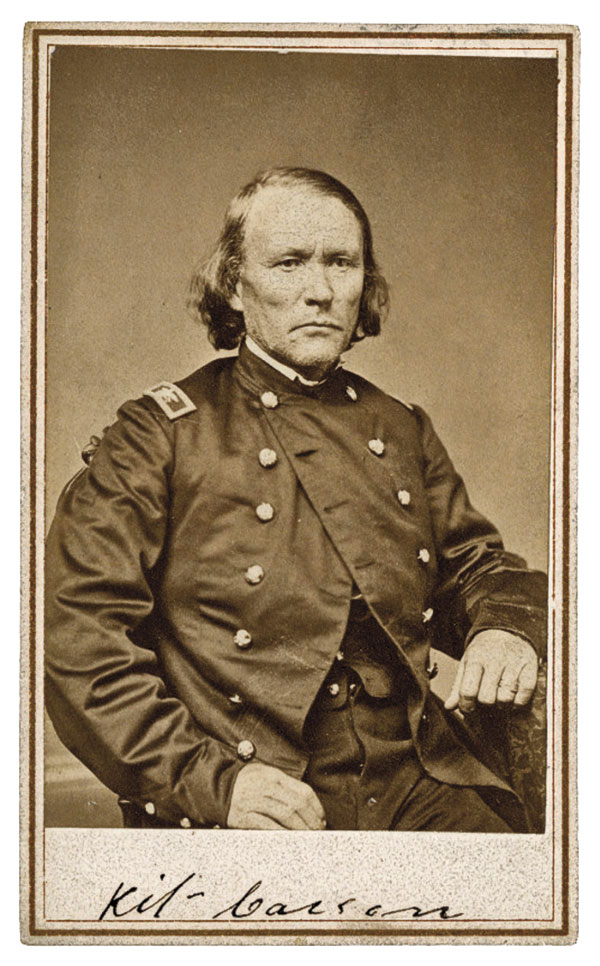 Collecting historical photographs is a joy for many, whether they are autographed or not. But when a collector is determining the potential value of his photograph, remember, authenticity is key.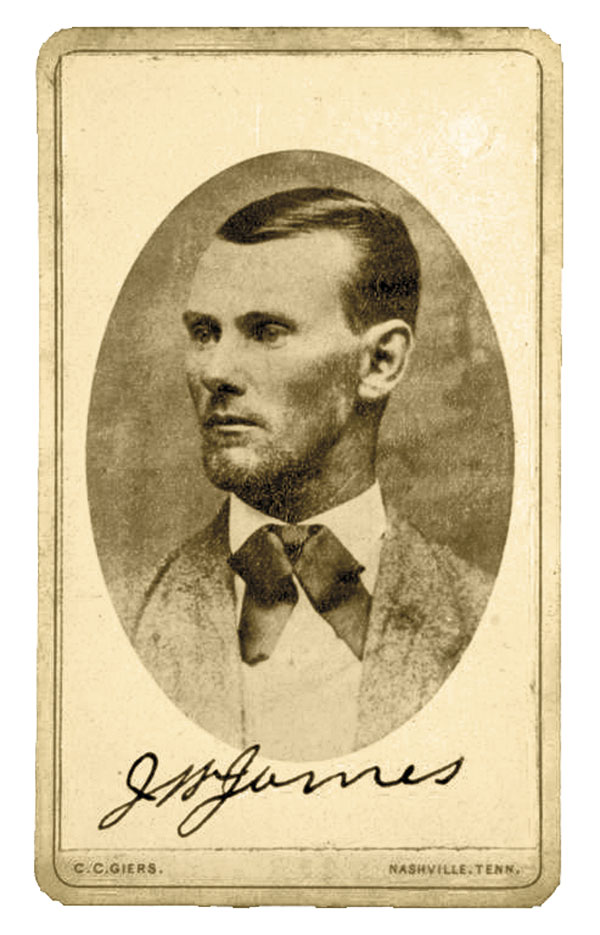 Top-Selling Signed Photo
This year, FinancesOnline.com reported the 10 most expensive autographs in the world. George Washington's Acts of Congress topped the list at $9.8 million.
Only two photographs signed by the subject were included on the list. One shows Albert Einstein mischievously sticking out his tongue in a family-authenticated photo, $75,000. The other shows the headshot of an outlaw familiar to many of us: Jesse James.
Why did this autographed Jesse photo hammer down for a whopping $42,000 at Leslie Hindman Auctioneers on April 5, 2011?
Provenance! The photo was bequeathed to Ethel Rose James, Jesse's granddaughter, by Jesse's widow, Zee. The photograph remained in the family until Ethel's husband, Calvin Tilden Owns, sold it in 1958 to Andrew MacKellar, captain of the Cunard Line of the RMS Queen Mary from 1954 to 1959.
That's not to say private collectors don't own some autographed photographs that could blow both those prices out of the water. This September 2018 issue features just one of these incredible photos, owned by our Publisher Emeritus Robert G. McCubbin.
Other Old West historical photograph lots from June 22, 2018, sale at Cowan's Auctions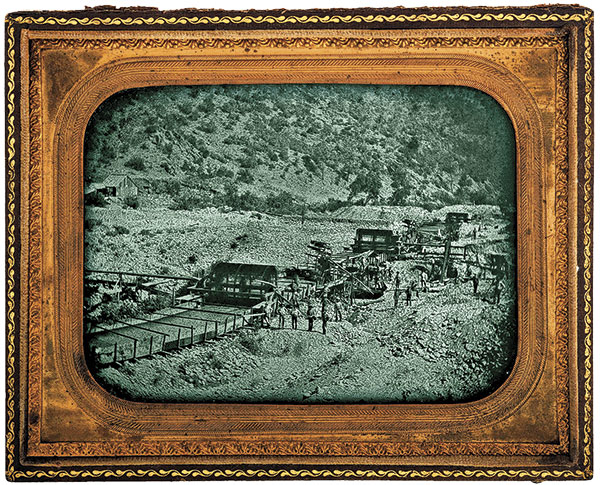 Hammering down for $3,000, this half-plate ambrotype shows a large-scale California gold mining operation along the American River, circa 1859. Notice the long sluice running through the dry riverbed.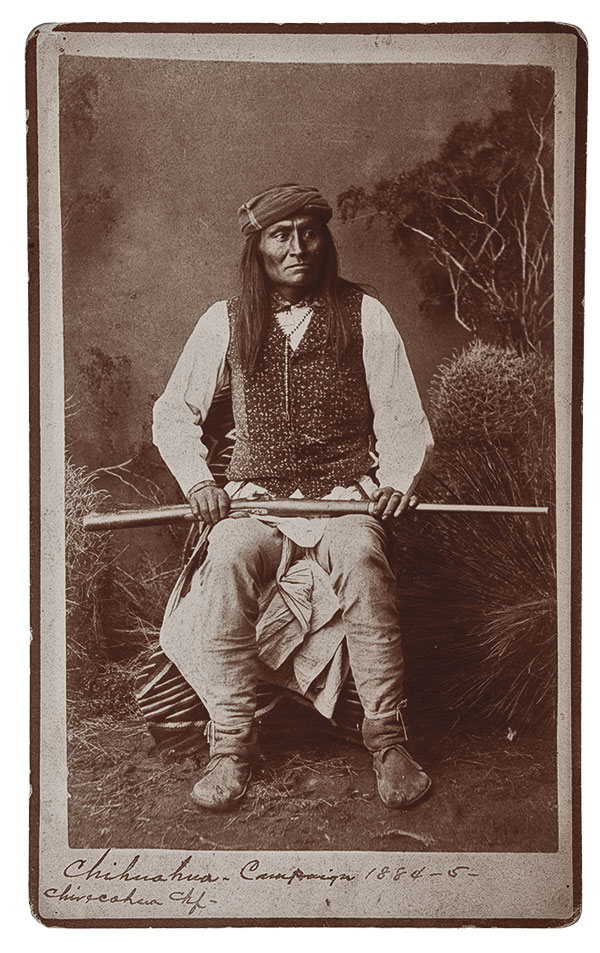 This circa 1884-85 boudoir card by A.F. Randall depicts Chiricahua Apache Chief Mangas Coloradas's son, with an 1879 Springfield trapdoor rifle; $1,900.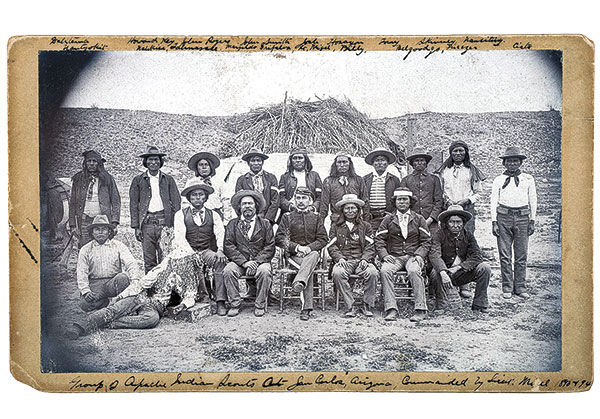 This photograph, labeled "Group of Apache Indian Scouts at San Carlos, Arizona, Commanded by Lieut. Weigel, 1893-94," shows William Weigel, wearing his U.S. Army kepi, seated in the center. Two other photos of Weigel were also included: one showing Weigel in uniform and another showing Weigel with soldiers and women in the Philippines capital, Manila; $1,600.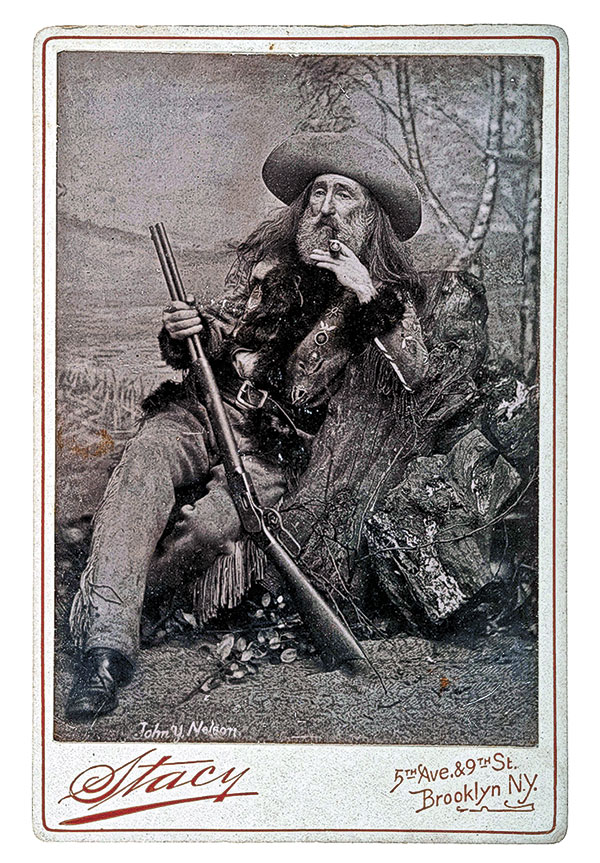 John Nelson poses in his Buffalo Bill's Wild West show attire, holding a lever-action Winchester. He lived with Spotted Tail's Brule Sioux, guided Mormon leader Brigham Young and was part of the burial party at the 1857 Mountain Meadows Massacre; $1,600.
Upcoming Auctions
September 14-15, 2018
Western Art
Jackson Hole Art Auction (Jackson, WY)
JacksonHoleArtAuction.com • 866-549-9278
September 20, 2018
Colt Firearms
Morphy Auctions (Las Vegas, NV)
MorphyAuctions.com • 877-968-8880
September 21, 2018
American Indian & Western Art
Cowan's Auctions (Cincinnati, OH)
Cowans.com • 513-871-1670
https://truewestmagazine.com/rare-images-of-the-old-west/