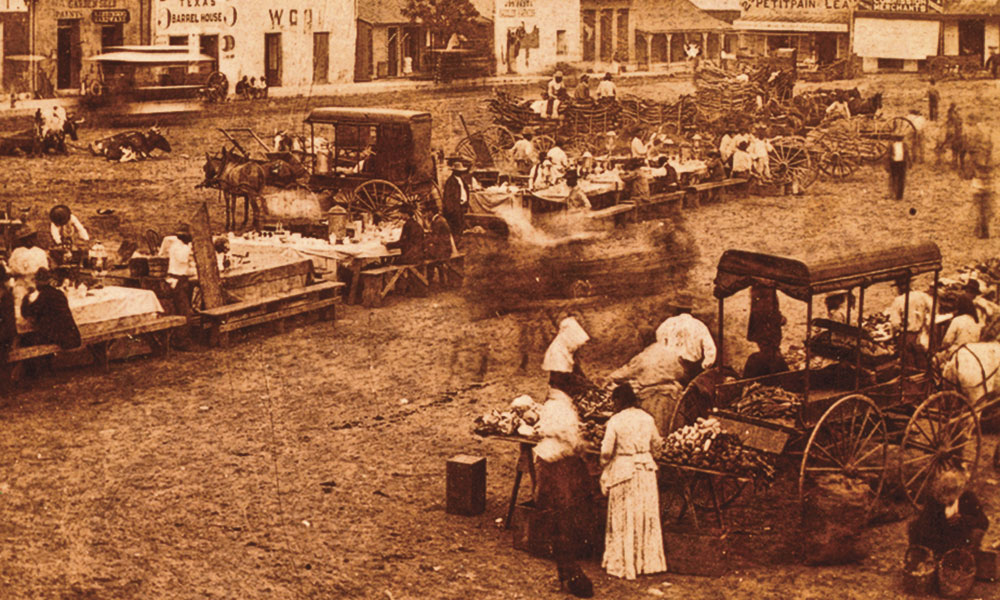 The cuisine of Mexican natives living in the frontier West did not appear on menus in most restaurants or hotels. Victorian pioneers considered it peasant food, and it took time for them to accept it.
As early as 1867, some locales, mostly border states, had Mexican restaurants. Texas had several. San Antonio's William Weyel served chili con carne, spicy stew containing chile peppers and meat, at his restaurant. "A Mexican meal sets a man up. He feels like getting on a poney [sic] and roping cattle right off," the San Antonio Daily Express reported about Weyel's restaurant, on July 25, 1873.
Austin had Juan Belmontes's and Evaristo Liceaga's Mexican restaurants, with the latter also offering oysters and chocolate. Austin's fair at Hancock's Hall offered attendees tamales, chili con carne, enchiladas, Mexican chocolate and mamones (tropical fruit). 
Brenham got a Mexican restaurant, serving patrons tamales and chili con carne, starting in 1878. Residents in San Marcos had options by 1887; "Mexican business houses are now frequent," the local paper reported.
Chili con carne became a popular dish. By 1882, Secretary of War Robert Todd Lincoln was ordering it as part of the U.S. Army's supply list because it was nutritious and prevented scurvy.
As early as 1885, California had the Voice of Mexico Restaurant in Sacramento, where diners enjoyed tamales, wine and coffee for 10 cents.
By 1886, San Francisco had Luna's, at the corner of Dupont and Vallejo, where  Ricardo Luna and family cooked up traditional dishes.
Hilario Preciado offered Los Angeles diners Spanish, French and American meals, as well as Mexican specialties that included tamales, enchiladas, chili con carne and albondigas.
In 1892, the Los Angeles Herald dedicated an entire column to what was now being called a gastronomic marvel. The city's restaurants offered albondigas, meatballs served in a clear gravy, and carne seca, dried beef cooked with green peppers and olive oil. Diners also ate frijoles, cooked beans liberally topped with grated cheese, and enchiladas, thin corn tortillas stuffed with onions, garlic, green peppers and olives, topped with a chile sauce and melted cheese.
By 1898, Montana and other states were embracing Mexican cuisine. The MacCallum & Cloutier mercantile in Anaconda advertised, "Chicken Tamale, delicately prepared from the original Mexican recipe."
The grocers noted that chicken tamales were a great "fad" in the East at 5 o'clock teas and called them, "Just the right thing for the lunch bucket." At 35 cents for a one-pound can, who could pass up chicken tamales?
Try your hand at making the most popular frontier Mexican dish and a U.S. Army staple, chili con carne, for dinner.
Chili Con Carne
6 dried red chile peppers,
stemmed/ seeded
Boiling water
1½ lbs. stew beef
1 tsp. flour
4 garlic cloves, diced
1 tsp. salt
1 medium onion, diced, optional
1 eight-oz. can tomato sauce, optional
Place the chile peppers in a bowl and cover with boiling water for one hour. Pour the chile peppers and water into a blender, add the flour and mix until smooth. Pour all the ingredients into a stock pot and cook until tender; about three hours. Taste for seasoning. You can sauté the onions, meat and garlic for extra flavor.
Recipe adapted from California's The Los Angeles Times, October 16, 1898.
Sherry Monahan kicked off her journey into Old West cuisine, spirits and places by authoring Taste of Tombstone. Visit SherryMonahan.com to learn more about her books, awards and TV appearances.
https://truewestmagazine.com/lone-star-chili/