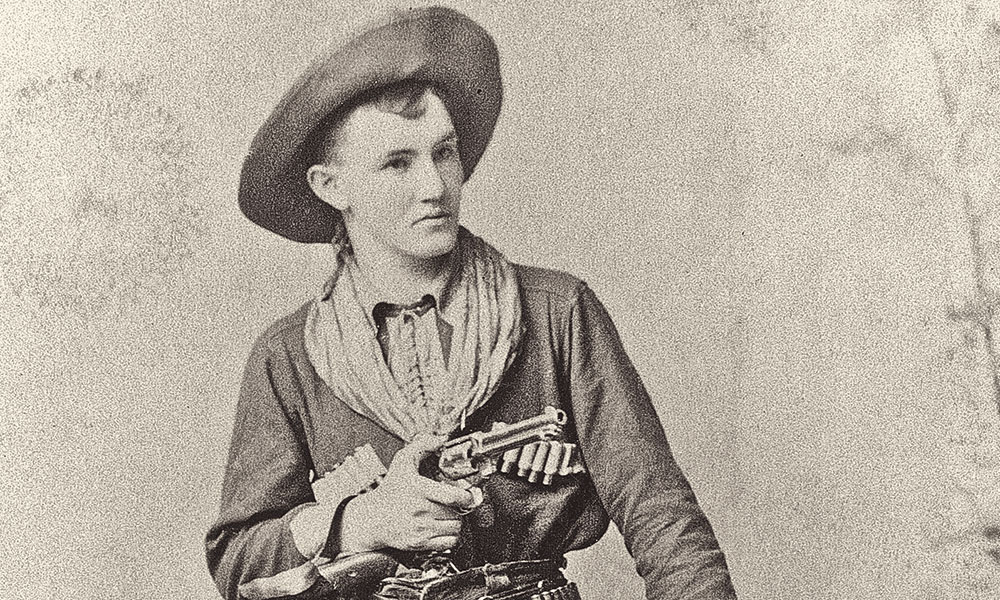 In John Wayne's last movie, The Shootist (1976), based on the novel by Glendon Swarthout, the Duke's character, J.B. Books, packed an engraved pair of ivory-stocked, 4 3⁄4-inch barreled, 1873 Peacemaker-type revolvers. They were actually a brace of Great Western Arms Company replicas that had been presented to Wayne many years earlier. Big John had always wanted to use them in a film, but they were too fancy for any of the characters he played…that is until The Shootist came along.
In the book, Swarthout described the dying gunslinger's revolvers, not as Colts, but as Remington double-action .44-40s. However, in the film version, Wayne insisted on using his Colt lookalikes. In the sequel novel, The Last Shootist, written by Glendon's son Miles, and published in 2014, the six-shooters were identified as 1890 model Remingtons. When he finished his original manuscript, Miles asked me to proofread his adventure story and suggest any historical corrections I thought necessary. I informed him that Remington 1890 models were single-action revolvers, so the shootist's six-guns were corrected in his final work, and images of them appear on the dust cover, as well as in each chapter heading.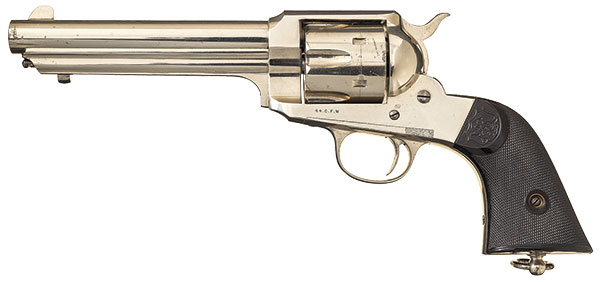 Historically, with mass production of Remington's 1875 model, which strongly resembled the 1873 Colt, ending in 1889, the company's last big-bore revolvers got their start the previous year. The 1888 version of their military-size handgun remained basically the same as the earlier '75, with the notable exception of the cutaway web underneath the barrel. Virtually all of the other features remained the same. According to current information on the model, with the reorganization of the Remington Company in 1888, they were taken over by the renowned firm of Hartley & Graham of New York, as in Winchester Repeating Arms and a small consortium of Chicago investors.
Production began that same year, and although the gun was never offered in any Remington catalog, Hartley and Graham advertisements of the period announced the arm as the "Model 1888."  The newly designed revolver, probably made from utilizing leftover 1875 parts, was also called the "New Model Pocket Army Revolver." It was made with a 5 ¾-inch barrel (although it was advertised as being 5 ½ inches), was chambered in .44-40 caliber, and, like the '75, the '88 Remingtons were stamped on the barrel with the legend "E. Remington & Sons, Ilion, N.Y., U.S.A." Production quantities of the 1888 model are unknown, but it is believed that just 500 to 1,000 guns were ever made.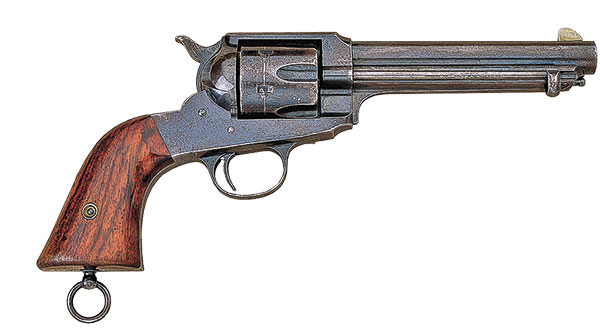 The last Remington large-frame revolver, the Model 1890, was then brought out,
with actual production starting in 1891.

The difference between this latter arm and the 1888 model, which could now be had in either 5 ¾-inch (also inaccurately called 5 ½-inch) or 7 ½-inch barrel lengths, was just some minor assembly markings, the new firm's "Remington Arms Co., Ilion, N.Y." barrel stamping and the factory standard black hard rubber grips bearing the intertwined Remington Arms monogram. The 1888 and 1890 models were made with lanyard rings on the butt. Remington's handsome new six-shooter looked even more like Colt's Peacemaker, and although this well-made single-action retailed for just $10.70, it did not sell well and production of the .44-40 was limited to 2,020 revolvers. Sales were just a few hundred arms each year, except 1895 when no guns were shipped). Manufacture of the '90 model ceased in 1896, with the sale of just one revolver, marking the end of Remington's bid for a spot in the large caliber revolver marketplace.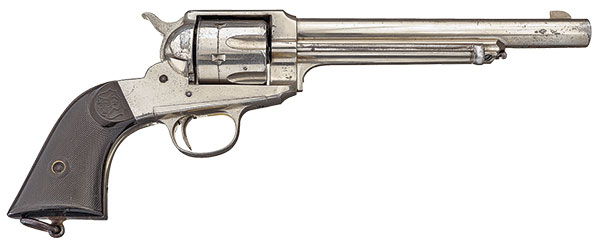 Despite poor sales, the '88 and '90 models did have their admirers, such as noted sharpshooter, Peter Bogardus, son of Capt. Adam H. Bogardus, who toured with Buffalo Bill's Wild West show. Highly collectible now, these Remingtons were the last of their breed.

Replica Frontier Remington Six-Guns
Italian-import replicas of Remington's 1875 and 1890 models are offered by Cimarron Fire Arms (Cimarron-Firearms.com), Dixie Gun Works (DixieGunWorks.com), Taylor's & Company (TaylorsFirearms.com), and Uberti-USA (Uberti-USA.com). These six-guns are finding their way into the holsters and hands of cowboy action shooters, and Old West buffs alike. Walnut-stocked copies, they maintain the overall look of "genu-wine" Remingtons, but differ in minor, almost unnoticeable details. Made to handle modern factory smokeless ammunition, they heft and shoot like the real deal. The 1875s
are offered in 5 ½-inch or 7 ½-inch barrels (Taylor's only offers 1875 models), while 1890 replicas are available only in 5 ½-inch tubes. Barrel lengths and calibers offered (.38 Spl./.357 Magnum, .44-40, .45 Colt/.45 ACP) vary with each importer. 
https://truewestmagazine.com/colts-cavalry-pistol-to-the-rescue/