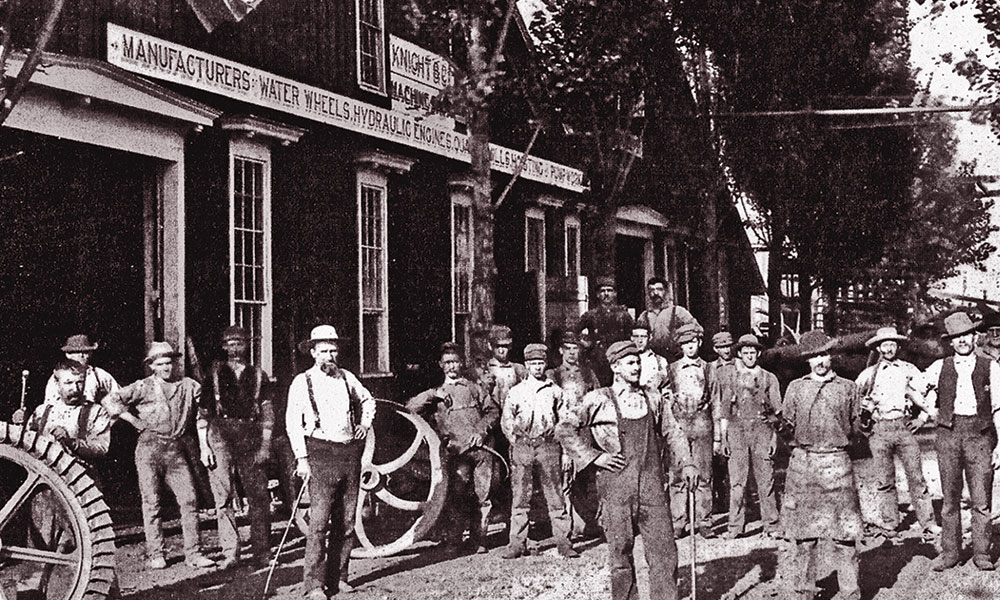 Ed Arata's history with Sutter Creek, California, goes back to the Mother Lode days when gold was plentiful and his grandfather worked at the Knight Foundry, making the heavy machinery and parts so needed by the mines.
Unable to keep the 1873 foundry going in the 1990s, Arata couldn't bring himself to drive down the foundry's street, his heart so broken that this magnificent relic was falling into ruin.
Today, he's proud that the foundry is now city-owned and poised to become a museum. His trip from despair to salvation has been a long—and expensive—road, but the small community of Sutter Creek has stood tall.
Samuel N. Knight opened the foundry that carries his name in 1873, leaving it to his employees when he died in 1913. When the foundry closed in 1996, it was the last water-powered foundry and machine shop left in the country.
Arata and others dreamed of a living museum at the complex—the foundry, plus machine, pipe and blacksmith shops—but it felt beyond reach.
Until December 2016, when the owner offered the city a deal: he'd donate the land and buildings if the city would buy its equipment—$325,000 worth—with the drop-dead deadline of April 15, 2017.
That's a lot of money for anyone, to say nothing of a community of roughly 2,500 souls. And they had four months to raise it.
"Donations came in very quickly from all over the country," Arata says, "and we raised the money by the deadline."
The community will next decide how to develop the foundry site. "I look at this like the dog that chases the car and finally catches the car, and now is not sure exactly how to proceed," Arata says.
The city does have a goal in mind, as City Councilman Robin Peters explains on the website: "Once preserved and re-opened, the Knight Foundry complex will join the Kennedy Tailing Wheels, Kennedy Mine, Central Eureka Mine and Miner's Bend parks to form a world-class industrial heritage corridor that tells the story of how local industry created and then contributed to the viability of Mother Lode communities such as Sutter Creek, Jackson and others."
That will mean raising yet more money, but Arata sounds confident. "We set a spark 25 years ago, and then it died," he says. "It's been sitting there smoldering, and people have been concerned. When it came back to life, people really responded."
In saving a Gold Rush-era foundry, the people of Sutter Creek have erased its most devastating legacy—as one of America's 11 most endangered historic places.
"We've got a long way to go, but we're optimistic," Arata says. With a smile.
Jana Bommersbach has earned recognition as Arizona's Journalist of the Year and won an Emmy and two Lifetime Achievement Awards. She cowrote the Emmy-winning Outrageous Arizona and has written two true crime books, a children's book and the historical novel Cattle Kate.
https://truewestmagazine.com/idaho-city-queen-of-the-gold-camps/