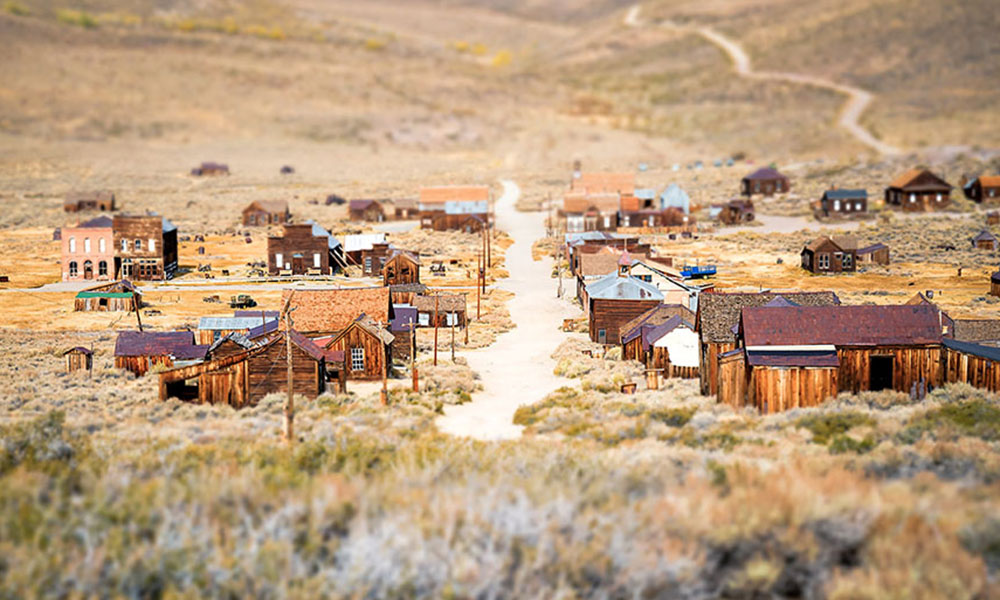 Gold was discovered in what became Bodie by a party of prospectors in 1859. The discovery coincided with another at nearby Aurora, Nevada and the "Granddaddy" of all silver mines, the Comstock Lode. While Aurora and the Comstock boomed Bodie remained a small mining camp until 1875 when a mining cave-in exposed a large deposit of paydirt. A second rich deposit was found two years later transforming little Bodie into a boom town almost overnight and by 1880 the population was between five and seven thousand people making it one of California's largest cities. Newspapers optimistically predicted it would be the next Comstock Lode.
The mile-long Main Street had sixty-five saloons. Like most boom towns Bodie had its share of shootings, muggings, stagecoach robberies, gunfights and murders. Opium dens were found in the Chinese district. And there was a popular red light district on the north side of town. One shady lady, Rosa May is remembered as a tenderhearted lady who nursed the victims of an epidemic back to health but when she died the ungrateful citizens refused to bury her in the cemetery.
Another well-known prostitute, Eleanore Dumont aka "Madame Mustache," operated a brothel in Bodie and other western boom towns. Much to the shock of the "good people," she often paraded her girls around town in a buggy to show off their beauty to prospective male customers. The multi-talented "Frenchie," as she was sometimes called, was also an astute gambler.
In 1882 a Methodist Church was built that is still standing today. Bodie began to decline when new strikes in Tombstone, Butte and Utah offered new opportunities to strike it rich. By 1910 the population had dropped to less than seven hundred. Mining ceased during World War II and never resumed. By 1943 the population of Bodie numbered three people. It became a National Historical Landmark in 1961 and a year later Boise State Park was established. Bodie is a town frozen in time and in a "state of arrested decay." It still looks much as it did when the last residents pulled out and it's a popular tourist attraction. Bodie is considered by many the best-preserved ghost town in the West.
There's an enduring story of a little girl, who with her family was moving from San Francisco to Bodie, and kept a diary. In it she wrote, depending on who's telling the story: "Good by God, we're moving to Bodie" or Goodbye God, we're moving to Bodie."
https://truewestmagazine.com/pancho-villas-punitive-expedition/