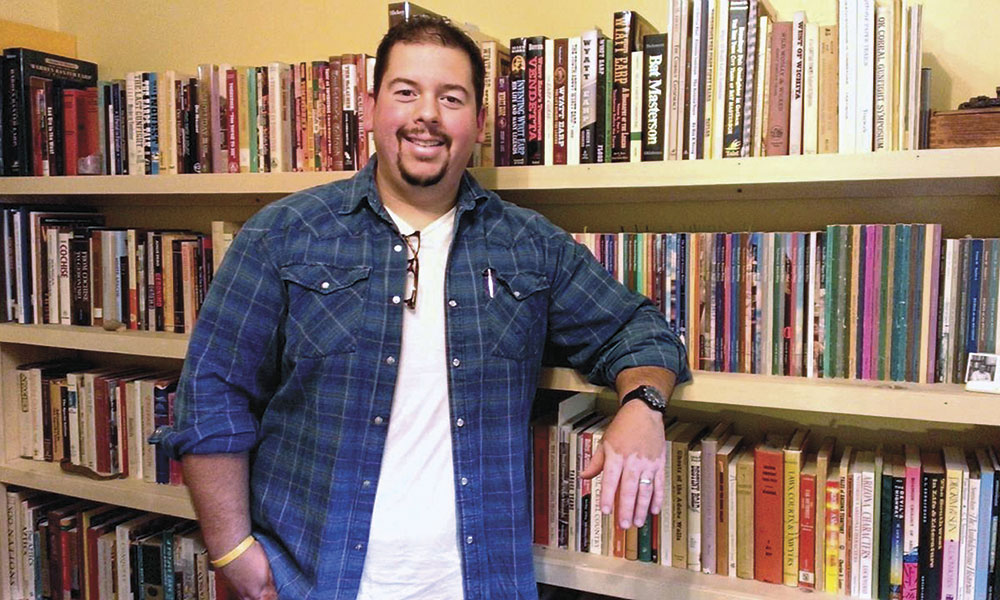 Erik J. Wright is an emergency management coordinator in northeast Arkansas and has kept his passion for the Old West alive through his writing and his work as assistant editor for The Tombstone Epitaph newspaper. He got his start at the age of 16, when True West published his article. He has continued to write for various publications and is the author of four books: Gamblers, Guns & Gavels (focused on Arizona); Main Street Mayhem (on Paragould, Arkansas, 1888-1932); Phil Foote (biography); and his latest, out this May, about San Francisco detective Arthur McQuaide.
Working for Arizona's oldest continually published newspaper is a bit surreal and hasn't sunk in yet. I still remember visiting Tombstone with my parents and playing gunfighter with my toy revolvers and candy cigarettes.
It all still seems like a big game to me.
Being called the "next Leon Metz" is a bit like working for The Tombstone Epitaph. Those are some big shoes to fill. I regret never having met Leon, but I trust, like him, I am up to the challenge of conducting dogged research.
Concerning Earp-era Tombstone, the most recent thing I learned was that Thomas Mulqueen, the tough gambler who knocked out Wyatt Earp and threw him into a bar in San Francisco in 1900, later attended a wedding in California. There, he walked beneath an ornate stone archway constructed by the great-grandfather of Earp biographer Casey Tefertiller.
I was drawn to study archaeology in college because what other career can you test if something is human bone by sticking it to your tongue? (Yes, that really is a thing).
My interest in 19th-century U.S.-Mexico borderlands violence comes from my dad. I was naturally drawn to what he watched in movies and what he read in books. My dad wanted to be a park ranger when he was younger and my mom was an English major in college, so I inherited traits from those two and put them to good use.
A forgotten prospector I'd like to hear more about is Jonathan Davis. This Gold Rush-era gunman dispatched several Sydney Ducks gang members in a knife and gunfight in 1854 along California's American River. The guy was a tough dude.
The Apache struggles in Arizona Territory created the modern southwest. I am not sure many people understand the intricate geopolitical connections there.
The Revenant is the best Western since Tombstone. Everything about the film worked beautifully, including the costumes, the music, the dialogue and the landscapes.
Researching Tucson gunfighter James Leavy has lasted years and will likely be a hallmark of my career. My Leavy research is a case study on how a historian can go down archival rabbit holes and never again emerge. One of the tales I discovered while looking into his story is that of Phil Foote, a forgotten Colorado lawman-turned-outlaw.
I hope to secure Lt. Charles Gatewood the honor he deserves because Gen. Nelson A. Miles fought so hard to make sure he was forgotten. Gatewood, more than any one person, deserves credit for the final closure of the Apache Wars.
As a member of the Royal Historical Society in London, I hope to bring fresh insight into American lawlessness to the most distinguished group of historians in the world.
My next book will be a collaborative project with Arizona researcher and photographer Mike Mihaljevich, discussing a history of Tombstone, told through images I have collected over the years.
My earliest Old West recollection is visiting the Alamo with my dad when I was quite young. I think there is a picture of me aiming an imaginary rifle where David Crockett fell.
Before I die, I want to pass all this on to a young, eager historian like I was once.
https://truewestmagazine.com/rudolfo-anaya/