A great novel about the legendary Geronimo, a new history of U.S.-Mexico's La Frontiera, two classic Western novels and a new history of Silver State shootists.
Rarely do you come across an author as adept at writing both Western history and novels as W. Michael Farmer. The Virginia author has spent over a decade researching and writing about his subject matter, the Chiricahua Apaches of the American Southwest and their infamous shaman leader, Geronimo. In his latest novel, The Iliad of Geronimo: A Saong of Blood and Fire, A Novel (Five Star, $25.95), he has completed his own Homeric journey that began with The Odyssey of Geronimo: Twenty-Three Years a Prisoner of War, A Novel (Five Star, 2020). Few authors in recent years have attempted to bring voice to American Indian subjects with as much compassion and respect as Farmer, and he should be applauded for his extraordinary efforts. Farmer says that "to give the reader some sense of Apache life during these ten years of war, I've used their terms for hours, days, seasons, and years, how they lived their lifeways as the tsunami of White Eye settlers roared over them, and why they fought their battles as they did."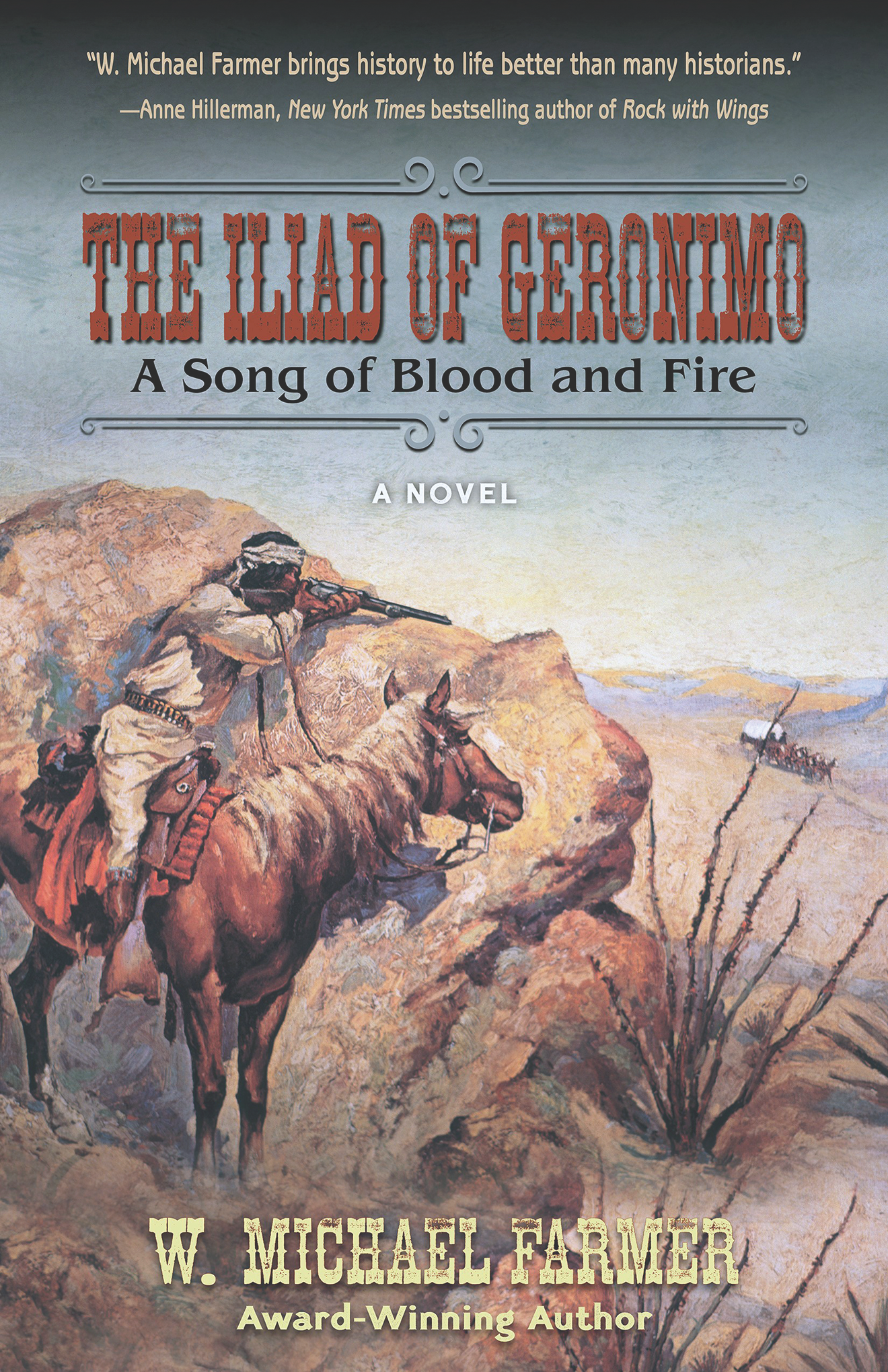 Also extraordinary about Farmer's The Iliad of Geronimo is the book's front matter, which is unusual in a novel: a map of "The Geronimo Iliad Places of War"; a detailed list of historical characters; glossary of words and phrases; a clear explanation of Apache reckoning of time and seasons; an explanatory list of Chiricahua Apache bands; and a preface that provides an insightful and personal window into the author's own Odyssey and Iliad writing about Geronimo and the Chiricahua Apache people. Much credit for such expansive glossaries, as well as a list of additional reading after the novel's conclusion, must be given to Farmer's personal editor, Melissa Watkins Starr, and to Tiffany Schofield, Five Star's editor, whose dedication to her authors is nearly unsurpassed in the Western fiction business.
With The Iliad of Geronimo, Farmer has reached the pinnacle of his own literary odyssey with Geronimo, the Chiricahua and their Iliadic struggle for freedom and peace. Readers would benefit from going back and reading or rereading Odyssey and Farmer's earlier works on Geronimo and the Apaches: Geronimo, Prisoner of Lies: Twenty-Three Years as a Prisoner of War, 1886-1909 (Two Dot, 2019), Apacheria: True Stories of Apache Culture 1860-1920 (Two Dot, 2018), Blood of the Devil: The Life and Times of Yellow Boy, Mescalero Apache (Five Star, 2017) and Killer of Witches: The Life and Times of Yellow Boy, Mescalero Apache (Five Star, 2015). And if that's not enough, the intrepid Farmer has a new Western being released by Five Star this November title Trini! Come!: Geronimo's Captivity of Trinidad Verdín, A Novel. You can count on me to be at the front of the line to read it first!
—Stuart Rosebrook 
Border Empire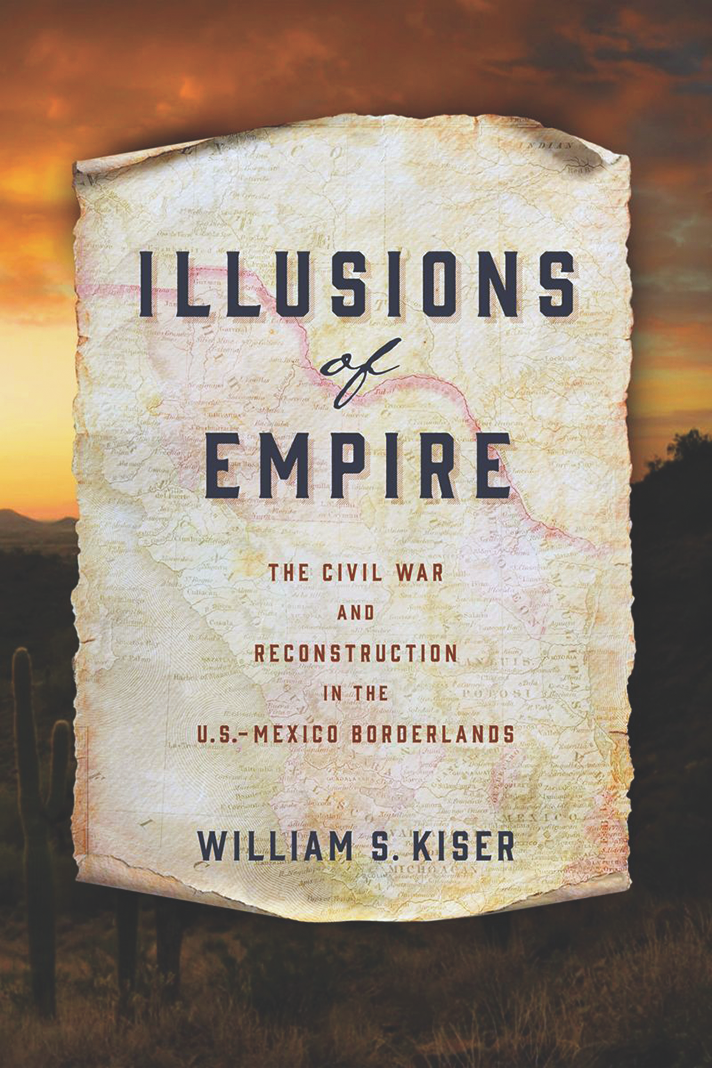 An increasing amount of scholarship has emerged in the last decade relating to the development and critical functions the Southwest borderlands played in the territories along its boundary and the expansion of the United States. Illusions of Empire: The Civil War and Reconstruction in the U.S.-Mexico Borderlands (University of Pennsylvania Press, $55) by history professor William S. Kiser adds to this important discussion. Kiser tackles an immense geopolitical maze and carefully constructs a readable and timely narrative that covers antebellum U.S. foreign policy, the Civil War, French intervention in Mexico, the Indian campaigns in the Southwest, Reconstruction and borderlands outlawry in one volume. Not since Katherine Benton-Cohen's Borderline Americans: Racial Division and Labor War in the Arizona Borderlands (2011) has a book offered unique and practical contextual history on the borderlands frontier.
 —Erik Wright, assistant editor of The Tombstone Epitaph
On the Hoot Owl Trail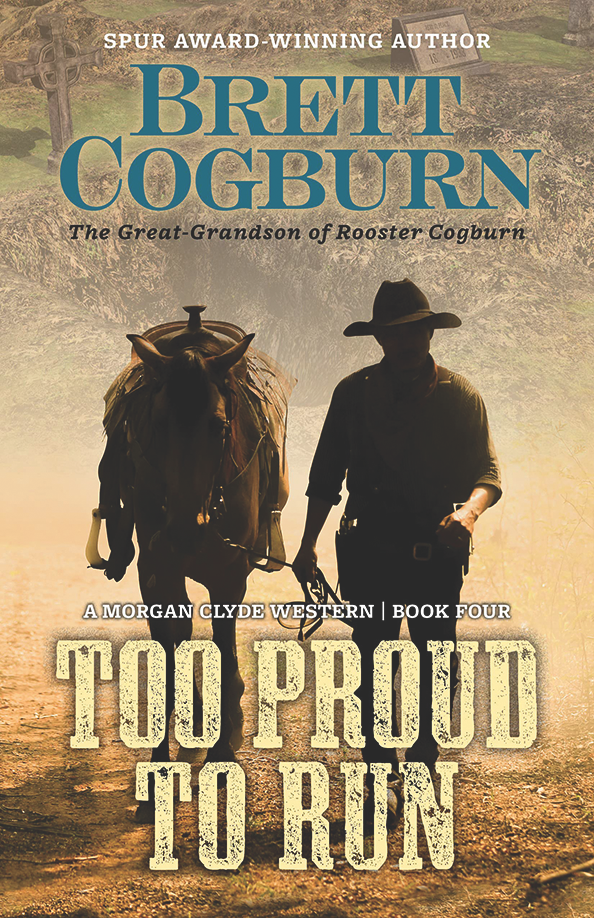 Brett Cogburn's Too Proud To Run (Five Star Publishing $25.95) centers around the actions of Deputy U.S. Marshal Morgan Clyde. Too Proud To Run seems to be patterned after the real life of Brett's great-grandfather, Rooster Cogburn, and stories from his family history as Marshal Clyde pursues kidnappers who took J.J. McAlester's wife and son in the Indian Territory in the 1870s. I found the tale filled with activities that will keep your interest. In addition, there are problems with a family dispute between Marshal Clyde's ex-wife and son that interfere with the search that adds to the drama. It is fascinating to read and follow as Marshal Clyde and his posse go after the outlaws, including several cliches mentioned as the classic Western progresses. I found the book to be a good fictional read and recommend it.
 —Lowell F. Volk, author of Luke Taylor and Trevor Lane series
High Country Western
Themes of family loyalty, integrity and determination to uphold the law span three generations of the Willford Simms family from the early 1850s and into the 20th century. Forever Sheriff (Five Star, $25.95) is the concluding book in "The High Mountain" series by Edward Massey. This Western novel is told from the perspective of third-generation Mark Willford Simms, who wears the coveted sheriff's star and strives to take care of his people in Coalville, Utah. Massey is adept at keeping the storytelling authentic and well-paced. Readers are immersed into the turbulent lawless times of cattle rustlers and meat-packing monopolies. The Spanish Flu challenges the sheriff's leadership as he navigates the health crisis to ensure the townspeople's safety.
—Sue Ready, EverReady Book Reviews 
Silver State Shootists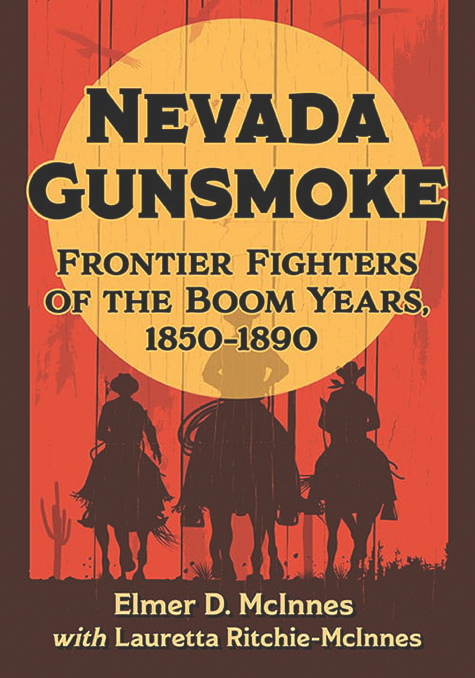 For aficionados of Western outlaws and gunmen, credible material on Nevada history is relatively hard to find. Most researchers turn their attention to places like Texas, Arizona and California. However, Nevada was a breeding ground for violence, and some of the most dangerous fighting men of the frontier appeared from that region. Nevada Gunsmoke: Frontier Fighters of the Boom Years, 1850-1890 by Elmer D. McInnes with Lauretta Ritchie McInnes (McFarland Books, $39.95) looks to fill this void, and it does so admirably. The authors explore in fascinating detail the lives and misdeeds of these gunmen, including the gunfighting miner Dick Prentice, lawmen Leslie Blackburn and William McKee, killer Hank Parrish and outlaw John Burke. The book carefully weaves the tales of these men and more by analyzing the social and economic conditions of the mining camps that bred the violence, thus elevating itself to a higher standard of scholarship reminiscent of Roger McGrath's Gunfighters, Highwaymen, and Vigilantes: Violence on the Frontier (1984).
—Erik Wright, assistant editor of The Tombstone Epitaph
Rough Drafts  
Irene Bennett Brown to Receive the Western Writers of America's Owen Wister Award
Kansas native Irene Bennett Brown, known for her historical and juvenile novels, will receive the Western Writers of America 2022 Owen Wister Award for Lifetime Contributions to Western Literature during WWA's convention June 22-25 in Great Falls, Montana.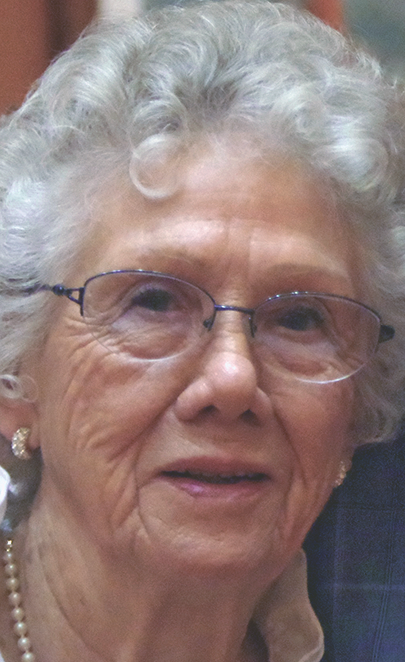 "Irene Bennett Brown's contribution to the Western genre is significant," WWA President Chris Enss said. "She pulls readers into the stories of the Old West by means of true emotion and vivid detail. Her plots feature strong characters, such as Larnie in the book Skitterbrain and Jocelyn Royal in Miss Royal's Mules. Like Irene, those Western heroes show stubborn determination and fierce integrity. WWA is honored to have her in its community and pleased to name her as the latest Wister Award winner."
Brown, 90, also will be inducted into the Western Writers Hall of Fame, housed outside the McCracken Research Library at the Buffalo Bill Center of the West in Cody, Wyoming.
"Never once did I imagine I'd be honored with the renowned Owen Wister Award," Brown said from her Jefferson, Oregon, home, where she lives with her husband, Bob, a retired research chemist. "I'm dumbfounded, delighted and deeply grateful."
Brown has authored more than 20 books. Her first novel, To Rainbow Valley, was published in 1969. Other titles include Willow Whip (1979), Morning Glory Afternoon (1981), The Plainswoman (1994) and Where Danger Danced (2012). She has enjoyed using her home state as background for her historical novels. Her novel Before the Lark won WWA's Spur Award for Best Western Juvenile Book in 1982. 
 —Stuart Rosebrook
Building Your Western Library
Arizona Author Shares his Favorites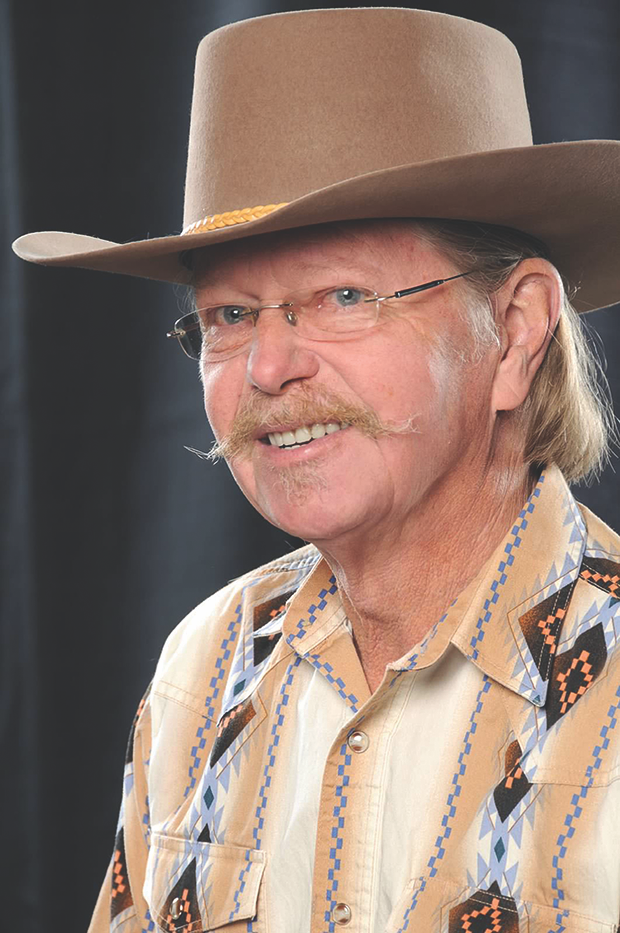 Rod Timanus has written and illustrated several history books about the Old West. His topics have included Lewis and Clark, David Crockett's journey to the Alamo, George Custer's last campaign, the ancient Puebloan people in Arizona and periods of Texas history. His maps, illustrations and cover designs have appeared in the works of several other authors. He regularly writes book reviews and yearly convention articles for the Western Writers of America Roundup magazine. He recommends these titles:
The Journals of Lewis and Clark edited by Bernard DeVoto (Houghton Mifflin Co.): When the Corps of Discovery set off into the uncharted territory west of the Mississippi River, the history of the Old West began. Their own words about what they experienced while traversing an unknown wilderness are truly awe-inspiring.

 

 

The Settlement of America Encyclopedia of Western Expansion edited by James Crutchfield (M.E. Sharpe, Inc.): Written by many authors, this two-volume set chronicles the westward expansion across the North American continent from the eastern seaboard states to the Pacific coast. The trials, tribulations and conflicts encountered make for fascinating reading.
The Old West book series by various editors (Time-Life Books, Inc.): This 26-volume set by many authors is an excellent source of information to whet the appetite for more detailed accounts and inspire further research into events and personalities.

 

Story of the Great American West edited Edward S. Barnard (Reader's Digest Assoc., Inc.): Another compilation by various authors includes intriguing sections such as The West Beckons, The Great Rush West, and The West Comes of Age, among others.

 

Soldiers, Sutlers, and Settlers: Garrison Life on the Texas Frontier by Robert Wooster (Texas A&M University Press): The episodes and incidents presented in this book are representative of what happened all over the Old West under similar circumstances.