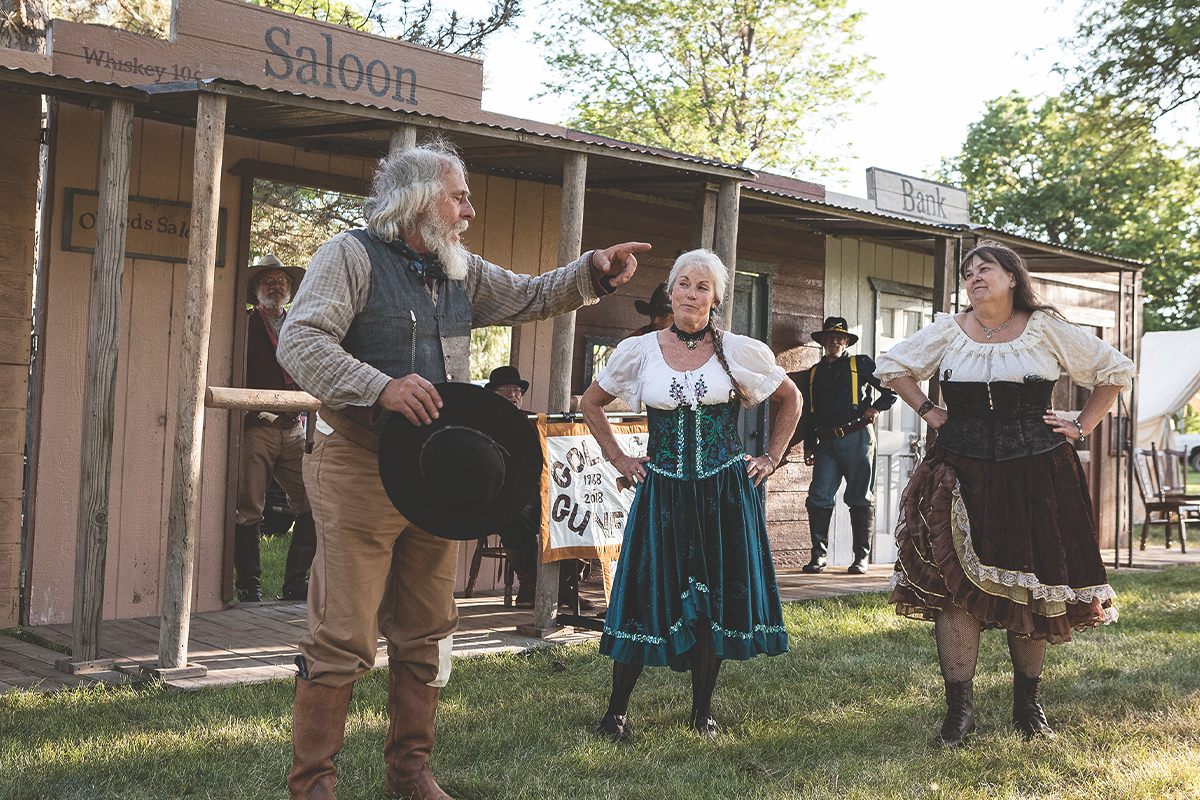 Gold Rush Days
Sidney, NE, June 10-12: Experience the Black Hills gold rush of 1876 through skits, re-enactments and cowboy lore about the town's freighting days.
866-545-4030 • SidneyGoldRush.com
ART SHOWS
American Plains Artists Special Show
San Angelo, TX, June 23-August 7: An 1867 fort along the Concho River showcases nearly 100 Western paintings and a dozen sculptures.
325-481-2646 • FortConcho.com
Cowgirl Roundup
Loveland, CO, June 12-17: Discover your inner cowgirl at Sylvan Dale's Cowgirl Roundup. Attend alone or with a friend. Making friendships with other "cowgirls" and bonding with your Sylvan Dale horse makes this adventure a top-of-the-bucket-list experience.
970-667-3915 • SylvanDale.com
FILM FESTIVALS
Lone Pine Film History Museum Concert in the Rocks
Lone Pine, CA, June 4: Every June, magnificent Lone Ranger Canyon in the Alabama Hills is transformed into an "under the stars" venue for hosting the annual Lone Pine Concert in the Rocks, which this year features a tribute to Frank Sinatra.
760-876-9909 • MuseumOfWesternFilmHistory.org
FOOD FESTIVALS
Hops & Hops Fest
The Dalles, OR, June 19: Choose from more than 50 beers from 25-plus breweries from Oregon and beyond in a taproom experience.
541.296.2231 • BeerFestTheDalles.com
HERITAGE FESTIVALS
Historic Lecompton Territorial Days
Lecompton, KS, June 10-11: Kansas's former territorial capital celebrates with weekend activities for the entire family.
785-887-6285 • LeComptonTerritorialDays.com
Nebraskaland Days
North Platte, NE, June 15-25: Tim McGraw will be among the performers at Nebraska's premier music festival and rodeo featuring a rodeo, parades and concerts.
308-532-7939 • NebraskalandDays.com
Dodge City Founders Weekend
Dodge City, KS, June 17-19: This signature event will celebrate George Hoover and the establishment of the first business, as well as the city's rough and rowdy early years. The 150th anniversary represents the chance to showcase not only the best of its past but celebrate the community that makes Dodge City great today.
800-OLD-WEST • DodgeCity150.com
Jim Bowie Days
Bowie, TX, June 18-25: Texas Revolution hero and frontiersman Jim Bowie is honored with a rodeo, parades and an art and Indian artifact show.
940-366-1887 • JimBowieDays.org
MUSIC

 
Texas! Outdoor Musical Drama
Palo Duro Canyon, TX, June 2-August 13: This outdoor musical re-creates the stories of Texas Panhandle settlers.
806-655-2181 • Texas-Show.com
POWWOWS
Red Earth Festival
Oklahoma City, OK, June 30-July 2: Experience the traditions of American Indian arts and cultures through dance, an art market and a powwow.
405-427-5228 • RedEarth.org
RODEOS
Sisters Rodeo
Sisters, OR, June 8-12: Rodeo stars head to Sisters to show off their goods in this self-proclaimed "Biggest Little Show in the World!"
800-827-7522 • SistersRodeo.com
West of the Pecos Rodeo
Pecos, TX, June 18-25: Gather in Pecos for this historic PRCA rodeo, a top 40 prize money rodeo that originated in 1883.
432-445-2406 • PecosRodeo.com
Greeley Stampede
Greeley, CO, June 23-July 4: Get bull riding and steer wrestling rodeo action, plus take in Western art and an Independence Day parade.
970-356-7787 • GreeleyStampede.org
Crooked River Roundup
Prineville, OR, June 25-27: This PRCA rodeo includes steer wrestling, roping, bronc riding, barrel racing, bull riding and more.
541-447-4479 • CrookedRiverRoundup.com
Reno Rodeo
Reno, NV, June 16-25: The "Wildest, Richest Rodeo in the West," the Reno Rodeo is celebrating 100 years of Wild West family fun.
778-329-3877 • RenoRodeo.com
Prescott Frontier Days' World's Oldest Rodeo
Prescott, AZ, June 28-July 4: The 135th annual rodeo celebrates the 50th anniversary of the release of the classic Western Junior Bonner, which was filmed entirely on location locally, including during the rodeo and parade. Rodeo action kicks off on Tuesday the 28th and concludes on the Fourth of July. Don't miss one of the nation's greatest rodeo parades on Saturday, July 2.
928-445-4320 • WorldsOldestRodeo.com