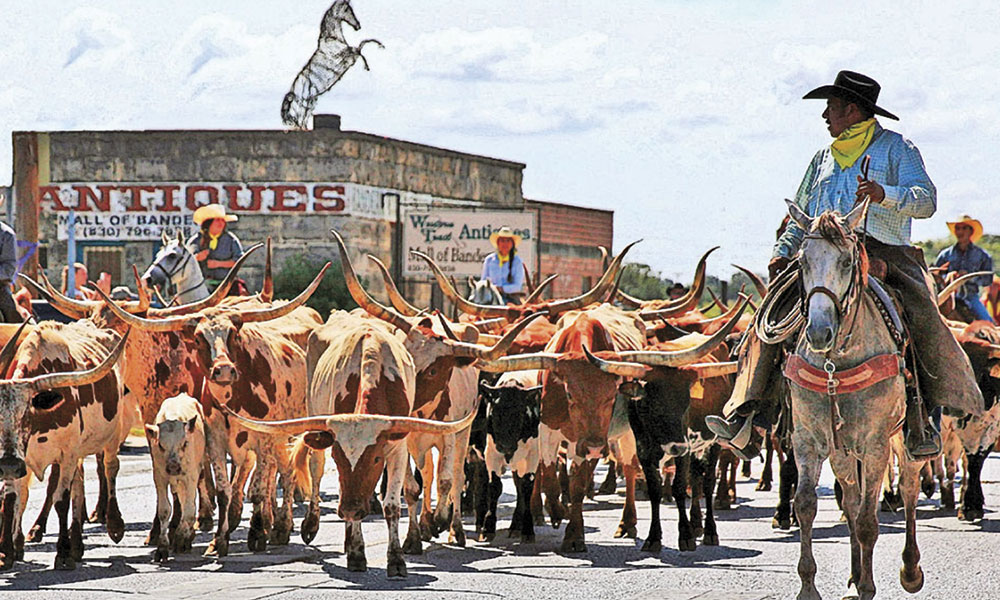 Western roundup of events where you can experience the Old West this November.
Pictured above: Cowboys on Main
Bandera, TX, November 3,10, 17 & 24:  See and interact with a sample of the old west cowboy lifestyle on Bandera's Main Street.
830-796-3045 • BanderaCowboyCapital.com
Art Shows
Grand Canyon Celebration of Art Exhibit & Sale
Grand Canyon, AZ, through November: Artists paint "en plein air" along the Grand Canyon's rim for an exhibit at the Kolb Studio.
928-638-2481 • GrandCanyon.org
Carefree Fine Art & Wine Festival
Carefree, AZ, November 2-4: Arizona's largest wine tasting event offers an unparalleled ambience of fine art, wine and live music.
480-837-5637 • ThunderbirdArtists.com
American Art
Dallas, TX, November 8: Art by Frank Tenney Johnson, Walter Ufer, Norman Rockwell, Albert Bierstadt and other collectible art.
877-437-4824 • HA.com
Artwalk Alpine
Alpine, TX, November 15-18: View historical and contemporary life in West Texas art, while local musicians serenade with live music.
432-837-3067 • ArtwalkAlpine.com
Encampments
Death Valley '49ers Encampment
Furnace Creek, CA, November 4-11: Honors the spirit of the 1849 Gold Rush through music, an arts and crafts show, cowboy poetry and parades.
866-683-2948 • DeathValley49ers.org
Frontier Fare
Chandler Chuck Wagon Cook-Off
Chandler, AZ, November 10: Authentic 1880s chuckwagons from around the Southwest compete to cook up the best meals fit for the trail.
480-782-2751 • PardnersofTumbleweedRanch.org
Heritage Festivals
Ranch Hand Festival
Kingsville, TX, November 17-18: This festival honors Kingsville's rich cultural heritage as one of the mainstays of the Texas ranching industry.
800-333-5032 • RanchHandFestival.com
22nd Annual Hidden in the Hills Studio Tour 2018
Cave Creek, AZ  November 16,17,18 and November 23, 24, 25: Visit 174 artists at 44 host studios on this free self-guided artist studio tour held the last two weekends in November.
Holiday Festivals
Christmas in Lecompton
Lecompton, KS, November 1-30: View the roughly 120 Christmas trees featuring vintage decorations at the Territorial Capital Museum.
785-887-6148 • LecomptonKansas.com
Colorado Country Christmas
Denver, CO, November 2-4: Shop Colorado Country Christmas to find Old West offerings for the cowboy and cowgirl on your gift list.
800-521-7469 • ColoradoChristmasGiftShow.com
Hastings Celebration of Lights
Hastings, NE, November 15: The streets of downtown Hastings fill with carolers, entertainers and families taking carriage and pony rides.
800-967-2189 • HastingsDowntown.com
The Polar Express
Durango, CO, Opens November 15: This 1879 railroad offers kids a train ride that shares the classic Christmas tale on the way to Santa.
970-247-2733 • DurangoTrain.com
North Pole Flyer
Austin, TX, Opens November 17: Ride from Cedar Park to Bertram inside train cars decorated for the winter holiday season.
512-477-8468 • AustinSteamTrain.org
Polar Express
Rusk, TX, Opens November 17: Kids can read the story on this steam train journey from the Palestine depot to "North Pole" to meet Santa.
855-632-7729 • TexasStateRR.com
Santa's Lighted Forest and North Pole Adventure
Georgetown, CO, Opens November 17: Enjoy hot cocoa, cookies and candy canes from Santa and his helpers aboard decorated train coaches.
888-456-6777 • GeorgetownLoopRR.com
Christmas at Union Station
Omaha, NE, November 23: A tradition since Union Station's earliest years, this tree lighting ceremony includes a visit from Santa.
402-444-5071 • DurhamMuseum.org
Sisters Holiday Celebration & Parade
Sisters, OR, November 23-24: Kick off the holiday season with a tree lighting ceremony and parade that features Santa and Mrs. Claus.
866-549-0252 • SistersCountry.com
Starlight Parade
The Dalles, OR, November 23: This former fur trade town brings Cowboy Christmas to life with lighted parade floats and merry jingles.
541-296-2231 • TheDallesChamber.com
Farolito Lighting and Pine Cone Ceremony
Morrison, CO, November 25: Experience the Southwestern tradition of lighting farolitos (paper lanterns) at Tesoro Cultural Center.
303-839-1671 • TesoroCulturalCenter.org
Community Christmas Lighting and Fireworks
Pecos, TX, November 27, 2018: Get in the spirit of the season with Christmas tree lighting, caroling, fireworks, hot chocolate, and cookies.
432-445-2406 • VisitPecos.com
Music Festival
Wickenburg Bluegrass Festival
Wickenburg, AZ, November 9-11: Cowboys and cowgirls from across the country gather for outside performances of Bluegrass music.
928-684-5479 • WickenburgChamber.com
Rodeos
WRCA World Championship Ranch Rodeo
Amarillo, TX, November 8-11: Top ranch teams compete in the world championship hosted by Working Ranch Cowboys Association.
806-374-9722 • WRCA.org