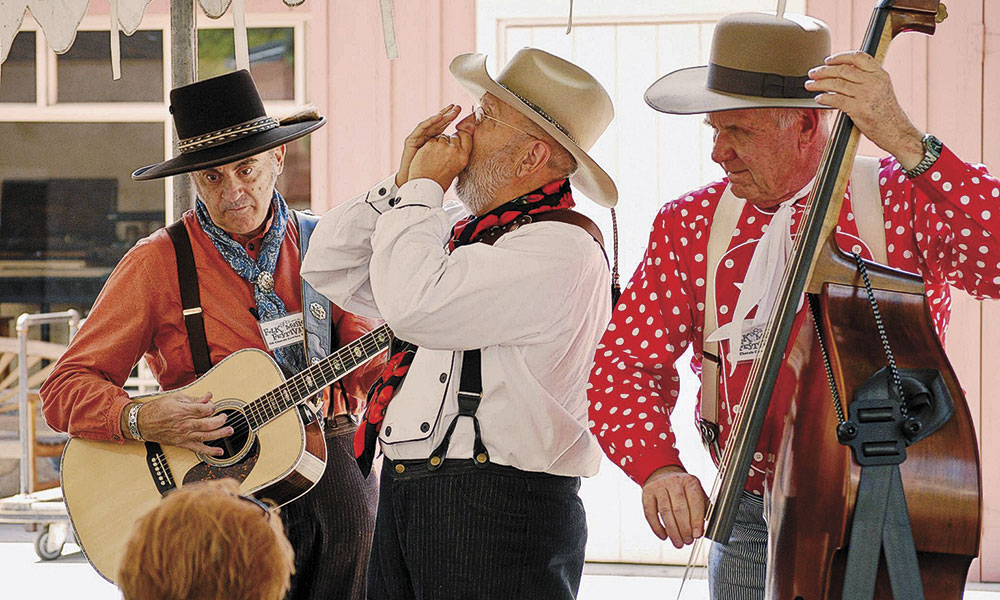 Western roundup of events where you can experience the Old West this October.
Prescott's Folk Music Festival
Prescott, AZ, October 6-7: Sharlot Hall hosts Arizona's oldest folk music festival, with four stages and jam sessions around the grounds.
928-830-8236 • Prescott-az.gov
Adventure
Fall Photographer's Weekend
Baker City, OR, October 13-14: Photography and history fans take a ride on a vintage steam locomotive to capture the fall scenery.
541-894-2268 • SumpterValleyRailroad.org
Georgetown Loop Railroad Oktoberfest
Georgetown, CO, Weekends October 13-28: Chug away on a scenic train trip that offers microbrew beer tasting for adults and root beer for kids.
888-456-6777 • GeorgetownLoopRR.com
Viejo Pueblo Ghost Rides
San Elizario, TX, October 28: Visitors learn about San Elizario's history with explorations of "Lost and Creepy" sites by a ghost ride.
915-206-8723 • VisitElPaso.com
Art Shows
Western Trappings on the Llano
Llano, TX, October 20 through November 3: Celebrate cowboy gear and Western art at the Llano County Historical Museum.
512-557-2229 • WesternTrappings.com
Fort Concho's Plein Air Art Show
San Angelo, TX, October 25-28: The San Angelo Museum of Fine Arts hosts 30 plein air artists who paint, exhibit and sell their artworks.
325-481-2646 •  FortConcho.com
Lasting Impressions: the work of Edward S. Curtis
Orange, TX, Opens October 27: Experience the stunning imagery of famed photographer Edward S. Curtis at this Stark Museum exhibit.
409-886-2787 • StarkMuseum.org
Auction
Americana & Political Auction
Dallas, TX, October 20-21: David and Janice Frent collection of Presidential and Political Americana will be on the auction block.
877-437-4824 • HA.com
Frontier Fare
Llano River Chuckwagon Cook-Off
Llano, TX, October 19-20: Head to the banks of the Llano River for a traditional chuckwagon cook-off, plus a heritage festival.
325-247-5354 • LlanoChuckwagonCookOff.com
Gun Shows
Texas Gun Collectors Assn. Show
Denton, TX, October 12-14: Held at Embassy Suites Hotel, this collectors showcase offers historical firearms and edged weapons.
210-323-9519 • TGCA.org
Heritage Festivals
James-Younger Gang National Conference
Tombstone, AZ, October 4-6: The James-Younger Gang team up for walking tours of historic Tombstone, Boothill Graveyard and speakers.
651-222-9266 • JamesYoungerGang.club
Rex Allen Days
Willcox, AZ, October 4-7: Held since 1951, the singing cowboy's hometown rodeo also boasts a parade, tractor pulls, a carnival and music.
520-384-4626 • RexAllenDays.org
Great Hill Country Pumpkin Patch
Bandera, TX, October 6-29: Activities will include a hay ride, hay jump, scarecrow dressing, visiting farm animals and pumpkin painting.
830-796-4413 • BanderaCowboyCapital.com
All Hallows Evenings
Grand Island, NE, October 12-13: The spooks of Railroad Town are waiting for you during this family friendly event in the Haunted Field.
308-385-5316 • StuhrMuseum.org
Oktoberfest Pendleton
Pendleton, OR, October 17: Craft beer lovers head to this 1851 commercial center to take in German food, live music and family activities.
541-276-7411 • PendletonChamber.com
Helldorado Days
Tombstone, AZ, October 19-21: Tombstone's oldest festival venerates the 1880s lifestyle with gunfight re-enactments, music, dancing and a parade.
520-266-5266 • TombstoneHelldoradoDays.com
Walk Through History
El Paso, TX, October 20: Walk through the 1872 cemetery to learn history of John Wesley Hardin, Buffalo Soldiers and other permanent residents.
915-842-8200 • ConcordiaCemetery.org
Kerr County Fair
Kerrville, TX, October 26-28: Head to this 1857 Texas Hill Country town for a prospect show, cook-off, bull rides, downtown parade and dances.
830-257-6833 • KerrCountyFair.com
Red Steagall Cowboy Gathering & Western Swing Festival
Fort Worth, TX, October 26-28: Enjoy Western Swing music, cowboy poetry, a chuckwagon cook-off and a rodeo—all at Fort Worth Stockyards.
817-444-5502 • RedSteagallCowboyGathering.com
Music & Poetry
Durango Cowboy Poetry Gathering
Durango, CO, October 4-7: Poets and musicians from throughout the country grace the intimate Henry Strater Theatre stage, performing classic and contemporary poems and songs.
970-749-2995 • DurangoCowboyGathering.org
Heber Valley Western Music Cowboy Poetry Gathering
Heber City, UT, October 25-29: Western musicians and poets share their stories at this cowboy culture gala with a traders camp.
435-654-3666 • HVCPG.com
Re-Enactments
Billy the Kid Breakout Show
San Elizario, TX, October 21: In front of the only jail Billy the Kid broke into, you can watch the outlaw's legendary 1876 jail rescue of a pal.
915-851-0093 • SanElizarioHistoricDistrict.org
Dalton Defender Days
Coffeyville, KS, October 5-6: This re-enactment celebrates the 125th anniversary of the outlaw Dalton Gang's deadly 1892 bank robbery.
800-626-3357 • Coffeyville.com
TWMag.com: View Western events on our website.
https://truewestmagazine.com/true-west-best-of-the-west-heritage-travel/