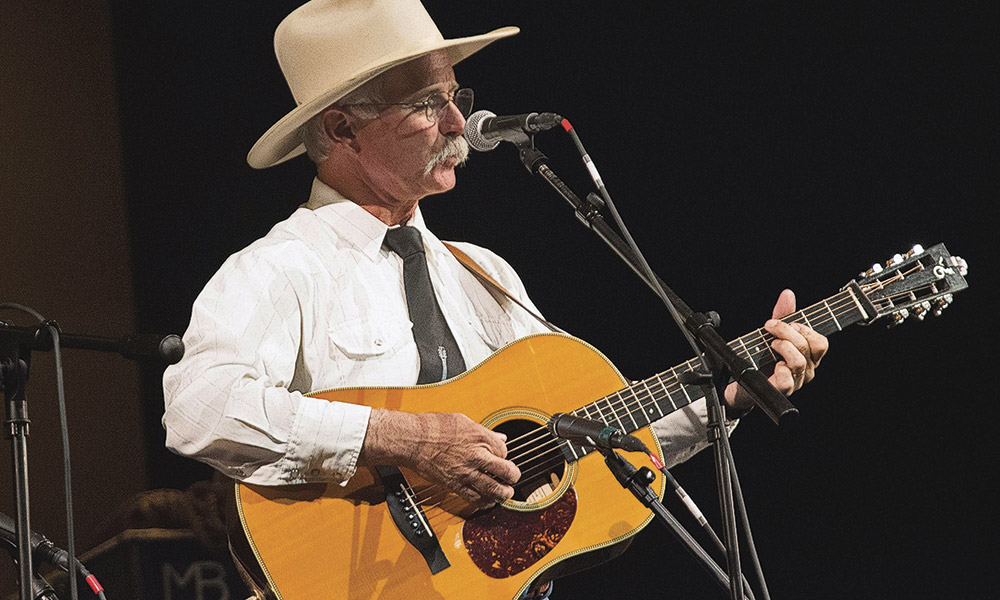 Western roundup of events where you can experience the Old West this August.
Poetry
Arizona Cowboy Poetry Gathering
Prescott, AZ, August 9-11: Dave Stamey (pictured), Jean & Gary Prescott and Kevin Davis are among the singers and poets bringing Western lore to the stage.
928-713-6323 • AZCowboyPoets.org
Art Shows
Hold Your Horses Exhibition & Sale
Prescott, AZ, Opens August 3: Check out the loyal and hardworking companion to man in this annual tribute to the horse.
928-778-1385 • PhippenArtMuseum.org
America's Horse in Art
Amarillo, TX, Opens August 16: Benefit sale of horses depicted in pencil, paintings and sculptures, with signature piece by Don Waller.
806-376-5181 • AQHA.com
Food Festival
BBQ Pit Row
Winnie, SD, August 4: Teams compete for prize money in pork ribs, beef brisket, and a bean bag tournament at this annual BBQ cooking contest.
605-842-1533 • TravelSouthDakota.com
Wing & Brew Festival
Brookings, SD, August 11: Enjoy a day of summer fun  sampling craft brews and tasting dynamite wings from local vendors.
605-692-7539 • SwiftelCenter.com
Heritage Festivals
Dodge City Days
Dodge City, KS, Closes August 5: This cowboy celebration offers history re-enactments, a PRCA rodeo, a cattle drive and Western art.
620-227-3119 • DodgeCityDays.com
Pro-Rodeo Hall of Fame & Museum Induction Weekend
Colorado Springs, CO, August 2-4: Honors professional rodeo cowboys and cowgirls, plus features the 30th Annual Gold Tournament.
719-528-4732 • ProRodeoHallOfFame.com
Sturgis Motorcycle Rally
Sturgis, SD, August 3-12: Head to the Black Hills along with 500,000 riders for concerts, street-food, camping, and motorcycles.
800-732-5682 • SturgisMotorcycleRally.com
Kool-Aid Days Festival
Hastings, NE, August 10-12: This 1872 rail town celebrates the 1927 invention of Nebraska's soft drink at the world's largest Kool-Aid stand.
402-461-8405 • Kool-AidDays.com
Umatilla County Fair
Umatilla, OR, August 7-11: Fair unites citizens of this Columbia River town that was important to trade during Oregon's 1860s-70s gold rush.
541-567-6121 • Co.Umatilla.OR.us
Longmire Days
Buffalo, WY, August 10-12: Visit with some of the actors of AE's television series Longmire along with live entertainment, a pub crawl and more.
307-684-5544 • BuffaloWyo.com
Doc Holli-Days with Dennis Quaid
Tombstone, AZ, August 11-12: Festival celebrating the gunfighting dentist will include a visit from actor Dennis Quaid, famous for his portrayal of John "Doc" Holliday in 1994's Wyatt Earp.
520-457-9317 • TombstoneChamber.com
Elko County Fair & Horse Races
Elko, NV, Opens August 24: Elko County residents pay tribute to their pioneer heritage with livestock shows and horse races.
775-738-3616 • ElkoCountyFair.com
Evening at the Ivinsons -Hell On Wheels
Laramie, WY, August 18: Celebrate on the museum lawn to raise awareness and funding for this special history with music, food and auctions.
307-742-4448 • VisitLaramie.org
Custer County Cowboy Gathering
Westcliffe, CO, August 18-19: Cowboys and cowgirls gather for a weekend of Western music, cowboy poetry and chuckwagon fare.
719-783-9100 • CusterCountyCowboyGathering.com
Re-Enactments 
John Wesley Hardin Secret Society
El Paso, TX, August 18: John Wesley Hardin's death in 1895 is re-enacted at historic Concordia Cemetery where the gunfighter is buried.
915-842-8200 • ConcordiaCemetery.org
Rodeos
Dodge City Roundup Rodeo
Dodge City, KS, August 1-5: This PRCA rodeo features saddle bronc, bull riding, calf roping and steer wrestling.
620-225-2244 • DodgeCityRoundup.org
Bastrop Homecoming & Rodeo
Bastrop, TX, through August 4: Head to this Colorado River town for the rodeo and parade, and take part in dances, class reunions, and carnival.
512-303-0558 • BastropHomecomingRodeo.org
Big Bend Ranch Rodeo
Alpine, TX, August 10-11: Cheer on the cowboys and cowgirls at the WRCA and Youth Cow Horse competitions; plus, a dance and cowboy church.
432-364-2696 • BigBendRanchRodeo.com
Payson PRCA Rodeo
Payson, AZ, August 15-18: This 1884 rodeo, which claims to be the world's oldest, features competitions that benefit Rim Country charities.
928-474-9440 • PaysonProRodeo.com
Theater
Performance of Salado Legends
Salado, TX, August 4: Discover Old West
history under the stars at the Tablerock Amphitheatre in an epic drama chosen by
the Library of Congress as a "Local Legacy."
254-947-9205 • Tablerock.org
https://truewestmagazine.com/buckaroos-and-basques/