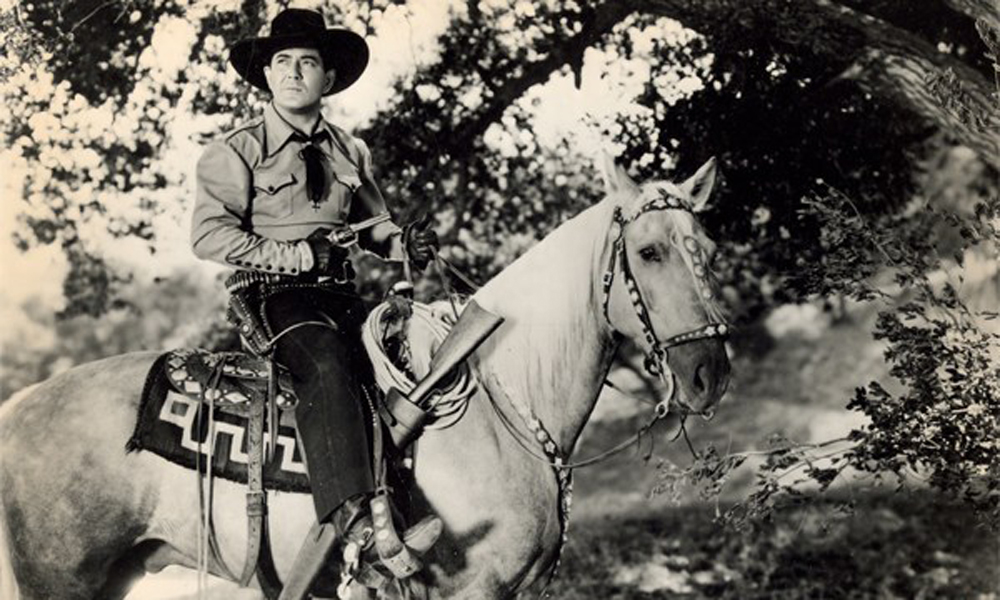 Many of the early day silver screen cowboys had been real working cowboys earning $30 a month and found on western ranches from Texas to Montana. They could earn $30 a day in Hollywood working as stuntmen and extras. Some like Buck Jones, Art Accord, Ken Maynard and Hoot Gibson went on to become stars.
Johnny Mack Brown was an All-American halfback for Alabama with movie star good looks. In the 1926 Rose Bowl where he scored two of his team's three touchdowns in an upset win over the heavily favored Washington Huskies.  He was named Most Valuable Player and Alabama won the National Championship. The game is commonly referred to as "the game that changed the south."
The handsome halfback was a hit in California the movies came calling. His first cowboy movie was King Vidor's Billy the Kid in 1930 and his forty-year movie career spanned from 1927 until 1966.
Johnny Mack married his college sweetheart in 1926 and they remained married until his death in 1974.
Clarence E. Mulford's fictional character, created in 1904, "Hopalong Cassidy" was brought to the silver screen in 1935.
The real Hopalong was a foul-mouthed ruffian with a wooden leg that put a little hop in his walk hence the name. He was a man with no ambition sidekick of Mulford's clean-cut protagonist, Buck Peters.
Hollywood's Hopalong was transformed into a clean-cut two-fisted, sarsaparilla-drinking good guy who didn't smoke or cuss. It was said Mulford fainted when he attended a movie premier featuring Hollywood's version of Hopalong.
Hoppy was played by William Boyd, a silver-haired forty-year-old matinee idol.
Life sometimes imitates art. William Boyd, earned a reputation as boozer, womanizer and hell-raiser. His career foundered and no studio wanted to take a chance on hiring him. It didn't help when in 1931 another actor, also named William Boyd was arrested on a morals charge. The newspapers inadvertently ran a photo of the wrong William Boyd and for a time it looked like his career was over. Then Lady Luck intervened on his behalf.
In 1935, he got role of Hopalong Cassidy. At first he was terrified of horses and had to work through that. He dressed from head to toe in Navy blue, never got his dark outfit dirty and never lost his hat in a fight.
In a time when the good guys wore white hats he appeared to be a hero who dressed in black. They were filmed in black and white so on film it appeared he was wearing black.
B-Westerns were being phased out in 1948 and after the studio dropped the series Boyd managed to scrape up $350,000 to buy the rights. He took the films to NBC Television in 1949 and the rest is history.
Boyd became so inspired by the fictional cowboy he was portraying that he quit drinking, smoking and throwing wild parties.  He stayed faithful to his fourth wife Grace Bradley Boyd from 1937 until his death in 1972 at the age of seventy-seven.
A reporter once asked him, "What made you give up your ways as one of Hollywood's bad boys" and Boyd replied, "When you've got millions of parents and kids saying what a wonderful guy Hoppy is, what the hell do you do? You've got to be a wonderful guy."
Another enduring fictional western that wound up on the silver screen was the Lone Ranger, a fictional Texas Ranger who survived a massacre of five of his fellow rangers by the Butch Cavendish gang. Among the dead is Captain Dan Reid, the Lone Ranger's older brother.
The Lone Ranger first appeared in 1933 on a radio show WXYZ in Detroit probably by the show's writer Fran Striker. The show was a hit and spawned a series of books and a television show that ran from 1949 to 1957, comic books and movies.
Later, an Indian named Tonto arrives at the scene of the massacre and nurses him back to health. The younger Reid is determined to avenge the death of his brother by rounding up Cavendish and his gang but feels he must conceal his identity so he fashions a mask.
So the Cavendish gang will believe all the rangers died in the massacre Tonto digs six graves so they'll think no ranger survived. This will enable the Lone Ranger to remain a mysterious figure. His faithful Indian companion Tonto will ride with him.
Pressure from the Mexican-Americans, who had grown tired of the image of the Mexican being portrayed as a bad guy. Hollywood brought forth the Cisco Kid and his faithful sidekick Pancho.
Cisco was created by Edwin S. Porter, an ex-convict who wrote under the name O. Henry. He was famous for his surprise or twist of the tail endings. Cisco was first introduced in a story titled, The Caballeros Way from his 1907 book of short stories, Heart of the West.
Cisco was a vicious killer who turned the tables on his unfaithful girlfriend but Hollywood turned him into a swashbuckling good guy. Cisco was also the first of the silver screen heroes to carry two six-guns. The first Cisco Kid was a one-reeler around 1914 starring Herbert Stanly Dunn. Much of it was shot in the beautiful Catalina Mountains north of Tucson. Warner Baxter was probably the most famous actor who played Cisco in the first "talkie," in 1933, also filmed around Tucson.
Tall, suave and sophisticated Cesar Julio Romero Jr. played the roguish bandito several times in the early 1940s.
Duncan Renaldo also played Cisco in films during the 1940s and in the popular 1950-1956 television series.
Leo Carrillo played the jovial and buffoonish Pancho both in movies and television.
Most western film fans remember the handsome Mexican-born actor Gilbert Roland who played Cisco in the post-World War II years. He was born Luis Antonio Damaso de Alonzo in Ciudad Juarez, Chihuahua.
Between 1914 and 1994 there were twenty-eight Cisco Kid movies.
During the 1930's the galloping heroes of gun smoke were replaced by "Singing Cowboys." Gene Autry 1935, Tex Ritter 1936, Roy Rogers 1938 and Rex Allen 1950.
When Roy Rogers was a top box office draw, Republic Pictures was only paying him about $125 a week.
This phase lasted until 1950's when audiences tired of the effeminate clothing, shallow stories and impossible situations.
Movie audiences are fickle. Once again the absurdities of the singing cowboys in embroidered shirts and unbelievable goodness of Hopalong and the Lone Ranger, demanded a more authentic treatment.
The era of the B-Westerns ended in 1953 when they were already replaced by the "adult western."
Critics had predicted the genre would disappear in 1929, replaced by airplanes. "Lindbergh has put the cowboy into discard as a type of national hero," said western movie historians, George Fenin and William Everson in 1929. One critic wrote, "Tom Mix, Hoot Gibson and Ken Maynard had better switch to aeroplanes or retreat to the old actors home."
However another film historian wrote, "The western will never die because we won't let it."