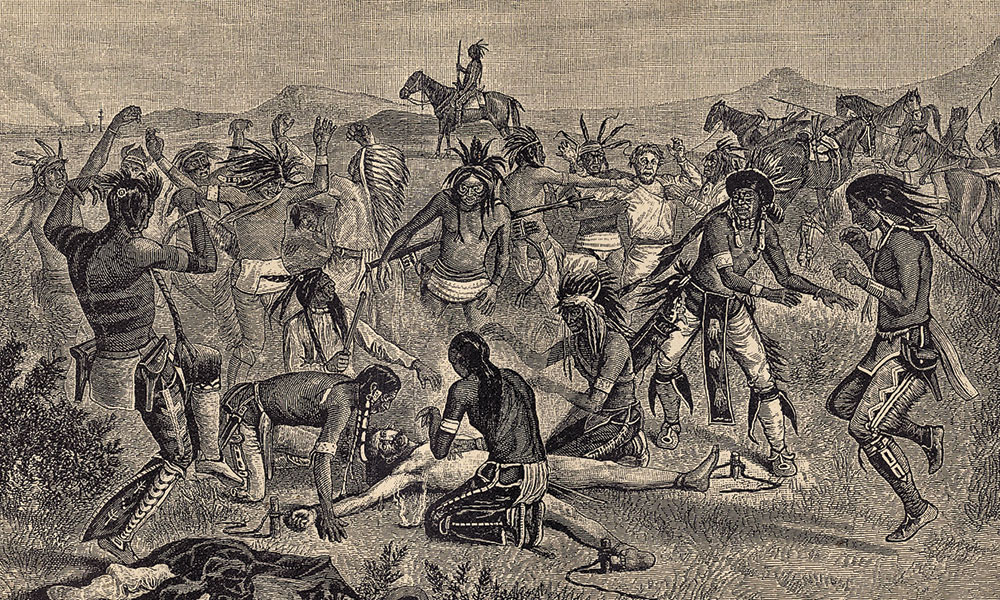 The mystery of an "unidentified" man wearing a gun belt similar to the belt worn by "Buckskin Frank" Leslie has been solved.
Among the Arizona Historical Society's images is the same studio portrait. The caption reads: "Capt. Tevis, Confederate officer, who located in Arizona just after Civil War. (Photo 1886.)"
Born on July 11, 1837,  in Wheeling, Virginia, the son of John and Elizabeth (McNamee) Tevis, James left home in 1849, aged 12, and joined a steamboat crew as a cabin boy. The mighty Mississippi River took him all the way to New Orleans, Louisiana.
James migrated to Arizona Territory, where he worked for Butterfield Overland Mail during the late 1850s and helped construct the stage station at Apache Pass. In 1857, after arriving in Tucson, James befriended Moses Carson, the older brother of famous frontiersman Kit. Moses taught James wilderness survival skills.
James joined the Arizona Guards. During an 1860 battle, the Mimbreños captured James and some of his men. They joined up with Chiricahua Chief Cochise, who foretold, "Tevis, I shall burn you alive and dance while you are burning."
Cochise gave James a glimpse of his future, forcing the captive to watch his two comrades get strung upside down and then slowly roasted alive over a fire.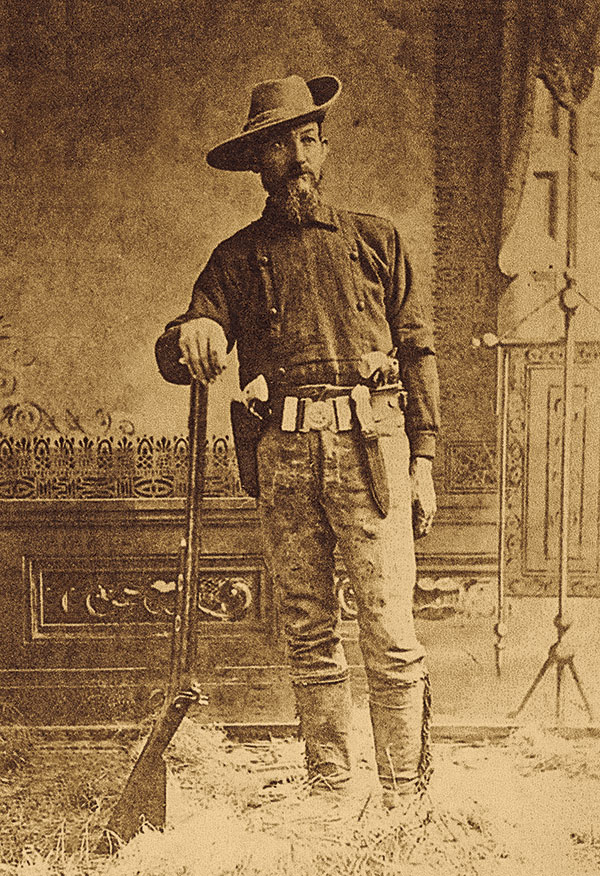 At Apache Pass, Cochise held a drunken celebration with his warriors. After the intoxicated Apaches fell asleep, James's Apache friend Esconolea rescued him.
During the Civil War, James fought for the Confederates under Lt. Col. Philemon T. Herbert's battalion of Arizona cavalry.  After the war, James married Emma Boston on Christmas Eve 1866, in St. Louis, Missouri, where they resided until 1877. Together, they raised a family of five girls and three boys.
James moved his family to Kansas and then, in 1880, to Arizona Territory, settling in Cochise County. Four years later, they moved so James could operate a Southern Pacific Railroad hotel. The town site became Teviston, named in his honor, then Bowie Station and shortened to Bowie.
James shared his pioneer adventures in Arizona in the '50s, written in 1880 and published in 1954 by daughters Belle and Minnie—almost 50 years after he died, on August 29, 1905. In 1964, the book became the basis for Walt Disney's The Tenderfoot miniseries. Brandon de Wilde, of 1953's Shane fame, played James.
In 1891, James became a representative in the Arizona Territorial Legislature. He advocated closing Yuma prison, executing the felons and publicly whipping the rest.  In 1903, he returned to his eponymous town to work as postmaster, living out the last years of his life.
C.S. Fly photographed Tevis in his Tombstone studio in 1886. Leslie arrived in Tombstone in July 1880 and lived there until he was thrown in jail in Yuma in 1890 for murder. History has not revealed who made the similar styled belts worn by Tevis and Leslie. Only time will tell.
William A. Mills has researched court and cemetery records since 1985. The author of seven books and a former historical consultant for TLC's Who Do You Think You Are?, he is currently researching Billy the Kid, focusing on the outlaw's mysterious early life and New York years.