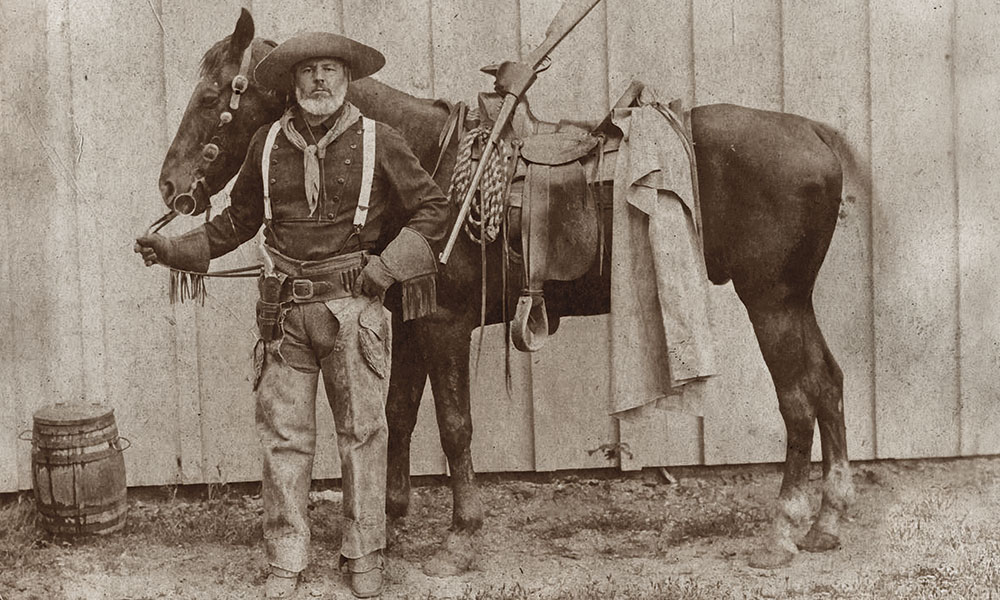 I was recently asked which of my personal guns are my favorites. Of course there are many that I enjoy having for different reasons. Some I admire because of their historical association or intrinsic beauty. Then there are those I'm attached to for sentimental reasons—used in some of my adventures. Just having them brings back pleasant memories of a life around firearms and the great outdoors, reliving the Wild West, hunting America's back country, and in the bush in Africa, or spending quality trigger time with fun guns and dear friends. If I somehow had to make the decision to keep just ten of them, these are the candidates that would stay in my collection.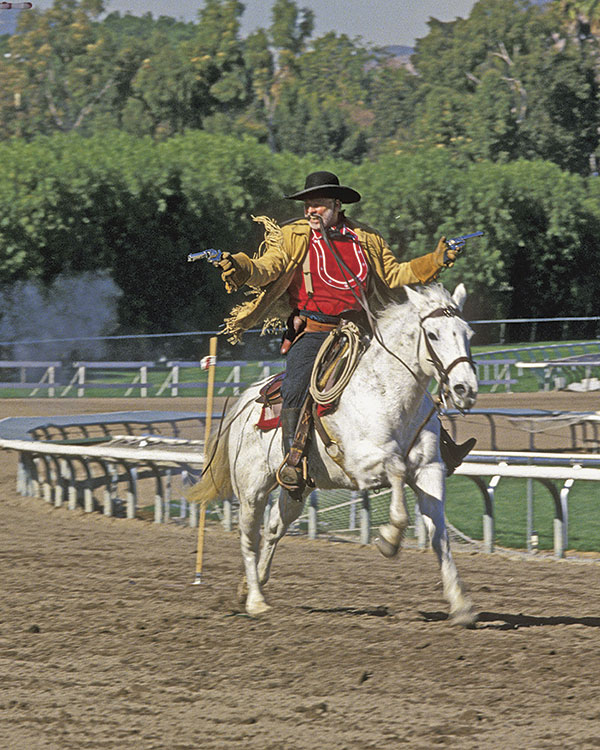 1. Colt Single Action Army Revolver (SAA):
One of a pair of 1873 Peacemakers I ordered directly from the Colt factory back around 1982, this third-generation, nickel-plated .45 Colt, with its 4¾-inch barrel and factory black-checkered eagle grips (specially requested, rather than the walnut grips normally supplied with nickeled SAAs) has been heavily used from the day I received it.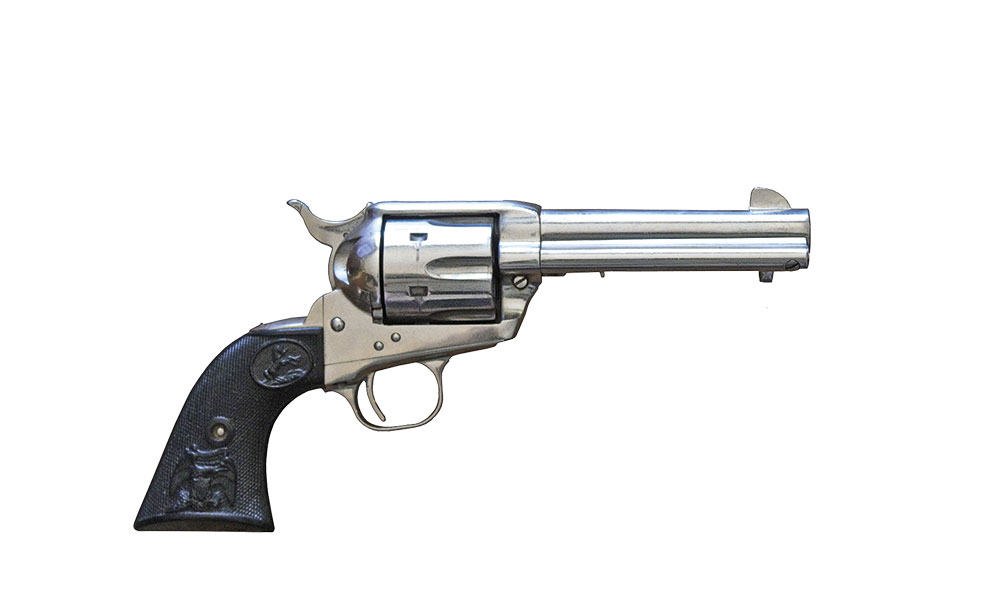 This six-gun, with my name engraved on the backstrap in Victorian-style script by Colt Master engraver, Steve Kamyck, has seen use in countless Wild West shows and fancy gun-handling exhibitions, mounted shooting exhibitions and Cowboy Mounted Shooting Association (CMSA) competitions. My right-hand gun, this particular Colt has been packed on my right hip in more shows than I can count. It's also been a back-country companion on horseback hunting trips, and was the most employed when I taught safe and fancy gun-handling techniques to movie stars Mel Gibson, Tom Berenger, Will Smith, Rob Lowe and Julie Benz, to name a few. It's also a revolver I'd feel perfectly competent and comfortable with if I had to rely on it for self-defense. Of all of my firearms, this Peacemaker Colt has shared more memorable adventures with me than any of my others. It stays with me.

2. Model 1874 Sharps Rifle:
Because of my passion for the old buffalo guns, especially Sharps rifles, I'd keep my original 1874 Sharps Sporting rifle in .44-77 caliber, which was shipped on December 7, 1872, to Sharps agent Freund and Brother of Denver, Colorado. This Hartford, Connecticut-manufactured gun is a definite keeper. A typical buffalo-hunting rifle, this 12½-pound rifle has a 30-inch octagon barrel, double set triggers, Rocky Mountain buckhorn sights and an oiled-finish walnut stock. I got it in a trade with country music icon Hank Williams Jr., who also cherishes these legendary firearms. This historic Sharps most assuredly ranks among my favorites.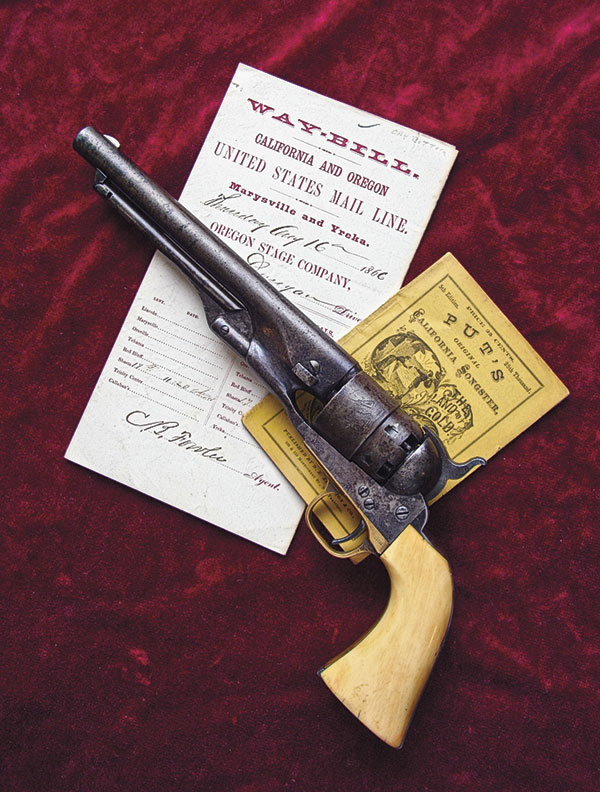 3. Model 1860 Colt Percussion Revolver:
My 1860 Army Colt civilian model revolver is another of my treasured firearms. This 8-inch-barreled handgun is a late- production model, manufactured around 1871. It retains about 25 percent of its original blue finish, traces of color case hardening, and one-piece ivory stocks that appear to be original to it. I've long favored the sleek lines of the '60 model, and consider it my favorite Colt percussion revolver. This specimen is a handsome example of the type of six-shooters that saw so much use in the Old West—even after the introduction of metallic cartridge firearms.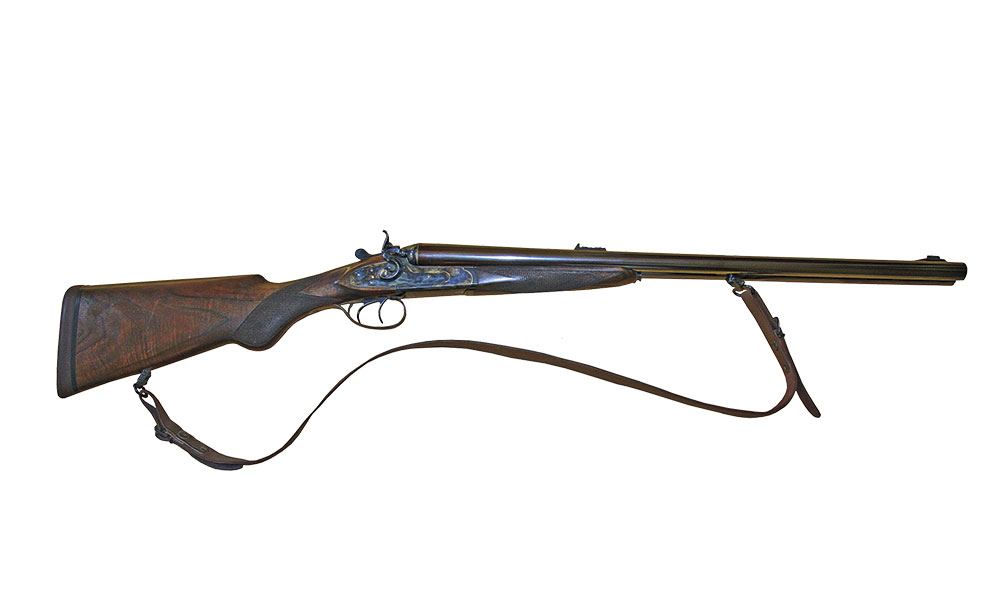 4. Kodiak MK IV Double Rifle:
My Kodiak Mark IV, .45-70 double rifle certainly rates among my favorite firearms. It's a quality replica of the rare 1878 Colt double rifle. It was presented to me in 1988 by the late Mike Powasnick, who had Pedersoli of Italy create this side-hammer double after I'd suggested he create a metallic cartridge version of his caplock Kodiak Mk III double rifle that would be capable of taking African game. My Kodiak was the first production model made and the first one to take African game (a 54-inch greater southern kudu). I had Master Gunsmith Lon Paul (LonPaulCustomGuns.com) fit African express sights to it, and the gun has become my favorite African hunter, used on two of my three safaris. Having taken a half-dozen head of African plains game with it—including Cape buffalo—it holds a very special place in my heart. This is one straight-shooting double rifle that elicits a continent full of fond memories.
5. Model 1860 Spencer carbine:
This original 1860 Spencer carbine's serial number puts it in the last U.S. Government contract of Civil War carbines known to have been sent to the field and issued before war's end in the spring of 1865. Representing the first repeater in modern warfare, this carbine was undoubtedly carried by some trooper in Sheridan's cavalry. Besides having a military-style letter "B" faintly branded into the stock, the gun shows definite signs of post-war frontier usage. It evidences Indian ownership with its stock inlaid German silver sunburst motif, an 1874 Indian-head penny crudely brass-tacked into it and four tack holes where a four-winds design was tacked. Purchased for $50 when I was just 19 years old (it took me three months to pay it off), this Spencer has proven to be a wise investment, while intriguing me for decades, wondering what stories it could tell.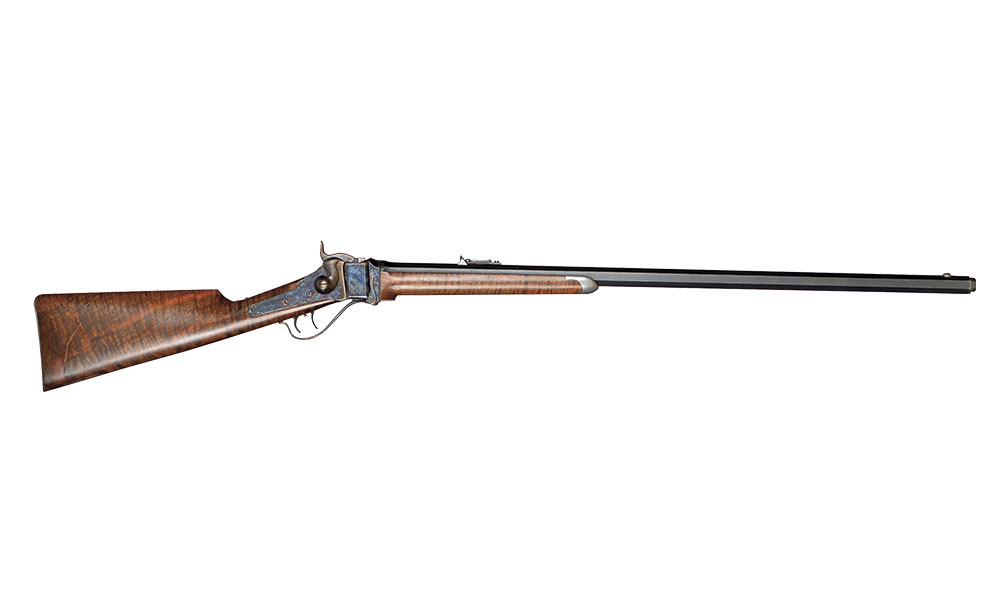 6. Shiloh/C. Sharps Arms Custom "Big Fifty" 1874 Sharps:
Another authentic reproduction that holds a special place in my gunner's heart is my Shiloh/C. Sharps Arms, .50-90 custom Sharps. Produced back in 1980, this "Big Fifty" rifle was manufactured by Shiloh Rifle Co., with custom work added to it by C. Sharps Arms Co., both of Big Timber, Montana. Besides being an authentic reproduction of a pre-1876 Hartford Sharps, with deluxe wood and scroll engraving by master engraver Robert Evans, it's a working rifle, having accompanied me on several Montana back-country hunts where I've taken bison and mule deer, and in Wyoming, where I took a handsome 15¼-inch horned pronghorn. It's also seen use in a number of History Channel programs. I've often said that if Christian Sharps were alive today, he'd be proud to put his name on one of these rifles. This Shiloh stays with Phil!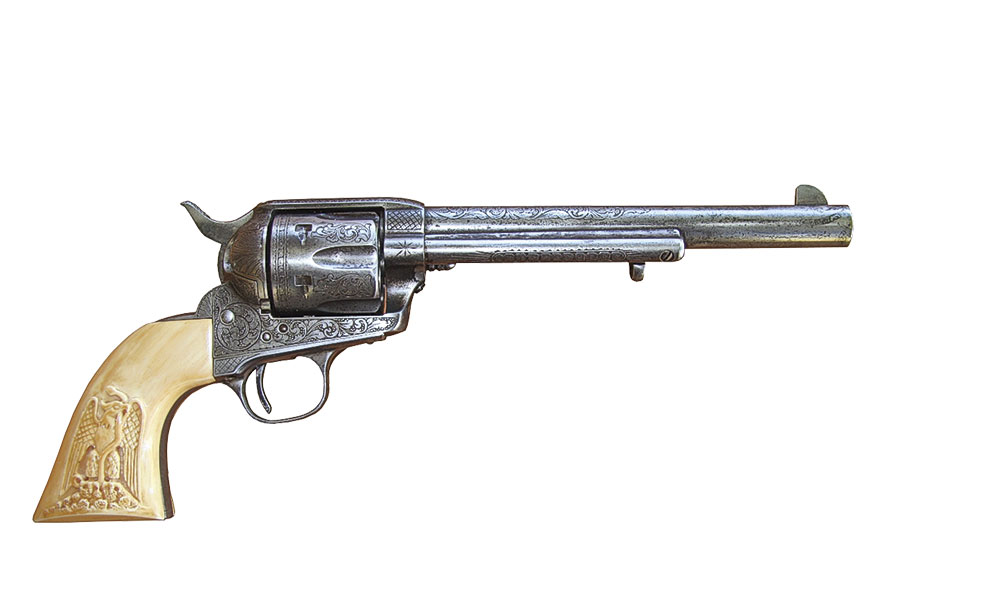 7. Cimarron Arms "Original Finish" 1873 Cattleman:
Despite having several vintage six-guns to choose from, I'd have to say that for its authentic period appeal and as a straight-shooting revolver, one of my favorite smoke wagons is an engraved Cimarron Arms, 7½-inch .45 Colt-chambered, 1873 Old Model Cattleman (pre-1896 "black powder" frame and other pre-'96 cosmetics), done in the company's antiqued "original finish," and wearing Don Furr (Costa Mesa, California) faux ivory stocks showing a high-relief Mexican eagle and snake national symbol. One of a pair, it's been packed for many Old West events, parades and historic celebrations. I love the looks, feel and smooth functioning (without having had an action job) of this new/old single action. 'Nuff said.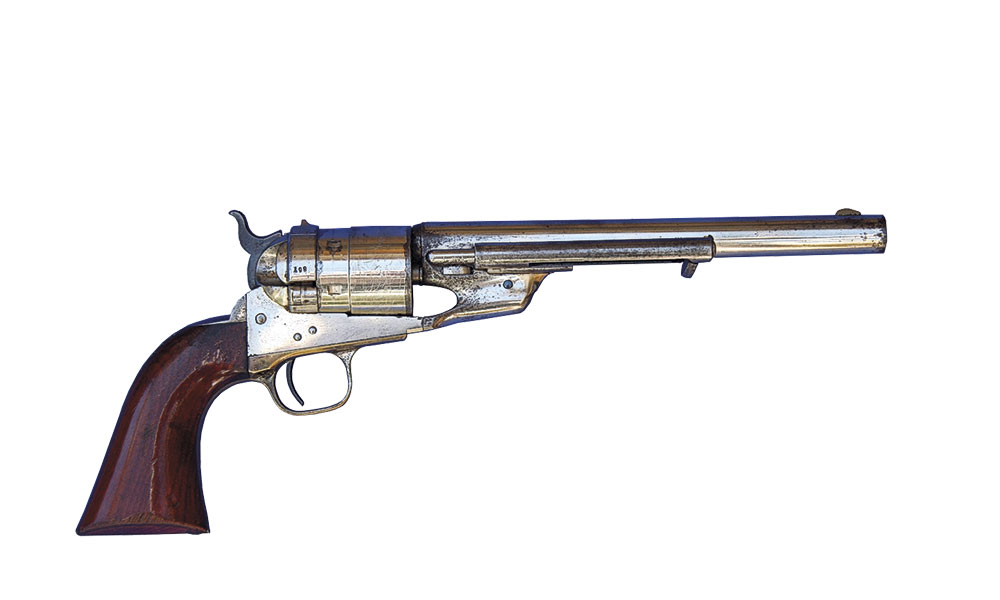 8. Model 1860 Colt Richards Conversion:
With my previously stated affection for the 1860 Army Colt, it should come as no surprise that I would have an extremely difficult time parting with my original, but in near-new condition 1860 Colt Richards cartridge conversion revolver. This nickel-plated, .44 Colt Centerfire six-gun, like all of Colt's percussion revolvers that were converted to metallic cartridge, combines the sleek lines of the caplocks with the convenience of the quicker loading metal-cased ammunition. My '60 Army Colt Richards, made some time between 1873-1878, is a pristine example of one of the oft-overlooked six-shooters of the Old West.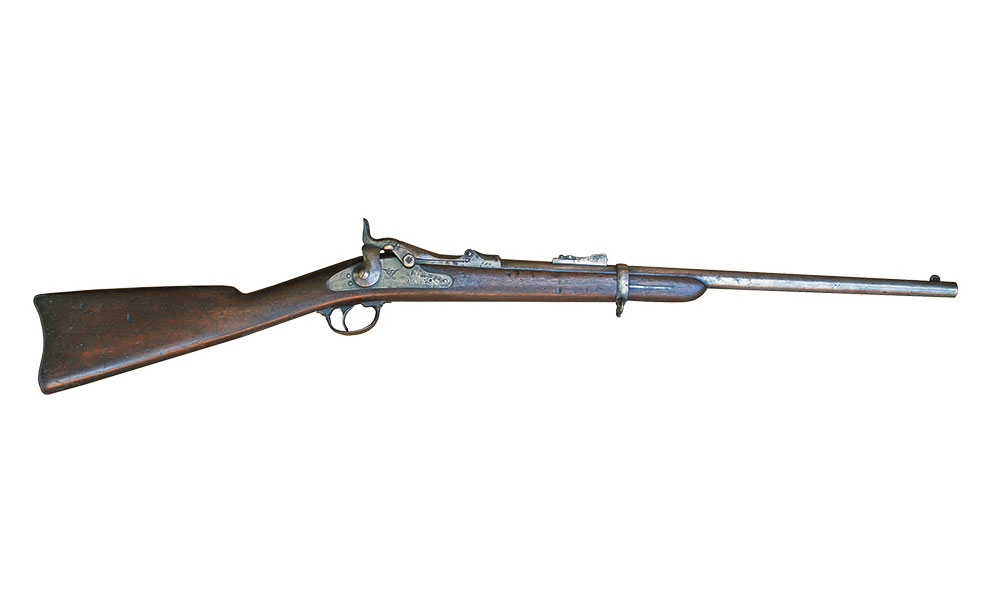 9. Model 1873 Springfield Trapdoor Carbine:
With my passion for the Old West, horses and the cavalry, to me no firearm is more fitting and representative of the frontier horse soldier than my 1st Model 1873 Springfield Trapdoor carbine. Although manufactured in 1875, its serial number range is higher than most trapdoors known to have been used at the infamous fight at the Little Big Horn River on June 25, 1876, between Lt. Col. Custer's 7th Cavalry and Crazy Horse's Sioux warriors. Nonetheless, it is the exact model of the carbines carried by those ill-fated troopers. It dates from the turbulent 1870s, when the West was wild, woolly and full of spit and vinegar. This cavalry carbine is pure history in walnut and steel.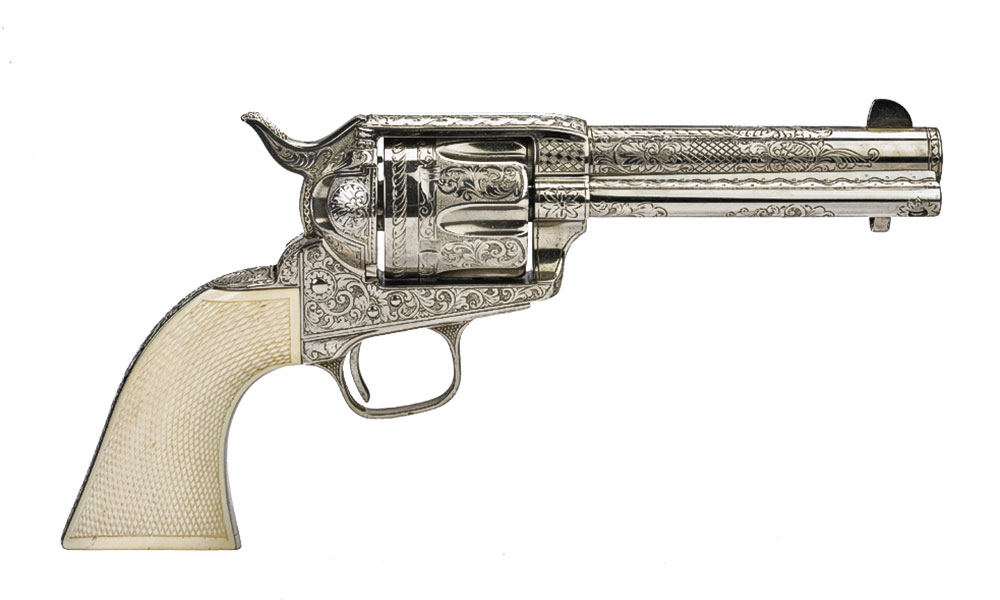 10. Uberti Engraved Old Model Cattleman:
Another replica that makes my list of treasured keepers is a Uberti-made Old Model Cattleman. This beautiful peacemaker clone is elaborately hand-engraved in the 1880s Cuno Helfricht style, sports nickel-plating, bulls-eye ejector head and wears ivory stocks featuring 19th-century-type checkering, that was handcut by the master himself, friend John Ennis of Council, Idaho. A working piece of art, this handsome '73 Old Model was one of a pair presented to me by the late Maria Uberti, replica arms importer and daughter of Italy's famed replica firearms manufacturer, Aldo Uberti. Exquisite in every detail, this personalized single action bears my initials in script on the butt plate and holds its own with some of the finest antique arms around, yet it has been one of my working guns, used in CMSA Cowboy Mounted Shooting competitions, Wild West show mounted aerial shooting performances and exhibited in the National Rifle Association's National Firearms Museum, in Fairfax, Virginia. Any way you look at it, this is one stunning revolver, and a definite keeper.
The above firearms are those that I have a special attachment to. If this list were made with a more utilitarian purpose, such as survival, several selections would undoubtedly vary by picking mostly modern arms like a 12-gauge shotgun, a .22 rifle and a big-bore rifle, a 1911 semi-auto pistol and a powerful revolver. However, you can bet I'd still have at least one of my Colt Peacemakers, and a Sharps on the list. They would make any listing of my favorite guns. What does your list include?
Phil Spangenberger has written for Guns & Ammo, appears on the History Channel and other documentary networks, produces Wild West shows, is a Hollywood gun coach and character actor, and is True West's Firearms Editor.