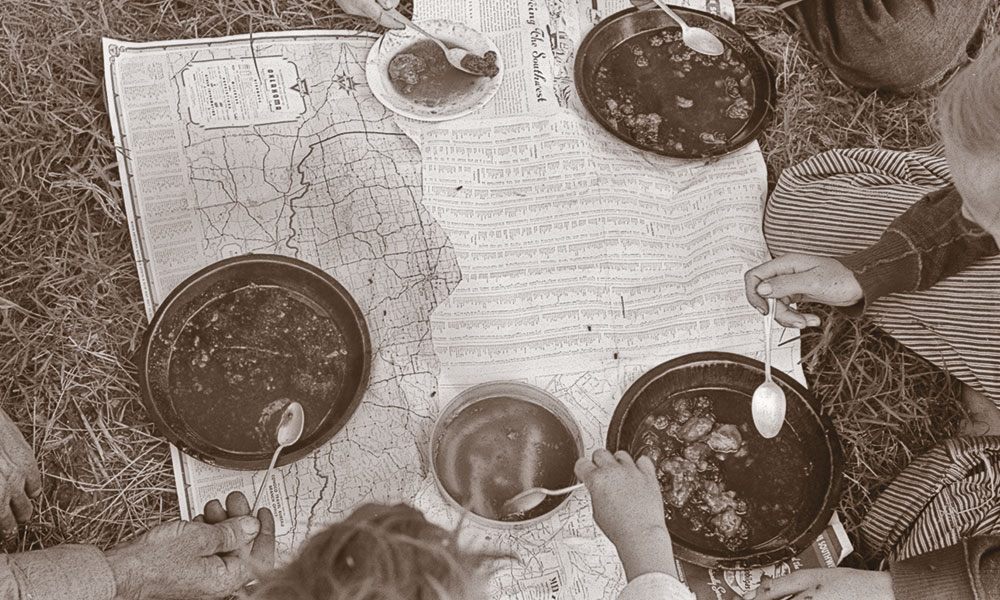 Notorious for his 1880s stage-coach robberies, what did gentleman bandit and poet Black Bart eat and where?
Everyone thought San Francisco resident Charles E. "Black Bart" Boles was a sophisticated businessman who traveled California to research mining prospects.
"After his capture, Boles told officers he had often been in Marysville while on his robbery pilgrimages, but no one ever took him for a bandit," California resident W.T. Ellis recalled.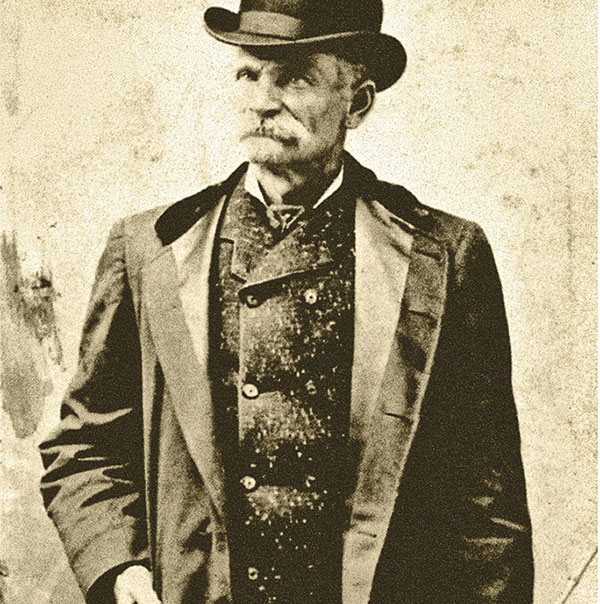 With his stolen money, Black Bart dressed in expensive suits and dined on delicious meals. In 1880, he lived and dined at the posh Palace Hotel on Montgomery Street, where his choice of delicious pre-made viands included consommé soup, salmon, shad and lake trout among the fish options, and entrees that ran the gamut from beef tenderloin to broiled squab, served with more than 30 vegetable choices and lobster, shrimp or potato salads. For dessert, he could choose various pies and puddings, ice cream, cheeses and Philadelphia, lemon and strawberry water ices.
The Palace also offered a cooked-to-order menu: breakfast offerings included eggs, omelets and breads, while the rest of the day, one could dine on beef, mutton, veal, pork, lamb, ham, tripe, flounder, fish balls, terrapin, oysters, game, and poultry.   
Since Black Bart staked out the stagecoach route before his robberies, he often stayed at various hotels nearby. Stage stop Oroville was home to the Union Hotel, likely a place Black Bart stayed, as hotel owner D.N. Freisleben offered rooms and meals. The nearby Oyster Saloon and Chop House served crab, shrimp and pig's feet; it charged "by the dish from 10 cents, upwards."
The Union also offered "reasonable" prices, reported the Sacramento Daily Record-Union on May 28, 1887, adding, "The dining-room is large, airy and light. The table is excellent, the service good…."
Another safe distance for Black Bart to observe his targets was the U.S. Hotel, run by Louis W. Hoops, who offered meals at 25 cents. Hoops provided guests the best the market could afford. The U.S. Hotel "…is the place to be when you visit the Gem of the Foothills. Good fare, good beds, low prices," The Plumas National reported on January 27, 1883.
In 1882, Mrs. Bowers from the Washoe tribe stayed at the U.S. Hotel; she was a seer. Maybe Black Bart should have visited with her and learned of his future capture. A laundry mark on a handkerchief that he left behind at a robbery landed Black Bart in San Quentin State Prison, in 1883.
The last known hotel the gentleman bandit stayed at was Visalia House in Visalia in 1888, after his release from jail. When word got out that Black Bart was in town, he fled, leaving behind his valise. Along with two pairs of cuffs and two neckties, he had stocked various food items, including crackers, sugar, pickles, a pound of coffee and cans of corned beef, lunch tongue and currant jelly.
Everyone loves pie, and the Palace served a delicious blackberry pie while Black Bart was living the good life…on someone else's dime!
BlackBerry Pie
½ cup sugar
3 cups blackberries
1 tablespoon flour
2 pie crusts, unbaked
Milk
In a mixing bowl, coat the berries with sugar and flour by stirring them. Line a pie pan with one pie crust and pour in the berries.  Cover with the second pie crust and brush with milk. Bake at 350°F for 35–40 minutes or until the crust is golden.
Recipe adapted from the 1872 California Recipe Book
Sherry Monahan has penned The Cowboy's Cookbook, Mrs. Earp: Wives & Lovers of the Earp Brothers; California Vines, Wines & Pioneers; Taste of Tombstone and The Wicked West. She has appeared on Fox News, History Channel and AHC.