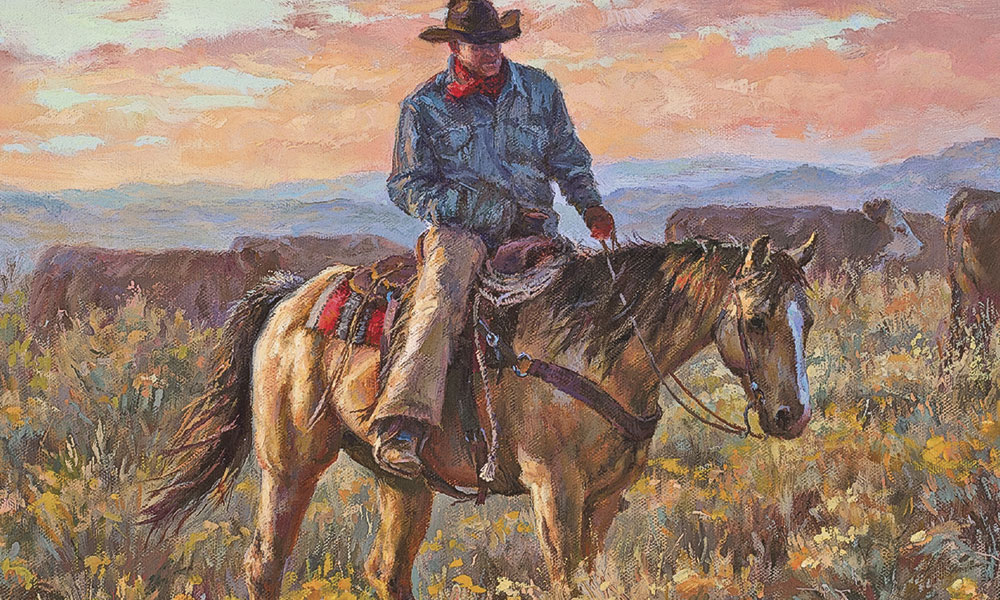 Western history and fiction publishers have had an outstanding year across all genres and categories. With the growth in electronic and audio books, as well as in self-publishing and Internet sales in new and used books, readers, collectors and listeners have more choices and more opportunity to read, learn and relax with a Western-genre book.
As we approach the end-of-the year holiday season, I offer our True West readers a review and sampling of Western books from the year that will satisfy the most particular interests as you consider gift-giving to loved ones—or even to yourself!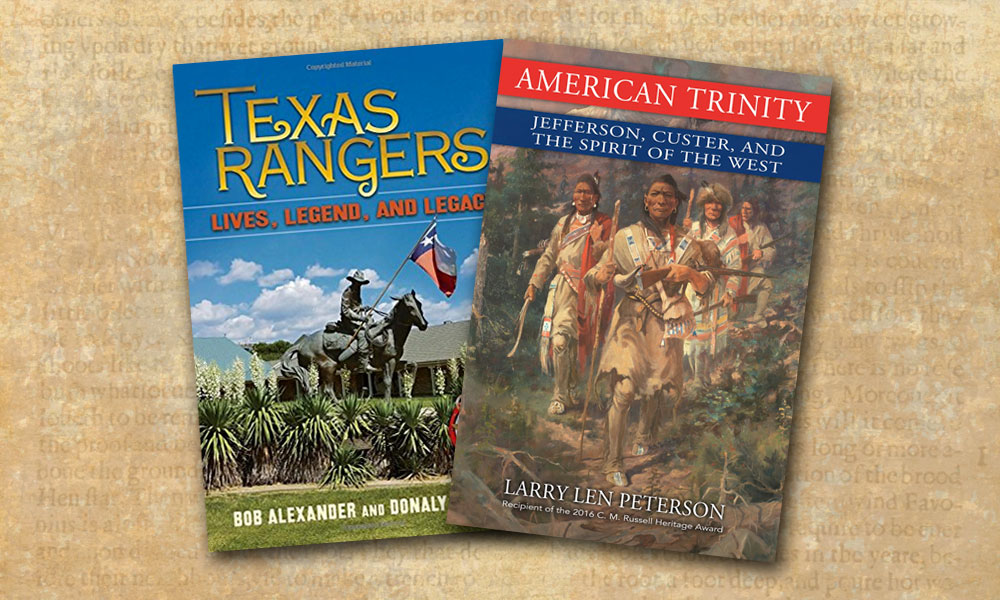 Big 2017 Western History Books Not to Miss
In 2017, publishers of Western history, from New York, New York, to Norman, Oklahoma, released a salvo of great books that will satisfy even the most particular interests of Old West history aficionados.
American Trinity: Jefferson, Custer, and the Spirit of the West by Larry Len Peterson (Sweetgrass Books)
Peterson's latest comprehensive history of the West should be considered one of the best Western history books published in 2017.
Autumn of the Black Snake: The Creation of the U.S. Army and the Invasion that Opened the West by William Hogeland (Farrar, Straus and Giroux)
Hogeland's pre-Louisiana Purchase history of the U.S. Army and its role in the expansion of the United States into the "original West" is a must-read.
Blood Brothers: The Story of the Strange Friendship between Sitting Bull and Buffalo Bill by Deanne Stillman (Simon & Schuster)
Stillman's dual biography provides a greater understanding of the showman's life and friendship with his esteemed Sioux friend, Sitting Bull.
Cattle Kingdom: The Hidden History of the Cowboy West by Christopher Knowlton (Houghton Mifflin Harcourt)
Economist-turned-historian Knowlton has written one of the finest histories of the rise and fall of the trail-driving drover and the great cattle empires.
Death on the Lonely Llano Estacado: The Assassination of J.W. Jarrott, a Forgotten Hero by Bill Neal (University of North Texas Press)
Neal's latest investigative history is rich in detail from a vast resource of primary materials, which fans of the West Texas author have come to expect.
Dodge City: Wyatt Earp, Bat Masterson, and the Wickedest Town in the American West by Tom Clavin (St. Martin's Press)
New York historian Clavin's latest big history book recounts the Wild West days of Dodge City and the cast of historical characters that made it famous. Readers will be counting the days for Clavin's next major work on the Old West.
Killers of the Flower Moon: The Osage Murders and the Birth of the FBI by David Grann (Doubleday)
Grann's research reveals the tragic outcome of oil, money and corruption on the Osage Indian Nation in Oklahoma in the 1920s.
Regular Army O!: Soldiering on the Western Frontier, 1865-1891 by Douglas C. McChristian (University of Oklahoma Press)
McChristian must be honored for his incredibly detailed one-volume history of Army life in the post-Civil War West that's rich in primary source material.
The Best Land Under Heaven: The Donner Party in the Age of Manifest Destiny by Michael Wallis (Liveright)
Wallis's recasting of the Donner Party—and the story of the survivors—is a metaphor for the overland emigrant experience in 1840s America.
The Republic for Which It Stands: The United States During Reconstruction and the Gilded Age, 1865-1896 by Richard White (Oxford University Press)
Readers of White's first major American history volume since 2012 will quickly realize that the Stanford historian is one of the nation's finest.
The Shawnee-Arbuckle Cattle Trail, 1867-1870: The Predecessor of the Chisholm Trail to Abilene, Kansas by Gary & Margaret Kraisinger (Mennonite Press)
The release of the first comprehensive research on the Shawnee-Arbuckle Cattle Trail, and how it predated the world-renowned Chisholm, is timed perfectly for the 150th anniversary of the Chisholm Trail.
Texas Rangers: Lives, Legend, and Legacy by Bob Alexander and Donaly E. Brice (University of North Texas Press)
Two of the most preeminent Texas Ranger historians have teamed up to create the most comprehensive one-volume history of the illustrious Lone Star lawmen ever published.
Texas Blood: Seven Generations Among the Outlaws, Ranchers, Indians, Missionaries, Soldiers, and Smugglers of the Borderlands by Roger D. Hodge (Alfred A. Knopf)
In one of the big Western books of the year, Hodge weaves a personal story of family and travel into a dramatic history of Texas and the Southwest.
Thunder in the Mountains: Chief Joseph, Oliver Otis Howard, and the Nez Perce War by Daniel Sharfstein (W.W. Norton)
An exemplary, ground-breaking dual-biography of two of the most important leaders in Western American history.
Tom Jeffords: Friend of Cochise by Doug Hocking (TwoDot)
The first published biography of the famed Indian agent-friend of Cochise is a must-read for anyone interested in Apache-American history in the Southwest.
Bonus Book:
Yale University Press has just published the latest, single-volume history/textbook of Western history: The American West: A New Interpretive History, Second Edition by Robert V. Hine, John Mack Faragher and Jon T. Coleman.
It's a must-read for historians and students of Western American history.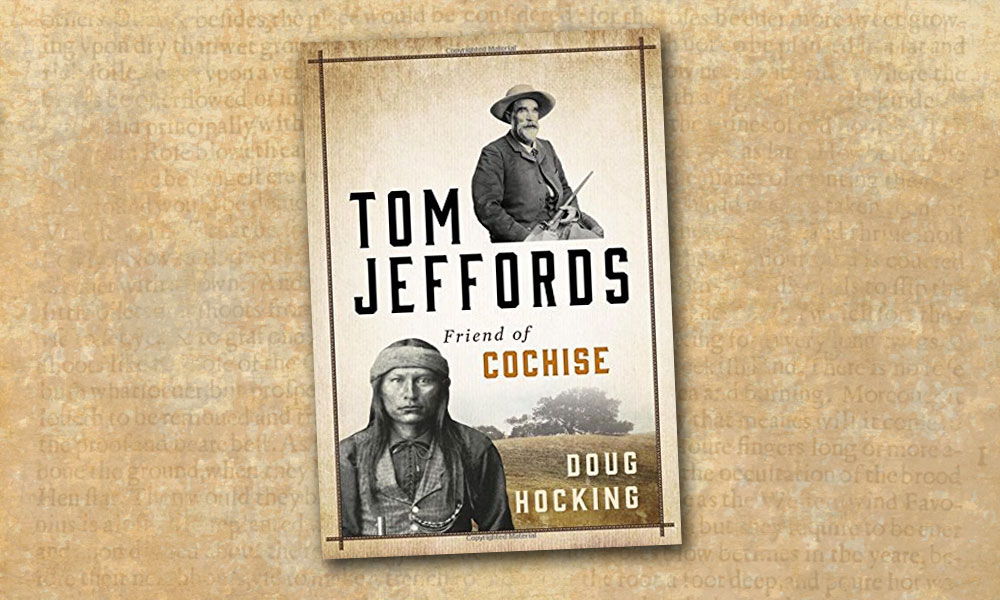 Double-Fisted, Six-Gun Action
From mass-market New York publisher Kensington to Las Vegas's Wolfpack Publishing, Old West novels are still delivering classic tales of law and order, outlaws and shady ladies. Here are 12 Old West novels from 11 different publishers released in 2017.
Hell Hath No Fury by Charles G. West (Kensington)
West, a fan-favorite for over two decades, introduces his new John Hawk Series with his first Western for Kensington, Hell Hath No Fury.
Journey: A Western by Stephen H. Foreman (Skyhorse Publishing)
Author and screenwriter Foreman's third novel, Journey: A Western, is a tightly written adventure set in 1830s New Mexico with a mysterious, young heroine.
Louis L'Amour's Lost Treasures, Volume 1: Unfinished Manuscripts, Mysterious Stories, and Lost Notes from One of the World's Most Popular Novelists by Louis L'Amour with Beau L'Amour (Bantam Books)
For first-time Louis L'Amour readers or lifelong fans, Louis L'Amour's Lost Treasures is guaranteed to be an instant Western classic.
Revenge of the Damned by Larry Martin (Wolfpack Publishing)
Popular Western writer Martin's latest entry in his Wolfpack Publishing Montana Western Series,  Revenge of the Damned, is available via Amazon as an e-book or paperback.
Savage Country: A Novel by Robert Olmstead (Algonquin Books)
Novelist, short-story author and Ohio Wesleyan professor Olmstead returns to the West in his eighth book, set in the violent post-Civil War plains of Kansas and Oklahoma.
The Ballad of Black Bart by Loren Estleman (Forge)
Western Writer Hall of Fame member Estleman has returned to one of his favorite genres, the Western, with The Ballad of Black Bart, which is sure to thrill his fans.
The Rusted Sun by Michael Zimmer (Five Star)
In The Rusted Sun, award-winning author Zimmer delivers the well-researched action his fans have come to expect from his Five Star Westerns.
The Vengeance of Mothers: The Journals of Margaret Kelly & Molly McGill: A Novel by Jim Fergus (St. Martin's Press)
An incredibly daring, original novel, Fergus returns to the theme of his best-selling novel One Thousand White Women, the fictionalized "what if" drama of the U.S. government's "Brides for Indians" program.
The Wolves of El Diablo by Eric Red (Short Scary Tales Publications)
Readers of director-screenwriter Eric Red's latest Western-horror novel will rediscover an Old West genre that is an international fan-favorite in print and film.
World, Chase Me Down: A Novel by Andrew Hilleman (Penguin)
The debut of first-time novelist Nebraska native Hilleman is based on a true story that will remind readers of Charles Portis's True Grit.
Bonus Books:
Monte Walsh by Jack Schaefer, Foreword by Marc Simmons (University of New Mexico Press)
In 2017, the University of New Mexico Press has re-issued nine of Schaefer's classic novels and short-story collections, including Monte Walsh, which many consider one of the best Westerns ever written.
Wild West by Elmer Kelton (Forge)
Eleven Kelton short stories published together for the first time will be an instant classic.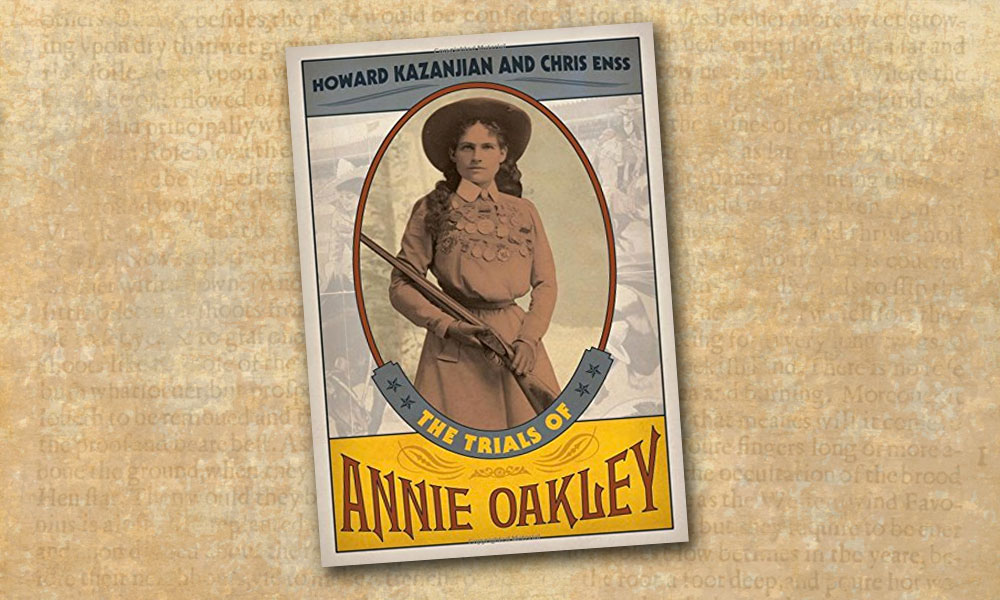 Western History Extravaganza
If you love reading Western American history, 2017 is a banner year. Here are 11 works from 11 different publishers that represent the diversity of fascinating subject matter and topics currently being investigated by Western writers.
A Cowboy of the Pecos by Patrick Dearan (Lone Star Books)
A Land Apart: The Southwest and the Nation in the Twentieth Century by Flannery Burke (University of Arizona Press)
Bodie: Good Times & Bad by Nicholas Clapp, Photography by Will Furman (Sunbelt Publications)
Dodge City and the Birth of the Wild West by Robert R. Dykstra and Jo Ann Manfra (University of Kansas Press)
Mountain Man: John Colter, the Lewis & Clark Expedition and the Call of the American West by David Weston Marshall (The Countryman Press)
Selling Sex in the Silver Valley: A Business Doing Pleasure by Dr. Heather Branstetter (The History Press)
The Trials of Annie Oakley by Howard Kazanjian and Chris Enss (TwoDot)
Wars for Empire: Apaches, the United States, and the Southwest Borderlands by Janne Lahti (University of Oklahoma Press)
Why Custer was Never Warned: The Forgotten Story of the True Genesis of America's Most Iconic Military Disaster, Custer's Last Stand by Philip Thomas Tucker, Ph.D. (Universal Publishers)
Bonus Books:
Two new interpretations of the Modoc War and the tragic fate of the Modoc Indian tribe have been published this fall. I recommend both. The first, published in August by Washington State University, Spirit in the Rock: The Fierce Battle for Modoc Homelands, was written by the late Jim Compton, and focuses on both the war and how Modoc spirituality and cultural traditions influenced their actions with and against the U.S military. It also includes modern photographs of the Lava Beds region by Bill Stafford.
The second, published in November by Bison Books/University of Nebraska Press, The Modoc War: A Story of Genocide at the Dawn of America's Gilded Age by Robert Aquinas McNally, also recounts the war and its aftermath, but academically also puts it in context to America's national struggle with its Native peoples during the early years of progressive politics and President U.S. Grant's "peace policy."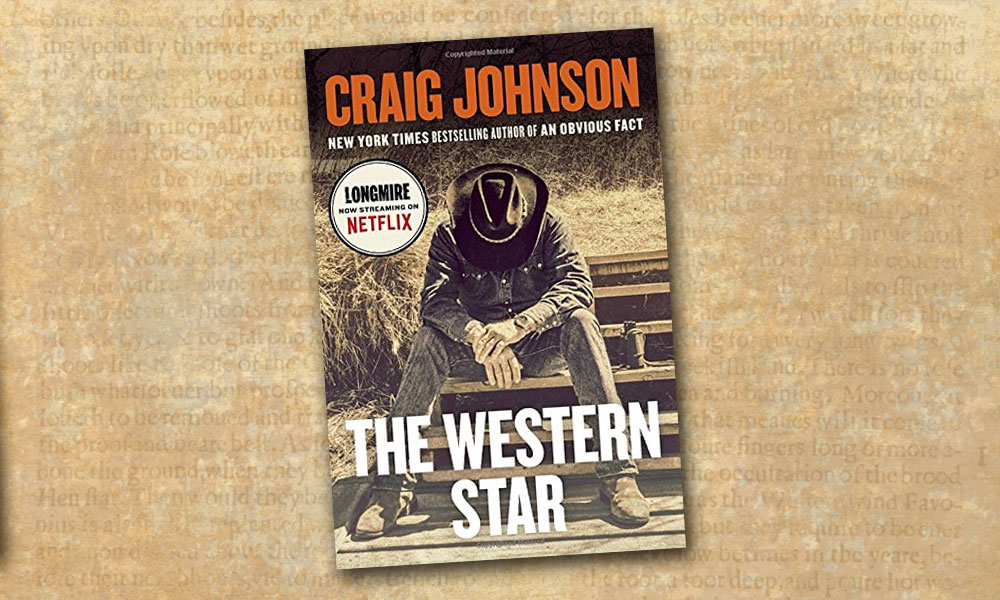 A Badge, a Body and a Gun
Modern Western mysteries dominate the sales of Western novels and there is no shortage of titles to choose from in 2017. Here are 11 of my favorites.
Beyond Reason by Kat Martin (Kensingon)
Burials: a Faye Longchamp Mystery by Mary Anna Evans (Poisoned Pen Press)
Cold Hearted River by Keith McCafferty (Viking)
Dark Signal by Shannon Baker (Forge)
Desert Remains by Steven Cooper (Seventh Street Books)
Double Wide by Leo W. Banks (Brash Books)
Kill the Heroes by David Thurlo (Minotaur Books)
Song of the Lion by Anne Hillerman (HarperCollins)
The Last Cowboys of San Geronimo: A Novel by Ian Stansel (Houghton Mifflin)
The Right Wrong Number by Jim Nesbitt (Spotted Mule Press)
The Western Star by Craig Johnson (Viking)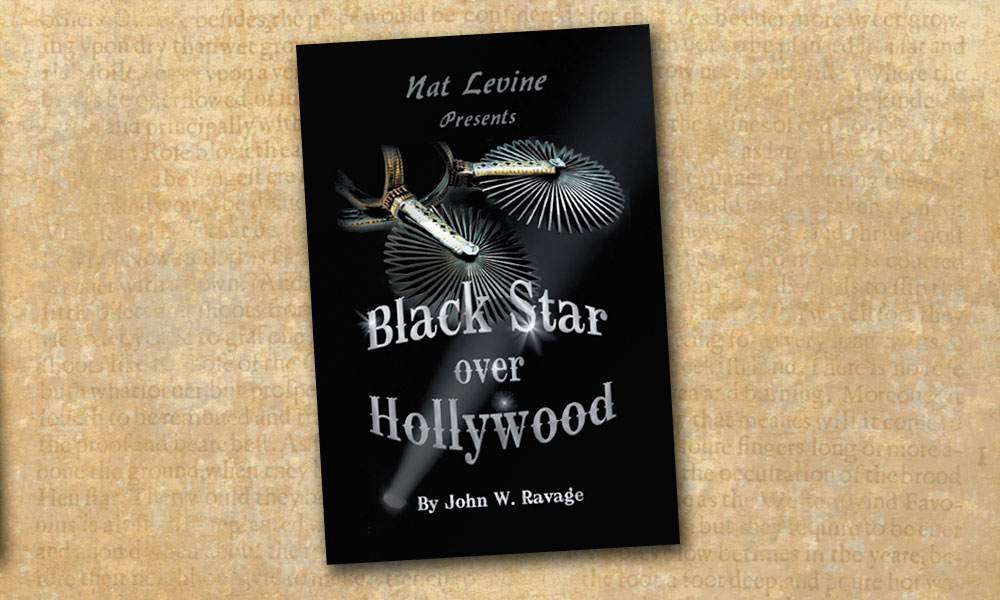 Independent Writers and Small Publishers
The digital age is a great era for Western writers—and lovers of Old West history and fiction—as small presses and self-publishing has opened up the marketplace to many
more writers. Here are 11 books I highly recommend.
1881 by Daniel Fludgate (FeedAReadPublishing.com)
The 41 Short Rim-Fire: Deadliest Round in the West by Brendan Michael Murphy (self-published)
Black Star Over Hollywood by John W. Ravage (XLibris)
Blood Once Spilled: The Gaslight Boys by John T. Wayne (Mockingbird Lane Press)
California Bound by Frank Kelso and John O'Melveny Woods (Intellect Publishing)
Deadwood Stage and Their Historic Families, Volume 2 by Patricia A. Campbell (self-published)
Lost Roundup by Phyllis de la Garza (Silk Label Books)
The Last Wild Ride by Lee Martin (Amazon Digital Services)
The Prisoner of Orchard Bend by Patrick Lemieux (Across the Board Books)
The Shots at Iron Mountain: A
Story of Two Men—Tom Horn and Geronimo by Jiri Cernik (Dorrance Publishing)
The Walker: The Untold Story of Black Bart by Bruce Bradley (self-published)
Stuart Rosebrook, True West's senior editor and Western books editor, is a big fan of local bookstores for Old West books, new and used, and, when traveling, always stops in small-town bookshops in search of a lost treasure to add to his library.