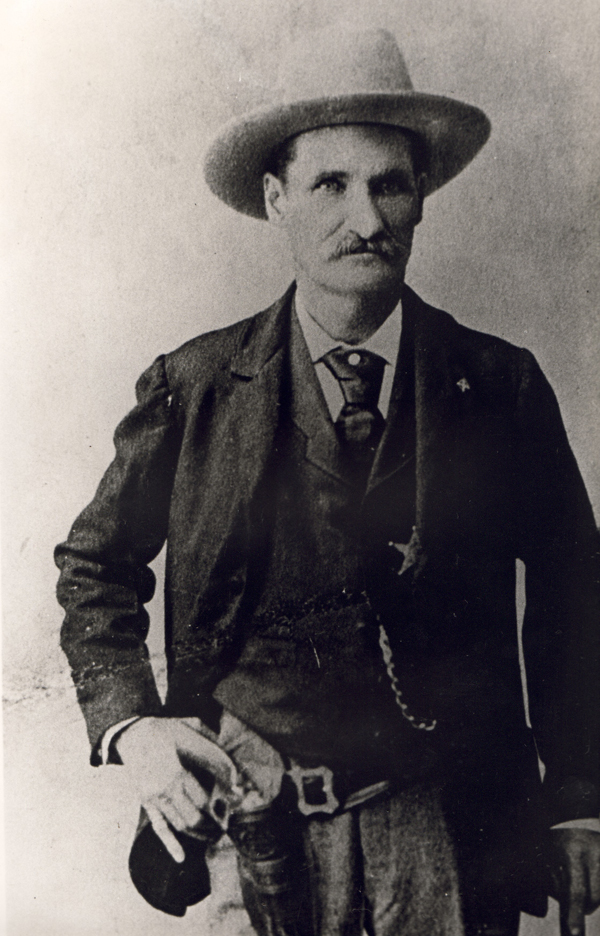 In El Paso Selman spent most of his time in the city's gambling dens and an occasional job as a constable. In August, 1893 the 54-year-old Selman took 16-year old Romula Granadine as his bride.
On April 5th, 1894, El Paso constable Selman and U.S. Deputy Marshal Bass Outlaw, a man whom the Texas Rangers fired for drunkenness were socializing in Tillie Howard's brothel. Outlaw, drunk as usual, fired off his revolver and caused Miss Tillie to run into the back yard blowing her police whistle. He chased her down and tried to take away her whistle. Texas Ranger Joe McKidrict happened by about that time, tried to break up the ruckus and Bass shot him in the back of the head.
Selman pulled his pistol and fired, mortally wounding Bass, but before he went down Bass got off a couple of rounds one hit Selman in the knee. The second shot missed but powder-burned his eyes. Henceforth Selman's vision was impaired and he would walk with a limp.
About the same time John Selman shot and killed Bass Outlaw John Wesley Hardin rode into El Paso and hung up his shingle as a lawyer. His most recent permanent residence had been an extended fifteen year stay the Texas State Penitentiary at Huntsville for the murder of Sheriff Charlie Webb.
John Wesley Hardin was released from prison on February 17th, 1894. Two years earlier his wife Jane had died of an undisclosed illness. He headed for the Hill Country around Austin, where he met and married fifteen-year-old Callie Lewis.  Legend has it he won her from her father in a poker game.  It's a good story but there was more to it than a card game.  Callie was a tall, beautiful, but spirited and headstrong young woman.  She was also something of a desperado groupie and seems to have been infatuated with the legendary gunman.  She flirted with the forty-one-year old Hardin who was quickly smitten and proposed marriage.
They were married at London, Texas on January 9th, 1894.  Her parents, especially her father, approved of the marriage.  He was glad to have a celebrity for a son-in-law.  But Hardin's best years were behind him and Callie turned out to be a lot more than he could handle.  Hardin biographer, Leon Metz, pretty well sums up the relationship: "Callie was fifteen and one-half and acted every bit of it; John Wesley Hardin was forty-one and feeling every day of it."
Within hours of the marriage Hardin returned the spoiled brought the spoiled young lady back to her parents.  He hoped they would be able to talk some sense to their rebellious daughter and the correspondence between Callie's parents and Hardin indicates they hoped that the couple would soon return to marital bliss.  Finally, on March 23rd, 1895, her father wrote Hardin suggesting that he try and forget about her. Even though no divorce or annulment papers have been found the couple never saw each other again.
Hardin headed for El Paso and his last great escapade.