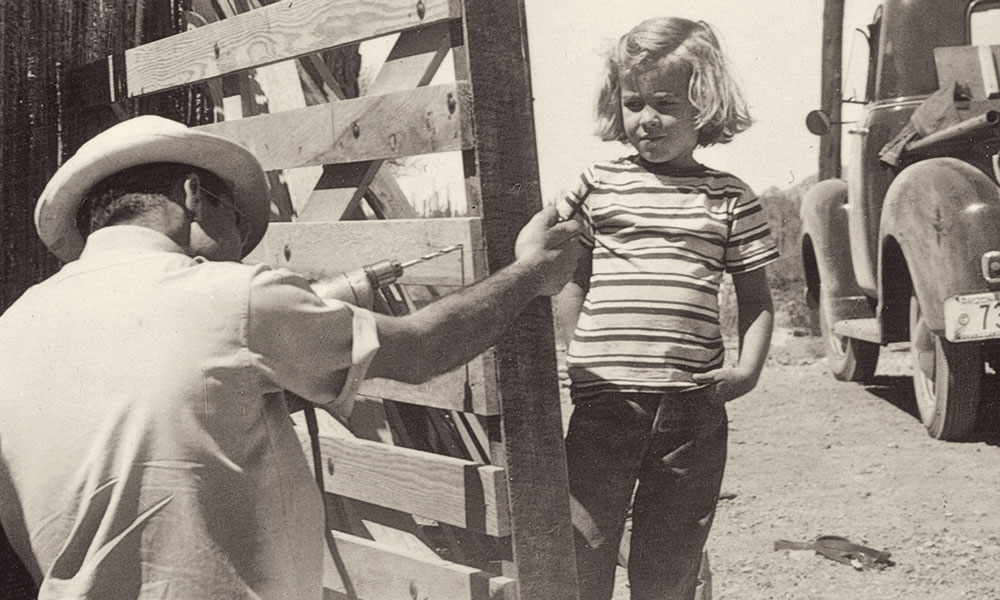 Meet the staff behind True West Magazine!
(Pictured above) Lynda A. Sánchez, Age 6, 1951
Lynda is shown working with her father, Joe Carithers, on a corral near Arizona's Tucson Mountain Park, where her father worked as superintendent. One of the last members of the cavalry trained at Fort Riley in Kansas in 1944, Joe instilled in his children a love of history and the wild outdoors. "I always loved history, but I became interested in writing history when I worked with Eve Ball in 1973," says Lynda, who lives on a ranch along the Rio Bonito in historic Lincoln, New Mexico. "I published my first article in True West in 1978, about Geronimo's wives. Since then, I have published six books and more than 350 articles."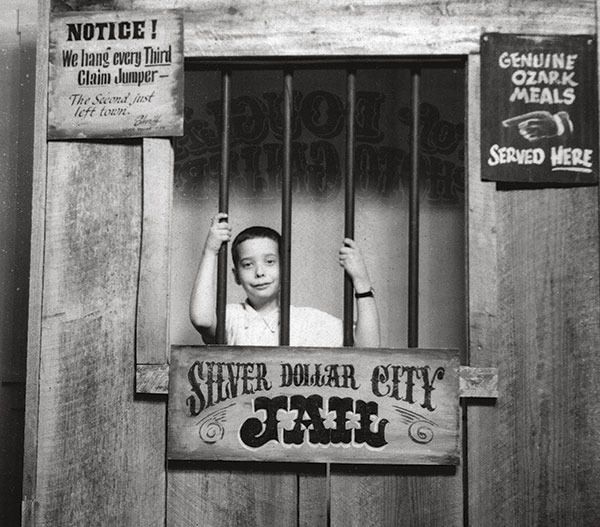 Henry C. Parke, age 6, 1960
"As a Brooklyn-born kid, I remember being taken to Dodge City, Kansas, visiting my first Boot Hill and eating a breakfast steak at Miss Kitty's Restaurant, which was full of pictures of Amanda Blake, who I was crazy about. The summer that I turned 13, we spent nine days shooting rapids on the Colorado River on a rubber raft. Just before we left, The River of No Return played on TV, and all my friends were convinced that if I didn't drown, I'd be scalped by Indians," recalls Henry, True West's Westerns film editor, whose first True West article was "The Films of Pancho Villa," published in April 2015.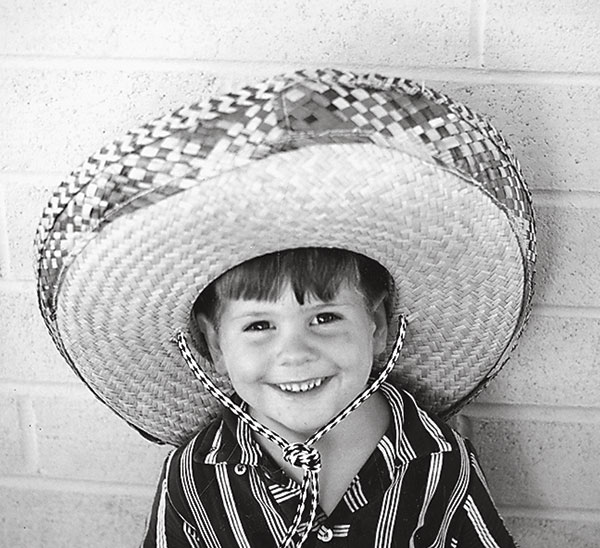 Robert Ray, age 4, 1964
"I had an Uncle Charlie, who wasn't really my uncle. He bought me the hat I'm wearing here and took me gold panning in the Superstitions." Born in Winchester, Massachusetts, Robert cut his teeth in the printing business at the Mesa Tribune and joined the True West staff in 1999. In addition to running the magazine's production department, Robert helps produce all of our True West books.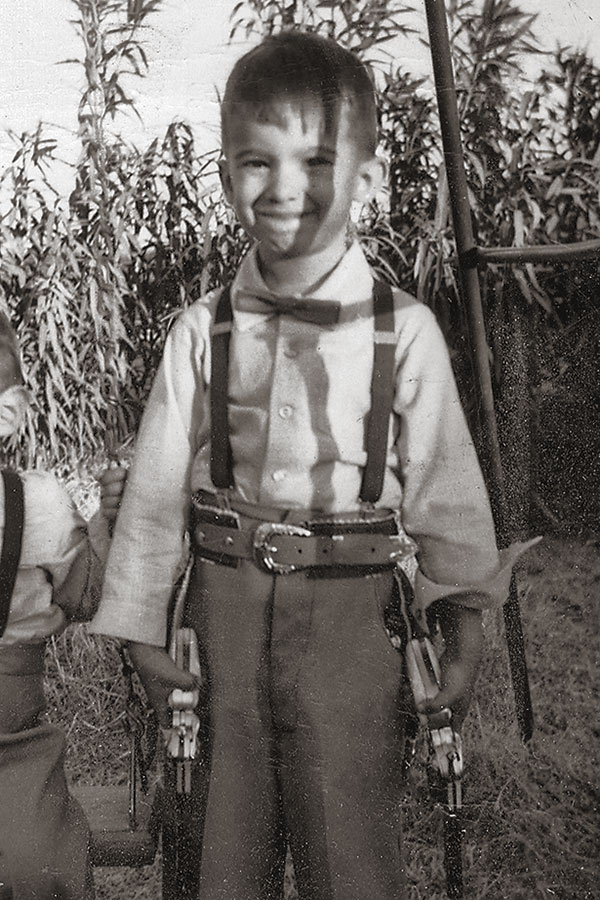 Tom Jonas, age 6, 1956
"I got interested in history because of its relationship to geography—I have always loved maps. I was curious about how the first Europeans got to Arizona and what they saw at the time. I began seeing True West Magazine when I became involved in historical associations and their gatherings. It has been a great way to fill in the gaps in my knowledge of historical people and events," says Tom, a mapmaker who anchored our coverage on the Geronimo surrender and the C.S. Fly photos in our July 2017 issue.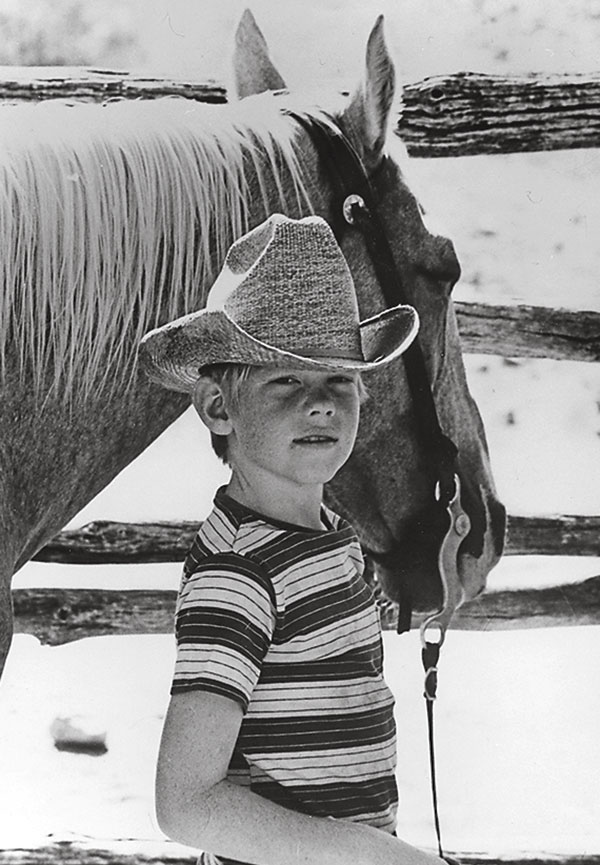 Stuart Rosebrook, age 8, 1971
"My interest in Old West history cannot be separated from my earliest memories growing up in the center of television and film production in North Hollywood, California, and quarterly family trips to Arizona, which included spending part of every summer, from the age of five, riding horses and hiking all over the Orme School's Quarter Circle V Bar Ranch Camp near Mayer, Arizona," says Stuart, who began working as the book editor and senior editor for True West in 2013.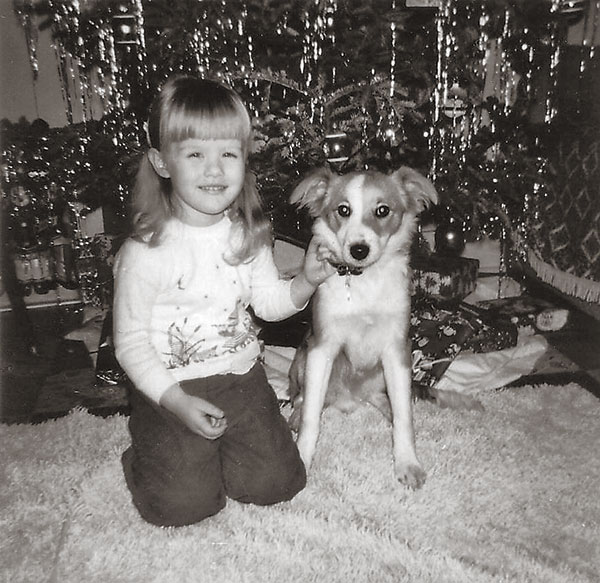 Sherry Monahan, age 4, 1966
"My dad loved all classic Westerns, and he wore cowboy boots, a Stetson, bolo neckties and a big ol' belt buckle—all in New Jersey! I believe his influence helped shape my interest," Sherry admits. "I visited Tombstone, Arizona, during the early 1990s and became hooked on Western history. I still have my very first check and letter from True West, framed in my office today—it's dated July 3, 1997. The 65th anniversary marks my 10th anniversary writing my Frontier Fare column!"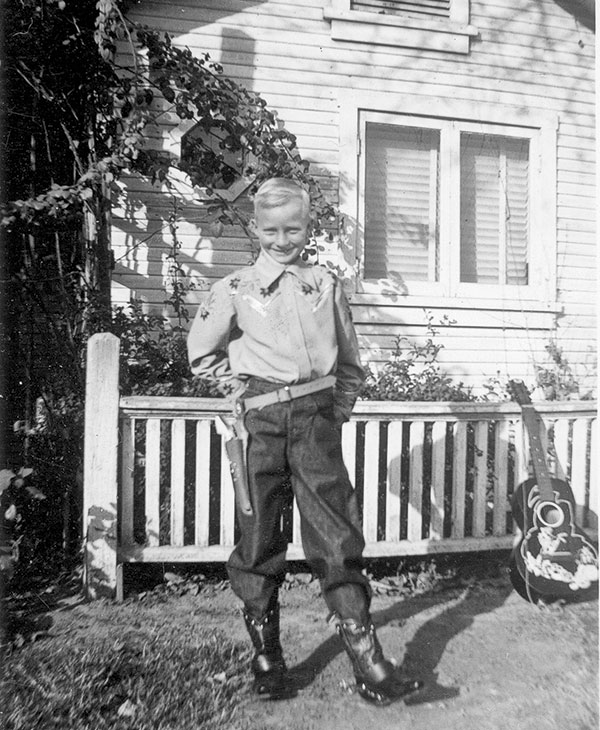 Marshall Trimble, age 7, 1946
"I've always liked Western history, but decided to make it a career in 1968, while working on a cattle roundup along the Tongue River, south of Miles City, Montana. Afterwards, my brother, Dan, his wife, Mary, and I were heading to Fort Collins, Colorado, where he was a vet student. We stopped in Hardin, Montana, for the night and visited a local museum where an elderly lady regaled us with stories of 'Custer's Last Stand.' I was riveted. She suggested, 'Why don't you go see it? It's not far from here.' The next morning, as we drove to the site of the battle, it started to rain and the clouds closed in. I wandered off by myself. It was so still and quiet. Nobody was around, but I could feel the mysterious presence of something beckoning me. The battlefield was enchanting. I was hooked. When we got in the truck to leave, I declared, 'I'm going to be a Western historian.'" Appointed Arizona State Historian in 1997, Marshall Trimble answers questions about the Old West from readers all over the world in our Ask the Marshall column.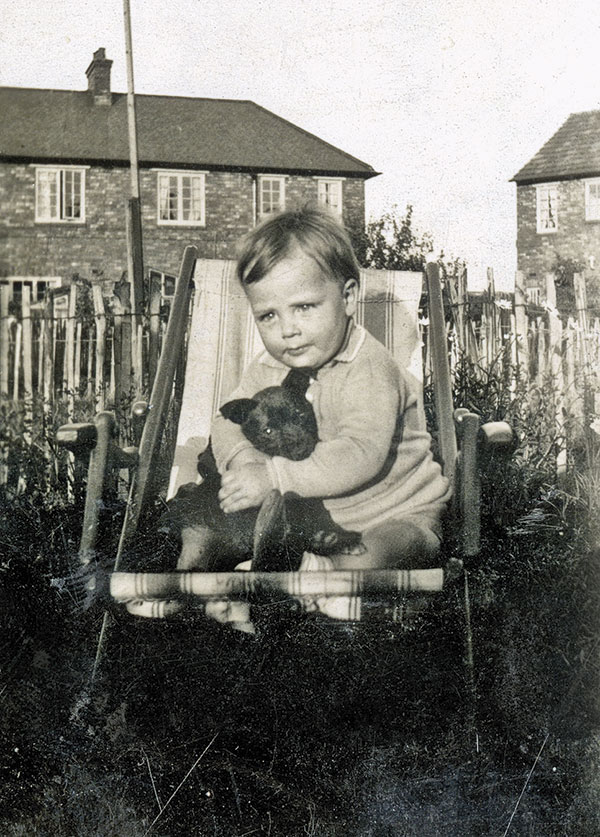 Fred Nolan, age 3, 1934
"When I was 19, I suffered an injury and was laid up for a long while, and I began to read. I found a reissue of Walter Noble Burns's book The Saga of Billy the Kid, and I became fascinated by the story," says Fred, who not only located John Henry Tunstall's birth certificate, but also found and spoke to Tunstall's 82-year-old sister Mabel. Fred went on to write the definitive book on Tunstall, and he has since written numerous books on the Lincoln County War and Billy the Kid. He is considered one of the foremost authorities on the life and times of the Kid. He lives with his wife, Heidi, in Chalfont St. Giles, England. When he visits the colonies, we all rock out!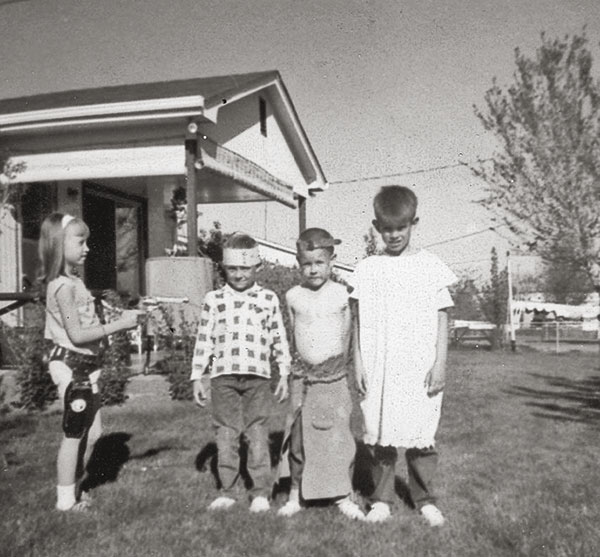 Linda Wommack, Age 7, 1965
"I have been interested in history since my mother told me stories of 'Clear Creek' Annie as we drove through the Colorado rock canyons of Clear Creek Cañon. In third grade, I wrote my first book report on a book about 'Baby Doe' Tabor of Leadville, Colorado. I began reading True West in college, and my first article was published in the magazine in 1994," says Lynda, who has also been a staff writer for The Tombstone Epitaph since 1995 and for Wild West Magazine since 2003. She has published 10 Colorado history books, with the latest being a first-ever biography of Colorado's famous cattle queen Ann Bassett.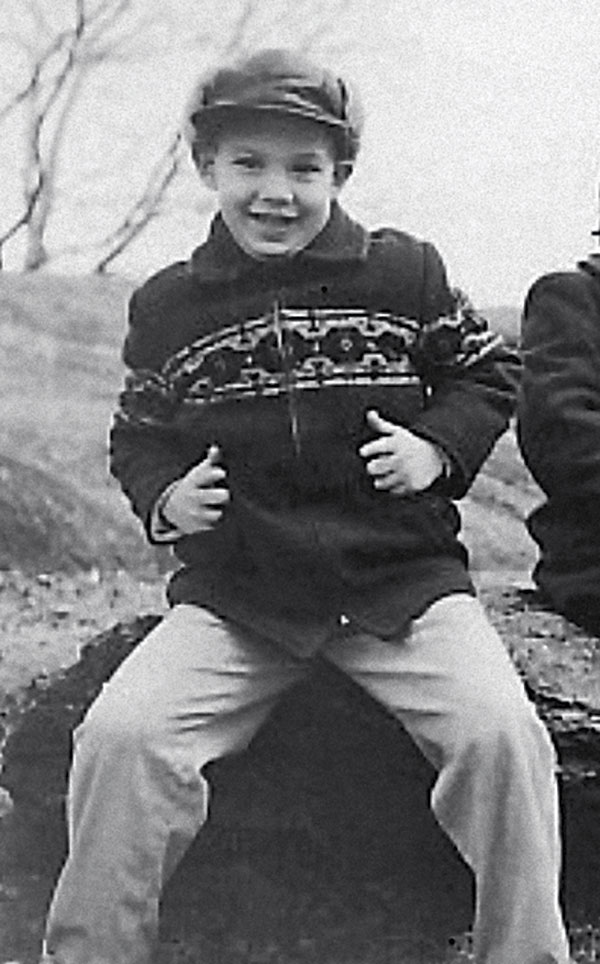 Gary Zaboly, age 7, 1957
"My interest in the Old West began when I saw B-Westerns on TV, which were constantly being broadcasted then. They inspired me to draw stories on index cards, each card a scene. 'Rocky' Allan Lane became my favorite B-Westerner. I knew of True West from an article in another magazine, and I wrote to them in 1962, seeking info on a subscription. I will never forget the name of the dear kind lady there—Gayle Terbay— who unexpectedly sent me a nice note and two free issues, one of True West, the other of Frontier Times, and I was ecstatic," recalls Gary, whose Western artwork has illustrated True West articles.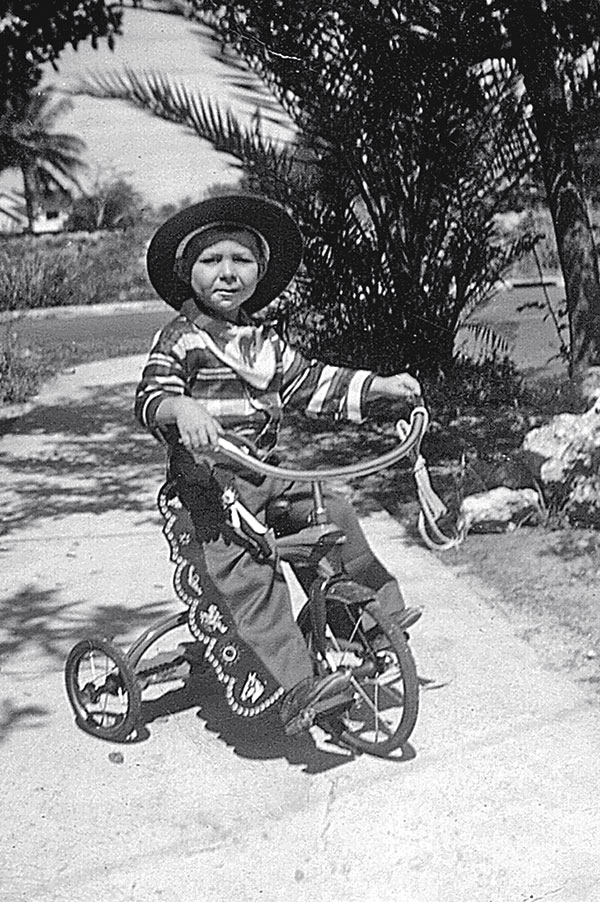 Phil Spangenberger, age 3, 1943
"This photo was taken in Miami, Florida, on my birthday, in my new—probably my first—cowboy outfit. I guess I've always had an interest in history, but the spark was ignited in 1954, when I watched the Disney television show Walt Disney's Wonderful World of Color, and the Davy Crockett serial that was later made into a Technicolor movie. I was fascinated by the flintlocks used in that program, and that started me on the gunsmoke writing and theatrical trail I've followed since then," says Phil, True West's firearms editor.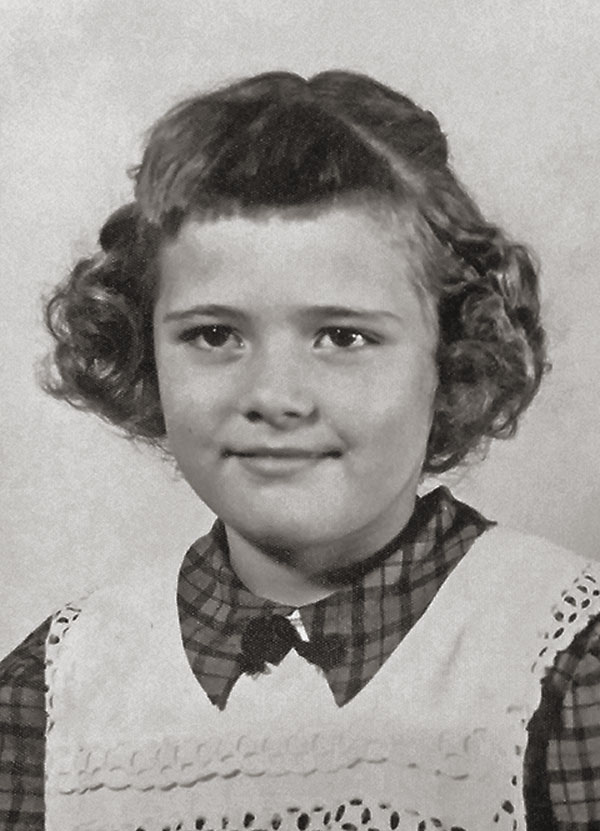 Jana Bommersbach, age 8, 1953
"Bob Boze Bell is responsible for my interest in history. I was really green when I came to work at True West in 2001, but quickly found the new love of my life. I am thrilled every time I learn a new chapter in history.  As Harry Truman said, 'The only thing new in the world is the history you don't know,'" says Jana, our Old West Saviors columnist who also contributed to the magazine's Women of the West series.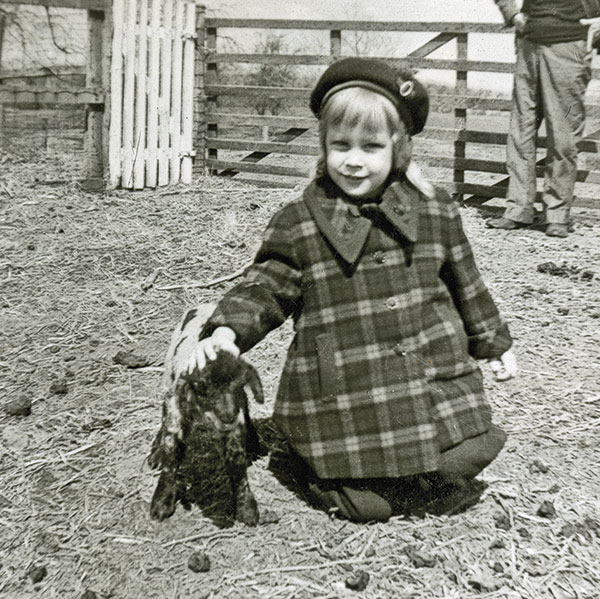 Rebecca Edwards, age 4, 1957
"I was inspired at an early age by my grandfather's love of history. My great-great-grandfather, the Rev. John L. Scripps, and his nephews were prominent in newspaper publishing, and my great-great aunts inspired me with their artistic talents. My mother loved Westerns, and we would watch them together as I grew up. As I look back today, I can see how the stories of the Old West—injustice, good triumphing over evil—along with art and publishing led me to True West," says Rebecca, who joined our staff in April 2012 and is the graphic designer of the feature you are reading.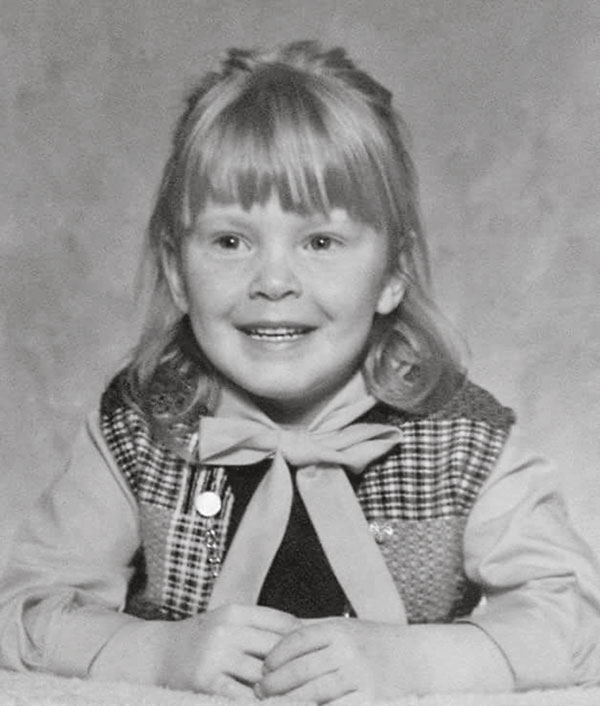 Christine Lake, age 6, 1975
"My interest in the Old West sprouted when I moved to this funky, artsy, cowboy, biker town of Cave Creek, Arizona, six years ago," says Christine, our administrative assistant. She's the delightful lady who answers our phones and processes all of your orders for books and subscriptions.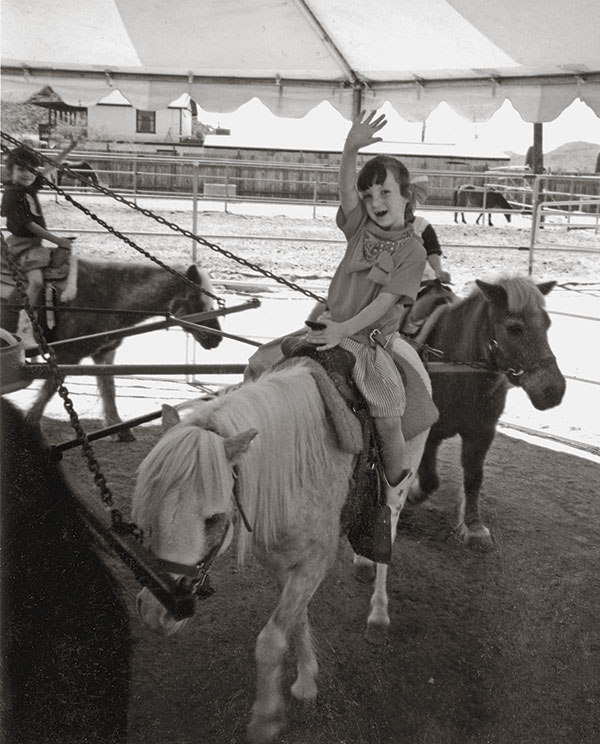 Rhiannon Deremo, age 7, 1996
"This photo was taken at a stable somewhere in the Valley of the Sun, Phoenix, Arizona. I have always loved horses and, growing up, I loved watching Westerns with my dad. My favorite is True Grit with John Wayne," says Rhiannon, who joined our staff in 2015 as the magazine's social media editor.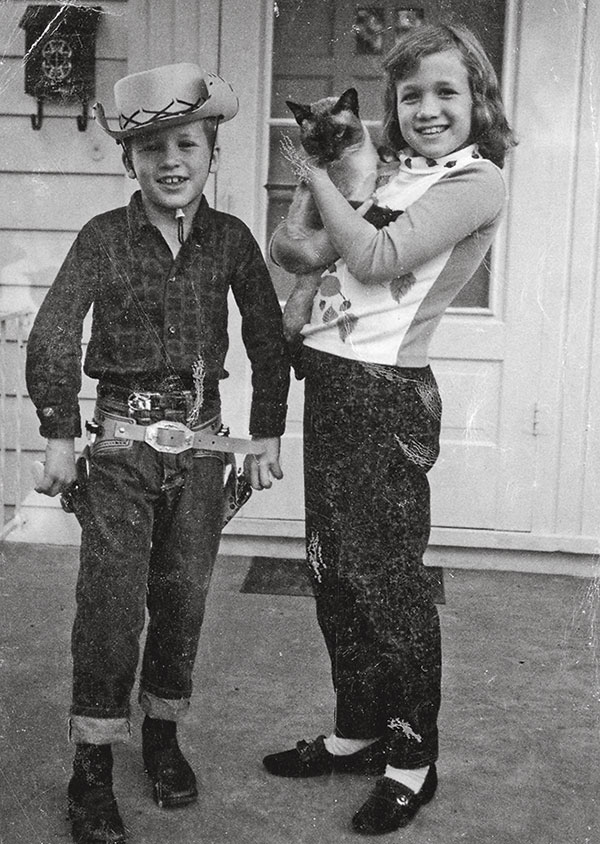 Greg Carroll, age 7, 1963
"Celebrating my seventh birthday, on the front porch of my boyhood home in Wichita, Kansas, with my older sister Jan, I am defending the Plains of Kansas, as the lawman Matt Dillon. I was a late bloomer to True West Magazine; discovered it through Bob Boze Bell's radio show. I wasn't a very good student of history, but now love it and have a lot of catching up to do," says Greg, our regional sales manager for Arizona, California, Idaho, Iowa, Kansas (his home state!), Nevada and Washington.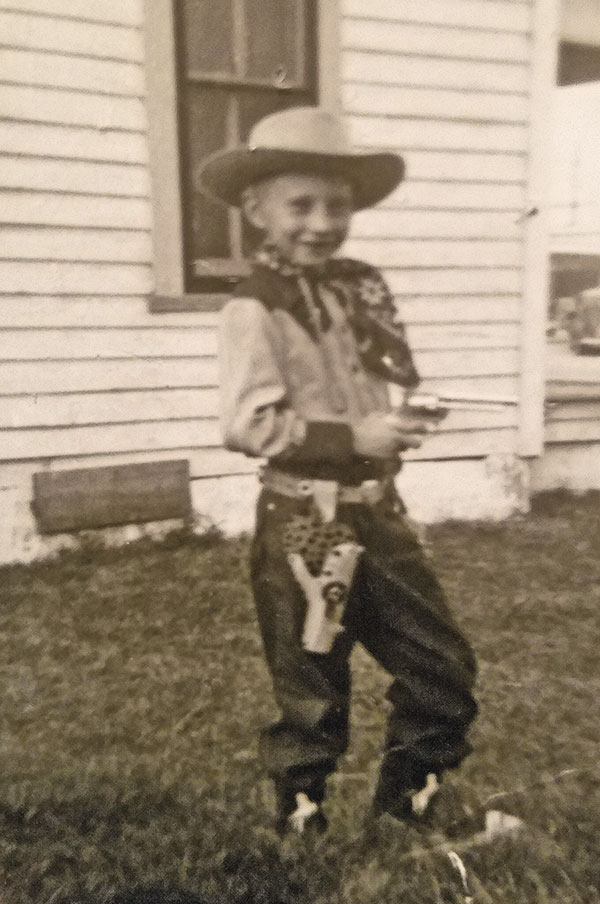 Gary L. Roberts, age 7, 1949
"By the time, I was 12, this Tifton, Georgia, boy was already trying to separate the 'real' Old West. I first subscribed to True West Magazine in the summer of 1957. I submitted my first article to True West in 1960, my senior year in high school. It was published in the January-February 1961 issue. By then, I was a corresponding member of a half-dozen Westerners International corrals and posses, and keeping the post office in business with letters (to everybody from J. Frank Dobie to Zoe Tilghman) and book orders (Frontier Book Company,  W.M. Morrison Books, Guidon Books). Every trip to the mailbox was an adventure," recalls Gary, who went on to specialize in the history of frontier violence, particularly gunfighters and the Indian Wars. He is perhaps the foremost expert on Doc Holliday, and his seminal book, Doc Holliday: The Life and Legend, is considered top-notch.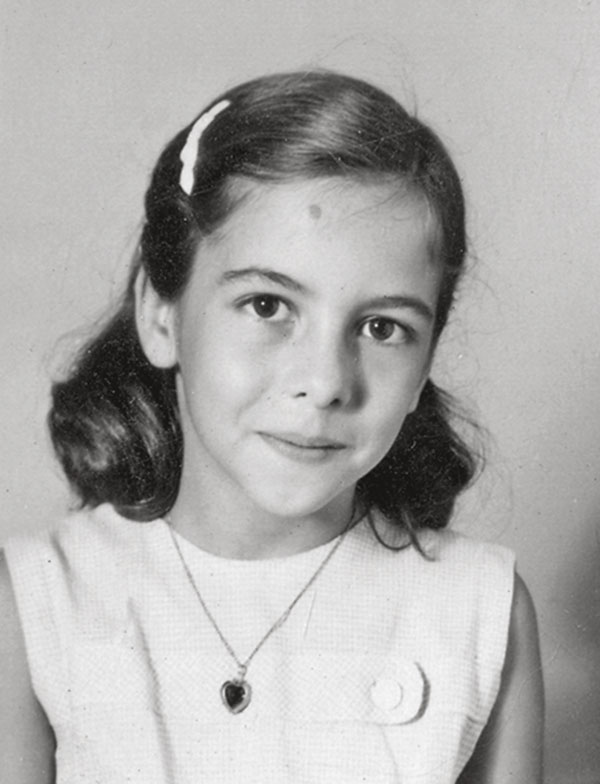 Carole Compton Glenn, age 7 ,1956
"Growing up in East Texas, my brother—the legendary Bill Compton—and I spent many Saturday mornings watching Westerns at the movies and grew up watching TV Westerns," says Carole, who was the first person Bob Boze Bell hired when he and his partners bought the magazine in 1999. For nearly 20 years, Carole has served as the steadfast business manager. Many consider her the heart and soul of the magazine.
Sheri Riley, age 5, 1963
"When my Dad was in the Navy, he used to love to take me fishing. He had a saying whenever he felt like something cost too much: 'Jesse James rode a horse and carried a gun when he was holding up people.' He loved the Old West and was always telling us stories about Jesse James, 'Buffalo Bill' Cody, etc. My interest in the Westward Expansion and the struggles of living in that time in history made True West a perfect fit for me," says Sheri, our regional sales manager for Colorado, Minnesota, Missouri, Nebraska, Oregon, Tennessee and Texas.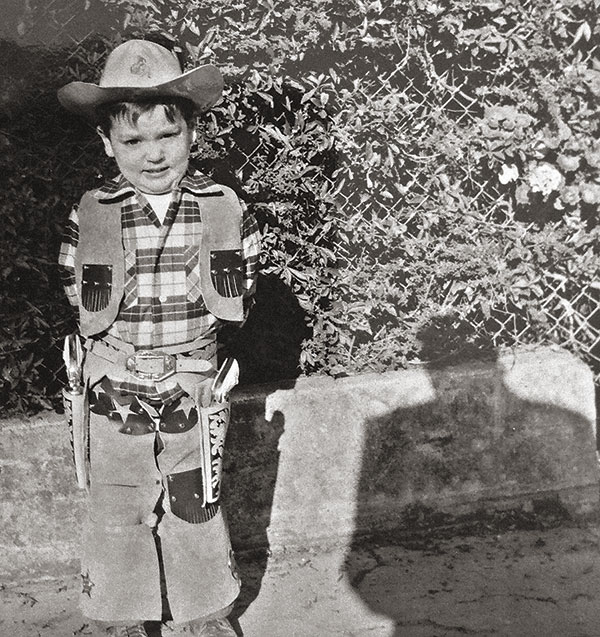 Thom Ross, age 6, 1957
"TV Westerns really grabbed me: Rawhide (with that truly great theme song), Bonanza, Bat Masterson and The Life and Legend of Wyatt Earp shaped me the most. Then I saw Disney's Davy Crockett series, and there was my hero. In my second-grade class photo, I am wearing a fringed Disney shirt with Fess Parker's iconic image stamped on a label," says Thom, a True West contributing author known for his art installations, including Custer's Last Stand at Medicine Tail Coulee in 2005.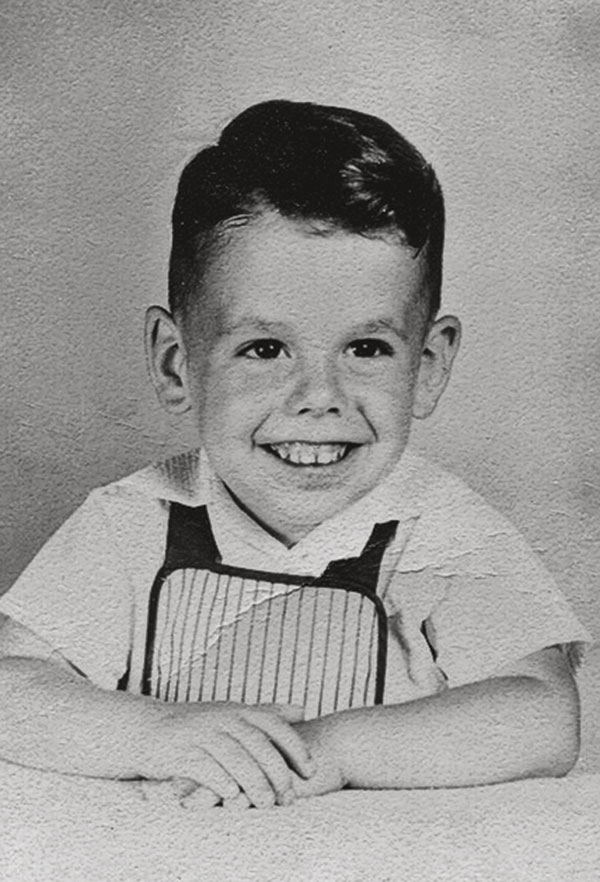 Mark Boardman, age 4, 1959
"I was first introduced to the Old West by my dad and grandfather. They watched all the Westerns on TV, and so did I. I was about five; I started reading history a couple of years later," says Mark, True West's features editor and Investigating History columnist, and also the editor of The Tombstone Epitaph.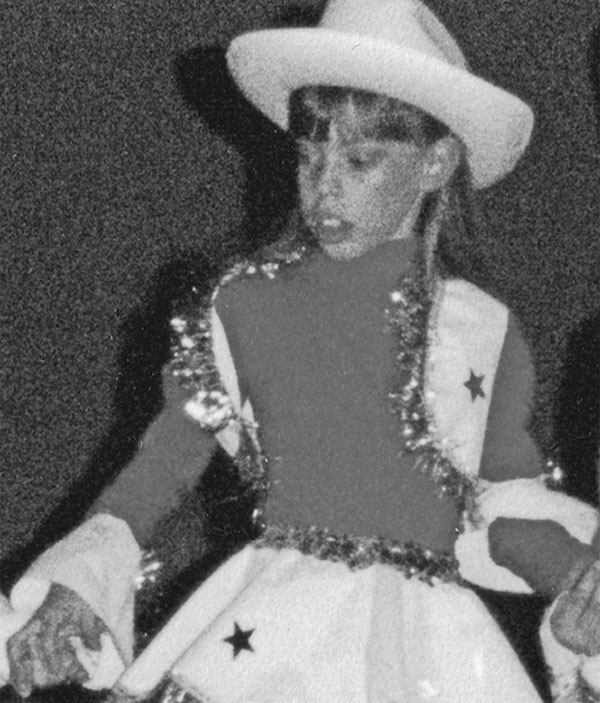 Meghan Saar, age 10, 1990
"My Dad loves Western movies. But since I was born with a hearing loss, none of these made much sense to me until rather recently, as remastered classics caught up with Closed Captioning technology. My love of Old West history has grown from visiting historical sites and from editing this storied magazine! My first True West issue was January 2003, which kicked off the magazine's 50th anniversary. I'm super proud to still be here for the 65th year!" says Meghan, who joined True West as assistant editor in 2002 and is now the editor.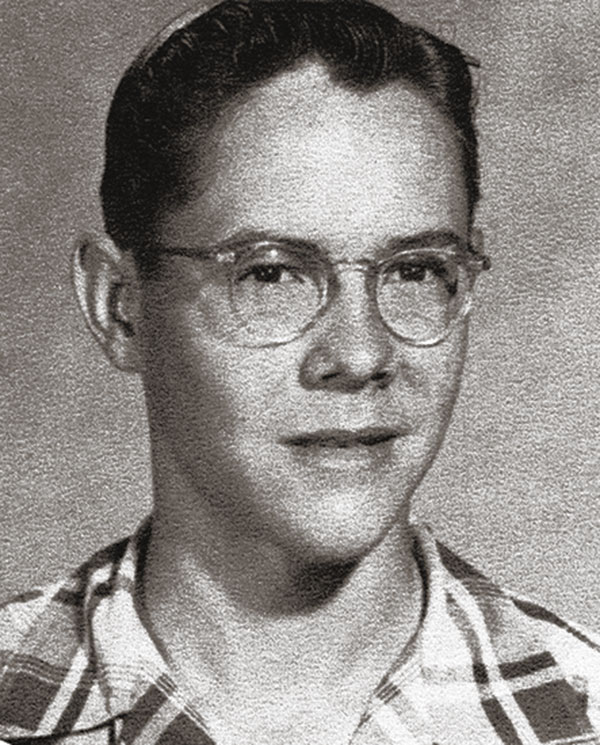 Robert G. McCubbin, age 16, 1953 
"I got my passion for collecting outlaw and lawmen photos from reading about them. I do not know why they interested me so much. Maybe it was because Oklahoma, my native home, had so many of them. My first original photograph was a cabinet card of Pat Garrett, given to me by his son Jarvis," says Robert, a charter subscriber when True West hit the newsstands in April 1953. He is also the world's foremost collector of outlaw and lawman photographs, and True West's publisher emeritus.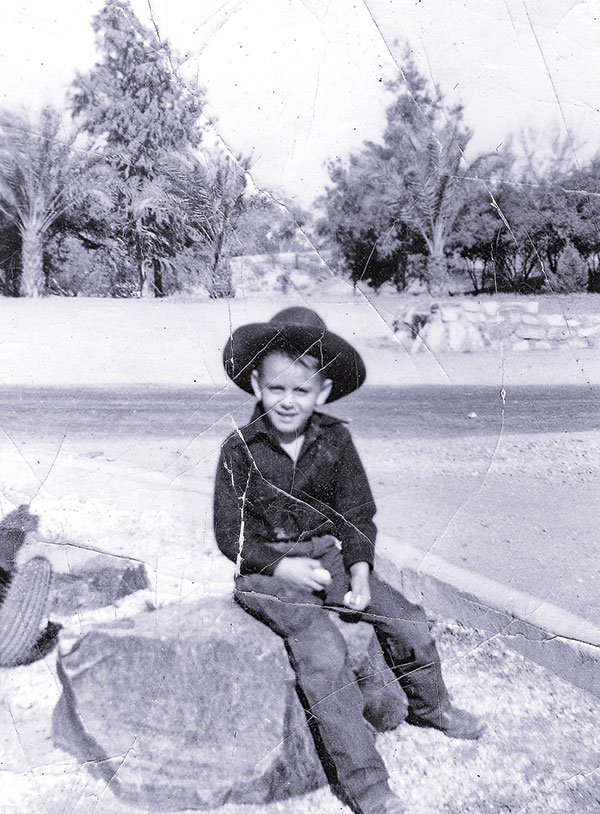 Gus Walker, age 8, 1951
Born in Batesville, Arkansas, Gus made his way to Phoenix, Arizona, at the age of five and grew up during the Golden Era of Western film. Known as the "Mapinator," he brought so many to the "exact spot" through his 38 years at The Arizona Republic and his 14 years illustrating historical maps for True West, before he died in 2014. He was more than a mapmaker to our readers. A lifelong musician, he played guitar and sang "Lorena," the song that inspired many Confederate soldiers to desert, for a reader who had never heard the tune. And he entertained our staff with his humorous historical twins—his first was pairing a Pamunkey Indian with Rolling Stones's lead guitarist Keith Richards; it turned into a department in the magazine during the mid-2000s. He left a mark in all of our hearts.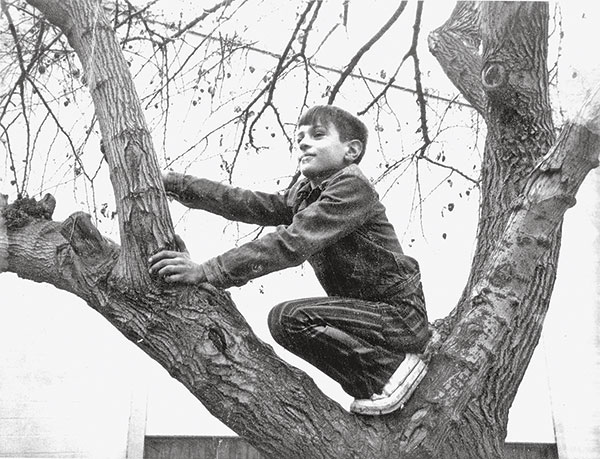 Ken Amorosano, Age 12, 1973
A "tough little monkey," by his own admission, Ken moved west in 1981, landed in Hollywood and cut his teeth in the entertainment industry. After a successful stint as a publicist and personal manager, and then marketing director and owner for the Single Action Shooting Society, he bought stock in True West in 2007 and became our publisher in 2010.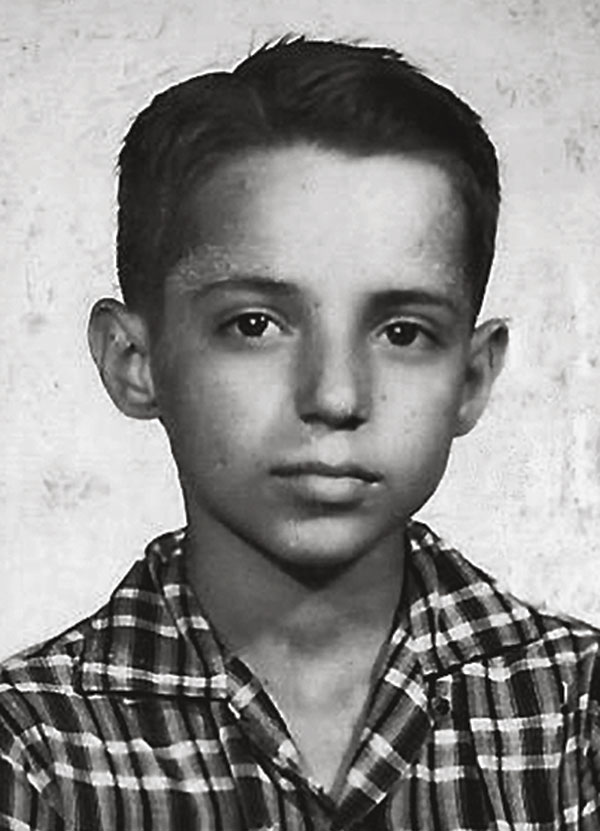 Paul Andrew Hutton, 10, 1960
"The photo for my military dependent ID card was taken in July 1960 when my Air Force family was transferred to Taipei, Taiwan. After four years in San Angelo, Texas, I had fallen in love with school tales of Davy Crockett and the Alamo. From those days grew my obsession with Western history. When we returned to the states in 1963, I bought my first issue of True West—the colorful Edgar S. Paxson painting of Custer's Last Stand on the October 1963 cover enthralled me. Many years later, I asked my friend Bob Boze Bell, now the president and executive editor of True West, to assign me to the same position once held by Dr. Walter Prescott Webb. He did, and I became the magazine's historical consultant."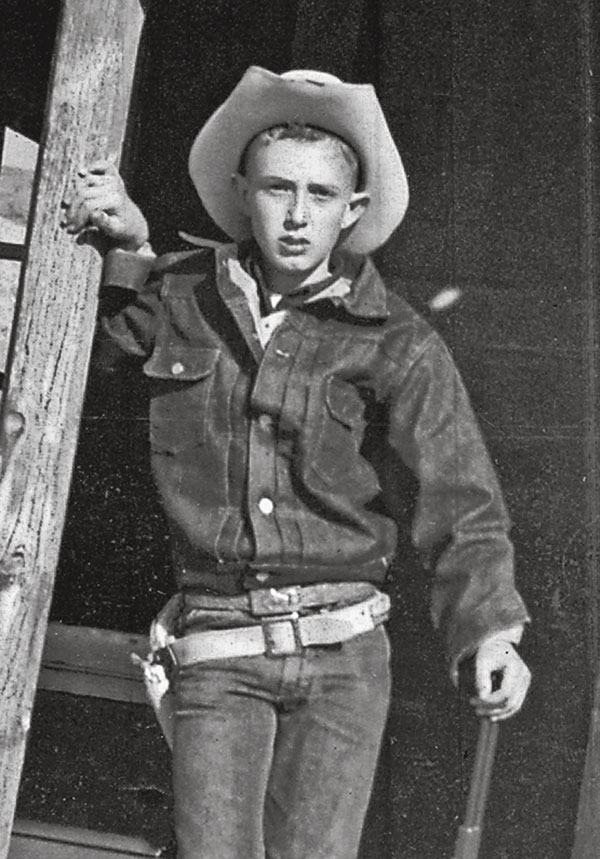 Dan Harshberger, age 11, 1959
Dan grew up in the windy tourist town of Kingman, Arizona. On Sundays, his family would go on picnics to the nearby ghost towns of Oatman, Goldroad, Mineral Park and White Hills. Dan's parents allowed him to invite a friend on these outings, and he often called on Robert Bell, a classmate and nearby neighbor, to join. The two would play with toy guns and frolic in the tailings of numerous abandoned mines. Looking back, Dan says, "We were lucky we didn't fall into some of those deep shafts, but we were fearless and somehow survived." Dan has been the art director for True West since Bell bought ownership in the magazine in 1999.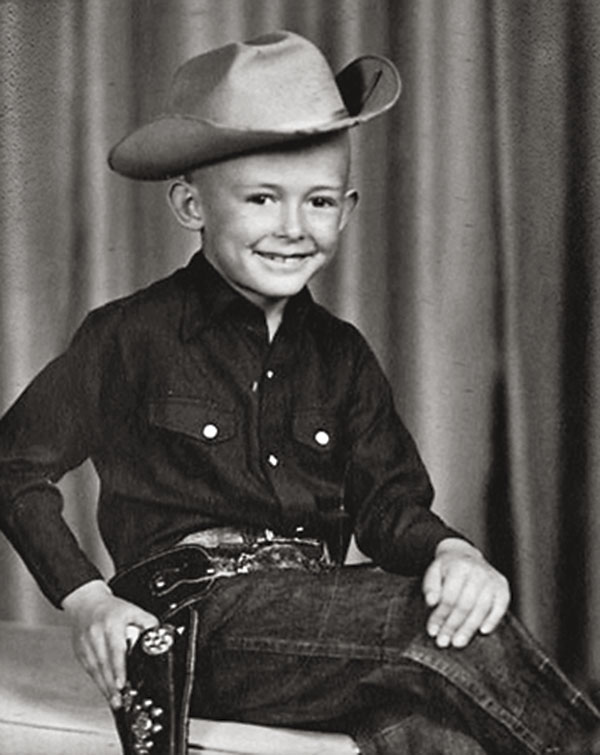 Bob Boze Bell, age 8, 1953
"I asked for and got a Lone Ranger outfit (shown) for Christmas in 1953. My grandmother Louise Guess Swafford told me how we were related to outlaws and that got me excited. I first saw True West in the front window of Desert Drugs in downtown Kingman, Arizona, and I was hooked. On our annual road trips back to Iowa, I bought an alleged photo of Billy the Kid that turned out to be fake. Later on, during my college years, I would see True West on the newsstand and think to myself, 'You know, I could do something with that magazine.'" Bob Boze Bell has been an owner of True West since 1999.
https://truewestmagazine.com/west-true/