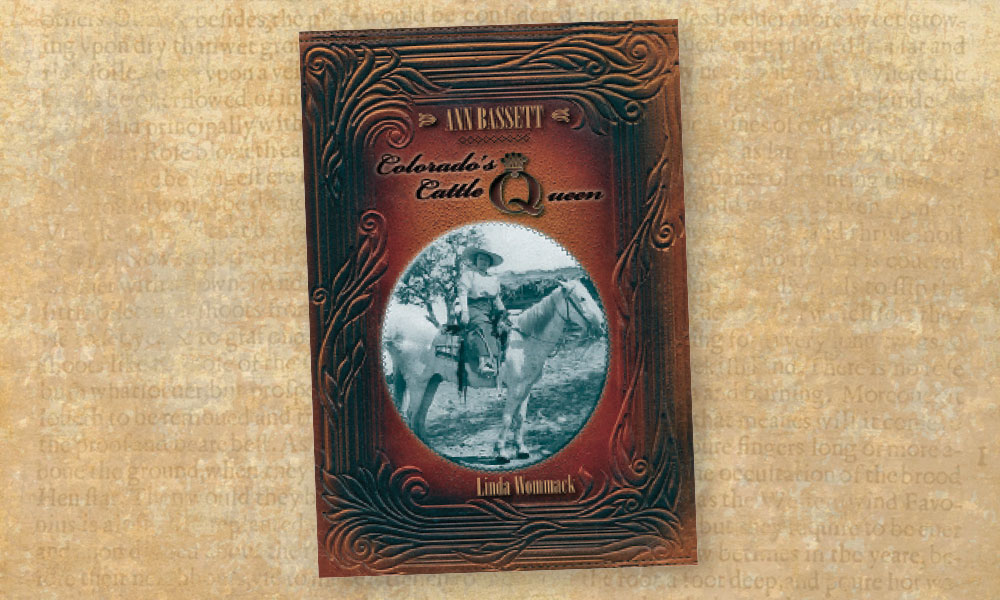 For the past few decades Western historians have worked diligently to uncover, research and write a more comprehensive history of the West—a broader Western story from the bottom up chronicling  the true stories of laborers, women, minorities, immigrants, homesteaders and marginalized members of society.
Historian Linda Wommack is one of those writers who has been pursuing the truth about underappreciated and lesser-known Westerners. Her latest, Ann Bassett: Colorado's Cattle Queen (Caxton Press, $17.50), is a fine example of undeterred detective work and scholarship in the archives, including deciphering Bassett's own writings and that of many of her peers, leading to an enlightened understanding  of an underrepresented character in Western American history. Wommack says, "This account of the life of Anna M. Bassett is particularly enhanced by Ann's own words.…Through her prism, we learn of the rugged pioneers building a life in an isolated corner of Northwestern Colorado, and the many trials and tribulations they faced and overcame."
Illustrated with more than two dozen rare historical photos, many from the archives of the Museum of Northwest Colorado, the biography illuminates Bassett's legendary story with detailed research of primary sources and concise, convincing conclusions. Wommack entertains the reader with Bassett's extraordinary early years and the cast of famous characters —including Tom Horn and Butch Cassidy—who shaped her life. She writes of the cattle business, range wars, outlaws and the law-abiding citizens who struggled, worked and fought for their piece of the West in the 19th and 20th centuries.
In addition, Wommack's detailed notes and investigative research have proved once and for all that Ann Bassett was not a prostitute and that she and Etta Place (best known as the girlfriend of the Sundance Kid) were not actually the same person. Just as important as Wommack disproving these falsehoods—as well as recounting Bassett's sensational trial and acquittal that overshadowed her legendary life story—is her telling us that Bassett lived a very 20th-century life until her death at 78 in Brown's Park in 1956.
Native Coloradan Wommack, an accomplished historian who has been a contributing editor for True West since 1995, has published eight other books on her home state's history, including Haunted Cripple Creek and Teller County, Murder in the Mile High City: The First Hundred Years and Our Ladies of the Tenderloin: Colorado's Legend in Lace. Wommack's dogged determination to uncover the truth about Ann Bassett's life—which had been blanketed by legend, lore and misinformation for the past century—elevates the cattle queen from Brown Park, Colorado, to the status of other legendary Western women of her time, including Mary Ann Goodnight, Calamity Jane, Josephine Marcus and Etta Place. All of us who enjoy Wommack's detective work eagerly wait to be enlightened and entertained by her next biographical bonanza.
—Stuart Rosebrook
https://truewestmagazine.com/western-library-michael-f-blake/