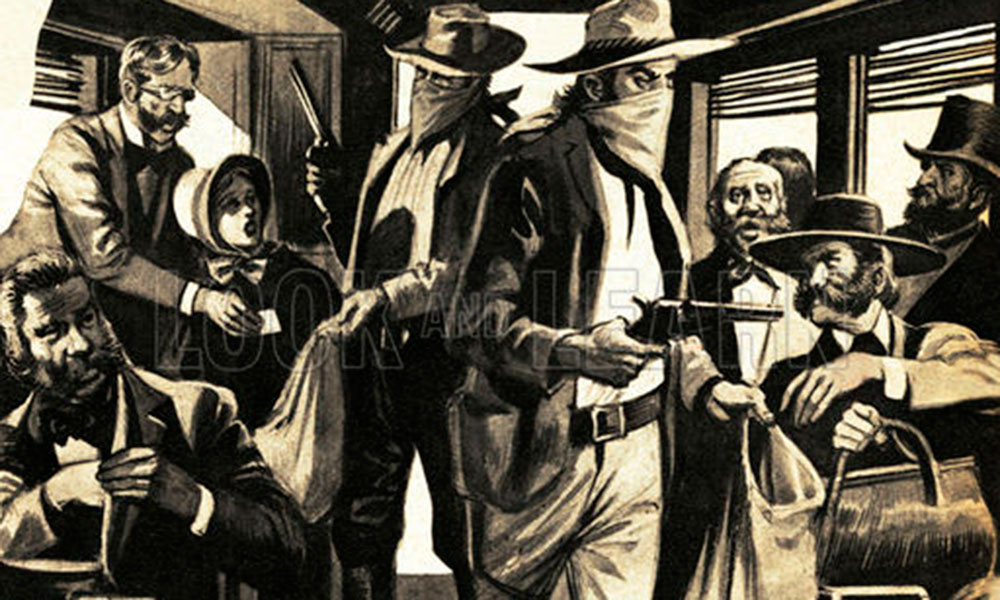 By the 1890's train robberies were big business in the West. At one point trains were being robbed on an average of every four days. The Union Pacific Railroad created a special posse the rode the trains carrying a large payroll. Another car carried their mounts so the posse could hit the ground running. Banks and railroads were generally despised by the common people and this gave rise to social banditry. Many saw outlaws as Robin Hoods and provided outlaws on the lam with food and fresh horses.
Railroads exerted political pressure and were able to obtain the death penalty for train robbery. Despite these laws, the only train robber to hang for his crimes was Black Jack Ketchum. He was a certified loser and not too bright. On August 16th, 1899, he tried to rob a train near Folsom, New Mexico single-handed and was shot in the attempt. While awaiting trial his arm was amputated. Black Jack gained considerable weight in jail and at his hanging a miscalculation caused a second amputation, his head. Black Jack died game, telling the spectators he'd be in hell before they had breakfast.
The Train Robber Chutzpah Award goes to the Al Spencer Gang. On September 21st 1923 the gang planned to rob the "Katy" Railroad, in Okesa, Oklahoma.  Al wanted an audience so with a theatrical flair, he announced ahead of time when and where the robbery would take place.  Lawmen chose to ignore him but the citizens took the outlaw seriously. A large group of people showed up at the designated spot and sure enough, when the train rolled by the outlaws appeared and made the heist.  When a posse arrived on the scene the only thing left was the picnic garbage left behind by the spectators.
I'd like to use the same kind of a disclaimer with that story, as used by my hero, J. Frank Dobie, which went, "I don't profess to know the truth but only repeat what I've heard. You be the judge of whether it's true or no!"
That being said, I can't vouch for the veracity of the picnickers at the Okesa train robbery, especially since the robbery took place at night but it was too good a tale to not pass on to y'all.