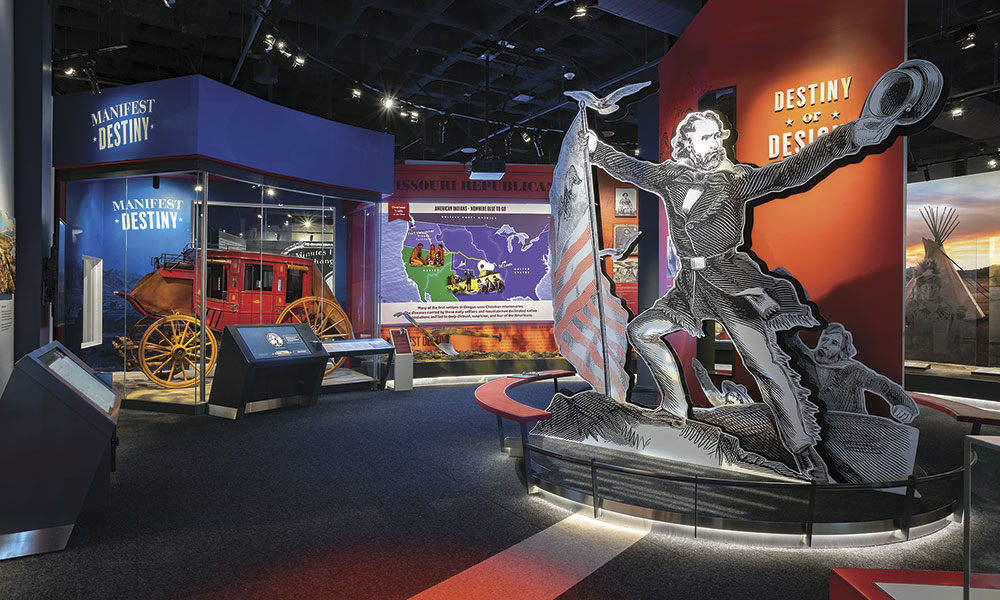 So much of the Western story begins in St. Louis, and the tale of William and Charles Bent is no exception. From a family of eleven children, the brothers joined forces in about 1826 with Ceran St. Vrain, also a resident of St. Louis. They traveled west and began carving a fur trade empire. They trapped along the upper Arkansas River in southern Colorado, but soon began trading enterprises that took them throughout Colorado and into New Mexico and Texas.
From St. Louis our route heads west along the Missouri River to Westport, Missouri, where William Bent and his third wife lived in a small brick house late in his life when he was an agent to the Arapaho and Cheyenne people, and also operated his trading and freighting business.
Like the Bents, though, we head west on the Santa Fe Trail as it traverses Kansas. This route connected Missouri River communities with the old trading center at Santa Fe and was a major commerce trail during the early 19th century.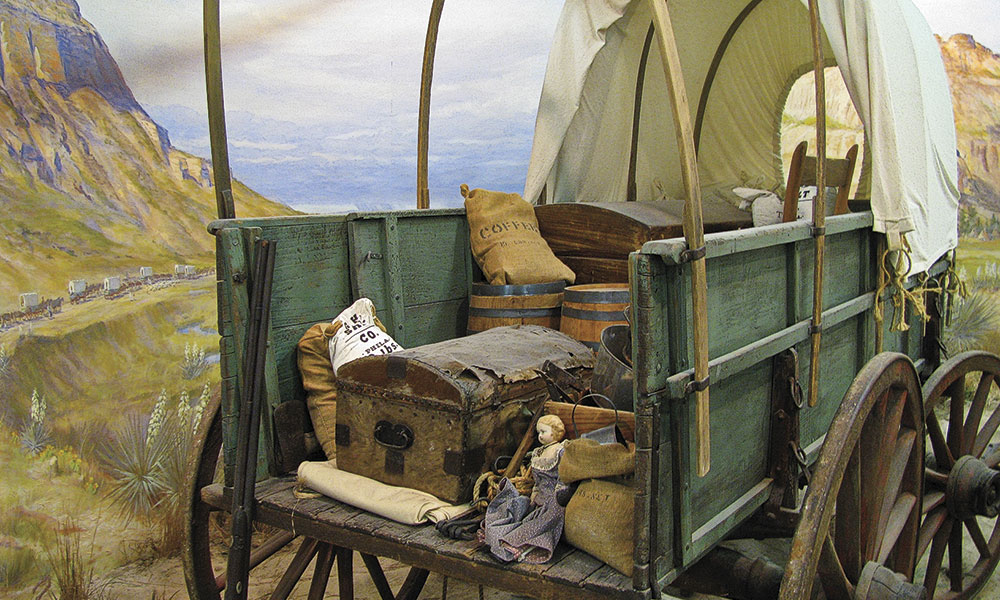 Initially four Bent brothers (Charles, William, George and Robert) had traveled west and become involved in the fur trade, but Charles and William quickly rose to prominence when they partnered with St. Vrain to build a trading post along the Arkansas River, not far from the present town of La Junta, Colorado.
Bent's Old Fort, one of the most important posts in the region, was large enough to house some 200 people, and served traders and other travelers on the Santa Fe Trail. It also became a gathering place and trading post for Arapaho and Cheyenne Indians, particularly after William Bent married into the Cheyenne tribe. The privately owned and fortified fort was a place for trading furs, but horse and mule trading also took place on a regular basis. Charles and William, along with Ceran St. Vrain, also built a trading post farther west, in the area of present-day Pueblo.
Expanding their fur trading operations, the partners built Fort St. Vrain along the South Platte in northern Colorado near what is now the city of Greeley. They soon constructed another post in northern Texas at Adobe Walls.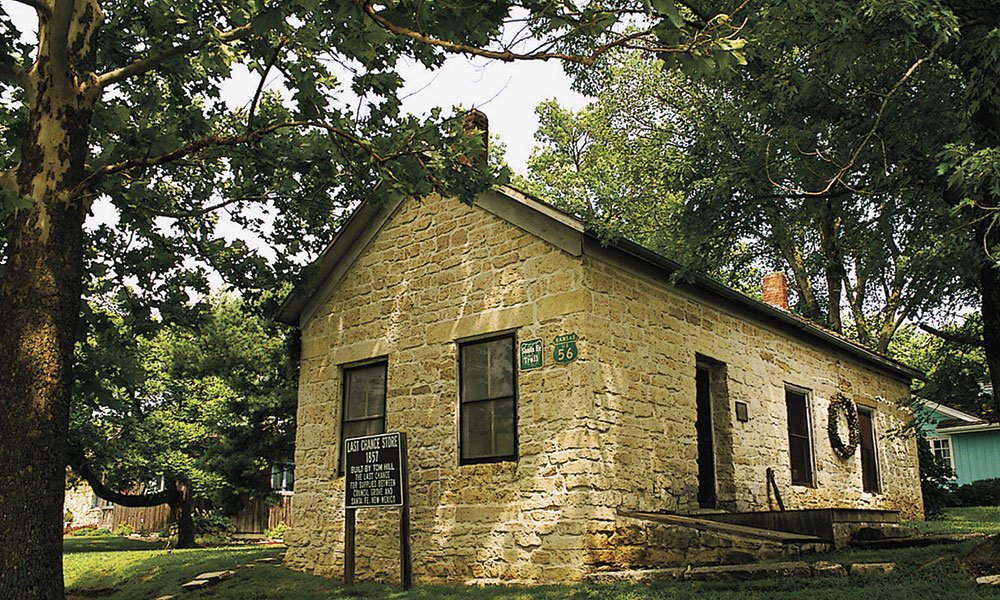 William Bent headquartered his operations along the Arkansas, first at Bent's Old Fort, and later at a new location called Bent's New Fort (or Fort Wise). Charles Bent moved on west and south, ultimately becoming the first governor of New Mexico Territory, appointed by Gen. Stephen Watts Kearny in September 1846. He settled in Taos and his leadership lasted until January 19, 1847, when he was killed during the Taos Revolt.
Our route from Bent's Fort on the Arkansas heads west to Pueblo, then south to Trinidad following the Santa Fe Trail. The trail itself continues on south into New Mexico to Fort Union and then to Santa Fe. There are two routes from Trinidad to Taos. One crosses Raton Pass and then turns west on US 64 through Cimarron and then west to Taos. The other is north to Walsenburg, Colorado, on Highway 160 to Fort Garland before traveling south on Highways 159 and 522 to Taos. From Taos continue south on Highway 68 and US 285 to Santa Fe.
Charles Bent spent just over 20 years in the West, making a name as a trader and government leader before his death in Taos.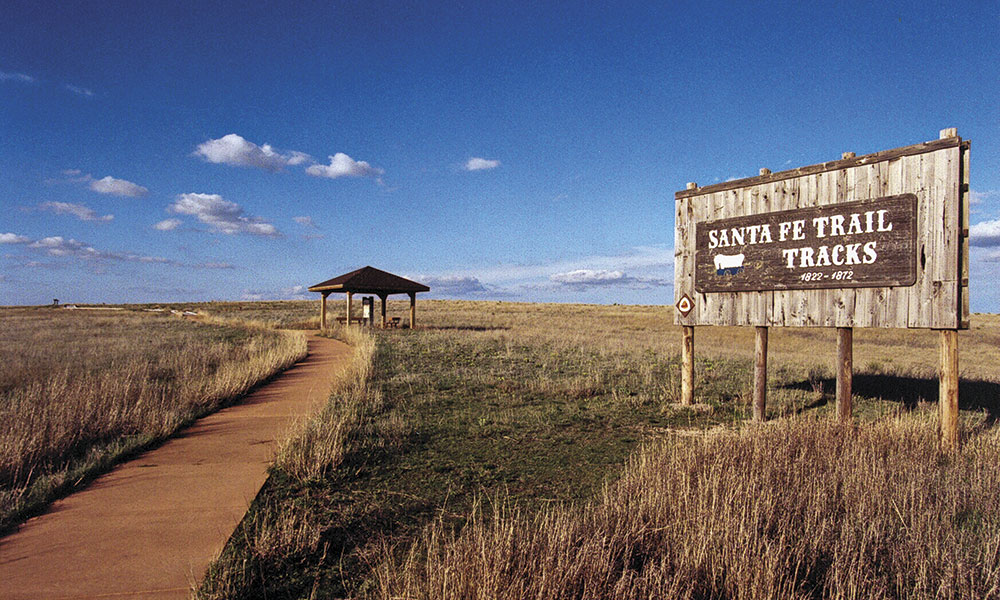 As a trader, William Bent routinely met and worked with local tribes, and the relationships improved when he married Owl Woman, the daughter of Cheyenne leader White Thunder. William and Owl Woman had four children. This family alliance served him well in trading, and Bent's Fort became a routine camping and trading location, with hundreds to thousands of Indians coming in for goods and to trade their furs each year.
Travelers, traders and tribespeople spent time at Bent's Old (and later New) Fort. As a result, the Bent children were exposed to many different languages—Cheyenne, Arapaho, Comanche, Kiowa, English, Spanish and French. Son George was soon fluent in most of those languages, living a life that took him easily from his father's commercial enterprises, to his mother's native sensibilities. As George Bent later said, "Something was always going on, and we children had no lack of amusements. In the fall and winter there was always a large camp of Indians just outside the fort—Cheyenne and Arapahos, and sometimes Sioux, Kiowas, Comanches and Prairie Apaches."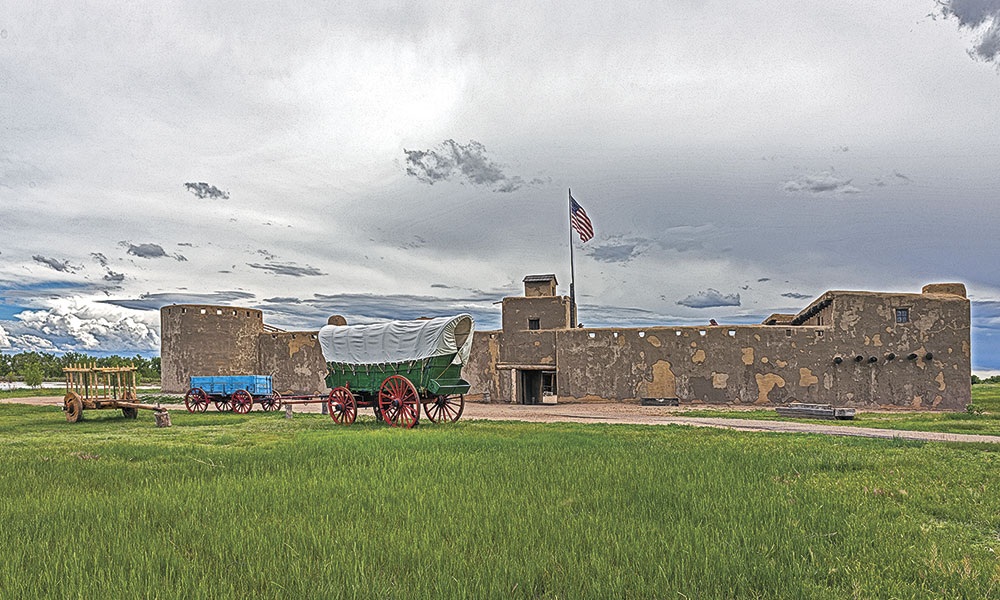 William Bent often stood between the Cheyenne people and the encroaching settlers and travelers who used the trail between Missouri and Santa Fe. Following the Pikes Peak Gold Rush in 1858, he made efforts to negotiate a peace treaty involving Cheyenne Chief Black Kettle. While it appeared Bent would be successful, in 1858 Colonel John Chivington brought Colorado Volunteer troops to the region and attacked Black Kettle's camp at
Sand Creek. At the time Bent's children, George, Julie and Charles, were in the Black Kettle Camp.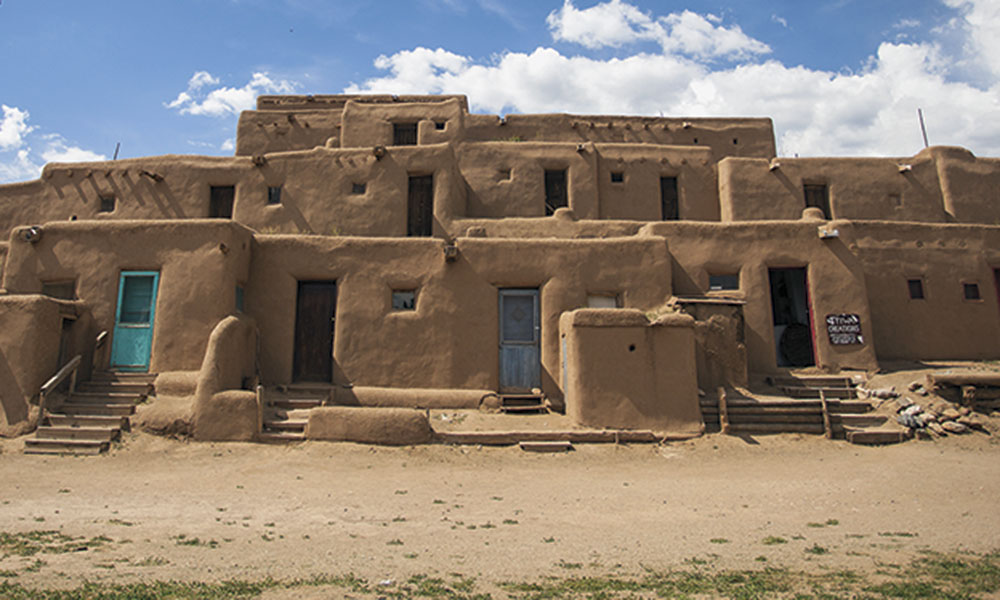 George Bent later recalled: "In the camps…all was confusion and noise— men, women and children rushing out of the lodges partly dressed; women and children screaming at the sight of the troops; men running back into the lodges for their arms…Black Kettle had a large American flag tied to the end of a long lodgepole and…kept calling out not to be frightened; that the camp was under protection and there was no danger."
The grown children of William Bent and Owl Woman survived the attack, but of course many others did not. Owl Woman died around 1847. William Bent had followed Cheyenne custom and took as second and third wives Owl Woman's sisters, Island and Yellow Woman. Later he married again to Adaline Harvey, the daughter of a fellow trader from
Kansas City. William lived until 1869 when he contracted pneumonia and died. Because he had ranched near Las Animas, Colorado, he was buried in the Las Animas Cemetery. Two years after his death, Adaline sold their farm in Westport, Missouri, to Seth Ward, who built his own house on the property.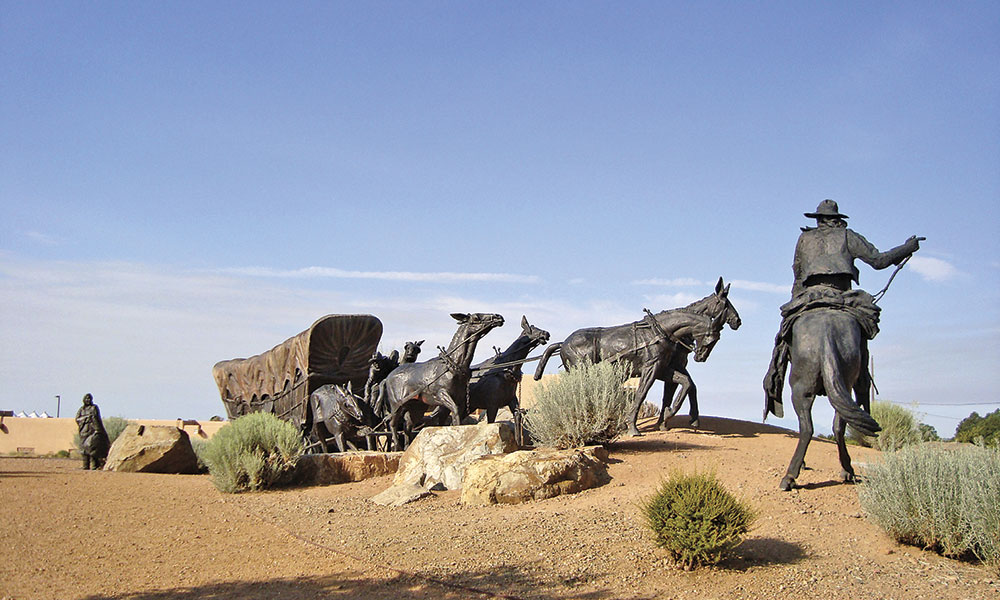 Side Roads
Places to Visit
The Gateway Arch National Park, St. Louis, MO; Kaw Mission, Council Grove, KS; Santa Fe Trail Center, Larned, KS; Bent's Old Fort National Historic Site, La Junta, CO; Koshare Museum, La Junta, CO; Trinidad History Museum, Trinidad, CO;  A.R. Mitchell Museum of Western Art, Trinidad, CO; Taos Pueblo, Taos, NM; Palace of the Governors, Santa Fe, NM
Celebrations &
 

Events

Bent's Old Fort Traditional Holiday Celebration, Dec. 7-8, 2018, Bent's Old Fort National Historic Site; Santa Fe Trail Association, Sept. 2019, Symposium "St. Louis: Gateway to Santa Fe"
Good Eats & Sleeps
Grub: Jack Stack Barbecue, Kansas City, MO; Copper Kitchen, La Junta, CO; Bella's Mexican Grill, Taos, NM; Bobcat Bite, Santa Fe, NM; Tia Sophia's, Santa Fe, NM
Lodging: Drury Plaza at the Arch, St. Louis, MO; Intercontinental at the Plaza,
Kansas City, MO; Historic Taos Inn, Taos, NM; La Posada de Santa Fe, Santa Fe, NM
Good Book, Film & TV
Good books: Tragedy at Taos by James A. Crutchfield; Bent's Fort by David Lavender; At the Conflict of Two Cultures: William and George Bent Confront Manifest Destiny, 1829-1918 by Camilla Kattell; The Santa Fe Trail: Its History, Legends and Lore by David Dary
Best film & TV: Santa Fe Trail (Warner Bros., 1940); Little Big Man (National General, 1970); Soldier Blue (Embassy Pictures, 1970); "Empire Upon the Trails," The West (PBS, 1996)
RV Parks and Campgrounds
Fort Dodge RV Resort, 701 Park Street, Dodge City, KS, FortDodgeRVResort.com, (913) 220-2652; Gunsmoke Campground, 11070 108 Rd., Dodge City, KS (3 miles west of Boot Hill), GunsmokeRVPark.com, (620) 227-8247 (Voice)(800) 789-8247 (reservations); La Junta KOA Journey, 26680 Highway 5 (Near Bent's Old Fort National Historic Site), La Junta, CO, KOA.com, (719) 384-9580; Raton Pass Camp & Cafe, 46020 Interstate 25, Raton, NM
(12 miles away), RatonPassCamp.com, (575) 445-8500; Ojo Caliente Mineral Springs Resort & Spa, 50 Los Banos Drive, Ojo Caliente, NM, OjoCaliente.sjospa.com, (888) 939-0007; Taos Canyon Stop, 7 Valle, Escondido, Taos, NM, RVTaosCanyonStop.com, (575) 758-3338
Candy Moulton recommends membership in the Santa Fe Trail Association, and attending a living history re-enactment at Bent's Old Fort National Historic Site.