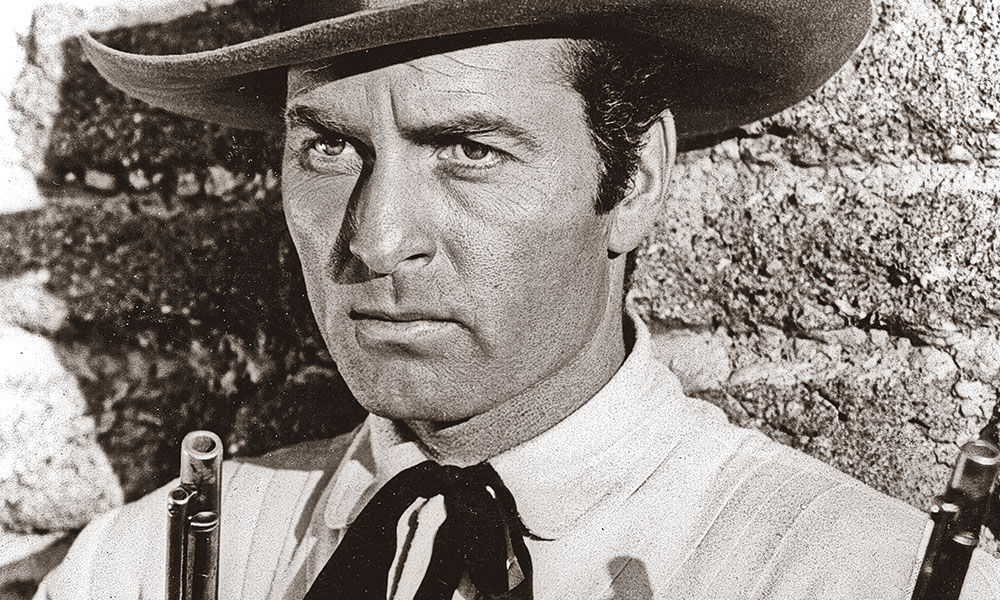 It's a firearms collector's dream to find a gun that is well documented to have been owned or used by someone famous, or was involved in a historical incident. Back in 1975, I unknowingly came across a firearm that later turned out to have two famous owners.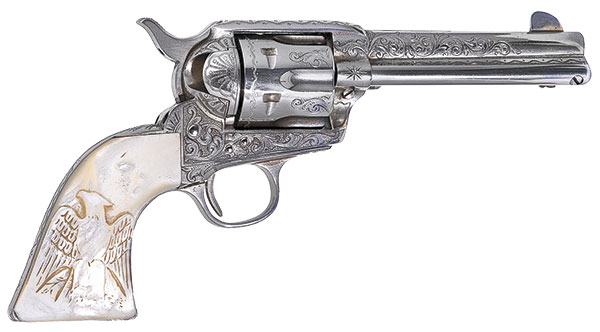 That year I found myself assisting Hollywood leading man George Montgomery with some historical details on cavalry equipment for a bronze he was sculpting. One day George showed me several of his guns. Among them was an exquisite, silver-plated and engraved 4¾-inch barreled .45 Colt Single Action Army revolver with pearl grips that had an eagle carved on the right side. The name "Jas. E. McGee" was inscribed on the back strap, but I had no idea who that was at the time.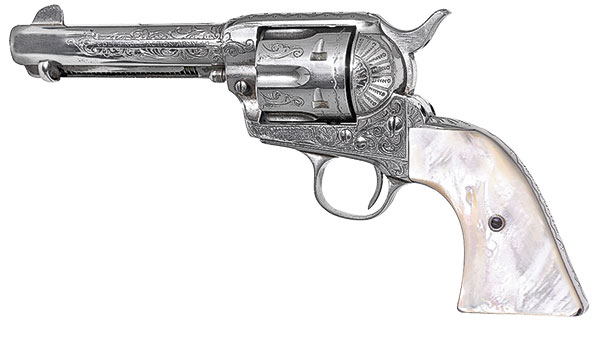 George asked me if I, or anyone else might want to buy it. Although I admired the Colt, I was primarily interested in percussion Colts at the time, so I passed on it, but did tell fellow gun collector, Erich Baumann, who eventually purchased it. The price tag was in the upper three-figure range—a reasonable price at the time. I have to admit that passing on this fine old Colt was definitely one of my biggest missed opportunities in gun collecting, however I'm happy that my lifelong pal Erich wound up with it.
Colt documentation revealed that the revolver was ordered by James E. McGee, and shipped December 15, 1906, to A. Steinfeld & Co., in Tucson, Arizona. After further research we discovered that in 1894, at the age of 23, McGee captured a train hold-up man near Yuma, Arizona. When he brought the felon to the seat of the United States Court in Florence, Arizona, the officials were so impressed with the young man that just two weeks later, they offered him the position of deputy sheriff, a post he held until 1904. In December of that year McGee joined the Arizona Rangers, and by the following September he had been appointed sergeant under Capt. Tom Rynning, who considered him an "honest, faithful and courageous Ranger."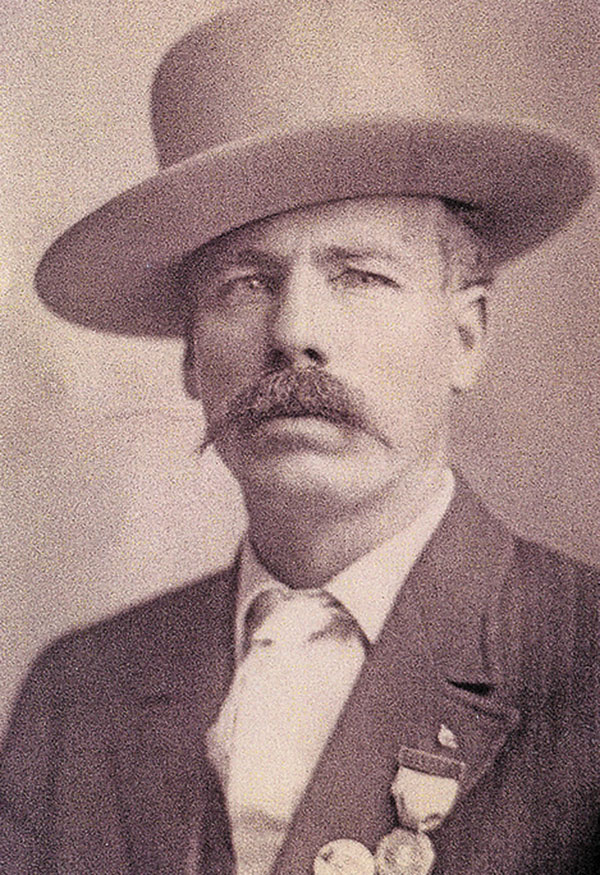 In 1906, McGee left the Ranger service and moved to Florence where he ran for, and won the position of sheriff of Pinal County. It appears that Sheriff McGee must have ordered this Colt as a gift for himself after winning the election. He undoubtedly carried it throughout his tenure as Pinal County's chief lawman, at a time when the territory was still wild. On August 16, 1913, when he and his deputy ran into a saloon in the town of Ray to stop a fight, he shot one Luccio Mendoza. Less than a year later, on April 20, 1914, while visiting the Carney Mine at the south end of the Superstition Mountains, McGee died of stomach complications—an ailment he had suffered from for years. As the April 25, 1914, edition of the Arizona Blade Tribune wrote, Sheriff McGee was recognized as "a courageous officer, a man of the West, and one of the best shots in Arizona."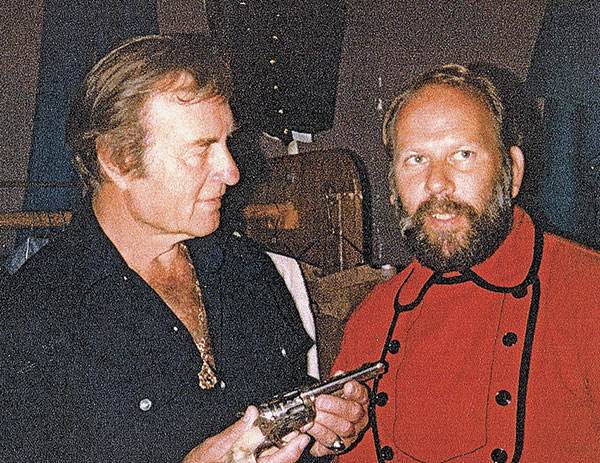 Enter one of Hollywood's biggest stars, George Montgomery, who amassed over 100 film and television credits between 1935 and the 1980s. His impressive career included starring in dozens of action films—especially Westerns, including Belle Starr's Daughter (1948), Canyon River (1956), and Badman's Country (1958)—and starring in his own TV series, Cimarron City (1959). Besides acting, Montgomery was a self-taught artist,
furniture builder, and designer and builder of 11 homes for friends and family.
George said he'd been presented this fancy Peacemaker in 1943 and he had used it in films and carried it during several personal appearances. He graciously included a personal letter to Erich stating his ownership and use of the Colt. Yep, I goofed on that Colt, but my pal Erich not only has a beautiful Colt revolver, but also an exciting part of Old West history—from the Copper State and the silver screen.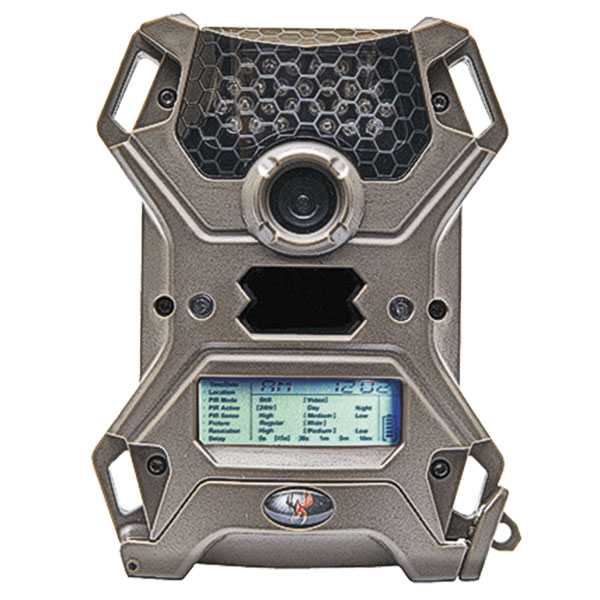 Wildgame Innovatons Trail Camera
Whether you're a hunter, game manager or simply love nature, you'll love Wildgame Innovations' Vision™ 12 Infrared Digital Scouting Camera.
Water-resistant and weighing just two pounds, it can easily be strapped to a tree (strap included), and take still photos (one-second trigger speed) or illuminate video up to 75 feet with its wide-angle 16:9 aspect ratio option. Its 27-piece infrared LEDs quietly captures sharp 480p images at 12 megapixels.
The unit uses up to a 32GB SD card and 8 AA batteries (not included). I set one up in my barn and in reviewing the images, discovered that it was a ground squirrel pilfering the chicken feed that I set out for a stray pigeon homesteading our barn.
For more information visit wildgameinnovations.com
Phil Spangenberger has written for Guns & Ammo, appears on the History Channel and other documentary networks, produces Wild West shows, is a Hollywood gun coach and character actor, and is True West's Firearms Editor.
https://truewestmagazine.com/the-arms-of-a-woman/