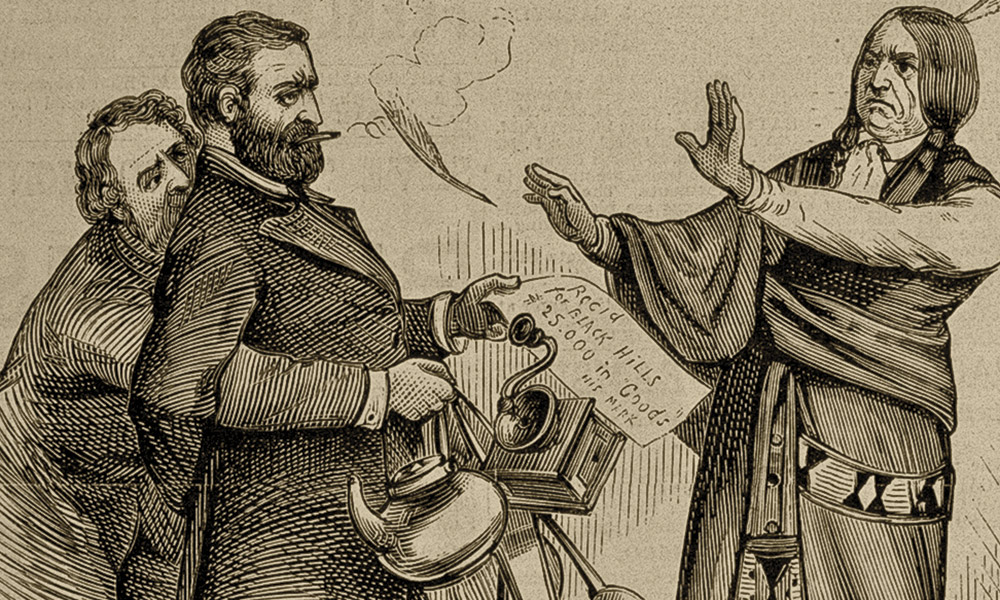 The Sioux considered the Black Hills to be sacred, the center of the earth and a place to speak to the Great Spirit. They had controlled the area for many decades. The U.S. government confirmed that in the Treaty of Fort Laramie that ended Red Cloud's War in 1868. 
The agreement set up a Great Sioux Reservation that covered modern-day western South Dakota. Whites were forbidden to enter—but that didn't last for long. Especially when gold came into play.
In the years after the treaty was signed, U.S. Army officials became concerned about Sioux attacks west and south of the reservation. General Phil Sheridan had a solution—build a fort at the southwest edge of the reservation, to deter future raids or allow U.S. retaliation when that failed.  Sheridan believed a war would wipe out the Sioux or force them onto reservations in Indian Territory.
The plan was approved by federal authorities, including President U.S. Grant.  Sheridan assigned his favorite commander to the task: Lt. Col. George Armstrong Custer. While finding a fort location was the primary charge—and the one emphasized to the public—the expedition had an important secondary goal. Custer and company would determine if the reports of gold in the Black Hills were accurate.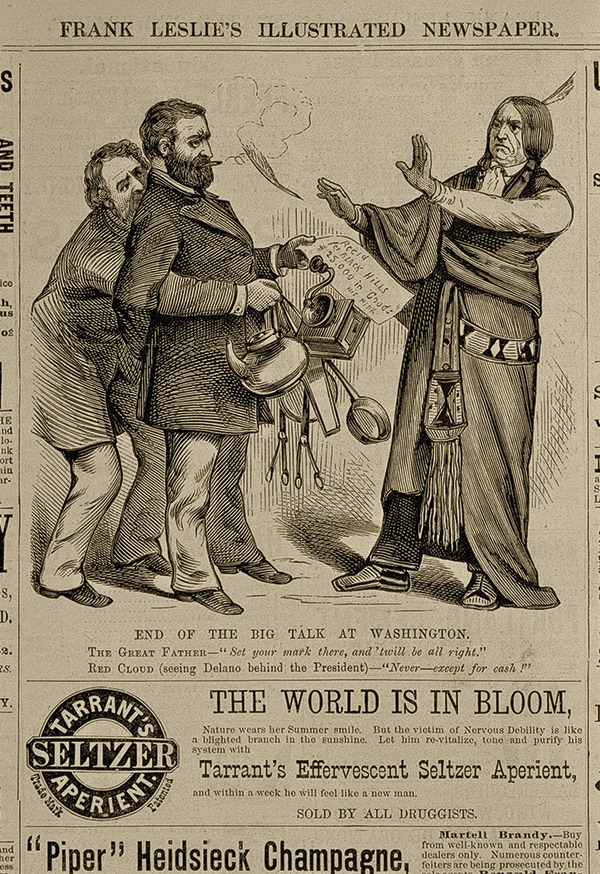 Ten companies of the 7th Cavalry headed out from Fort Abraham Lincoln on July 2, 1874.  Scientists and reporters accompanied the expedition. If any gold was found, the geologists could examine it and the press would report it (and give Custer some free and positive publicity). 
The reporters focused on one thing, and it wasn't on the search for a fort site.  "Looking for Gold—Custer's Exploring Expedition" was the July 25th headline of Baltimore's The Sun. In mid-August, the crew got its wish. The August 27th
headline of Chicago's The Inter Ocean screamed, "GOLD!" 
The excitement was a bit premature.  Custer's group had found only a small amount, and the same thing happened as they moved to other locations in the hills.
But prospectors came running, trying their luck at finding larger deposits. They found those at Deadwood Gulch in November 1875.  By the next year, thousands had flocked to the area, and the town of Deadwood was created—even though settling it was illegal in the Sioux-owned Black Hills.
The U.S. government saw an opportunity to grab the land. A Sioux delegation came to Washington, D.C. in May 1875, asking the federal government to enforce the 1868 treaty. Officials instead offered $25,000 for the land and tribal relocation to Indian Territory. The Sioux refused. 
In March 1876, the Great Sioux War ensued. The U.S. won, of course. And the Agreement of 1877 ceded the Black Hills to the U.S.
https://truewestmagazine.com/ho-for-the-black-hills/