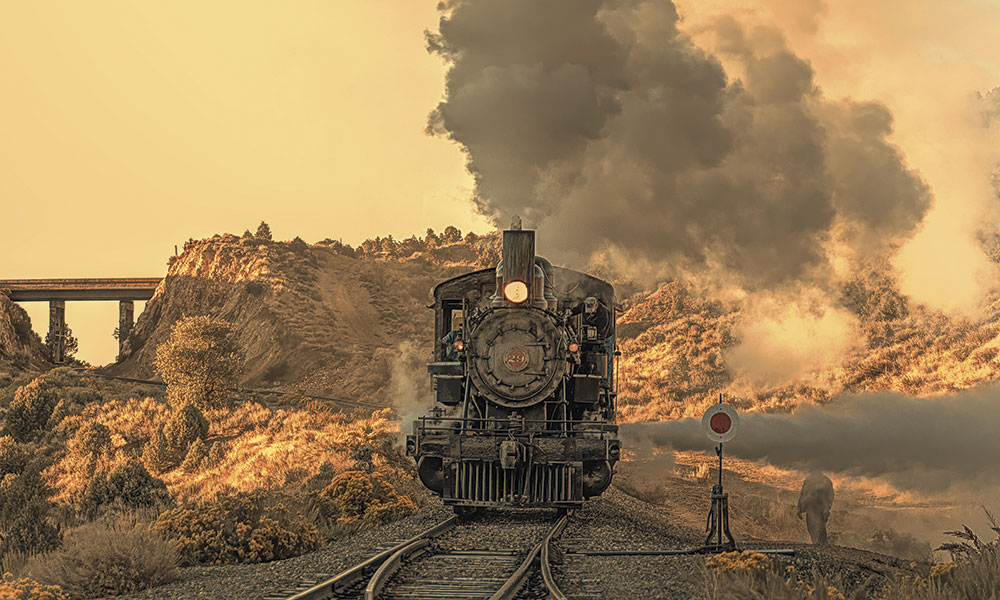 In 1868, America was anticipating the completion of the first transcontinental railroad within the next year. The Central Pacific from Sacramento was hastily building parallel to the California Trail across northern Nevada, while the Union Pacific was tunneling through the Utah Territory's Wasatch Mountains to reach the final mile of track near Promontory Summit. The two railways would meet May 10, 1869, when the Golden Spike was hammered, connecting a nation, and launching it headlong into the rail era. Not only did the railroads transform travel, industry and agriculture in the Western United States, but the railway companies built towns, grand train stations, hotels, restaurants, stage lines. Eventually, short line and narrow-gauge engineering masterpieces of rail and grit connected the smallest of boomtowns to the world.
Those original transcontinental lines still connect the West to the global marketplace, and Amtrak still carries passengers through fabled Western landscapes. But, while Amtrak plies the longer routes, many historic railways operate seasonally or year-round as regional heritage passenger trains departing from some of the West's spectacular railroad towns.
At True West, we believe a summer is not complete without a weekend in a historic
rail town to enjoy the finest Western hospitality at unique hotels and restaurants, Main Street shops, local history museums and, of course, adventures aboard heritage rail lines. So pack your bags and camera, reserve your tickets and head West for an adventure of a lifetime.
All Aboard!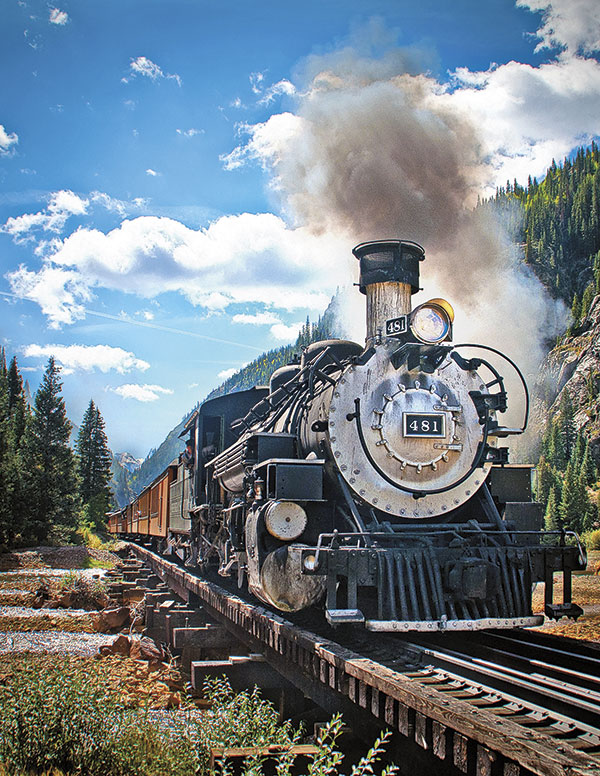 Durango, Colorado
Durango & Silverton Narrow Gauge Railroad
The Denver & Rio Grande Western Railroad founded Durango astride the Animas River in 1880. Racing to get to the rich mineral reserves of the San Juan Mountains, the railroad steamed into town on August 5, 1881, and in less than 11 months the tracks to Silverton had been completed. Since 1959 the Durango & Silverton Narrow Gauge Railroad has operated as a tourist train from May to October, with limited special trains in the winter and spring. The railroad makes it easy to customize an experience with different travel packages, including the adventurous Discover Silverton Package. When in Durango, enjoy the historic downtown district with its great variety of restaurants, pubs and specialty shops.
When in Durango, Don't Miss: Durango Fiesta Days, July 24-29. More info @ DurangoTrain.com, Durango.org and DurangoFiestaDays.com
R&R: Historic Strater Hotel, Strater.com, (970) 247-4431; Diamond Belle Saloon, DiamondBelle.com
RV Parks: Westerly RV Park, 6440 County Road 203, Durango, (970) 247 1275, WesterlyRVPark.com; Alpen Rose RV Park, 27847 Hwy 550 North, Durango, (970) 247-5540, AlpenRoseRVPark.com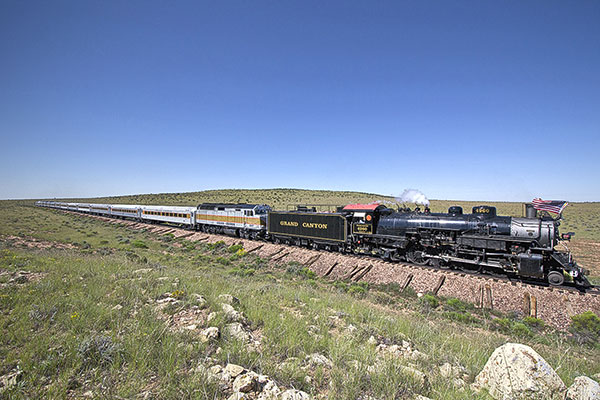 Williams, Arizona
Grand Canyon Railway
On September 17, 1901, the Santa Fe Railway launched the 64-mile Grand Canyon Railway from Williams to the Grand Canyon. The scenic line proved so popular the railway and the Fred Harvey Company built the El Tovar Hotel in 1905.  The Grand Canyon line remained a favorite of tourists until automobile tourism led to its closure in 1968. Passenger service restarted in 1989 as the Grand Canyon Railway, with daily service to and from the national park, plus special packages and train events, such as Steam Saturdays the first Saturday, May through October; the Pumpkin Patch Train, every weekend in October; and the Polar Express, November to January.
When in Williams, Don't Miss: Williams Depot Museum and Historic Route 66. More info @ TheTrain.com and ExperienceWilliams.com
R&R: Grand Canyon Railway Hotel, TheTrain.com, (800) 843-8724; Spenser's Pub, TheTrain.com
RV Parks: Grand Canyon Railway RV Park, 601 W Franklin Ave, Williams, (800) 843-8724, TheTrain.com; Railside RV Ranch, 877 Rodeo Rd, Williams, (928) 635-4077, RailsideRV.com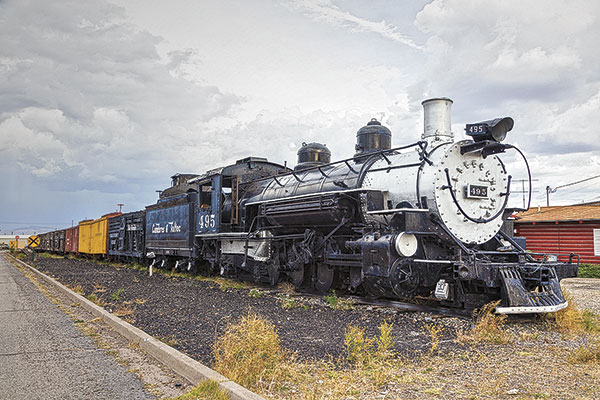 Chama, New Mexico and Antonito, Colorado
Cumbres & Toltec Scenic Railroad
The Denver & Rio Grande Western Railroad's San Juan Extension arrived in the Village of Chama in January 1881 and operated until the 1960s when economics forced it to close. Local boosters and preservationists worked to save the most scenic section of the line between Chama, New Mexico, and Antonito, Colorado, and the two states jointly bought the route, tracks and stations, opening the Cumbres & Toltec Scenic Railroad to passenger service in 1970. The 64-mile heritage railroad operates May 2 to October 31, 2018, and offers several fare packages and special trains, including firefighter and engineer school.
When in Chama, Don't Miss: Chama Days, August 9-12. More info @ CumbresToltec.com and ChalmaValley.com
When in Antonito, Don't Miss: Driving the beautiful and historic Los Caminos Antiguos Scenic Byway, ConejosVacation.com and ColoradoDirectory.com
R&R: Chama: The Parlor Car Bed and Breakfast, ParlorCar.com, (575) 756-1946; Boxcar Cafe, 425 Terrace Ave, (575) 756-2706; Antonito: Steam Train Hotel, SteamTrainHotel.com,
(719) 298-8908; Dos Hermanos, 435 Main St, (719) 376-5589
RV Parks: Sky Mountain Resort RV Park, 2743 US 84, Chama, NM, (575) 756-1100,
SkyMountainResort.com; Rio Chama RV Park,
182-NM 17, Chama, NM, (575) 756-2303, RioChamaRV.com; Twin Rivers Cabins & RV Park, 34044 Highway 17, Antonito, CO, (719) 376-5710, TWNRVRS.com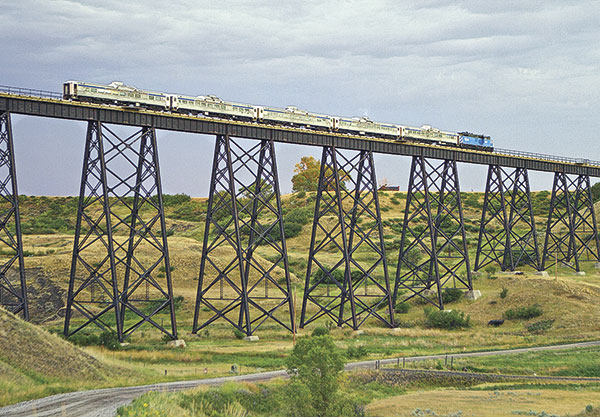 Lewistown, Montana
Charlie Russell Chew Choo
Gold was discovered near Lewistown in 1880, and the town became an important trading center. In 1903, after eight years of construction, the Montana Railroad connected Lewistown with the Northern Pacific Railway. In 1908, the Chicago, Milwaukee, St. Paul and Pacific Railroad purchased the line, and operated it as "The Milwaukee Road" until the 1980s. Today, the Charlie Russell Chew Choo keeps the spirit of the railroad alive with round-trip dinner train trips on a spur track from May to October and the popular North Pole Adventure in November and December.
When in Lewistown, Don't Miss: The Central Montana Historical Museum
and Central Montana Fair, July 25-28. More info @ MontanaDinnerTrain.com,
LewistownChamber.com and CentralMontanaFair.com
R&R: Judith Mountain Lodge, JudithMountainLodge.com, (406) 538-7063;
Mint Bar and Grill, 113 4th Ave S, (406) 535-9925
RV Parks: Mountain Acres RV Park and Campground, 103 Rocklyn Ave, Lewistown,
406-538-7591, CentralMontana.com; Great Falls KOA, 1500 51st St S, Great Falls,
(406) 727-3191, KOA.com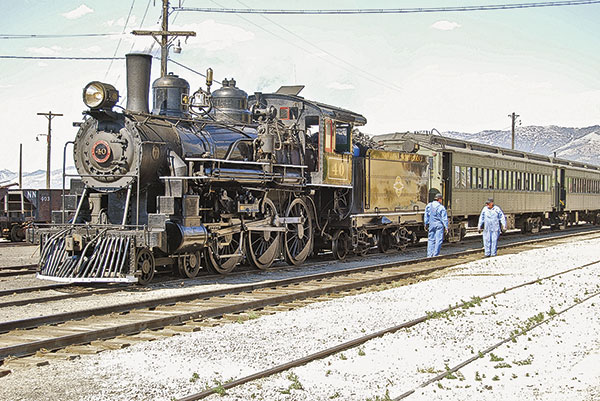 Ely, Nevada
Nevada Northern Railway
Ely has been a mining town ever since gold was discovered in 1878. After the early 1900s copper boom, the Nevada Northern Railway was built in 1905-'06. The 162-mile line connected the mining districts, smelters and the city with the national transcontinental lines. After the smelter closed in 1983, the train ceased running as well. Soon thereafter, a portion of the rail line was saved and reopened as the Nevada Northern Railway, which operates passenger trains daily, with the exception of holidays and Tuesdays, except in July and August. The National Historic Landmark railway has exciting passenger car options, specialty trains and even hands-on engineer training.
When in Ely, Don't Miss: Lund Pioneer Days, Lund, July 19-21; and Ely Shoshone Tribe Fandango, July 27-29. More info @ NNRY.com, ElyNevada.net and WhitePineCounty.net
R&R: Hotel Nevada, HotelNevada.com, (888) 406-3055; Cell Block Steak House, JailHouseCasino.com
RV Parks: Cave Lake State Park, U.S. Highway 93-Success Summit, Ely, (775) 296-1505,
Parks.NV.gov; Ely KOA, 15396 South US Highway 93, Ely, (800) 562-6671, KOA.com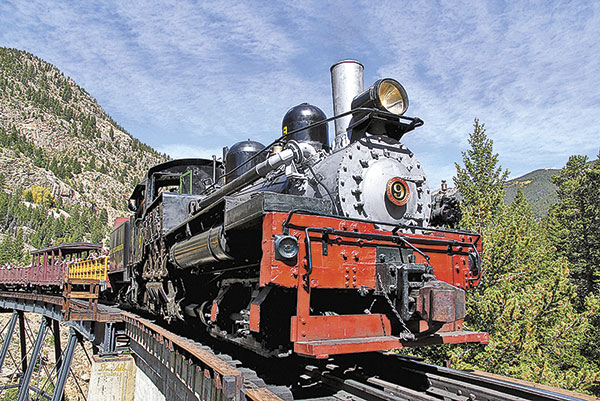 Georgetown, Colorado
Georgetown Loop Railroad
An 1859 silver strike during the Pike's Peak Gold Rush led to the founding of Georgetown. Mining continued to drive the growth of the mountain town, and in 1878 the Colorado Central Railroad reached Georgetown. In 1884, the engineering marvel, the Georgetown Loop, was completed as part of the Georgetown, Breckinridge and Leadville Railroad. While the silver economy did not sustain the construction of the line but to a few miles past Silver Plume, the line was rebuilt and restored in the 1970s and 1980s, and the Georgetown Loop Railroad & Mining Park is the centerpiece attraction for a long weekend in the historic town.
When in Georgetown, Don't Miss: The Ride and Mine Tour packages on the Georgetown Loop Railroad. More info @ GeorgetownLoopRR.com and Georgetown-Colorado.org
R&R: Rose Street Bed & Breakfast, RoseStreetBNB.com, (303) 578-7844; The Happy Cooker, HappyCookerRestaurant.com
RV Parks: Denver West/Central City KOA, 605 Lake Gulch Rd, Co Rd 6, Central City
(303) 582-3043, KOA.com; Golden Gate Canyon State Park, 92 Crawford Gulch Rd, Golden, (303) 582-3707, ReserveAmerica.com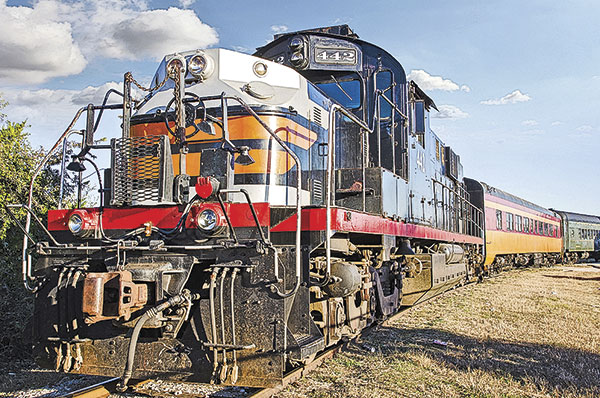 Cedar Park, Texas
Austin Steam Train
A suburb of Austin, Cedar Park was originally Chisholm Trail cattle drivers' George and Harriett Cluck's ranch, which they founded in 1873. In 1882, the Austin and Northwestern Railroad crossed the Cluck Ranch en route to Burnet and Granite Mountain for access to the pink granite needed to construct the Texas State Capitol. The rail line eventually was expanded until its closure west of Llano in 1986. Today, the Austin Steam Train Association operates the Austin Steam Train on the Austin Western Railroad as a heritage passenger line.
When in Cedar Park, Don't Miss: The Austin Steam Train's family-friendly train trips: The Hill Country Flyer, Day Out with Thomas, Bertram Flyer and North Pole Flyer. More info @ AustinSteamTrain.org, CedarParkFun.com and AustinTexas.com
R&R: The Adams House Bed and Breakfast, AdamsHouse.com, (512) 453-7696; J&J BBQ, 300 W Whitestone Blvd, (512) 918-0314
RV Parks: Leander/Austin KOA, 2689 Hero Way, Leander, (512) 259-7200, KOA.com; Rio Bonito Cabin Resort & RV Park, 1095 Co Rd 256, Liberty Hill, (512) 922-1383, RBCabinResort.com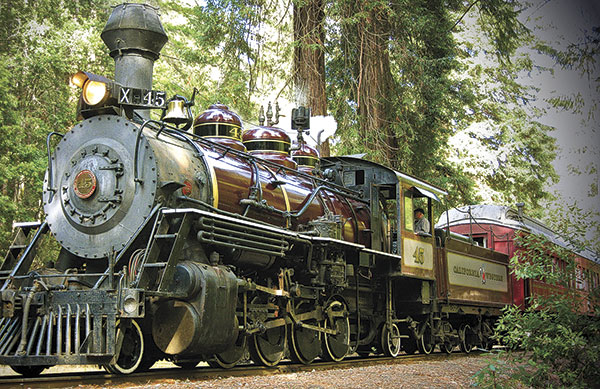 Fort Bragg and Willits, California
Skunk Train
After its 1857 fort closed, Fort Bragg became a lumber town, and in 1885, the Fort Bragg Railroad Company opened the first rail line to haul redwood timber from the forests to the coast. The line was eventually bought out, expanded and renamed the California Western Railroad & Navigation Company to Willits. While it remains a popular passenger line today, the 40-mile track also provided successful freight service until 2001. Today, the Skunk Train offers two major passenger trains: the Pudding Creek Express from Fort Bragg and the Northspur Flyer from Willits. Each train runs  January 1 to November 30. 2018, and December 26 to January 1, 2019.
When in Fort Bragg and Willits, Don't Miss: Paul Bunyan Days, Fort Bragg, August 31- September 3. More info@ SkunkTrain.com, FortBragg.com, Willits.com and VisitMendocino.com
R&R: Shoreline Cottages, Shoreline-Cottage.com, (707) 964-2977; Piaci Pub & Pizzeria, PiaciPubPizzeria.Four-Food.com
RV Parks: Pomo RV Park & Campground, 17999 Tregoning Ln, Fort Bragg, (707) 964-3373, PomoRV.com; Cleone Campground, 24400 N Highway 1, Fort Bragg, (707) 964-4589, CleoneCampground.com
Heber City, Utah
Heber Valley Railroad
The Rio Grande Western arrived in Heber City on September 21, 1899. The train was a major success for passengers and freight, livestock and crops for the region's farmers and ranchers. When a paved highway reached Heber City in the 1930s, the end of the train was inevitable, but it held on until 1968. In 1970 a group of citizens, organizations and the state saved the line and it ran until 1990. In 1992, the Heber Valley Railroad was restored and operates as a historic passenger rail line. The train service runs from mid-January to early November. Check with the railroad for specific times, dates and specialty trains.
When in Heber City, Don't Miss: Wasatch County Fair, July 30-August 4. More info @ HeberValleyRR.org, GoHeberValley.org and WasatchCountyFair.com
R&R: Swiss Alps Inn, SwissAlpsInn.com, (435) 654-0722; Snake Creek Grill, SnakeCreekGrill.com
RV Parks: Mountain Valley RV Resort, 2120 Hwy 40, Heber City, (435) 657-6100, MountainValleyRV.com; Rivers Edge at Deer Park Resort and Campground, 7000 Old US-40 Heber City, (435) 654-4049, RiversEdgeAtDeerPark.com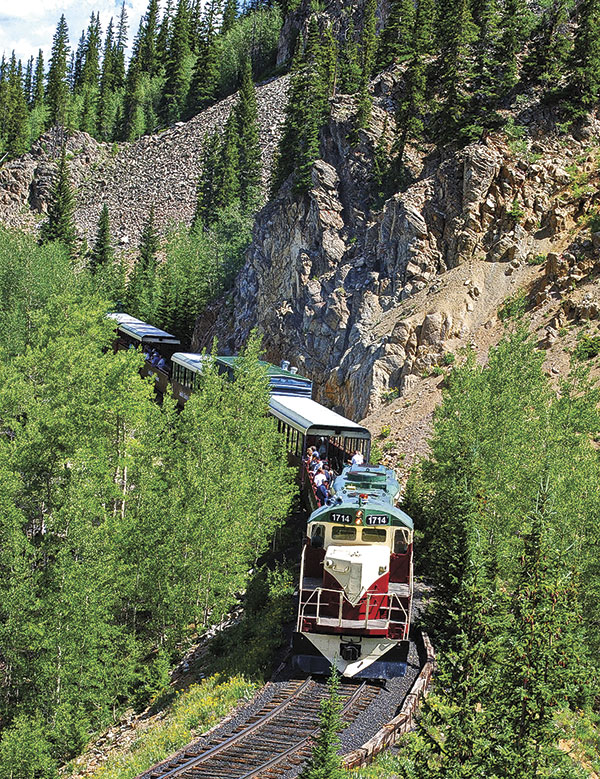 Leadville, Colorado
Leadville Colorado & Southern Railroad
The highest municipality in the country at 10,152 feet, Leadville also has the highest elevation railroad, the Leadville Colorado & Southern Railroad. Originally the Denver, South Park & Pacific and Colorado & Southern, the railroad reached Leadville in 1880. Over the decades of railroad amalgamation, the Colorado & Southern continued to operate regularly to and from Leadville until 1981. Since 1988, the Leadville Colorado & Southern Railroad has been thrilling passengers on its two-and-a-half-hour journey through the San Isabel National Forest in sight of the state's two highest peaks. In 2018, the train operates May 26 to October 7, including themed trips, such as the Wildflower Special and Fall Photo Weekends Special.
When in Leadville, Don't Miss: Leadville Boom Days, August 3-5. More info @
Leadville-Train.com, Leadville.com and LeadvilleTwinLakes.com
R&R: The Governor's Mansion, GovernorsMansion.net, (719) 486-1865; High Mountain Pies, HighMountainPies.com
RV Parks: Leadville RV Corral, 135 West 2nd St, Leadville, (719) 486-3111, MountainRVPark.com; White Star Campground, Leadville, (719) 486-0749, ReserveAmerica.com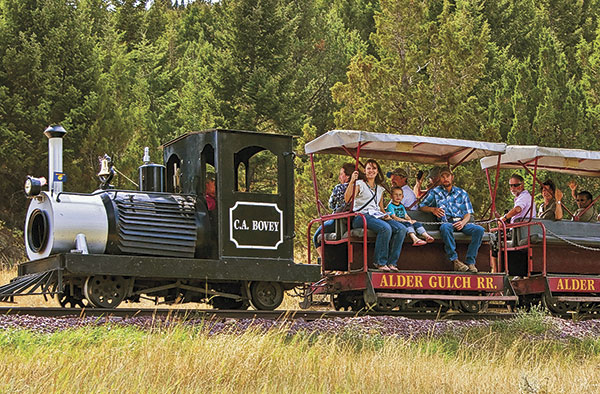 Virginia City, Montana
Virginia City Shortline Railroad
Virginia City was founded in 1863 soon after gold was discovered in Alder Gulch and gold mining continued in earnest until the 1930s. Today, Virginia City Historic District is a National Historic Landmark. The Montana Heritage Commission manages the historic town, once the territorial capital, as a living history center from Memorial Day to Labor Day. In 1964, town benefactor Charlie Bovey built the Virginia City Shortline Railroad to the ghost town of Nevada City. The tourist train runs 20 minutes one-way, seven days a week during the summer season, depending on weather and safety conditions.
When in Virginia City, Don't Miss: The nightly performances of the Brewery Follies and The Virginia City Opera and the 6th Annual Bozeman Trail Chuck Wagon   Cook Off, July 27-29. More info@ VirginiaCityMT.com and VisitMT.com
R&R: Fairweather Inn, VirginiaCity.com/FairWeather-Inn/, (855) 377-6823; Bale of Hay Saloon, BaleOfHaySaloon.com
RV Parks:  Ruby Valley Campground & RV Park, 2280 MT Highway 287, Alder, (406) 842-5677, RubyValleyCampground.com; Virginia City RV Park , 205 W Wallace, Virginia City,
(406) 843-5493, VirginiaCityRVPark.com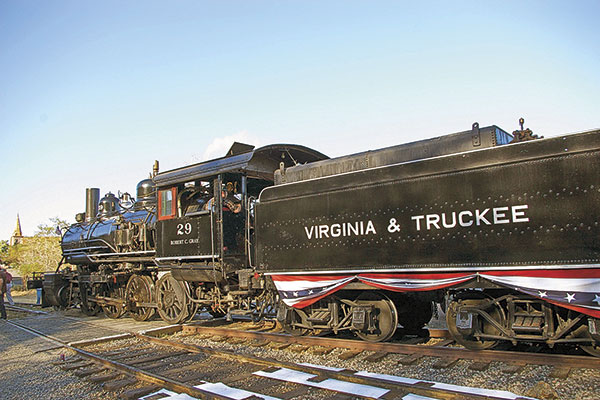 Carson City and Virginia City, Nevada
Virginia & Truckee Railroad
Carson City was founded in 1858 and grew quickly after the Comstock Lode mineral strike in 1859. The Virginia & Truckee Railroad was completed between the state capital, Carson City, and Virginia City in 1870, and by 1872 it was connected to the transcontinental Central Pacific in Reno. The short-line connected the capital and the rich mining districts to the world and the towns boomed. With the mines mostly closed by the 1930s, the railroad eventually closed in 1950. In 1975, entrepreneur Robert Gray reopened the V&T and operates it as a tourist train between Memorial Day and October.
When in Carson City and Virginia City, Don't Miss: Carson City Fair, July 25-29 and Civil War Days and Battle Trains, Virginia City, August 30-September 3. More info@
VTRailway.com, VisitCarsonCity.com and VisitVirginiaCityNV.com
R&R: Deer Run Ranch, NevadaBANDB.com, (800) 378-5440; Red's Old 395 Grill, Reds395.com
RV Parks: Dayton RV Park, 75 Pike St, Dayton, (775) 246-9300, DaytonRVPark.com; Nevada Beach Campground, Elks Point Rd Zephyr Cove, (775) 588-5562, Recreation.gov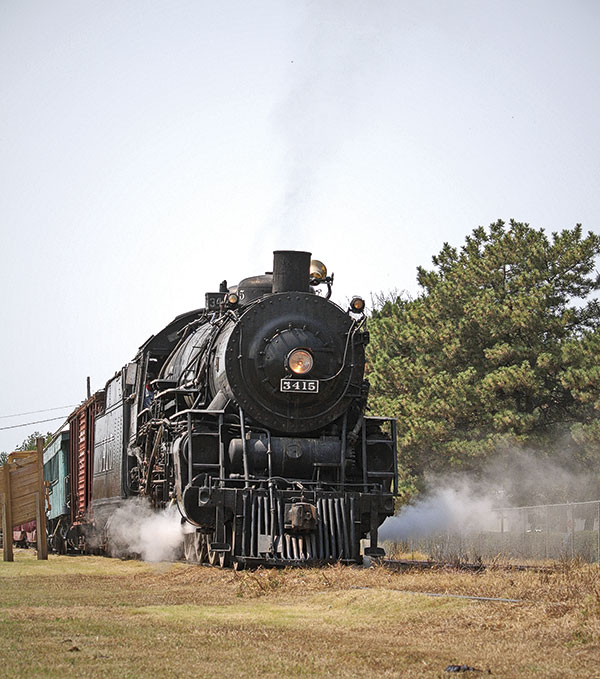 Abilene, Kansas
Abilene & Smoky Hills Railroad
Joseph McCoy's entrepreneurial vision of building stockyards and a drover's cottage next to the end of the Kansas & Pacific tracks in Abilene, and advertising his services to Texas cattlemen in 1867,  created the legendary cattle drives era of 1867-1887 when cattle were moved from the Lone Star State to the wildly wicked Kansas rail heads. Abilene has maintained its connection to its Old West past through the Abilene & Smoky Hills Railroad, Old Abilene Town and the Dickinson County Heritage Center. The A&SHRR operates from May to October, with many exciting ride and tour opportunities for passengers, including steam-driven service on a limited basis, dinner trains and the Silver Flyer Railbus.
When in Abilene, Don't Miss: Central Kansas Free Fair, August 1-6. More info@ ASVRR.org and AbileneCityHall.com
R&R: Engle House Bed and Breakfast, EngleHouse.com, (785) 479-3749; Brookville Hotel Restaurant, BrookvilleHotel.com
RV Parks: Covered Wagon Camp Ground, 803 S Buckeye Ave, Abilene, (785) 263-2343, AbileneRVCampground.com; Chapman Creek RV Park, 2701 N Marshall St, Chapman,
(785) 922-2267, ChapmanCreekRVPark.com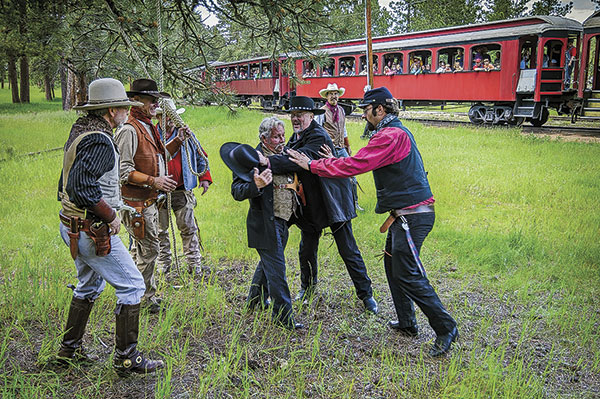 Hill City, South Dakota
1880 Train
Hill City was founded in 1876 during the Black Hills Gold Rush. Early on, the mine owners of the Black Hills knew the rugged mountain region would need a railroad to make the mining of the rich underground veins profitable. Nevertheless, it was not until the 1890s that regular rail service reached Hill City. Over time, diesel locomotives replaced all the steam engines driving trains in the Black Hills. Since 1957, steam train entrepreneurs William B. Heckman and Robert Freer's dream of the Black Hills Central Railroad's 1880 Train has been thrilling passengers every summer.
When in Hill City, Don't Miss: Days of 76, Deadwood, July 24-29 and Open House, Crazy Horse Memorial, September 1-3. More info @ 1880Train.com, VisitHillCitySD.com and BlackHillsBadlands.com
R&R: Alpine Inn, AlpineInnHillCity.com, (605) 574-2749; Desperados Cowboy Restaurant, 301 Main St, Hill City, (605) 574-2959
RV Parks: Horse Thief Campground & RV Resort, 24391 SD 87, Hill City, (605) 574-2668, HorseThief.com; Rafter J Bar Ranch Campground, 12325 Rafter J Bar Rd, Hill City,
(605) 574-2527, RafterJ.com
Springdale and Van Buren, Arkansas
Arkansas & Missouri Railroad
Platted after the Civil War, the northwest Arkansas community of Springdale was incorporated in 1872. The Arkansas & Missouri Railroad line originated with the construction of the St. Louis-San Francisco Railway in the 1880s. The modern A&MRR was started in 1986, primarily for freight service, but it also has a popular passenger tourist line that keeps a regular, but limited, schedule from January to November. The A&M has two round-trip passenger train options: Springdale to Van Buren, and Van Buren to Winslow, both of which take tourists through the beautiful Boston Range of the Ozarks.
When in Springdale, Don't Miss: Shiloh Museum of Ozark History, Pea Ridge National Military Park and Fall Carnival, October 3-7. More info@ AMRailroad.com and ExploreSpringdale.com
R&R: Inn at the Mill, InnAtTheMill.com, (479) 443-1800; Susan's Restaurant, 1440
WW Sunset Ave, (479) 751-1445
RV Parks: Pilgrim's Rest RV Park, 21225 Hickory Flat Rd, Springdale, (479) 789-7152, PilgrimsRestRVPark.com; The Creeks Golf & RV Resort, 1499 South Main St, Cave Springs, (479) 248-1000, NWARVResort.com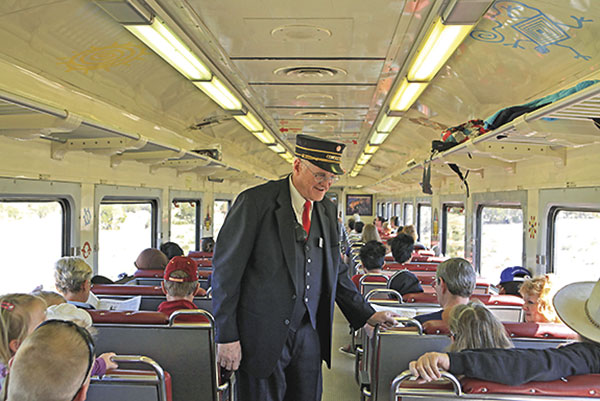 All Aboard a Historic Train!
Midwest & South
Cumbres & Toltec Railroad
Antonito, CO and Chama, NM • CumbresToltec.com
Durango and Silverton
Durango, CO • DurangoTrain.com
Georgetown Loop Railroad
Georgetown, CO • GeorgetownLoopRR.com 
Leadville Colorado & Southern
Leadville, CO • Leadville-Train.com 
Virginia City Shortline Railroad
Virginia City, MT • VirginiaCityMT.com
Charlie Russell Chew Choo
Lewistown, MT • MontanaDinnerTrain.com
Austin Steam Train Cedar
Park, TX • AustinSteamTrain.org
Grapevine Vintage Railroad
Grapevine, TX • GrapevineTexasUSA.com
Texas State Railroad
Rusk, TX • TexasStateRR.com 
Arkansas & Missouri Railroad
Springdale, AR • AMRailroad.com 
Whitewater Valley Railroad
Connersville, IN • WhiteWaterValleyRR.org  
Cuyahoga Valley Railroad
Peninsula, OH • CSVR.com 
Lumber Jack Steam Train
Laona, WI • Camp5Museum.org
Abilene and Smoky Valley Railroad
Abilene, KS • ASVRR.org
Great Smoky Mountains Railroad
Bryson City, NC • GSMR.com 
Tennessee Valley Railroad
Chattanooga, TN • ChattanoogaFun.com
Southwest & Pacific Coast
Grand Canyon Railway
Williams, AZ • TheTrain.com 
Verde Canyon Railroad
Clarkdale, AZ • VerdeCanyonRR.com
White Pass & Yukon Route
Skagway, AK • WPRY.com
Skunk Train
Fort Bragg, CA • SkunkTrain.org
Trains & Travel International
Portola, CA • TrainTrips.biz
Eagle Cap Excursion Train
Wallowa, OR • EagleCaptainRides.com
Mt. Hood Railroad
Hood River, OR • MtHoodRR.com
Sumpter Valley Railroad
Baker City, OR • SumpterValleyRailroad.org
Lake Whatcom Railway
Wickhersham, WA • LakeWhatcomRailway.com
Mount Rainier Scenic Railroad
& Museum • Elbe, WA • MRSR.com 
Thunder Mountain Line, Horseshoe
Bend, ID • ThunderMountainLine.com
Nevada Northern Railway
Ely, NV • NNRY.com 
Virginia & Truckee Railroad
Virginia City, NV • VirginiaTruckee.com
Kettle Valley Steam Railway
Summerland, B.C., Canada • KettleValleyRail.org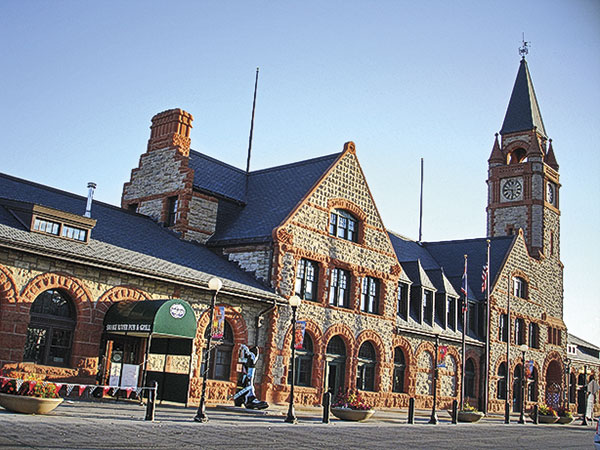 Railroad Museums
Southern Arizona Transportation Museum • Tucson, AZ • TucsonHistoricDepot.com
California State Railroad Museum • Sacramento, CA • CSRMF.org
Railtown 1897 State Historic Park • Jamestown, CA • Railtown1897.org
Tehachapi Depot Railroad Museum • Tehachapi, CA • TehachapiDepot.org
Western American Railroad Museum • Barstow, CA • BarstowRailMuseum.org
Oregon Rail Heritage Foundation • Portland, OR • ORHS.org
Dayton Historic Depot • Dayton, WA • DaytonHistoricDepot.org
Mt. Rainier Scenic Railroad and Museum • Elbe, WA • MRSR.com
East Ely Railroad Depot Museum • Ely, NV • GreatBasinHeritage.org
Nevada State Railroad Museum • Carson City, NV • NSRM-Friends.org
Golden Spike NHS • Brigham City, UT • NPS.gov
Northern Pacific Railway Museum • Toppenish, WA • NPRYMuseum.org
Colorado Railroad Museum • Golden, CO • ColoradoRailroadMuseum.org 
Pueblo Railway Museum • Pueblo, CO • PuebloRailway.org
Livingston Depot Center • Livingston, MT • LivingstonDepot.org
North Dakota State Railroad Museum • Mandan, ND • NDSRM.org
South Dakota State Railroad Museum • Hill City, SD • SRSRM.org
Railroad Museum • Douglas, WY • ConverseCountyTourism.com 
Amarillo Railroad Museum • Amarillo, TX • AmarilloRailMuseum.com 
Austin Steam Train Association • Cedar Park, TX • AustinSteamTrain.org
Galveston Railroad Museum • Galveston, TX • GalvestonMuseum.com
Museum of the American Railroad • Frisco, TX • MuseumoftheAmericanRailroad.org
Cheyenne Depot Museum • Cheyenne, WY • CheyenneDepotMuseum.org
Douglas Railroad Interpretive Center • Douglas, WY • ConverseCountyTourism.com
Laramie Historic Railroad Depot • Laramie, WY •  LaramieDepot.org
James H. Andrew Railroad Museum & History Center • Boone, IA • Scenic-ValleyRR.com
Union Pacific Railroad Museum • Council Bluffs, IA • UPRRMuseum.org 
Great Overland Station • Topeka, KS • GreatOverlandStation.org
Lake Superior Railroad Museum • Duluth, MN • SRM.org
The Durham Museum • Omaha, NE • DurhamMuseum.org
Golden Spike Tower & Visitors Center • North Platte, NE • GoldenSpikeTower.com 
Tennessee Valley Railroad • Chattanooga, TN • TVRail.com
Lumber Jack Steam Train • Laona, WI • Camp5Museum.org 
Mid-Continent Railway Museum • North Freedom, WI • MidContinent.org
Stuart Rosebrook, who first went on the Durango & Silverton Narrow Gauge Railroad in 1976, shared his love of the historic rail line with his family last summer.     
https://truewestmagazine.com/dont-miss-the-party-train/