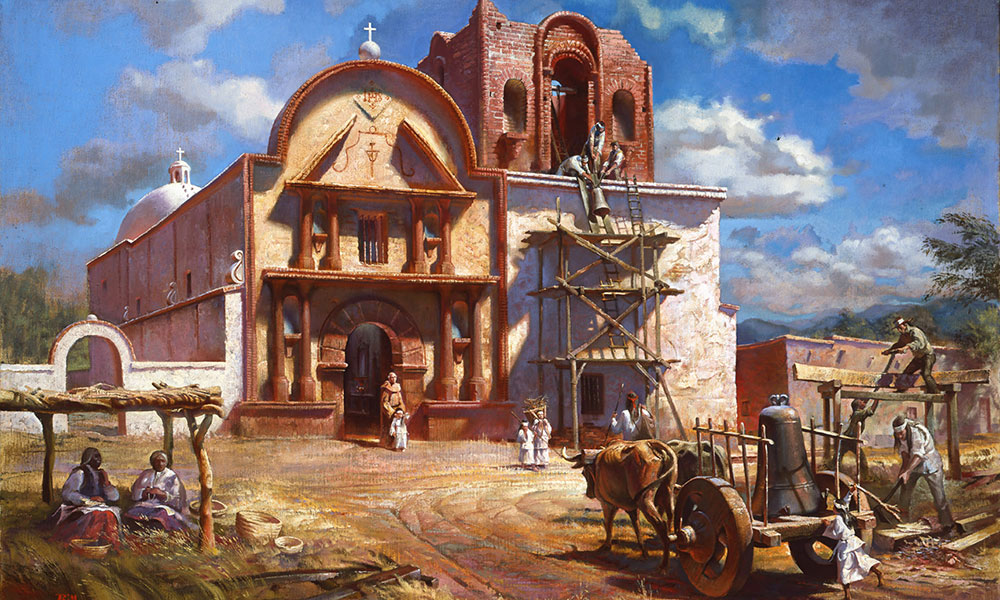 The presidio at Tubac, founded in 1752, was the first European settlement in Arizona. The name came from a Pima Indian word meaning "Where something smelled rotten," based on a legend about a battle between warring bands of Indians and the rotting bodies of the dead inspired the name.
Tubac was located on the banks of the Santa Cruz River about forty miles south of Tucson. It was established near the old mission of Tumacacori, founded by the legendary Jesuit Padre Eusebio Francisco Kino. It was customary during the Spanish Colonial Period to have a military presence a discreet distance from a mission. It was here the first white women settled in Arizona. Also the first vehicles, two-wheelers called carretas, were introduced to what would one day become Arizona.
To the east of Tubac were the beautiful Santa Rita Mountains and to the west was the rich mineral-laden Cerro Colorado range.
From 1774 to 1776, Captain Juan Bautista de Anza, who is known as the Spanish Lewis and Clark, led two expeditions opening the first land route from the interior of Mexico to California. The second expedition brought the first settlers to establish the future cites of Monterrey and San Francisco.
A year after the second expedition the presidio at Tubac was moved north to Tucson. In August, 1775 the Old Pueblo of Tucson was born. The commanding officer of the new presidio and Tucson's "founding father," was a red-headed Irish colonl in the Spanish Army named Hugh O'Connor. Those irrepressible Irish were ubiquitous and besides that were everywhere.
https://truewestmagazine.com/the-first-arizona-rangers/