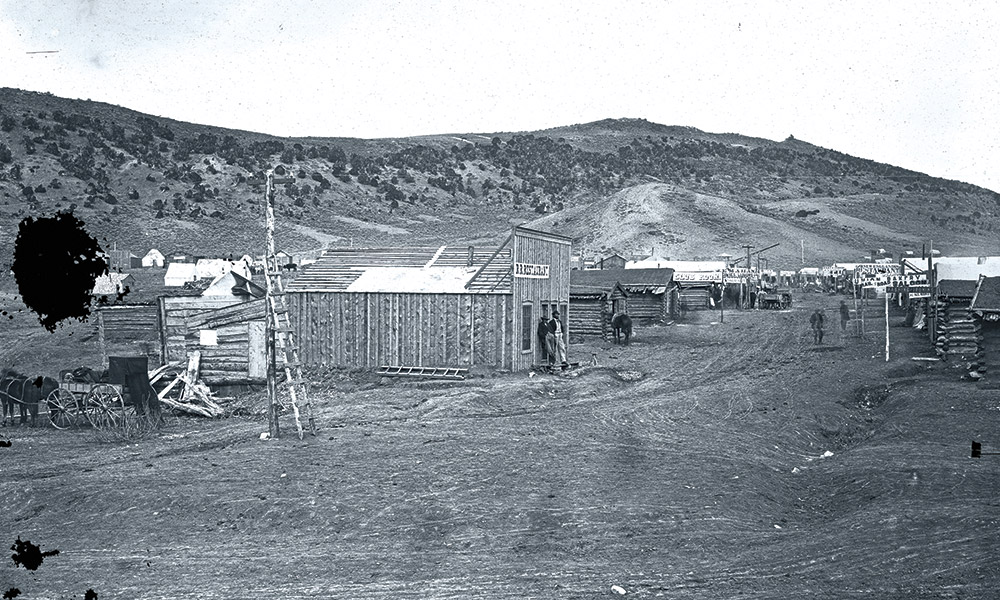 Wyoming Territory became home to makeshift towns as the Union Pacific Railroad laid tracks to meet the Central Pacific Railroad from 1867-1869.
When railroad workers were done building one section of rail, most workers headed down the track to the next locale. Even though these towns had names, such as Green River and Laramie, they were referred to as Hell on Wheels.
Restaurants, bakeries and mercantiles opened up in tents, clapboard buildings or log cabins. Some of these Hell on Wheels towns grew into permanent cities, while others faded into history.
Cooks bought goods that ranged from bacon and Navy beans to dried apples and peaches to Field's oysters. These imported provisions supplemented local game so cooks could make baked chicken, roasted elk, ham with champagne sauce, salmi of duck and baked trout and whitefish.
The Sanders Dining Hall in Laramie specialized in fresh oysters served in various styles: raw, stewed and fried. In April 1868, the dining hall advertised its regular meals: Breakfast from 6:30 a.m. to 9:30 a.m.; Dinner from 12:30 p.m. to 2:30 p.m.; and supper from 6:30 p.m. to 8:30 p.m. 
But the restaurant also noted it was ready to serve anyone at any time, stating: "Transient and extra meals at all hours. Lunch room open day and night. Pies, cakes and oysters at a moment's warning."
One competitor was Smith & Wheeler's Tin Restaurant, which not only served meals at all hours of the day and night, but also offered haircuts while you were there!
While many were opening restaurants, James Askew was selling off his restaurant and lot in Laramie. He advertised, "one of the most complete and best payin' institutions of the kind in the West. It is doing twice the business of any other place in the city."
When the Union Pacific reached Bear River City in the fall of 1868, reports revealed it was much deadlier than most Hell on Wheels towns. Even dining could be dangerous.
On October 23, bad whiskey caused many to forget the supper they were enjoying at the Southern Restaurant. "Last Friday night somebody went crazy from the effects of bad whisky and opened a promiscuous fire from a pistol, in the Southern Restaurant on Uintah street," The Frontier Index reported.
"It was not ascertained what individual fired all the shots, but Mike Ryan, Sam Tunsell, Tom Taylor and John Harrigan were all severely shot in their legs. They are, however, all steadily improving."
Bear River City didn't make the grade; the Union Pacific passed it by. One town that did, Cheyenne, became a major railroad center. Cheyenne's pioneers exchanged breakfast muffins, not bullets; enjoy the shared frontier recipe.
Breakfast Muffins
2 cups flour
½ cup sugar
½ teaspoon salt
1 tablespoon baking powder
1 cup milk
2 large eggs
Sugar, optional
Combine the dry ingredients in a large bowl. Beat milk and eggs in a small bowl, and then pour into the dry ingredients. Blend together, but do not overbeat; lumps are okay. Fill 12 lightly-greased muffin cups about three-quarters full. Sprinkle with sugar, if desired. Bake the muffins for 15 to 20 minutes in a 425°F oven.
Recipe adapted from Cheyenne Daily Leader, March 9, 1876.
Sherry Monahan kicked off her journey into Old West cuisine, spirits and places by authoring Taste of Tombstone. Visit SherryMonahan.com to learn more about her books, awards and TV appearances.
https://truewestmagazine.com/old-west-towns-gun-laws/