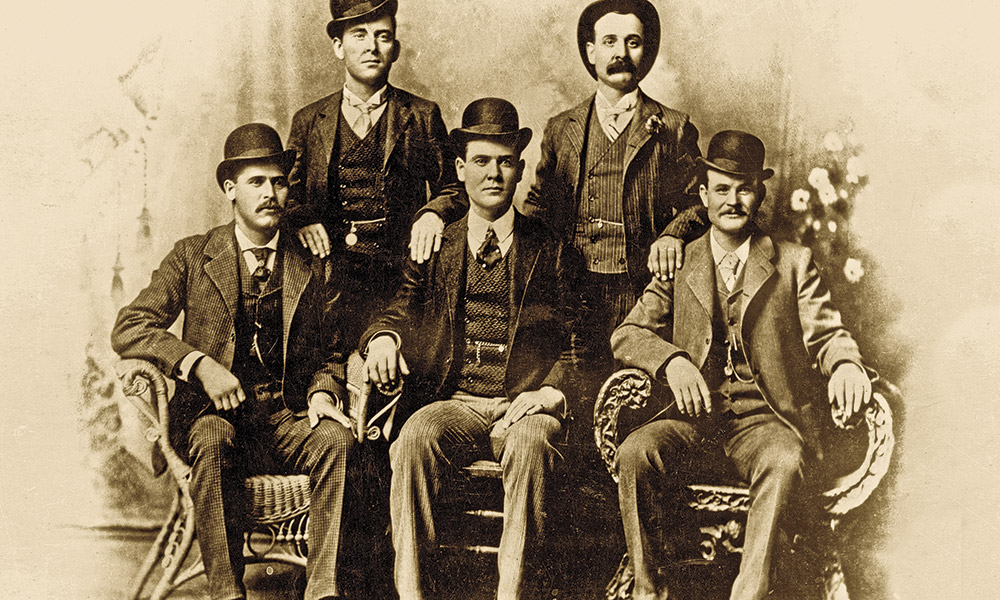 Two of the best-known bank and train robbers of the 19th century spent time in jail and prison—for horse theft—and not a day behind bars for stealing from the cashiers of small-town banks, or the safes hauled in railroad cars. They successfully eluded the law by riding into remote country, or finding work using the ranch skills they had learned as young men.
Robert LeRoy Parker, born April 13, 1866, in Beaver, Utah, spent his early years in Circleville, Utah, where as a teen he worked on ranches. He left home while still young, drifting east to Colorado. Ultimately he took a new name: Butch Cassidy. On June 24, 1889, Cassidy, Matt Warner and Tom McCarty robbed the San Miguel Bank in Telluride, Colorado, pocketing an estimated $10,500 and quickly disappearing.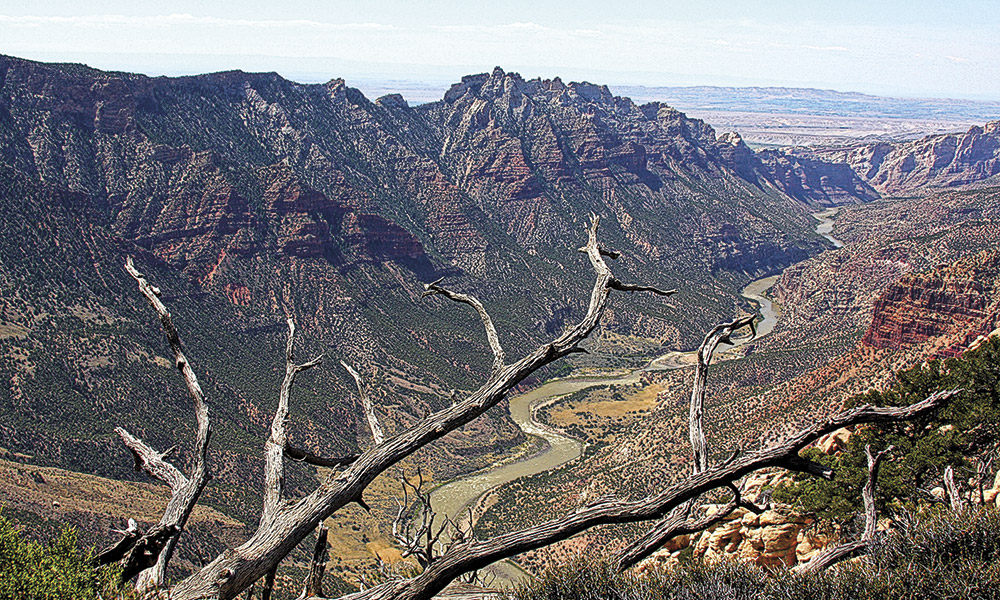 Harry Alonzo Longabaugh left his home in Pennsylvania while still in his teens, traveling with a cousin to Durango and Cortez, Colorado, where they found work on ranches. Longabaugh then drifted north to work on the N-N Ranch near Culbertson, Montana. But on February 27, 1887, while out of work, his life took a twist. Longabaugh stole a horse, gun and saddle from an employee of the VVV Ranch near Sundance, Wyoming, was arrested in Miles City, Montana, pleaded guilty on August 5, 1887, and spent eighteen months in the Sundance town jail until he was pardoned by Wyoming Gov. Thomas Moonlight on February 4, 1889. From this he earned the name: the Sundance Kid.
Once they started riding together (most historians agree that their partnership didn't start until the Winnemucca, Nevada, bank robbery of 1900), Butch Cassidy and the Sundance Kid put all their skills together to rob banks and railroad trains. Between robberies they found legitimate work riding the range and doing other cowboy jobs for ranches from Canada to the Mexican border. Their ability to handle cattle and horses and to do other outdoor work meant they had a variety of places to which they could "disappear" between jobs, holing up when the heat was on.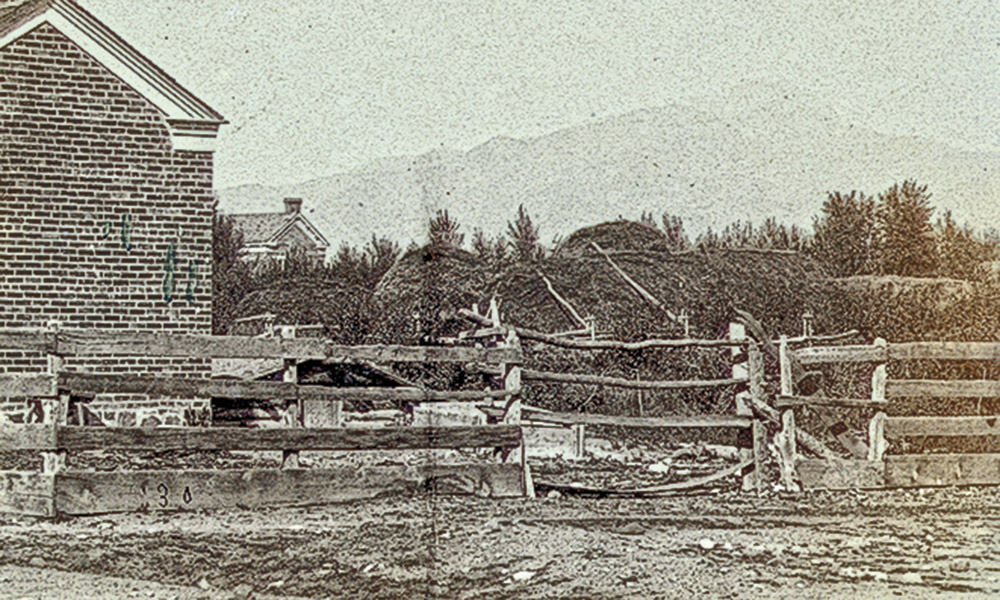 Hole-in-the-Wall
Our journey along the outlaw trail begins in Hole-in-the-Wall country west of Kaycee, Wyoming, where the Wild Bunch—including McCarty, Warner, Flat Nose George Currie, Elzy Lay and dozens more—gathered. Because the land was still remote and exhibited much of its wild nature, Butch and Sundance saw Hole-in-the-Wall as a good place to get a sense of the country they loved.
Like Sundance, Butch Cassidy had spent time behind bars. In 1894 he was sentenced to a two-year stint in the Wyoming Territorial Prison in Laramie, Wyoming (now a State Historic Site), after being convicted of purchasing a stolen horse. He was released before serving his full sentence, and once on the outside, joined forces with Sundance to form a group that used several names, but was best known as The Wild Bunch—men who rode the outlaw trail.
The Wild Bunch traveled as far north as near the Canadian border, and south to New Mexico and Arizona, but spent most of their time in Wyoming, Utah and Colorado, traveling west to Montpelier, Idaho, where they robbed the bank of $7,000 on August 13, 1896. Using their routine tactic, they then scattered before regrouping in Utah to carry out the April 22, 1897, robbery of a $7,000 payroll from the Pleasant Valley Coal Company. At the Western Mining and Railroad Museum in Helper, you'll find an exhibit about the Wild Bunch and the original steps from the Castle Gate building the Wild Bunch robbed.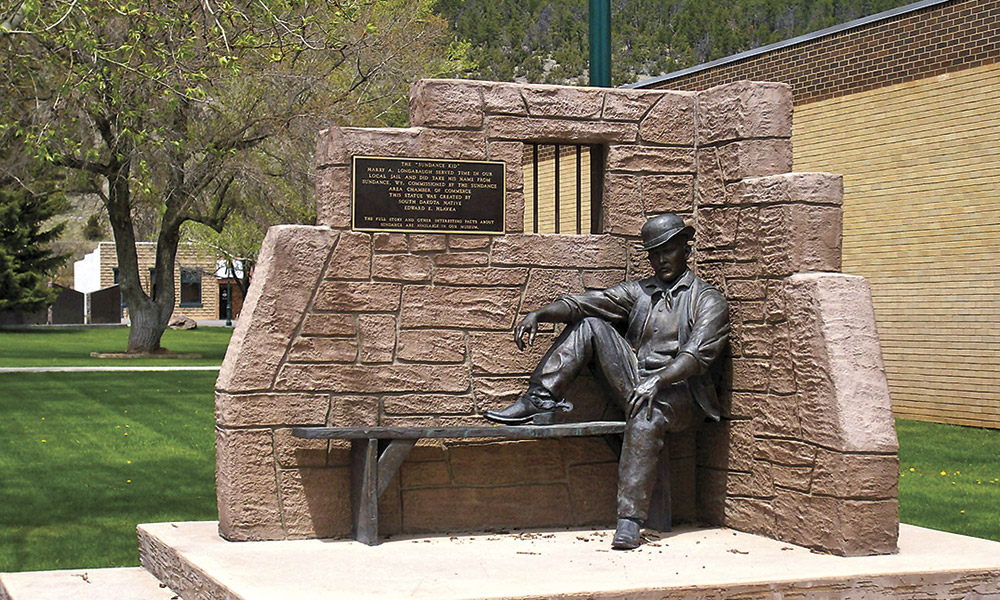 Like Hole-in-the-Wall, the rugged area of eastern Utah—known as Robber's Roost—and northwest Colorado in Browns Park, were favored places for the bunch to disappear into, split their plunder, find a variety of ranch jobs, and lay low or plan their next heist. They are said to have obtained their collective name when a saloonkeeper in Vernal, Utah, noted that the "wild bunch" was back in town.
Little Snake River Valley, cut off from any major population center, and therefore not patrolled by sheriffs, became another favored place to escape. They holed up in Baggs, Wyoming, in the Gaddis Matthews House, which still stands today and is a historical landmark.  
Robbing the Union Pacific 
One of the Wild Bunch's train heists took place farther east beyond Elk Mountain at Wilcox near Arlington, Wyoming. Most likely led by Kid Curry (as Butch and Sundance were in Winnemucca robbing the First National Bank), the gang successfully boarded the Union Pacific Overland Flyer No. 1 train at Wilcox on June 2, 1899, blew the safe and scooped up an estimated $34,000 before disappearing in all sorts of directions. They eluded capture and then gathered to prepare for and carry off another UP train holdup.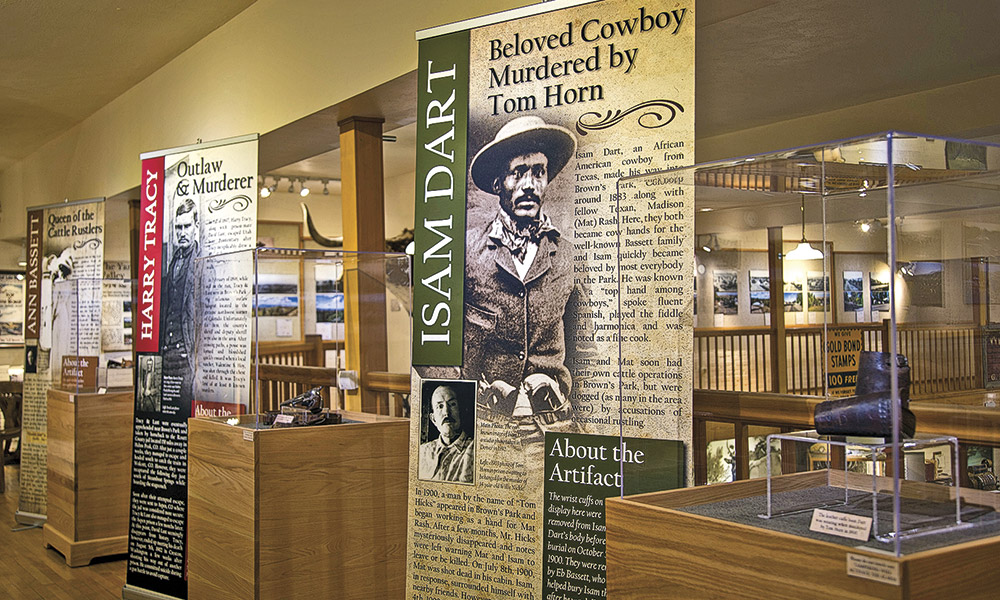 West of Rawlins and Wamsutter, Wyoming, the Continental Divide splits to form the Great Divide Basin. One crossing of the Divide is at Tipton (exit 158 on Interstate 80), site of the August 29, 1900, robbery of the Union Pacific. Though the Wild Bunch anticipated a $100,000 payday from that robbery, they rode away with a purported measly $50.40, skedaddling south over Delaney Rim to Powder Springs, and eventually disappearing into the Little Snake River Valley and Browns Park. That $50.40 might not be the true amount of loot from the robbery, even though it was the amount recorded by the Union Pacific and lawman Joe LeFors. More likely, the take was closer to $50,000 and maybe as much as $100,000, with the smaller amount announced to deter other bandits. Not long after the heist, The Saratoga Sun reported that train officials did not want people to know of the vulnerabilities surrounding train security.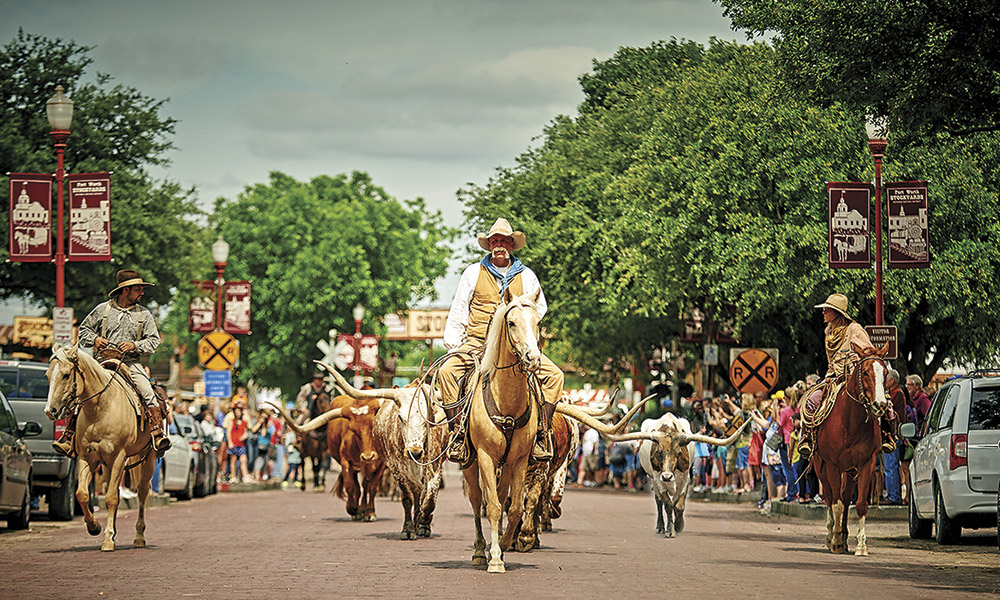 The Wild Bunch then rode south. In 1900 in Fort Worth, Texas, Butch and Sundance posed for a photo with Harvey Logan, William Carver and Ben Kilpatrick, creating one of the most recognized outlaw photographs of the era. That's where this trail ends, but Butch Cassidy, the Sundance Kid and his companion Etta Place continued south to Cholila, Argentina, where they purchased a ranch and began raising cattle and horses. On the side they worked for mining companies—and pulled off a few more robberies before their final shoot-out in Bolivia after the Pinkerton agents drove them out of Argentina.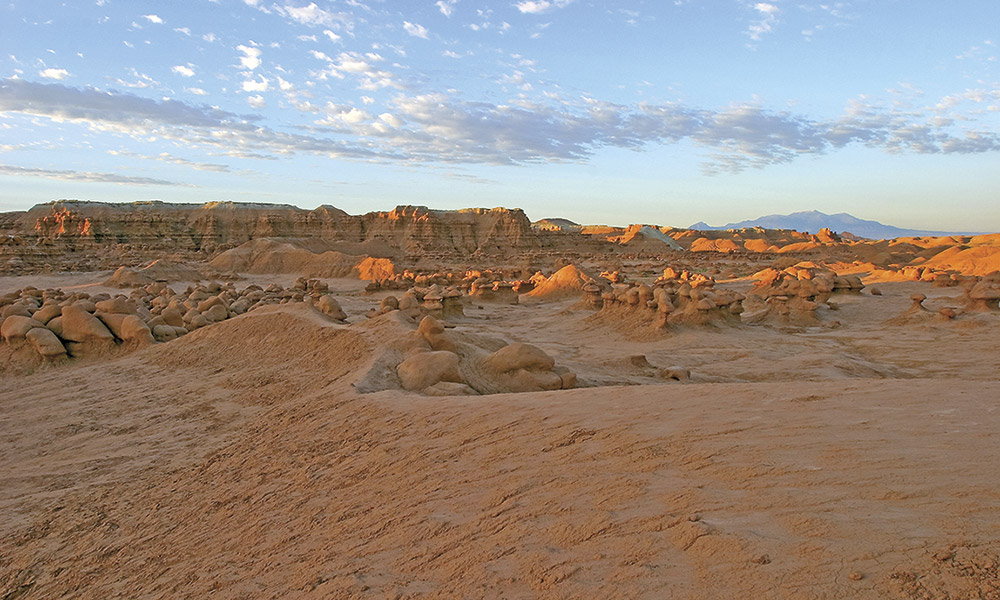 Side Roads
Places to Visit
Crook County Museum, Sundance, WY; Hoofprints of the Past Museum, Kaycee, WY; Wyoming Territorial Prison, Laramie, WY; Little Snake River Valley Museum, Dixon, WY; Western Mining and Railroad Museum, Helper, UT; Goblin Valley State Park, Hanksville, UT; Museum of Northwest Colorado, Craig, CO; Telluride Historical Museum, Telluride, CO; Fort Worth Stockyards, Fort Worth, TX
Good Eats & Sleeps
Grub: The Invasion Bar & Grill, Kaycee, WY; Fiesta Jalisco, Craig, CO; Country Grub, Vernal, UT; Groggs Pinnacle Brewing Company, Price, UT; Cattlemen's Fort Worth Steakhouse, Fort Worth, TX
Lodging: Occidental Hotel, Buffalo, WY; Elk Mountain Hotel, Elk Mountain, WY; Wild Skies Cabins, Craig, CO; Legacy Inn, Price, UT; Hotel Texas, Fort Worth, TX
RV Parks & Campgrounds
Powder River Campground & Cabins, 101 Old Barnum Rd, Kaycee, WY, (307) 738-2244
PowderRiverCampground.com
Huntington State Park, Mohrland Rd, Huntington, UT, (435) 687-2491, Stateparks.Utah.gov
Lightner Creek Campground, 1567 CR 207 (Lightner Creek Rd), Durango, CO, (970) 247-5406
CampLightnerCreek.com
Northlake Village RV Park, 13001 Cleveland Gibbs Road #79, Roanoke, TX (Just 20 miles outside of Fort Worth), (817) 430-3303, NorthLakeVillageRV.com
Good Reads, Film & TV
Books: Butch Cassidy, My Brother by Lulu Parker Bentenson; Butch Cassidy, My Uncle by Bill Bentenson; Butch Cassidy, A Biography by Richard Patterson; In Search of Butch Cassidy by Larry Pointer; The Outlaw Trail: A History of Butch Cassidy and His Wild Bunch
by Charles Kelly; The Sundance Kid: The Life of Harry Alonzo Longabaugh by Donna Ernst; Ann Bassett: Colorado's Cattle Queen by Linda Wommack; He Rode with Butch and Sundance: The Story of Harvey "Kid Curry" Logan by Mark Smokov
Film & TV: Wyoming Renegades (Columbia, 1954); Butch Cassidy and The Sundance Kid (20th Century Fox, 1969); Butch and Sundance: The Early Days (20th Century-Fox, 1979); The Legend of Butch and Sundance (NBC, 2006)
Candy Moulton encourages you to visit the Grand Encampment Museum, which has a gun purchased by townsmen to protect the community from an anticipated raid on the North American Copper Company payroll by the Wild Bunch. The raid never occurred, but Carl Ashley donated the gun to the museum collection.
https://truewestmagazine.com/he-rode-with-butch-and-sundance/